Posts Tagged 'Five Pound Coin'
"When I used to read fairy-tales, I fancied that kind of thing never happened, and now here I am in the middle of one!"
Alice, from Alice's Adventures in Wonderland by Lewis Carroll.
---
We feel like we're in the middle of a fairy-tale too, Alice, as Change Checker HQ are delighted by the issue of two brand new £5 coins which have left us feeling curiouser and curiouser! The first coin has just been released and the second coin in the series is available to pre order now.
Lewis Carroll's tales of a girl's discovery of a wacky world of impossibilities have become arguably some of the best known stories in the world.
Alice's Adventures in Wonderland was first published in 1865 and was so popular that its sequel, Through the Looking-Glass followed closely in 1871.
With their fantastical tales and riddles, Carroll's stories became some of the most popular works of English-language fiction, with their popularity spanning across generations.
In 2021, to celebrate over 150 years of madness, curiosity, and dreams, The Royal Mint have issued two BRAND NEW £5 coins, featuring Sir John Tenniel's original illustrations from Carroll's original tales.
2021 UK Alice's Adventures in Wonderland £5
The first coin to be issued by The Royal Mint features John Tenniel's original illustrations from Alice's Adventures in Wonderland – the first book in the series.
Alice and one of the most mischievous characters from the book, the Cheshire Cat, can be seen on the reverse design of this coin, by Ffion Gwillim, with the title of the world-famous story to the right.
Excitingly for collectors, this is the VERY FIRST TIME that this timeless tale has been commemorated on a UK coin, which is sure to leave literature fans and collectors grinning like the Cheshire Cat himself.
This brand new coin is available to order today in Brilliant Uncirculated quality for JUST £10.99 (+p&p) in Official Change Checker packaging. To secure yours simply click here >>
What's more, you can also pre-order the second coin, celebrating the famous sequel, Through the Looking-Glass.
2021 UK Through the Looking-Glass £5
This second coin features an image of Alice, Tweedle Dee and Tweedle Dum, and eagle-eyed collectors and literature fans alike may also spot the umbrella that the twins bustle around with in their first meeting with Alice.
This £5 coin celebrates the sequel to Alice's Adventures in Wonderland, Through the Looking-Glass, with Ffion Gwillim's design once again taking inspiration from the original illustrations.
To pre-order this coin for your collection, ahead of its individual issue later in the year, you can do so by clicking here >>
Both of your coins have been struck to a superior Brilliant Uncirculated quality and come protectively encapsulated in Official Change Checker packaging with that all-important hologram to guarantee its superior quality.
Character themed coins are some of the most popular issues of recent years, so i'm sure fans of Alice's Adventures in Wonderland and coin collectors alike are sure to be quick to add this coin to their collections!
Here are some of our favourite character themed £5 coins released in recent years…
2021 UK Mr. Men and Little Miss £5 Series
For 50 years, the Mr. Men and Little Misses have been delighting children and adults alike for generations with their charming, cheeky and, clever antics.
But earlier in 2021, we also saw them delighting the coin collecting world as well, as The Royal Mint revealed a new £5 coin series celebrating the inhabitants of Dillydale.
These £5 coin designs, by Adam Hargreaves, son of author Roger Hargreaves, feature images of Mr. Happy, Mr. Strong and Little Miss Giggles, and Little Miss Sunshine. It was the first time the characters featured on UK coinage and they've already proved incredibly popular with collectors!
You can find out more about the series here >>
2021 UK Peter Rabbit £5
The Tale of Peter Rabbit and other Beatrix Potter stories span across generations, with each and every one of us having fond childhood memories of these wonderful characters.
Inspired by the Beatrix Potter's classics that have enchanted readers of all generations for more than 100 years, in 2021, The Royal Mint issued a new £5 coin.
The reverse design by Ffion Gwillim perfectly captures a heart-warming scene from the original, much-loved Beatrix Potter stories.
Since 2016, Peter Rabbit has encouraged a whole new generation to start collecting – featuring on not just one, but FIVE 50p coins in the Beatrix Potter series. And now the tale continues as Potter's most famous character is celebrated on a UK £5 coin.
To find out more about this popular issue, head to our blog >>
---
With an incredibly popular theme, that spends across multiple generations, these brand new £5 coins are set to prove a hit with collectors! Will you be securing them for your collection? Comment below!
---
Secure the brand new 2021 UK Alice's Adventures in Wonderland £5 for your collection!
To secure the brand new 2021 UK Alice's Adventures in Wonderland £5 for JUST £10.99 (+p&p) for your collection, simply click here >>
Your coin has been struck to a superior Brilliant Uncirculated quality and comes protectively encapsulated in Official Change Checker packaging with that all-important hologram to guarantee its superior quality.
In commemoration of the life and achievements of HRH Prince Philip, Duke of Edinburgh, a UK £5 coin has just been issued.
Issued shortly after what would have been his 100th birthday and within just three months of his passing, this special tribute to Prince Philip features a portrait created by Ian Rank-Broadley FRBS that was personally approved by The Duke of Edinburgh himself.
As Britain's longest serving Consort – the Queen's "strength and stay" – and as former President of the Royal Mint Advisory Committee, it is only fitting that a new UK coin should be issued in his honour.
You can secure yours now in Brilliant Uncirculated quality for just £10.99 here >>
This new release become the sixth UK coin to feature HRH Prince Philip and in this blog we'll take a look back at his life as celebrated on £5 coins, as well as the role the Duke played in shaping UK currency.
Prince Philip in Coins
The 1972 Crown issued to mark his Silver Wedding Anniversary was an understated affair. However, in 1997, the Queen and Duke of Edinburgh celebrated their Golden Wedding Anniversary, and Prince Philip featured on a UK coin for the very first time as part of a conjoined effigy on the obverse of the commemorative £5 coin. 2007 saw a similar conjoined portrait before the recent 2017 Platinum Wedding Anniversary design, which featured the Queen and Duke of Edinburgh on horseback in what can only been seen as a nod to the original 1953 Coronation Crown as well as a third conjoined portrait.
Yet it was in 2011 that Prince Philip was finally granted the greatest privilege – his own £5 Coin to celebrate his 90th Birthday – a splendid close up portrait of the Duke by Mark Richards FRBS. This was followed in 2017, with a design of the young Prince Philip by Humphrey Paget to mark Prince Philip stepping down from public duties after 70 years of service.
First Job – new coin designs
Not only does the Duke feature on a number of UK coins, he also had a hand in the creation of new coins too!
On 21 March 1952, just weeks after the Queen's accession to the throne, Prince Philip attended his first meeting as President of the Royal Mint Advisory Committee on the design of coins, medals, seals and decorations (RMAC); a role that he would hold for the next 47 years, until his retirement in 1999.
A keen artist himself, the Prince's first job was to oversee the selection of the Queen's portrait to ordain her new coins. An uncrowned Queen was chosen from a field of seventeen designs, giving Nottingham born sculptor, Mary Gillick, the honour of creating the most seen portrait of the new Queen.
Equally importantly, the young Prince oversaw the design of the most important coin of the moment – the Coronation Crown, featuring Gilbert Ledward's Queen on horseback on the obverse and Edgar Fuller's reverse design containing the Coats of Arms of the constituent nations of the United Kingdom.
The UK's biggest ever currency change
Gillick's design remained on pre-decimal coinage until 1970, when Prince Philip was involved in another huge coinage milestone – the introduction of decimalisation.
The process required a complete redesign of Britain's coinage as well as an updated effigy of Her Majesty, designed to help the new denominations stand out.
The RMAC selected Royal Academician Arnold Machin to sculpt the Queen, this time wearing a tiara. However, it was the reverse coin designs that were perhaps more significant.
A "monstrous piece of metal"
Under Prince Philip's presidency, the RMAC started to work in top secret on designs as early as 1962, before there was any official government announcement confirming decimalisation.
The final designs were created by Christopher Ironside and featured heraldic elements of the United Kingdom. But it was the new 50p coin – introduced to replace the 10/- note – that caused the greatest stir, with its unique heptagonal (7-sided) shape.
Now Britain's most popular coin with collectors, that was certainly not the case on its launch with one newspaper calling it a "monstrous piece of metal" and a retired colonel even starting Anti-Heptagonist movement.
In the 28 years that followed Decimalisation, Prince Philip guided the RMAC through two more effigies, Raphael Maklouf (1985 – 1997) and Ian Rank-Broadly (1998 – 2015), as well as the launch of 20p, £1 and £2 coins into circulation and numerous commemorative issues.
---
Prince Philip will be remembered for many things – and among them we will remember him as the man who has had more influence over the nation's coins than any other.
With the release of the new Prince Philip £5, his legacy continues to live on as we celebrate his incredible life and achievements.
---
Secure your Prince Philip £5 Set today!
Today, you have the opportunity to secure the brand new 2021 UK Prince Philip £5 in Brilliant Uncirculated quality, alongside the 2017 Prince Philip £5 and the 2017 Platinum Wedding £5 coins to make the perfect Prince Philip £5 Set.
Your coins have been struck to a Brilliant Uncirculated finish and protectively encapsulated in official Change Checker packaging to preserve for generations to come.
A real collector's set, these coins pay a special tribute to the Prince who will forever be remembered as a treasured member of British royal history.
Did you know that a special six-sided coin was very nearly released to commemorate one of the most significant celebrations in British history – the Queen's Diamond Jubilee?
In fact, the coin was so close to being produced that the design was nearly sent off for Royal approval before the proposal was eventually rejected by senior staff at the Royal Mint.
But what could this coin have looked like? Stay tuned as we explore more in this blog…
What the UK's first 60p could have looked like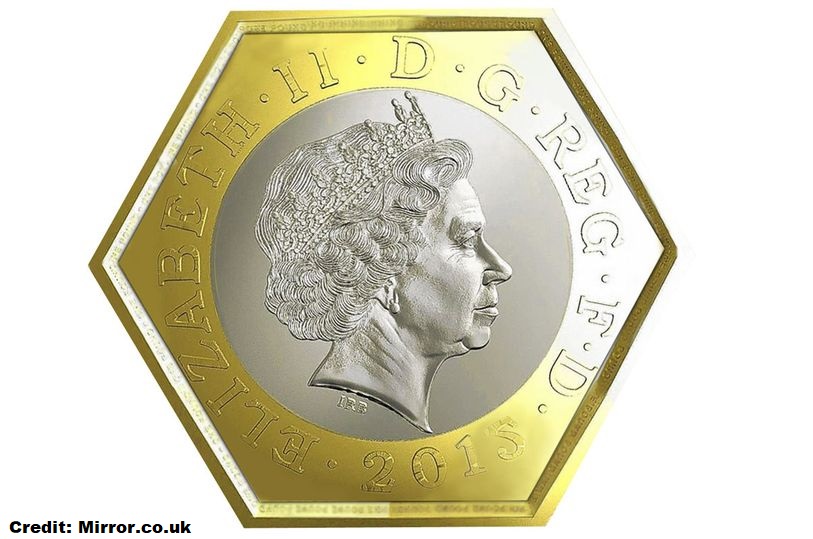 A document from Kevin Clancy, secretary to the Royal Mint Advisory Committee, and addressed to the Master of the Mint at the time – Chancellor George Osborne, stated "The proposed coin would be a six-sided bi-colour coin with round of nickel-brass and a shaped outer of cupro-nickel."
The document also stated: "It is recommended that an entirely new denomination coin – a 60p piece – should be produced to commemorate the 60 years of Her Majesty's reign".
Whilst the coin was proposed to be a commemorative-only issue and wouldn't enter circulation, the idea for the coin was abandoned all together, as papers from the Royal Mint Advisory Committee revealed the commemorative coin programme was already 'sufficiently comprehensive'.
This programme in question of course ended up bringing us the stunning 2012 Diamond Jubilee £5 Coin.
2012 Diamond Jubilee £5 Coin
This was the first coin ever to be struck to commemorate a Diamond Jubilee – there were no special coins for Queen Victoria's in 1897!
The obverse featured a new portrait of Her Majesty crowned and wearing the robes of the Order of the Garter, created especially for the Diamond Jubilee by Ian Rank-Broadley.
Also designed by Ian Rank-Broadley, the obverse features a portrait of the young Queen Elizabeth just as she appeared in her first portrait with the Latin words DIRIGE DEUS GRESSUS MEOS (May God Guide My Steps).
If you don't have this coin in your collection yet, Change Checker has strictly limited stock remaining. Secure yours here >>
This £5 isn't the only remarkable issue we've seen commemorating Her Majesty's Jubilees…
1993 Coronation 40th Anniversary £5
This £5 coin was issued to mark 40 years since the Queen's coronation in 1953 – her Ruby Jubilee.
The obverse features the original portrait by Mary Gillick placed in a circle surrounded by eight mounted trumpeters of the Household Cavalry separated by swords and sceptres.
The reverse features the Crown of St Edward which was used at the Coronation, set within 40 radiating trumpets.
The words FAITH AND TRUTH I WILL BEAR UNTO YOU, from the Coronation oath, are inscribed at the top, with the double dates 1953 and 1993 appearing at the foot.
Change Checker has limited stock remaining of this coin. Secure one for your collection here >>
2002 Golden Jubilee £5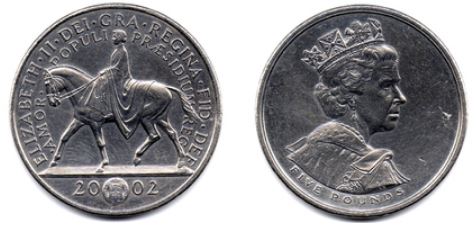 In 2002, to mark the 50th anniversary of the Queen's accession to the throne, the Royal Mint produced this £5 coin.
On one side appears an unusual bust portrait of the Queen wearing the robes of state. The dramatic impact of this motif are heightened by the absence of any inscription other than the value in small lettering around the foot.
The reverse design, as with the original Coronation crown of 1953 features the Queen on horseback. The Latin motto AMOR POPULI PRAESIDIUM REG(inae) meaning 'The love of the people is the Queen's protection' was last used on the coinage of Charles I.
You can add this coin to your collection here >>
The Queen's Platinum Jubilee in 2022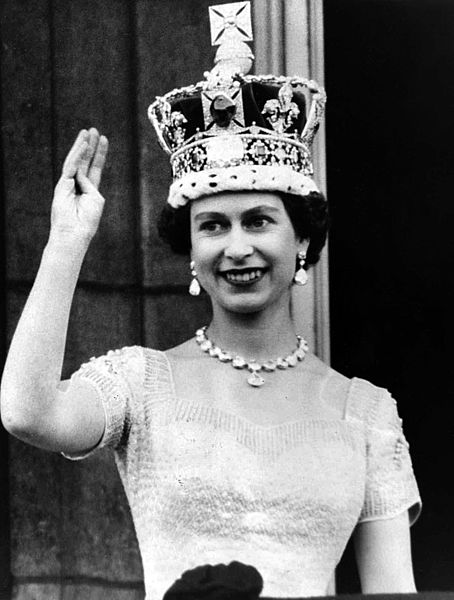 In 2022, Her Majesty will celebrate her Platinum Jubilee, after a magnificent 70 years of service to the throne.
According to the Government website, plans are already in place to mark this anniversary, including collaborations with "some of the UK's leading creative minds, event organisers and world class digital design companies".
In keeping with tradition, a Platinum Jubilee medal is said to be awarded to people "who work in public service including representatives of the Armed Forces, the emergency services and the prison services.
This tradition stretches back to the reign of Queen Victoria when an official medal was designed to mark her 50th anniversary on the throne".
Whilst there has been no official confirmation of a Platinum Jubilee commemorative coin in the works, we're certainly going to keep our fingers crossed that this magnificent anniversary will be celebrated on our UK coinage.
---
Would you have liked to have seen a six-sided 60p issued to commemorate Her Majesty's Jubilee anniversary? Let us know in the comments!
---
Receive new UK coins without the hassle of placing orders on the day of release!
Join the Change Checker UK CERTIFIED BU Subscription Service and receive new UK coins sent to your door without the hassle of placing orders on the day of release!
Don't miss your chance to get ahead of the crowd and be one of the very first collectors to receive the latest UK new issue coins as soon as possible after their release.