Posts Tagged 'foreign currency'
On the eleventh hour of the eleventh day of the eleventh month this year, we will mark exactly 100 years since the guns fell silent – the war in Europe was over.
To mark this historic centenary year, many of the allied nations have joined forces again to issue special commemorative coins in a poignant move to mark the anniversary, and so we've taken a look at some of the coins released from around the world, including Canada, New Zealand, Australia, France and of course the UK.
2018 UK Armistice £2
This £2 is the final coin issued as part of the First World War £2 series first issued by The Royal Mint in 2014. Issued earlier in 2018, the design by Stephen Raw features the words 'The truth untold, the pity of war', from the Wilfred Owen poem Strange Meeting. The words stand out of a mud-like background in the centre of this striking £2 coin, which was actually modelled in the clay taken by the artist from the Sambre-Oise Canal where Wilfred Owen died in 1918.
2018 Canada Armistice $2
In October this year, The Royal Canadian Mint unveiled these finely crafted $2 coins issued to remember the sacrifices of Canadians who fought for freedom during WWI.
Just 3 million coins have been minted – two million of a stunning coloured version and one million of the non-coloured coin, both of which have been released into circulation in Canada. The reverse image by artist Laurie McGaw features a soldier's helmet in the centre to represent the many lives lost during WWI and the large poppy beneath it is inspired by the Canadian poem In Flanders Fields by John McCrae, who died in combat in January, 1918.
2018 New Zealand Armistice 50-cent
The 2018 Armistice 50 cent coin follows the Anzac coin which was minted in 2015 to mark the centenary of New Zealand's efforts in WW1. Designed by Dave Burke, the reverse of this 50 Cent features a coloured red poppy flower surrounded by a wreath and the three silver ferns on the wreath represent the three services of the New Zealand Defence Force: Army, Navy and Air Force. The 50-cent coins were released into circulation in New Zealand last month but were actually struck by The Royal Canadian Mint, where all 10, 20 and 50 cent coins are currently minted for New Zealand.
2018 Australia Armistice $2
Just released by The Royal Australian Mint today, the new $2 Armistice coin serves as a tangible and visible reminder to all Australians of the fight for freedom 100 years ago. Designed by T Dean and developed with the assistance of the Australian War Memorial, the coin features the number 100 to signify the important Armistice Centenary Anniversary, and the centre zero features a red coloured poppy. The coin features a 'C' mintmark, meaning the coin has been struck at the Canberra Mint and is a stunning keepsake in this centenary year.
2018 France Armistice €2
Issued by La Monnaie de Paris (The Paris Mint), this €2 coin features a cornflower, a symbol of remembrance in France. This dates back to WWI as soldier's uniforms were blue and these flowers, as well as poppies, continued to grow in land devastated by war. The flower also symbolizes delicacy and innocence.
Each coin pays its own historic tributes to this significant anniversary marked by millions of people around the world. And as a Change Checker, you'll appreciate how hard it has been to track down each of these coins. Indeed it's taken us the best part of a year to secure each of the coins mentioned above to create the Allied Nations Armistice Centenary Coin Pack – drawn together from five of the world's most renowned Mints.
---
Secure the 2018 Armistice Centenary Coin Pack to mark this important historical anniversary
Without a doubt, these coins would make a great addition to your collection. And in this centenary year, it's a particularly meaningful purchase which I hope will find a cherished place in your collection.
Because of the difficulty in sourcing these coins, we only have a limited number of collections available, so please click below now to be one of the first to own them all.
Click here to secure the 2018 Allied Nations Armistice Coin Pack >>
For the past few months at Change Checker HQ, we've been really enjoying researching different coins from around the world. And the coinage from the sunny climes of Egypt has really caught our attention…
After a bit of digging around, we've found out some interesting facts about these fascinating coins… Did you know that Egypt, just like us, uses the 'pound' as their currency?
But wait! Before you pack your bags and prepare for a trip abroad without the hassle of exchange rates, you need to be aware that this is not the British pound as we know it, but the Egyptian Pound!
Each pound is made up of 100 piastres (what we would refer to as pennies), and 22 Egyptian pounds convert to 1 British Sterling pound. Egyptian coins are in denominations of 1, 5, 10, 20, 25 and 50 piastres, along with the 1 pound coin of course.
Egypt's currency design is based largely on its ancient history, with pharaohs, pyramids and past dynasties proving to be popular themes across Egypt's coinage, including Tutankhamun, Cleopatra and the Pyramids of Giza. 
When exploring further into the background of these coins, it's no wonder Tutankhamun has been chosen as such a poignant design, featuring on the highest denomination, the £1 coin.
As one of the only perfectly preserved Egyptian Royal Tombs, the myth of Tutankhamun is world-famous, making him the best-known King of Egypt. In terms of coinage, Tutankhamun has not only featured in Egyptian minting, but worldwide on various coins (including this recently released coin from Ghana struck in the shape of Tutankhamun's mask).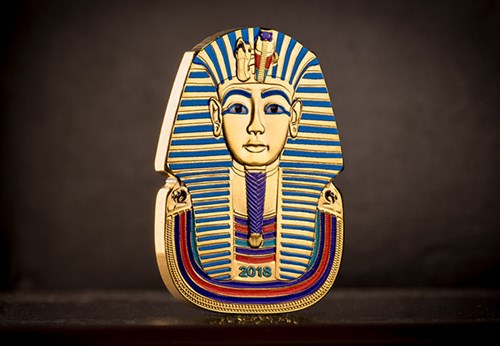 Cleopatra also features heavily on Egyptian coins, as the last active ruler of the Ptolemaic Kingdom of Egypt. Her name directly translates to 'Glory of her father', and it was rumoured she was romantically involved with Julius Caesar and Mark Anthony. Her legacy is ever standing due to what she represented in a male-dominated society – a strong woman able to hold a country together throughout warfare just as well as her male counterparts. A fitting face for any coin I think!
It's clear that the currency of Egypt sits on a proud heritage that maps out its ancient world through the striking designs of its coins. But what do you think about these coins? Let us know in the comments below!
Summer is right around the corner and as we start thinking about jetting off on holiday for some fun in the sun, it's time to organise that all important foreign currency.
But have you ever thought about checking your holiday money for hidden treasures and rare coins?
Having recently returned from a two week holiday in Japan, I've got foreign currency on my mind and a few leftover Yen in my pocket!
Despite the growing use of credit and debit cards in Japan, the country still relies largely on cash for daily spending, making coins an indispensable aspect of living – although it did take me some time to feel comfortable handling their 500, 100 and 50 Yen coins! Other denominations of Japanese currency include 20, 10, 5 and 1 Yen coins and 1,000, 5,000 and 10,000 Yen notes, with 10,000 Yen converting to roughly 65 Pounds.
Since returning to England, I've begun to wonder what some of these coins might be worth…
The 5 Yen coin is said to be the luckiest of all because of the way the Japanese pronunciation of the coin sounds – "Go-en" –which is the same as the word for destiny in Japanese and the expression for good luck.
When visiting the many Shinto shrines around the country, I noticed people giving 5 Yen coins as donations, and souvenirs of the coin were available to buy, decorated with ribbons and chains through the handy hole in the middle, which can be used to string many coins together.
Roughly converting to a mere 3 Pence, these coins have sold online for much higher than their face value. If dated before 1959 they could be worth about £7 if in uncirculated condition. Coins dated 1957 are scarce and could be worth around £20 in uncirculated condition.
Japan might not be everyone's typical holiday location, but you too could discover a hidden treasure when you return from your next holiday, with many European, US and Australian coins proving to be very collectable.
Lucy Mackenzie, our Head of Numismatics says, "I would recommend they do their research before they travel to their destination and pay close attention to their change as they could find a rare coin or mis-strike.
"The minting process is never completely exempt from human error and mistakes happen, when it comes to coins these mistakes can often be worth a lot money to sharp-eyed collectors."
So which holiday destinations do we deem to be the 'hot spots' for rare coin hunting?
Europe
Europe is certainly a popular and convenient location for us Brits abroad, but before you think about getting rid of those Euros when you return, keep your eyes peeled for the special edition 2 Euros which have been sold for up to fourteen times face value!
Most sought after editions include the 2011 2 Euro Europa from Greece, the 2008 2 Euro Human Rights coin from Finland, 2005 Austrian state contract coin and the 2007 Monaco 2 Euro featuring Grace Kelly which has become one of the rarest commemorative coins, selling for roughly £1,100.
You might also be lucky enough to discover old tender in Europe on your next holiday. These coins were replaced by the Euro in 1999 but could now achieve an easy profit.
Look out for Irish coins from the 1980s and 90s which have been valued for thousands of pounds at auction. The 1985 copper-coloured 20p and the 1992 10p are also ones to hunt out and have both been sold at $5-$10,0000!
America
For a hop across the pond to America, you could get your hands on rare quarters such as the 2004 Wisconsin extra leaf high quarter, which eBay says is the most sought after of all due to an extra cornstalk leaf on the design being struck by mistake. This small error means that these coins are being sold online for up to £125!
Also look out for the 2005 Minnesote Doubled-die Extra Tree Quarter and the 2000 South Carolina off-centre error quarter to add to your rare coins collection when on your trip stateside.
Australia
If you're travelling farther afield, the Australian mule could make you a tasty profit of $1,000 and has been sold for thousands online, with one selling for $2,742 at auction in 2016.
The production error occurred in 2000, resulting in a coin that was thicker than usual, with a double rim on the Queen's side. If this treasure turns up in your foreign change, it's definitely worth keeping hold of!
I've certainly admired the beauty of the coins I've found on my travels and always keep hold of a few as mementos, but it's also worth being extra vigilant and checking your foreign currency to see if you can find any hidden gems!
Have you found any rare coins on your trips abroad? Let us know in the comments below.