Posts Tagged 'Henry VIII'
This year The Royal Mint revealed a series of brand new base metal UK £5 coins featuring an intriguing range of creatures called the 'Queen's Beasts'.
The release soon captured collector's attention as the use of a bullion coin design on a base metal coin was unprecedented.
However, the choice of designs is equally fascinating and I decided to explore the history of these beasts and find out exactly why they were chosen to feature on our new £5 coins.
Why "The Queen's Beasts"?
Over 400 years ago Henry VIII commissioned the sculpting of 10 heraldic animal statues. They were produced to represent the ancestry of King Henry VIII and his third wife Jane Seymour. These became known as "The King's Beasts" and can still be seen to this day, guarding the main entrance to Hampton Court Palace.
In 1952, in preparation for the coronation of Queen Elizabeth II, sculptor Sir James Woodford was tasked to create ten new statues, similar to "The King's Beasts" but more suited to the Queen. Woodford was instructed not to produce exact replicas to those at Hampton Court Palace as some of them would have had little connection with Her Majesty's own family or ancestry.
As the Queen arrived for her coronation at Westminster Abbey, she was greeted by 10 six-foot tall beasts each representing a different part of her genealogy and thus "The Queen's Beasts" were born.
The 10 beasts were made up of 'The Lion of England', 'The White Greyhound of Richmond', 'The Yale of Beaufort', 'The Red Dragon of Wales', 'The White Horse of Hanover', 'The White Lion of Mortimer', 'The Unicorn of Scotland', 'The Griffin of Edward III', 'The Black Bull of Clarence' and 'The Falcon of the Plantagenets'.
After the coronation, the beasts were offered to Canada as a gift. The Canadian government accepted and the beasts can still be seen today on display in the Canadian Museum of History.
The Queen's Beasts in modern culture
Still to this day, the Queen's Beasts play a hugely important part in British culture, in particular The Lion of England and The Unicorn of Scotland.
For example, they feature in the logos of some of our country's most famous and important institutions, most notably The Royal Arms, 10 Downing Street and Buckingham Palace.
Now that you know about the history of these heraldic creatures, take a look around and you'll be surprised how often you see them being used in everyday life.
---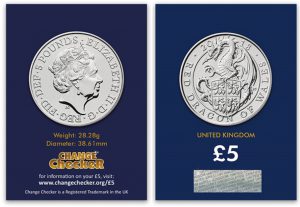 This 2018 £5 is the highly anticipated third release in this series, and features a design of the fierce Red Dragon of Wales, by well-known designer Jody Clark.
The 2018 Red Dragon of Wales £5 coin has been struck to a superior Brilliant Uncirculated condition, ensuring it is perfect for you to add to your collection. It will also come protectively encapsulated in official Change Checker packaging to preserve for generations to come.