Posts Tagged 'Key Workers'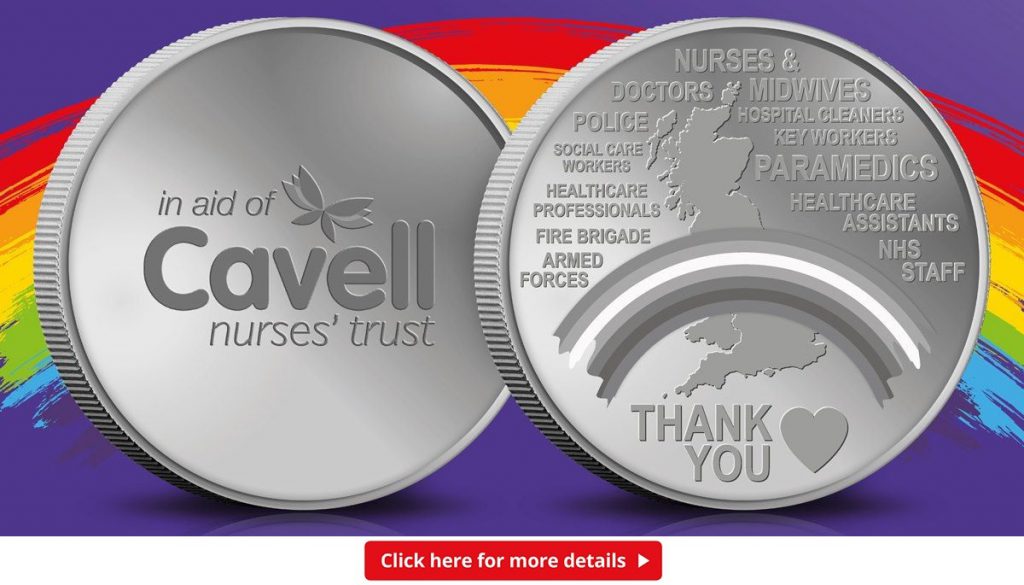 Over the last few weeks and months, our nation has been inspired time and again by the incredible Key Workers who are on the front line, helping us through this challenging time.
In fact, people all across the UK are showing their support for our heroes during the weekly clap and with the beautiful rainbow pictures adorning our windows. And Change Checkers have also been making a special effort to give their thanks.
We asked Change Checkers to pay tribute to the UK's Key Worker heroes by creating a coin design in recognition of their tireless work.
The top designs were selected from each category to be transformed into a virtual 50p and we were absolutely blown away by the entries!
But the best news is, we are incredibly excited to announce that one of the winning designs has been specially selected to be adapted into a special Rainbow of Hope Thank You Medal!
New Specially Issued Medal
The Rainbow of Hope Thank You Medal has been specially issued in support of Cavell Nurses' Trust with all Ex-VAT sales going directly to support the work of the Trust at this critical time.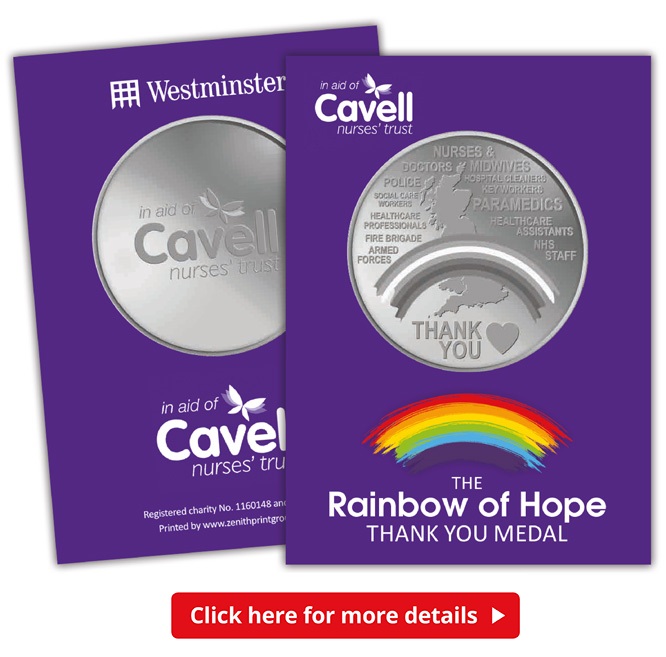 Reverse designer Sean Simon said, "I'm honoured and humbled to be a part of something of this scale, which will be beneficial to such a great cause. I work as an SEN school teacher and have many members of my family who work across the NHS and other key areas. As a school teacher I found this to be a great opportunity to show my appreciation to all the key workers across the UK who are working so hard during such difficult times. A rainbow was a must for the design as there are many children who may not understand the situation but are making the most of being inside. My children have thoroughly enjoyed making their own rainbows and looking for other rainbows during our daily walk."
Say "Thank You" to our Key Worker Heroes
You can now say "Thank You" to all our health workers and carers along with all other Key Workers, with the Rainbow of Hope Thank You Medal and at the same time you'll be supporting the vital work of Cavell Nurses' Trust helping nurses, midwives and healthcare assistants suffering personal or financial hardship.
From simple, essential support like money to repair a broken cooker or boiler, to vital life-changing aid like helping a family flee their home due to domestic abuse, Cavell Nurses' Trust is here to help. Never has their work been more important than during the current Coronavirus crisis.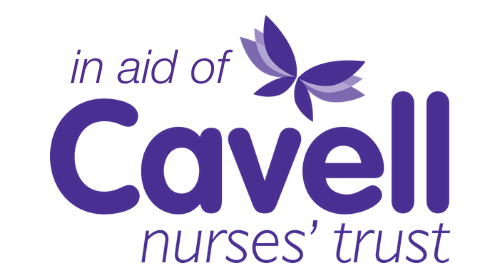 All Proceeds Going To Charity
What's more, The Westminster Collection will be donating 100% of the ex-VAT proceeds for every Rainbow of Hope Thank You Medal sold to Cavell Nurses' Trust to support nursing and midwifery professionals in their time of need.
Our Nation's Key Workers are risking their lives to help keep us safe – let's do all we can to show our support and give something back!
---
Support the UK's Key Worker Heroes when you order the Rainbow of Hope Thank You Medal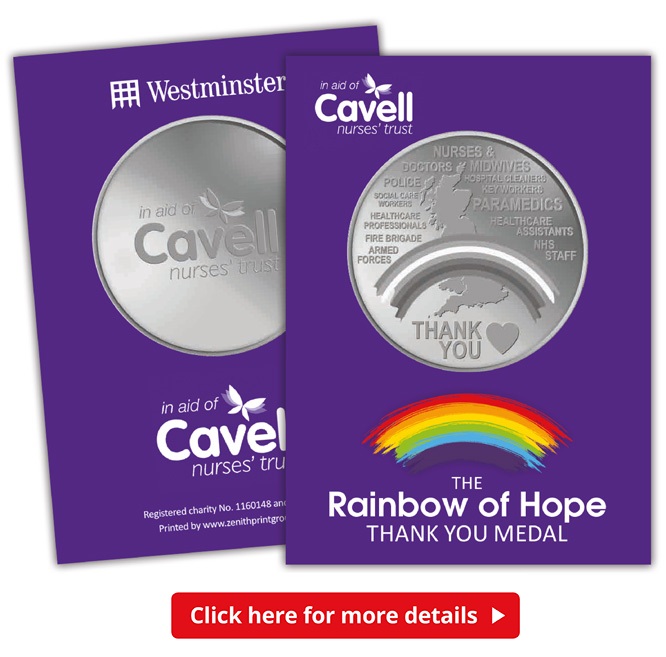 The Rainbow of Hope Thank You Medal is your chance to say thank you to our key worker heroes, with all proceeds going directly to support the work of the Cavell Nurses' Trust at this critical time.
So please click here to order yours today – whether it's to keep or give to a special key worker.
*** UPDATE ***
The winners have now been selected! Their designs have been brought to life on virtual 50p coins, which you can see in this video:
---
We all know what an incredible job our doctors, nurses, paramedics – indeed all our fabulous Key Workers are doing to help us through this challenging time.
So much so that last night, people all across the UK leaned out of their windows or stood at their doors to applaud our heroes for their hard work
And now we're calling all our Change Checker Juniors to design a 50p just for them, as another way to show appreciation.
If you'd like to get involved, all you need to do is follow these simple steps:
1. Download this PDF and print it out.
2. Create your Key Worker Heroes design and fill in the details on the page. You can take inspiration from the UK 50ps listed on our web app!
3. Photograph your design.
4. Post a photo of your design in the comments on this Facebook post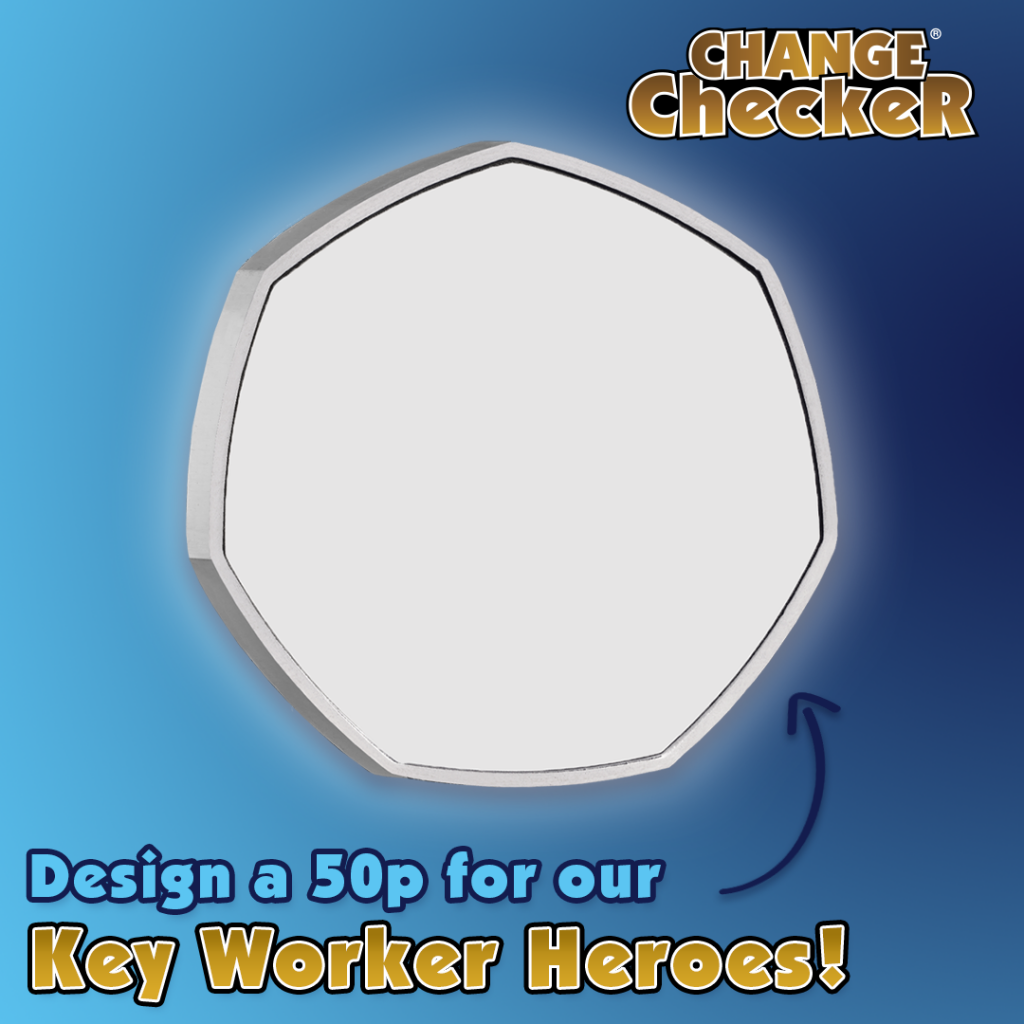 The TOP 5 designs will be brought to life in an animation and featured in a Change Checker video, which will be available to watch on the 13th April.
Entries close at 9am on Thursday 9th April, so don't delay!
Best of luck and happy designing!