Posts Tagged 'Polymer Banknote'
The UK banknotes have gone through some big changes since they were first introduced but do you know the story behind them?
In this blog, we guide you through the history of UK banknotes as we take a look at just how far they've come…

7th Century – China
The first recorded use of 'paper' money was in China back in the seventh century! However, it was until over a thousand years later that paper money made its way to Europe.
16th Century – Goldsmith-Bankers
In the 16th century, the goldsmith-bankers would issue receipts for cash, known as 'running cash notes'. They were made out in the name of the depositor and also carried the words, 'or bearer', after the name of the depositor.
This similar phrase still appears on British banknotes today: "I promise to pay the bearer on demand the sum of…"
1694 – Bank of England
When the Bank of England was established in 1694 to raise money for King William III's war effort, they issued notes in exchange for deposits. These were the first recorded bank notes to feature a cashier's signature!
18th Century – Fixed Denominations
The issuing of fixed denomination notes first started in the 18th century. Notes were printed with the pound sign and the first digit included, but any following digits were then added by hand!
By 1745, notes were issued in denominations ranging from £20 to £1,000 but it wasn't until 1759, as a result of gold shortages caused by the seven years of war, that a £10 note was issued.
The £5 note followed in 1793 at the start of the war against Revolutionary France and by 1797 the £1 and £2 notes were issued.
1853- Fully Printed
In 1853, the first fully printed banknotes were introduced, meaning hand-written denominations on notes were phased out.
Early 20th Century – 10 Shilling Note
During the First World War, the link between notes and gold was broken. The government needed to preserve bullion stocks and so the Bank stopped paying out gold for its notes.
In 1914 the Treasury printed and issued 10 shilling and £1 notes and in 1931, Britain left the gold standard.
Late 20th Century – Feature of Historical Figures
The late 20th century saw the first introduction of historical figures on the designs of UK banknotes. Since 1970, we've seen figures including scientist Isaac Newton, composer Edward Elgar and nurse Florence Nightingale featured on our banknotes.
21st Century – Polymer notes and BAME figures
In the 21st century we have seen the introduction of the polymer £5, £10 and £20 banknote, as a cleaner, safer and stronger alternative to the paper notes.
These notes have become incredibly popular with collectors, with some polymer £20 notes fetching far over their face value on the secondary market!
However, a lack of Black, Asian and Minority Ethnic (BAME) figures being recognised on legal tender led to campaigning for greater inclusivity in 2020.
These campaigns come after Chancellor Rishi Sunak stated he was considering proposals from a campaign group. He has since asked the Royal Mint to come up withnew designs honouring BAME figures who have served the nation – such as military figures and nurses.
Whilst details of these figures and designs remain under consideration, we look forward to hearing more as the story unfolds.
---
Did you know how far back in history our banknotes date? Let us know in the comments below!
---
Secure the last-ever £1 banknote to your collection!
Click here to secure your piece of British Numismatic history for just £10 (+p&p) >>
*** UPDATE ***
With the impact of Covid-19 meaning less people are using cash, it seems older, paper banknotes aren't being cashed in! According to reports, 24.5 billion paper banknotes are still out there!
Whilst the paper £20 is technically still legal tender, the new polymer notes have been causing quite a stir in the collecting community.
Back in 2016, the first-ever polymer banknote was issued to replace the paper £5 note, with a cleaner, safer and stronger alternative.
Since then, we've seen the introduction of the polymer £10, featuring the portrait of Jane Austen and this year saw the issue of the polymer £20 note, featuring JMW Turner's portrait.
We've seen the £5 and £10 notes prove incredibly popular with collectors, with particular notes selling on eBay for way over face value!
But what makes a banknote collectable? Well… It's all to do with serial numbers!
We previously listed the serial numbers that you should be looking out for on the Polymer £20 note, from AA01 to AK-47, and unsurprisingly, some are proving more popular than others, but which ones are likely to fetch the most on the secondary market?
Well, we've done the hard work for you by taking a look at which polymer £20 note serial numbers are selling for the most on eBay and which ones you should be looking out for.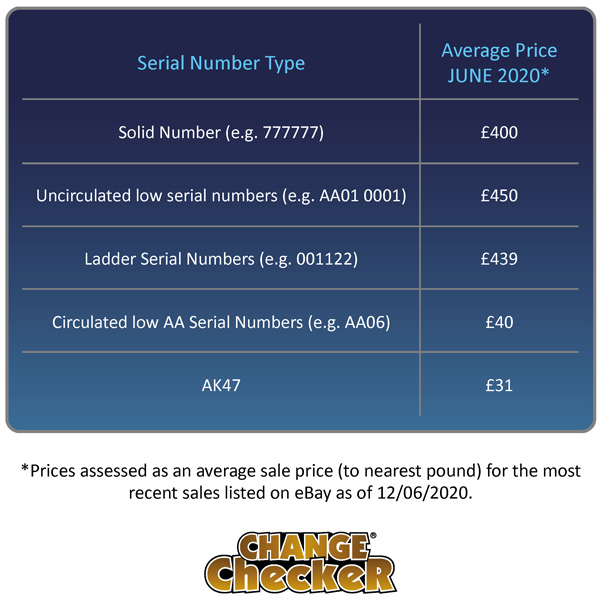 'Rare' polymer £20 banknotes
Recurring numbers
If you've been lucky enough to find a £20 note with a series of recurring numbers, like the 777777 serial number, you may want to keep hold of it as we've seen some which are currently selling on eBay for around £400 – over 20 times its face value!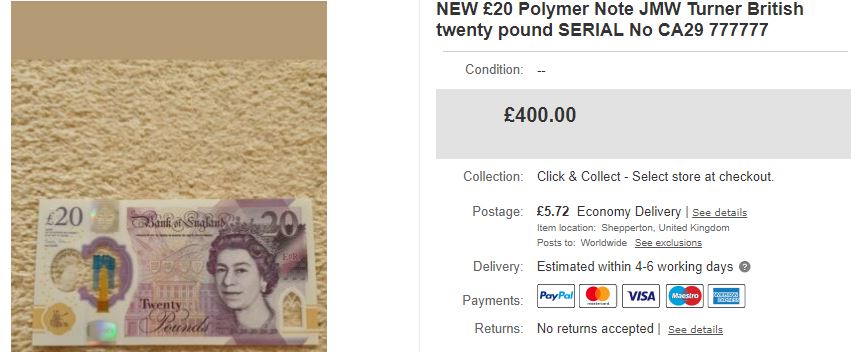 Similar serial numbers have sold for prices within the same range. The 333333 serial number also sold for £400, so it seems collectors everywhere are desperate to get their hands on a recurring number note!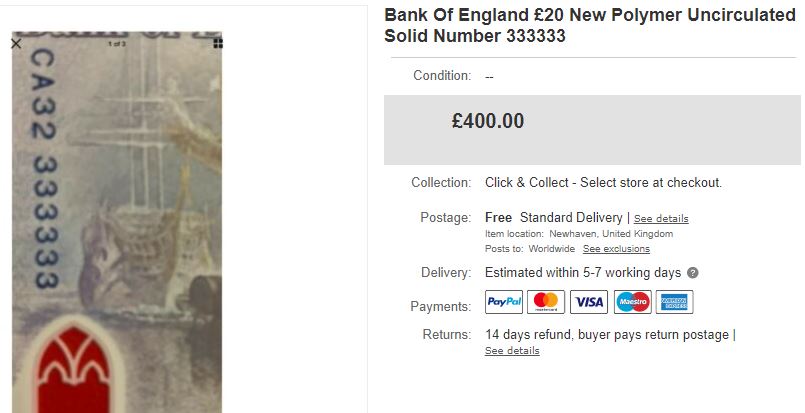 Another type of serial number you should be keeping an eye out for, is a 'ladder'. These are serial numbers that have consecutive numbers, like this '001122' note.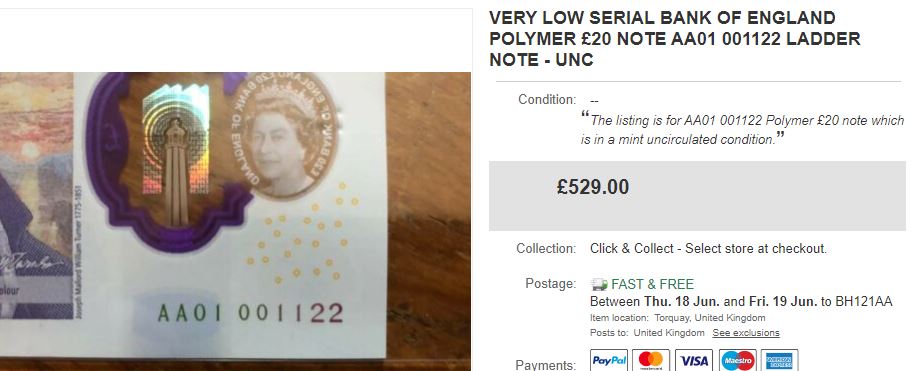 One lucky collector got his hands on this note but at a hefty £529… Other ladder numbers include '012345' and these could currently fetch you a very respectful £350 on the secondary market!
AA numbers
As with previous polymer note issues, the lower serial numbers for the new £20 have proven popular with collectors, with the current average selling price for the AA notes coming in at £40! That's two times the note's face value!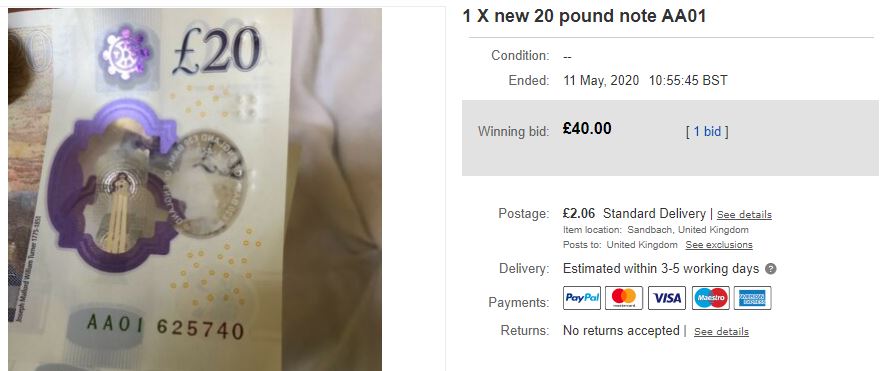 At the annual Bank of England charity auction held at Spink and Son Ltd in London the very first polymer note, the £5, with the serial number AA01 000017 auctioned for £4,150! However, this year, the £20 note with serial number AA01 000010 sold for a staggering £7,500, over FOUR times its starting price!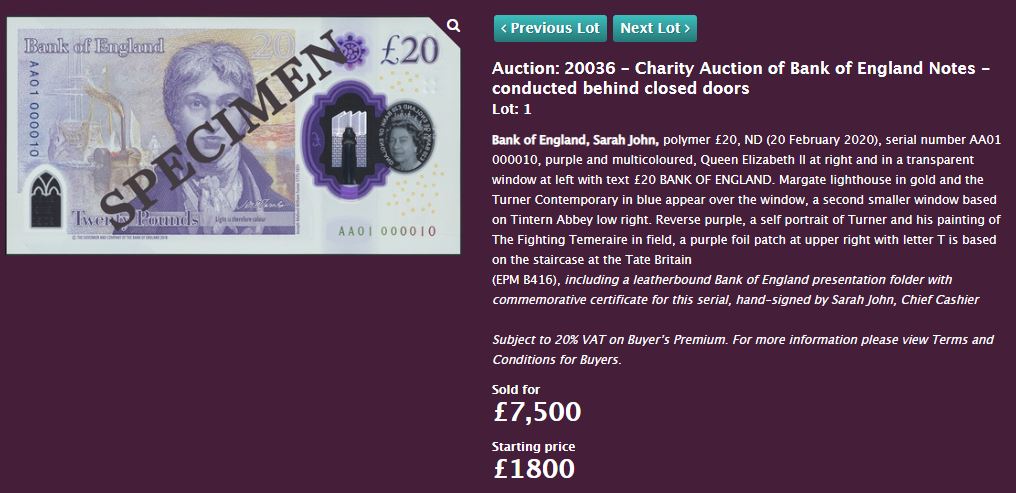 AK47
Considered collectable due to the machine gun connotations, polymer notes with the prefix AK47 were thought to be worth well over face value following the new £5 release in 2016.
A quick look at the most recent eBay sold prices for this serial number, on the new £20 note, show that people are willing to pay £11 over its face value!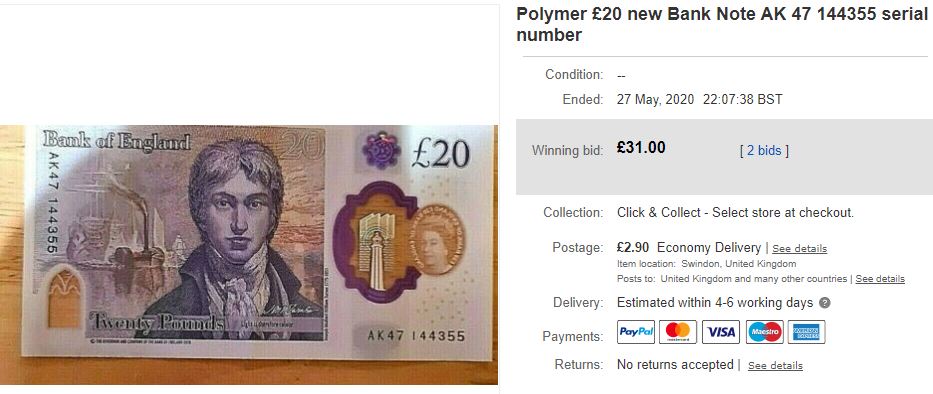 What about the £50 note?
The Bank of England will be issuing a new polymer £50 in 2021 featuring the scientist Alan Turing.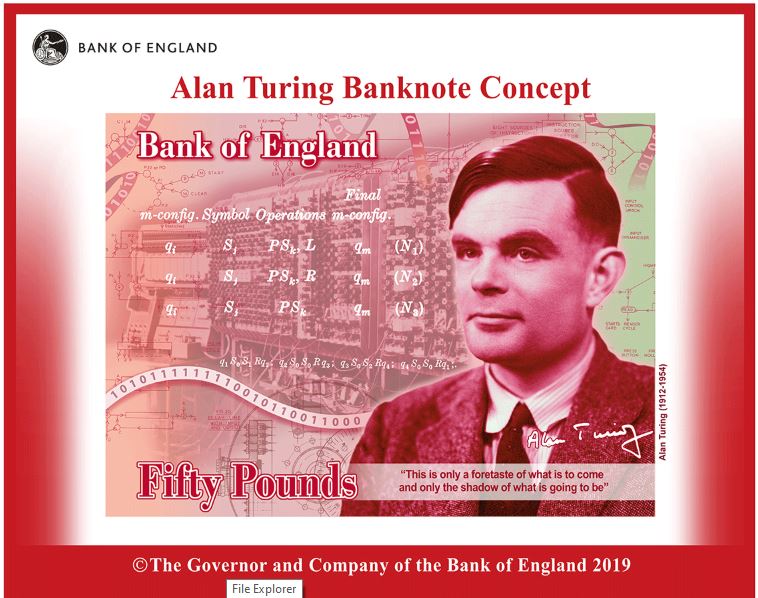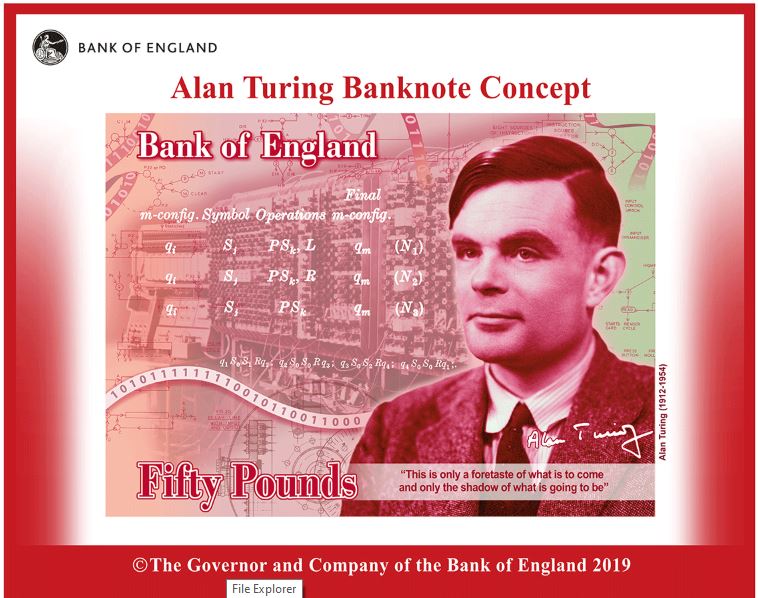 We can't wait to see the new polymer £50 when it's issued!
So there we have it, the current selling prices for your polymer £20 notes! With less cash being used during the current climate and therefore less notes in circulation, it's possible this has added to the collectability of these new polymer £20 notes.
Are you a banknote collector and if so, which notes do you have in your collection? Let us know in the comments below!
---
If you're interested in coin collecting, our Change Checker web app is completely free to use and allows users to:
– Find and identify the coins in their pocket
– Collect and track the coins they have
– Swap their spare coins with other Change Checkers
Sign up today at: www.changechecker.org/app
Basingstoke
NatWest, 3 London Street, Old Market Square, Basingstoke, RG21 7NS
Bath
HSBC, 41 Southgate, Bath, BA1 1TN
NatWest, 8-9 Quiet Street, Bath, BA1 2JN
Birmingham
HSBC, 130 New Street, Birmingham, B2 4JU
Lloyds Bank, 36-38 New Street, Birmingham, B2 4LP
NatWest, 144 New Street, Birmingham, B2 4NY
Santander, Unit 6, Caxton Gate, Corporation Street, Birmingham, B2 4LP
TSB, 134 New Street, Birmingham, B2 4NS
Virgin Money, Temple Point, 1 Temple Row, Birmingham, B1 5YB
Bradford
Santander, 9 Nelson Street, Bradford, BD1 5AN
Bristol
Eurochange, Cribbs Causeway, Bristol, BS34 5QT
Cwmbran
NM Money, 15 South Walk, Cwmbran, NP44 1PU
Edinburgh
TSB, 28 Hanover Street, Edinburgh, EH2 2DS
Leeds
HSBC, 33 Park Row, Leeds, LS1 1LD
Santander, PR Work Café, 10-12 Park Row, Leeds, LS1 5HD
Yorkshire Bank, 94-96 Briggate, Leeds, LS1 6NP
Leicester
Santander, Carlton Park, King Edward Avenue, Narborough, Leicester, LE19 0AL
Liverpool
Santander, 45 Lord Street, Liverpool, L2 6PB
TSB, 81-83 Lord Street, Liverpool, L2 6PG
London
Barclays, 2 Churchill Place, Canary Wharf, London, E14 5RB
Barry's Food & Wine, 149 Hoxton Street, London, N1 6PJ
HSBC, 165 Fleet Street, London, EC4A 2DY
Halifax, 118-132 New Oxford Street, London, WC1A 1HL
NatWest, 1 Princes Street, London, EC2R 8BP
NatWest, 34 Henrietta Street, London, WC2E 8NL
NatWest, 10 Southwark Street, London, SE1 1TJ
Post Office, 52 Blackfriars Road, London, SE1 8NN
Post Office, 39-41 Farringdon Road, London, EC1M 3JB
Post Office, 11 White Kennet Street, Houndsditch, London, E1 7BS
Post Office, 19a Borough High Street, London, SE1 9SF
Post Office, 125-131 Westminster Bridge Road, London, SE1 7HJ
Santander, 48-54 Moorgate, London, EC2R 6EJ
Santander, 164-167 Tottenham Court Road, London, W1T 7JE
Santander, 2 Triton Square, Regents Place, London, NW1 3AN
The Cooperative Food, 185 Old Street, Shoreditch, London, EC1V 9NP
TSB, 55 Bow Bells House, Cheapside, London, EC2V 6AT
Virgin Money, 154-158 Kensington High Street, London, W8 7RL
Manchester
Lloyds Bank, 42-46 Market Street, Manchester, M1 1PW
NatWest, 1 Hardman Blvd, Manchester, M3 3AQ
TSB, 21 Market Street, Manchester, M1 1WR
Margate
Santander, 110-112 High Street, Margate, Kent, CT9 1JR
Milton Keynes
Santander, 201 Grafton Gate East, Milton Keynes, MK9 1AN
Newcastle
Santander, 112-118 Northumberland Street, Newcastle, NE1 7DG
Salford
Barclays, Unit 2 Blue, MediaCityUK, Salford, M50 2AD
Lowry Outlet Mall, The Lowry Designer Outlet, Salford Quays, M50 3AH
Sheffield
Post Office, 12 Ellesemere Road, Sheffield, S4 7JB
Yorkshire Bank, Fargate, Sheffield, S1 1LL
Swindon
Nationwide, Nationwide House, Pipers Way, Swindon, SN3 1TA
Wales
Post Office, 56-58 Oxford Street, Mountain Ash, Mid Glamorgan, CF45 3HB
Santander, 5-7 Queen Street, Cardiff, South Glamorgan, CF10 2AF