This weekend, the Bank of England confirmed that the £50 note will remain part of UK currency and a new batch will be issued after the £20 note in 2020 following a public nomination process to select potential characters to appear on it.
In keeping with the new £5 and £10 polymer notes, the £50 will also be printed on thin, flexible plastic polymer material, making them cleaner, safer and stronger.
In September 2016, the first polymer £5 note featuring Winston Churchill entered circulation in the UK. Its success lead to the Jane Austen £10 polymer note being released the following year and plans for the first polymer £20 note featuring artist JMW Turner to be issued in 2020. It will be down to the public to decide who should appear on the new £50 notes, so who would you nominate?
The £50 note was first introduced in 1981 and there are now 330 million in circulation, totalling a combined value of £16.5 billion!
Recently there have been fears that £50 notes are being used for criminal activity such as tax evasion and are rarely used for standard purchases. However, the Treasury has said that this new batch of polymer notes has been designed to be more secure and harder to forge, meaning that they are here to stay.
They will also be more durable and environmentally friendly than their predecessors, lasting roughly 2.5 times longer than paper notes.
Sarah John, the Bank's Chief Cashier, said: "I'm very excited to be starting the process of introducing a new £50 note. At the Bank, we are committed to providing the public with high quality notes they can use with confidence. Moving the £50 note onto polymer is an important next step to ensure that we can continue to do that."
What are your thoughts on the £50 note and who would you like to see feature on the next polymer batch? Let us know in the comments below!
---
If you're interested in coin collecting, our Change Checker web app is completely free to use and allows users to:
– Find and identify the coins in their pocket
– Collect and track the coins they have
– Swap their spare coins with other Change Checkers

Sign up today at: www.changechecker.org/app
LEEDS
HSBC: 33 Park Row, LS1 1LD
YORKSHIRE BANK: 94-96 Briggate, LS1 6NP
CARDTRONICS: Rawdon Newsagents, 11 Harrogate Road, LS19 6HW
LIVERPOOL
SANTANDER: 45 Lord Street, L2 6PB
NEWCASTLE
SANTANDER: 112-118 Northumberland Street, NE1 7DG
BIRMINGHAM
HSBC: 130 New Street, B2 4JU
NATWEST: Grand Central, B2 4BF
LLOYDS: 36-38 New Street, B2 4EG
BARCLAYS: 79-84 High Street, B4 7TE
MANCHESTER
NOTE MACHINE: Lowry Outlet Mall, The Quays, Salford, M50 3AP
NATWEST: 1 Spinningfields, M3 3AP
BARCLAYS: 17 St Ann's Square, M2 7PW
LONDON
NOTE MACHINE: Barry's Food and Wine, 149 Hoxton Street, N1 6PJ
SANTANDER: 48-54 Moorgate, EC2R 6EJ & 164-167 Tottenham Court Road, W1T 7JE & 2 Triton Square, Regents Place, NW1 3AN
POST OFFICE: 26/28 The Broadway, E15 4QS
BARCLAYS: 46-48 Regent Street, Piccadilly, W18 5RA
HSBC: 165 Fleet Street, EC4A 2DY
NATIONWIDE: 1 Threadneedle Street, EC2r 8BP
NATWEST: 10 Southwark Street, SE1 1TJ
LLOYDS: 33 Old Broad Street, EC2N 1HZ
BASINGSTOKE
NATWEST: 3 London Street, RG21 7NS
WINCHESTER
SANTANDER: 119 High Street, SO23 9AS
NATWEST: 105 High Street, SO23 9AW
BATH
NOTE MACHINE : Eurochange Bath, 6 Southgate Street
HSBC: 45 Milsom Street, BA1 1DU
NATWEST: 15-17 High Street, BA1 5AH
CARDIFF
LLOYDS: 31 Queens Street, CF10 2AG
SWINDON
NATIONWIDE: Nationwide House, Pipers Way, SN3 1TX
The Bank of England officially revealed the new £10 polymer banknote in a ceremony at Winchester Cathedral – the burial place of Jane Austen, on the 200th anniversary of her death.
What does it look like?
The new £10 note features a portrait image of Jane Austen (commissioned by her nephew James Edward Austen Leigh in 1870), alongside the famous quotation from her novel Pride and Prejudice: 'I declare after all there is no enjoyment like reading!" 
Jane Austen's writing table – the central design in the background is inspired by the 12 sided writing table, and writing quills, used by Jane Austen at Chawton Cottage.​ An illustration of Miss Elizabeth Bennet undertaking "The examination of all the letters which Jane had written to her" from a drawing by Isobel Bishop (1902-1988) is also featured.
There is also an image of Godmersham Park, the home of Edward Austen Knight (Jane Austen's brother). It is believed that she visited the house often and it was the inspiration for a number of Jane Austen's novels.
When can I find one in my change?
The new note entered circulation on 14th September this year and around 55% of £10 banknotes in circulation are made from polymer.
Will I still be able to spend my current £10 notes?
Yes you will, but only up until 1 March 2018.  As with the old paper £5 notes, the £10 note will eventually cease to be legal tender – but you will still be able to exchange them at the Bank of England.
What will happen to the paper £10 notes once they're no longer legal tender?
There are approximately 359,000,000 paper ten pound notes in circulation, but the Bank of England does have a plan for them.
Once the Bank of England start to withdraw the paper £10 notes from circulation, they will be recycled.
In the early 2000s, the Bank of England introduced a new way to get rid of its old notes – by recycling them with a composting treatment similar to that used with food waste.
This recycling method was put into place for all paper-note waste in 2011, using them as a soil improver for agriculture.
What should I look out for on the new polymer £10 banknotes?
When the new polymer £5 note was released in September 2016, serial numbers became the talk of a nation. The first prefixes I considered were JA01, JA75 (Jane Austen's birth year) and JA17 (the year of Jane Austen's death). However, whilst these will likely become popular with collectors in the future,  it could be many years before notes with these serial numbers enter circulation due to the huge amount of possible combinations that would come before 'JA'. Click here to find out what else you should be looking for on these banknotes >> 
So the new era of Plastic Banknotes is officially upon us! What do you make of the new Polymer banknotes? 
---
Mark the 200th anniversary of Jane Austen's death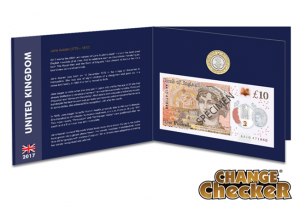 To celebrate such an inspirational female figure, the Royal Mint and the Bank of England have chosen to honour her on a brand new £2 coin and £10 banknote.
Click here to own the 2017 Jane Austen £2 Coin and £10 Banknote Pack today >>