Posts Tagged 'Queen Elizabeth'
Since the passing of Queen Elizabeth II in September 2022, there's been a huge shake up in the numismatic world. Not only have collectors been rushing to secure the very last coins featuring the late Queen, but wanting to be the first to own new coins bearing King Charles III's effigy.
Here are some tips to guide you in building your King Charles III coin collection.
1. Use cash
It may seem obvious, but the best way to increase your chances of finding a King Charles coin in your change is to use cash. And where possible, ask for your change to be given in the denominations you're interested in.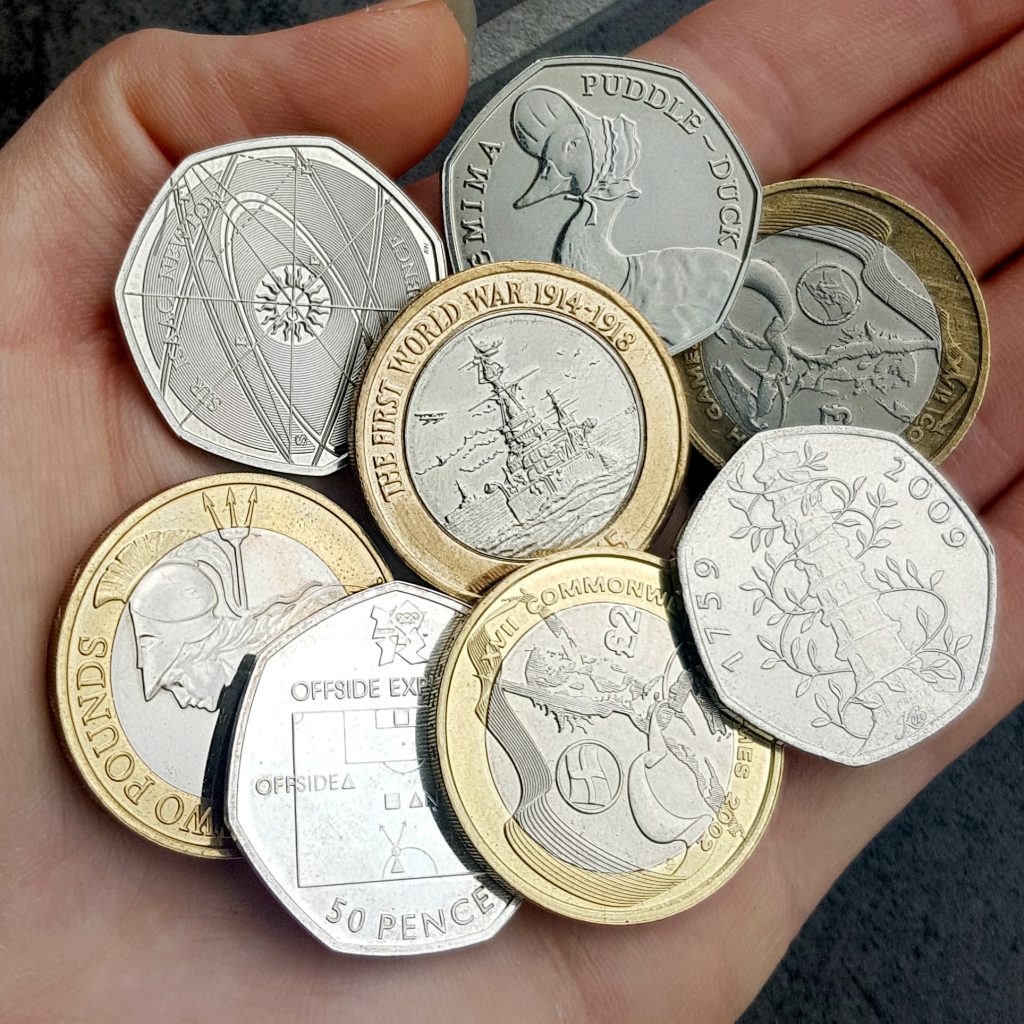 For example, if you're looking for the Queen Elizabeth Memorial 50p, which is the first coin to enter circulation featuring the King on the obverse, ask for your change in 50ps.
2. Look closely
Make sure you're looking closely at the coins in your change to check whether you have a commemorative coin, especially one featuring His Majesty.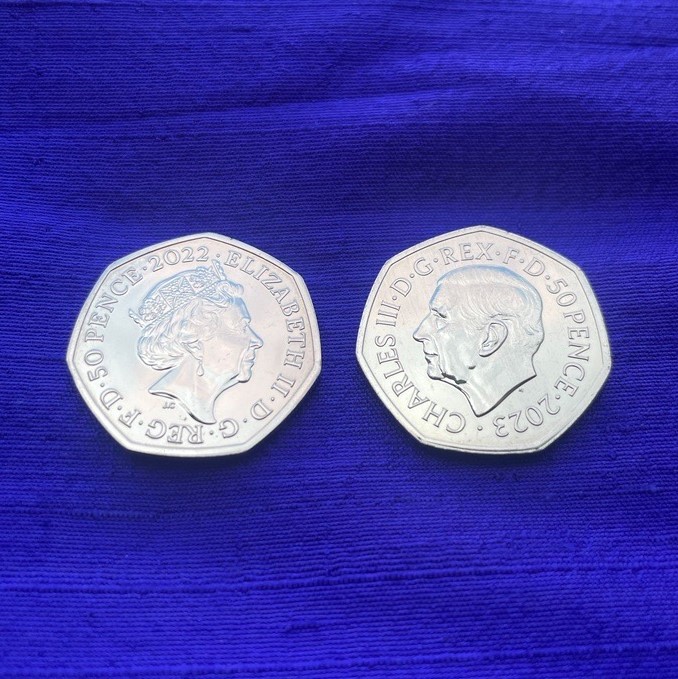 The most obvious difference will be the effigy on the obverse of the coin. But it's also a good idea to familiarize yourself with the reverse designs of commemorative coin so you know what you're looking out for.
3. Do your research
The best way to identify coins you've found in your change is by using our Change Checker Web App.
Simply select the denomination, year and obverse monarch of the coin you've found to view all the possible coins it could be. You'll find information like mintage figures and facts about the theme or designer.
You can also find much more information about your coin on our blog.
4. Check our scarcity index
Something else you'll find on our web app is where each coin ranks on our scarcity index.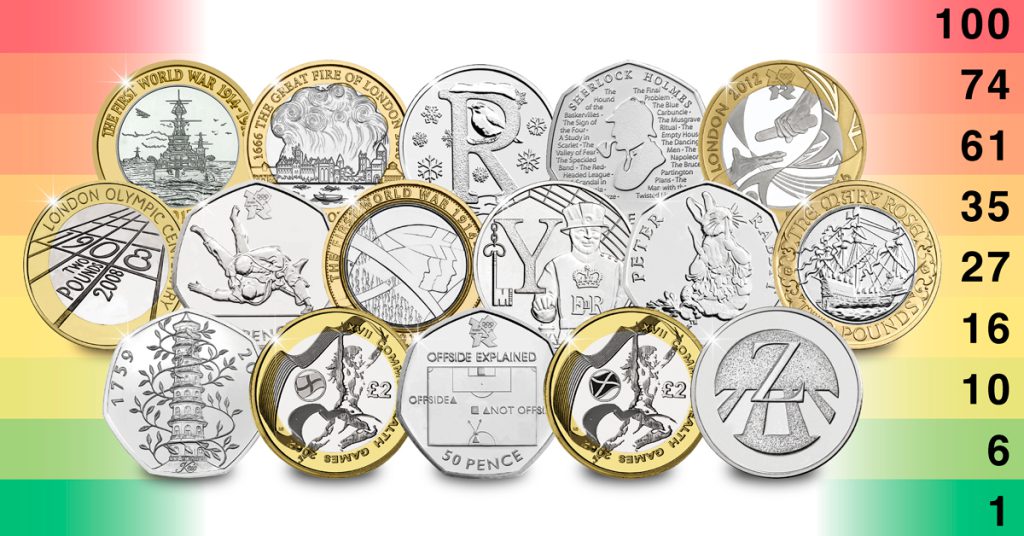 We combine mintage figures with how often a coin has been listed in collections to determine how scarce and sought after each coin is. Our scarcity index is updated quarterly as there can be some pretty big shake ups in the rankings.
5. Swap with others
If you're looking for a specific coin and aren't having any luck finding it in your change, you can use the swap centre on our web app or our Facebook community group to swap coins with other collectors.

Who knows, someone else might just have the coin you're looking for!
Happy Hunting!
So there you have it, 5 tips you can use to start collecting King Charles III coins!
You may already have an impressive collection including some new King Charles coins. If so, post a photo of yours on social media and tag us, we'd love to see them!
Receive new UK coins without the hassle of placing orders on the day of release!
The Royal Canadian Mint are marking the end of Queen Elizabeth II's circulating coinage in 2023 with a Limited Edition Collector's Set of coins.
Packaged in a royal purple presentation to pay tribute to the Queen, these extraordinary coins mark the end of a remarkable reign, and the end of an era in Canadian coins.
Limited Edition Queen Elizabeth II Coins
Each coin's obverse is double-dated ("1952-2022") to commemorate Her Majesty's reign and is marked by four pearls symbolizing the four effigies that have graced Canadian coins during that time
These six coins will not enter circulation and are limited to JUST 50,000 WORLDWIDE! Considering the recent surge in demand for Queen Elizabeth II coins, stock surely won't last long…
Change Checker has fortunately managed to secure an initial allocation of just 250 sets for collectors. But you'll need to act fast to secure yours.
Click here to get yours for £35 (+p&p) >>
Royal Canadian Mint's history of popular Queen Elizabeth II coins
2022 Queen Elizabeth Memorial $2
In December 2022, The Royal Canadian Mint issued a unique Queen Elizabeth II memorial $2 coin.
Just shy of 5 million $2 coins entered circulation.
However, when you consider Canada's population is over 38 million, you'll appreciate just how sought-after this coin is.
The obverse features the portrait of Queen Elizabeth II, created by Susanna Blunt and the reverse features the traditional $2 Polar Bear design by Brent Townsend.
But, what makes this $2 coin extra special is the outer ring…
The outer ring features a striking black nickel finish and is reminiscent of a mourning band, in a touching tribute to Her Majesty.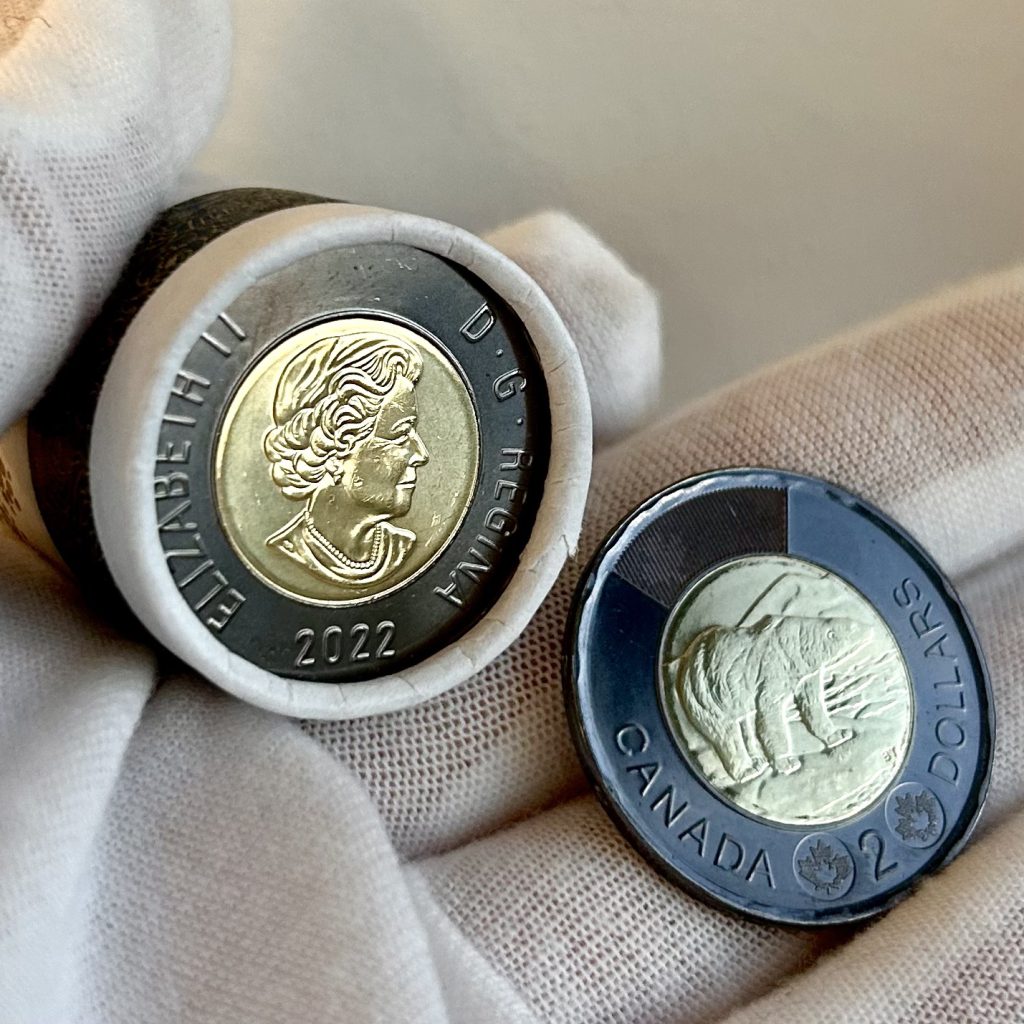 Selectively coloured Insulin $2 coin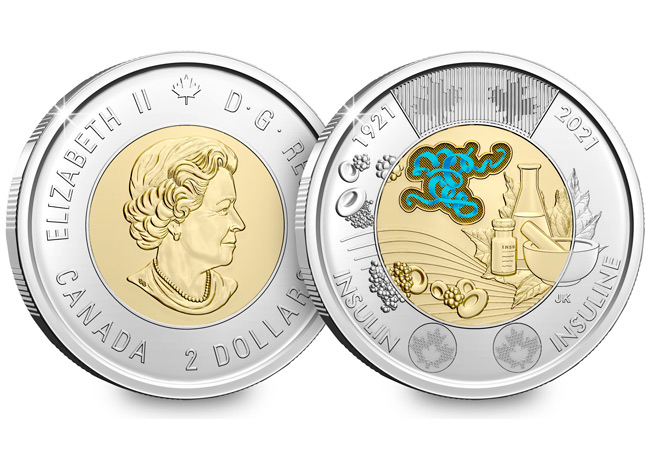 To mark the 100th anniversary of the discovery of Insulin, The Royal Canadian Mint issued this a special collector's coin set.
Featured in the set was this unusual selectively coloured $2 coin.
It's rare to see colour printing on a £2 coin – it's only been seen once in 20 years in the UK!
Just 100,000 sets were issued for collectors worldwide, with this being the only way people could get their hands on the individual $2.
Thousands queue online for Queen Elizabeth II coins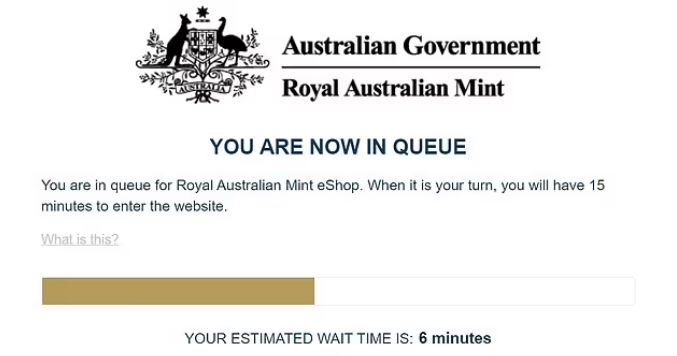 Demand for Queen Elizabeth II coins was particularly felt at Mints around the world, following the sad news of her passing on 8th September.
Collectors heading to The Royal Australian Mint websites faced long queues, with coins issued within the previous few weeks in very high demand.
---
Considering the popularity of Royal Canadian Mint's coins, paired with this being the last official Canadian Queen Elizabeth II Coin Set, we expect collector demand to be very high.
---
Don't miss out! Order your Canada 2023 Collector's Edition Set today
We have an initial allocation of JUST 250 sets available for Change Checkers. Don't miss out!
Royal Australian Mint and Perth Mint are set to commemorate Queen Elizabeth II with special memorial obverses, whilst their King Charles III portrait awaits approval:
"In the coming months the Australian Government will announce details of… an effigy of King Charles III for all Australian coins" – Royal Australian Mint.
Royal Australian Mint's Queen Elizabeth II Memorial Obverse Design
The first coinage featuring His Majesty's effigy are expected to be issued in late 2023.
Until then, Royal Australian Mint have issued a final commemorative coin design featuring Queen Elizabeth II effigy.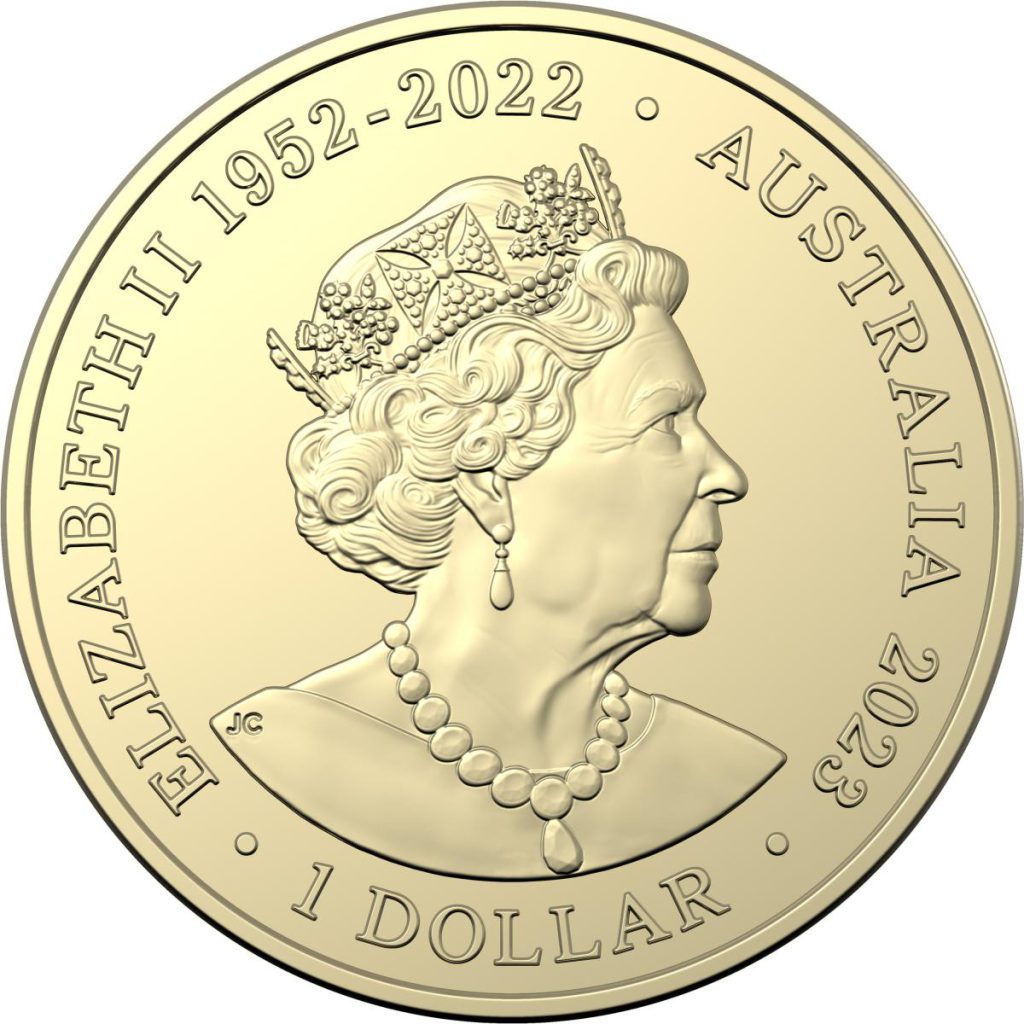 Royal Australian Mint's Queen Elizabeth II Memorial Obverse will be used on collectable and investment coins starting from 01.01.2023
Six effigies of Her Late Majesty have appeared on Australian coins but the new memorial design will feature the Queen's years of reign as an inscription – "Elizabeth II 1952-2022".
The Memorial Obverse will also feature on coins issued by The Perth Mint in Western Australia.
Queen Elizabeth II Memorial Coins by The Perth Mint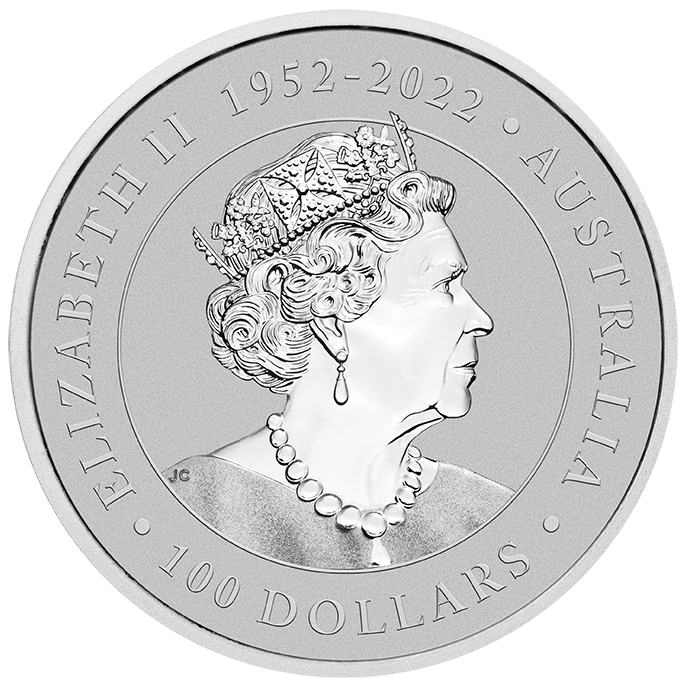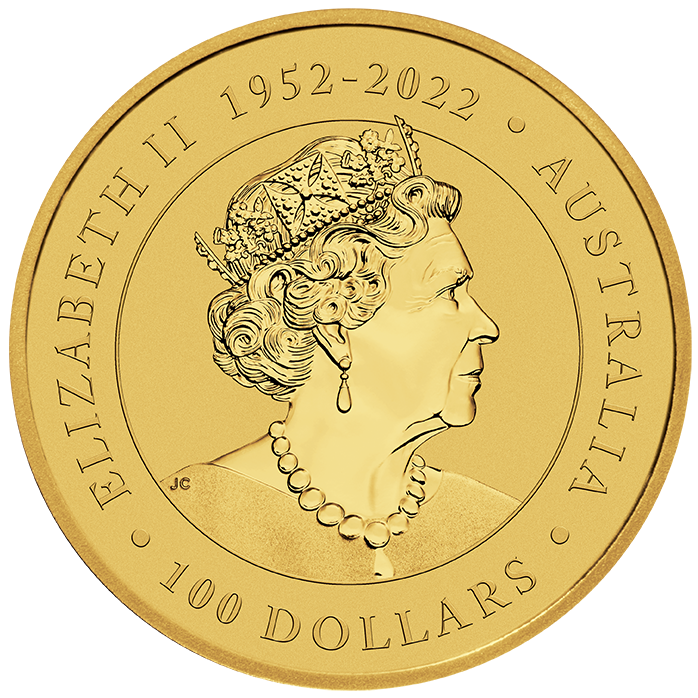 The Australian Kangaroo 2023 Gold, Silver and Platinum Bullion Coins will be The Perth Mint's first releases featuring this memorial obverse.
Following the bullion kangaroos, the memorial obverse will be used on select Australian legal tender coins too.
Whilst we eagerly anticipate the reveal of Australia's King Charles III effigy, we've seen His Majesty's portrait revealed on our UK coins and banknotes.
UK King Charles III Coin Obverse Effigy
The first effigy of King Charles III first appeared on a UK 50p earlier in 2022, commemorating Queen Elizabeth II.
The coin has since entered circulation, with 4.9 million coins currently out there to find.
This obverse also featured on the Queen Elizabeth II Memorial £5 coin but we're yet to see it on our lower denomination and £2 coins.
However, some of the first 2023-dated UK coins have been confirmed, featuring His Majesty's portrait, so we can certainly start getting excited! Find out more here >>
King Charles III Portrait Revealed on UK Banknotes
His Majesty's portrait will appear on the front of UK banknotes from mid-2024.
There will be no changes to the existing designs which means we've all got a fantastic opportunity to find a new re-issued version our favourite banknote!
Taking guidance from the Royal Household, the new banknotes will only be issued to replace worn Queen Elizabeth II notes. So, the two monarchs' portraits will co-circulate for some time!
Find out more and discover which serial numbers you should look out for >>
---
Are you a collector of Australian coinage? Let us know in the comments if you're exciting for the new King Charles III portrait to be revealed!
---
Find and store your King Charles III 50p alongside the first King Charles III £5 coin
Get ready to start your hunt for the new 50p in your change. Secure your Change Checker King Charles III First Effigy Collecting Pack today!