Posts Tagged 'Queen's Portrait'
Royal Australian Mint and Perth Mint are set to commemorate Queen Elizabeth II with special memorial obverses, whilst their King Charles III portrait awaits approval:
"In the coming months the Australian Government will announce details of… an effigy of King Charles III for all Australian coins" – Royal Australian Mint.
Royal Australian Mint's Queen Elizabeth II Memorial Obverse Design
The first coinage featuring His Majesty's effigy are expected to be issued in late 2023.
Until then, Royal Australian Mint have issued a final commemorative coin design featuring Queen Elizabeth II effigy.
Royal Australian Mint's Queen Elizabeth II Memorial Obverse will be used on collectable and investment coins starting from 01.01.2023
Six effigies of Her Late Majesty have appeared on Australian coins but the new memorial design will feature the Queen's years of reign as an inscription – "Elizabeth II 1952-2022".
The Memorial Obverse will also feature on coins issued by The Perth Mint in Western Australia.
Queen Elizabeth II Memorial Coins by The Perth Mint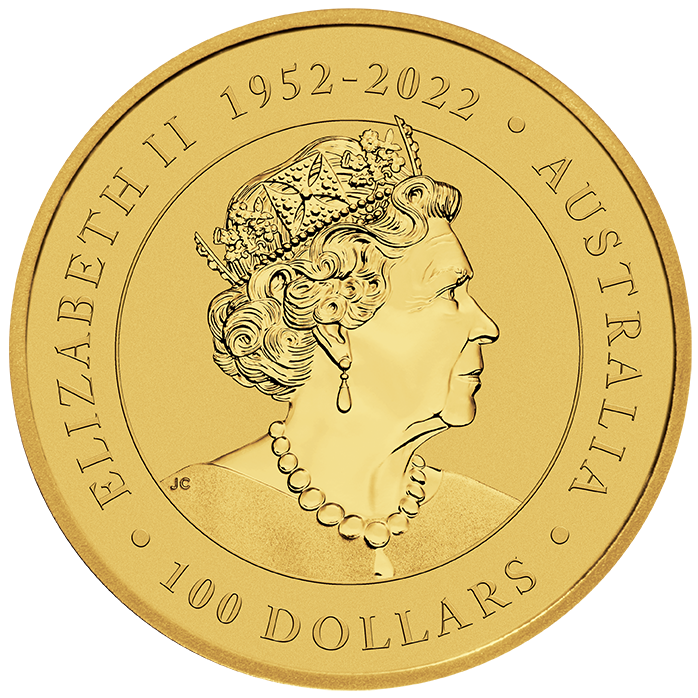 The Australian Kangaroo 2023 Gold, Silver and Platinum Bullion Coins will be The Perth Mint's first releases featuring this memorial obverse.
Following the bullion kangaroos, the memorial obverse will be used on select Australian legal tender coins too.
Whilst we eagerly anticipate the reveal of Australia's King Charles III effigy, we've seen His Majesty's portrait revealed on our UK coins and banknotes.
UK King Charles III Coin Obverse Effigy
The first effigy of King Charles III first appeared on a UK 50p earlier in 2022, commemorating Queen Elizabeth II.
The coin has since entered circulation, with 4.9 million coins currently out there to find.
This obverse also featured on the Queen Elizabeth II Memorial £5 coin but we're yet to see it on our lower denomination and £2 coins.
However, some of the first 2023-dated UK coins have been confirmed, featuring His Majesty's portrait, so we can certainly start getting excited! Find out more here >>
King Charles III Portrait Revealed on UK Banknotes
His Majesty's portrait will appear on the front of UK banknotes from mid-2024.
There will be no changes to the existing designs which means we've all got a fantastic opportunity to find a new re-issued version our favourite banknote!
Taking guidance from the Royal Household, the new banknotes will only be issued to replace worn Queen Elizabeth II notes. So, the two monarchs' portraits will co-circulate for some time!
Find out more and discover which serial numbers you should look out for >>
---
Are you a collector of Australian coinage? Let us know in the comments if you're exciting for the new King Charles III portrait to be revealed!
---
Find and store your King Charles III 50p alongside the first King Charles III £5 coin
Get ready to start your hunt for the new 50p in your change. Secure your Change Checker King Charles III First Effigy Collecting Pack today!
Change Checkers, we've got a special royal announcement…
Her Majesty Queen Elizabeth II has confirmed that her Platinum Jubilee in 2022 will be celebrated with the UK's FIRST-EVER Royal 50p!
* UPDATE *
The design of the UK's FIRST ROYAL 50p has JUST been revealed by The Royal Mint! With Her Majesty's Platinum Jubilee being the first in the history of our British Royal Family, the number 70 takes centre stage on the reverse design of this 50p.
The Royal Cypher EIIR is also shown on the design of this UK first, above the dates 1952-2022, in a poignant tribute to our nation's longest reigning monarch.
What an outstanding issue this is going to be! We've never before seen a 50p mark such a significant event and it's certainly got us wondering what this amazing 50p will look like! As this will be the FIRST-EVER UK Royal 50p, we're expecting increased collector interest…
The Royal Proclamation has also raised an additional level of interest, revealing intriguing details of TWO different obverse designs – one featuring the normal Queen's head design by Jody Clark and a second portraying Her Majesty on horseback, in what appears to be a nod to her original 1953 Coronation Crown.
We've only seen this happen once before which was for the Decimal Day 50p issued in the 2021 Annual Coin Set! The 50p from the Annual Set featured the original Arnold Machin portrait which featured on UK coinage during the time of the decimal change-over, on the obverse instead of her modern one.
According to the Proclamation, we're set to see a number of UK firsts for this coin and we just can't wait to find out more. It's only right that the coin issued to mark the first monarch in British history to reach this milestone, should feature a design full of firsts too!
Previous Jubilee coins have proven so popular with collectors but historically these issues have been Crowns and £5 coins. So, I'm certain that the fact the Platinum Jubilee will be the first royal celebration on a UK 50p, it will make this the most popular 50p to date, especially if we can find it in our change!
If you don't want to miss out on this UK FIRST, which is sure to be popular, make sure you've signed up to the Change Checker 50p Subscription Service! You will receive every future UK 50p, delivered to your doorstep, without any of the hassle of ordering the coin yourself!
You can sign up to the Change Checker 50p Subscription Service for free here >>
---
Don't miss out! Be one of the first collectors to own the FIRST Royal 50p!
This year marks Her Majesty's 95th birthday year. Queen Elizabeth II is Britain's longest reigning monarch, with an incredible 68 years on the throne.
The first Queen Elizabeth II coins were struck in 1953 and since then five different effigies have adorned our coins.
We asked you to vote for your favourite and portrait of Queen Elizabeth II and the results are in…
1953 – 1967: Mary Gillick
The first coins of Queen Elizabeth's reign bore Mary Gillick's portrait of the young Queen, engraved especially for the new coins.
Her uncrowned portrait of the Queen is still used on the Maundy Money distributed each year by Her Majesty.
1968 – 1984: Arnold Machin RA
With the upcoming decimalisation, it was decided to refresh the Queen's portrait with Arnold Machin's new sculpture of the Queen. Commissioned in 1964, it first appeared in 1968 on the new 5p and 10p coins. A version of the design with tiara was also introduced on stamps in 1967 and remains to this day.
1985 – 1997: Raphael Maklouf
In creating his new effigy of Her Majesty, Raphael Maklouf aimed "to create a symbol, regal and ageless".
His "couped" portrait depicts Queen Elizabeth II wearing the royal diadem favoured by her on the way to and from the State Opening of Parliament.
1998 – 2015: Ian Rank-Broadley FRBS
In 1997, a new portrait of Her Majesty was designed by Ian Rank-Broadley. Created to fill the full circle of the coin, its larger size was a deliberate response to the smaller 5p and 10p coins in circulation.
A noticeably more mature portrayal of Her Majesty, Rank-Broadley aimed to show the Queen with "poise and bearing".
2015 – Present: Jody Clark
The new "heads" side of the coin was designed by Jody Clark who at 33 was the youngest person to design a monarch's profile on the currency.
It was the first time her portrait had been modified in 17 years and has remained on our UK coinage ever since.
This was arguably the first UK coin to introduce elements of personality with a hint of a smile. Clark is the first Royal Mint employee in over 100 years to design a UK definitive coin portrait
---
As Queen Elizabeth II is now one of the top five longest-reigning monarchs in the world, it's only fitting that five of her portraits appear on our UK coinage.
Your favourite portrait will be revealed next week, so stay tune to find out if your vote won!
---
Receive new UK coins without the hassle of placing orders on the day of release!
Join the Change Checker UK CERTIFIED BU Subscription Service and receive new UK coins sent to your door without the hassle of placing orders on the day of release!
Don't miss your chance to get ahead of the crowd and be one of the very first collectors to receive the latest UK new issue coins as soon as possible after their release.