It's been nearly 70 years since the last UK coronation, when Queen Elizabeth II was crowned on 2nd June 1953. Since then, a lot has changed, especially King Charles III's approach to his coronation on 6th May 2023.
Let's take a look at some of the key differences between these two historical events.
The ceremony and celebrations
The late Queen's coronation was a grandiose affair involving a 4 hour long ceremony at Westminster Abbey, attended by 8,250 guests. The ceremony was followed by a 5 mile journey around London in the Golden State Carriage. The ceremony is thought to have cost around £1.57 million.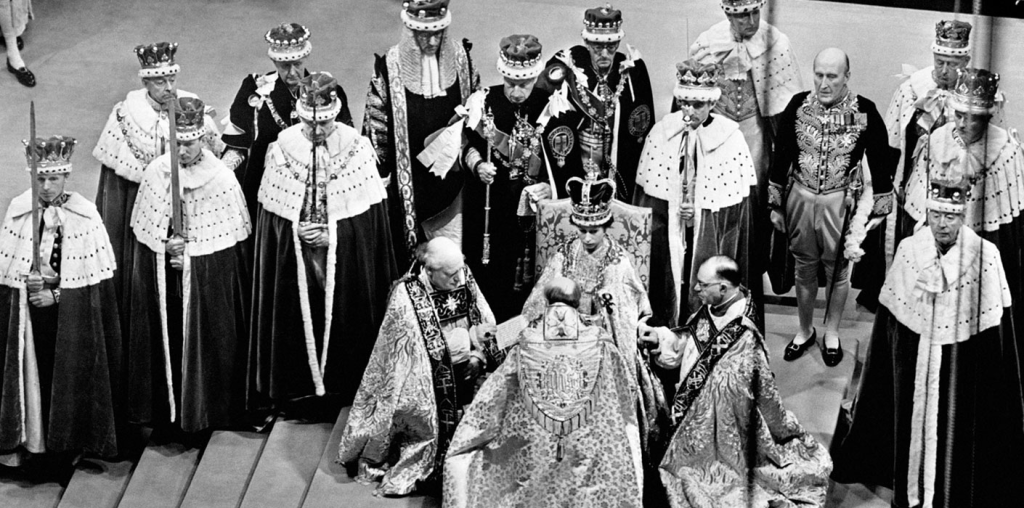 Compared to the uplifting celebrations in 1953, the King's coronation has been billed as a 'solemn religious' event out of respect for his late mother's passing. It's expected to be a reflection of the monarch's modern role in society, whilst still being rooted in longstanding traditions and pageantry.
The ceremony itself will be just 60 minutes long and His Majesty is expected to take a significantly shorter procession in the Diamond Jubilee State Coach. The guestlist has been drastically reduced to just 2,000 guests.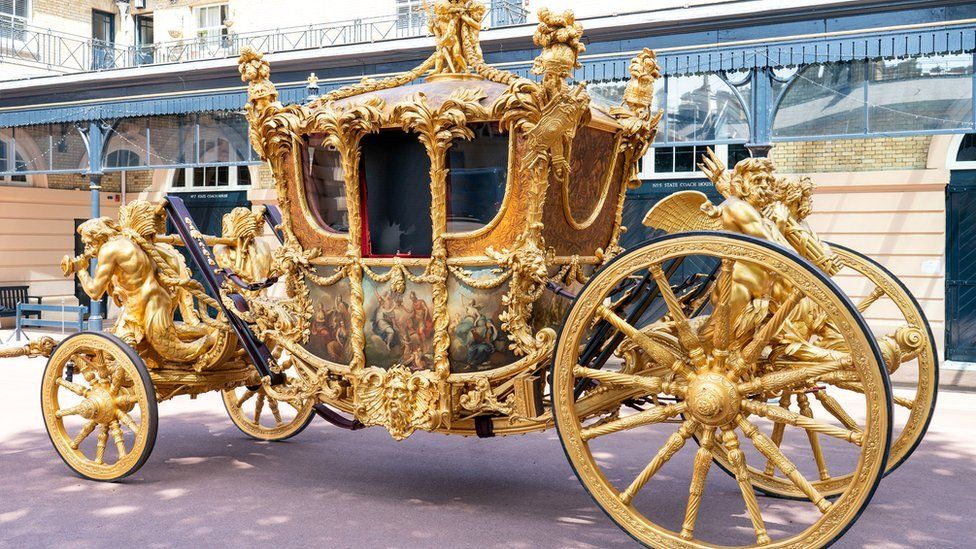 In keeping with tradition, King Charles will be crowned with St Edward's Crown during the coronation ceremony. The St Edward's crown can be seen on the reverse design of the UK Coronation £5 coin.
Interestingly, the King is also depicted wearing a crown for the first time ever on the collector versions of the UK Coronation coin range.
Dress code
In 1953, Queen Elizabeth II – then just 26 years old – wore a white silk dress designed by Norman Hartnell. The dress was embroidered with floral emblems, each representing countries of the Commonwealth at the time.
Additionally, she wore an accompanying crimson velvet 6.5 metre Robe of Estate, which was ornately decorated with gold lace.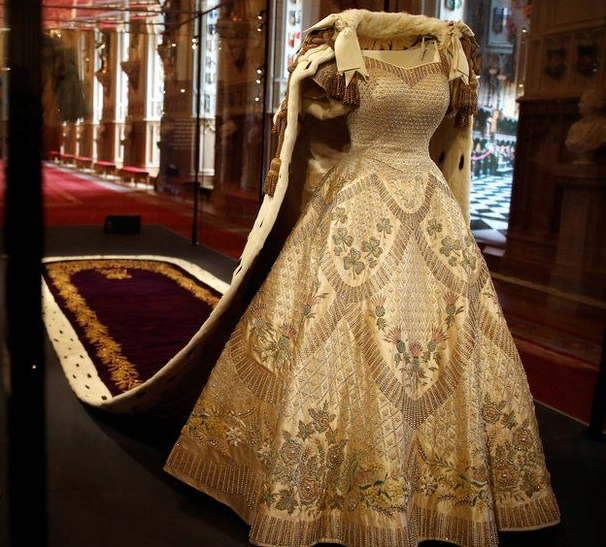 The King will introduce a more relaxed dress code, reflecting a more modern Britain. He may even choose to wear his military uniform.
The same traditional coronation regalia will be used during the ceremony. Some of these items can be seen within the design of the UK Coronation £5 design, such as the St Edward's Crown and the sovereign's sceptre with dove and and cross.
70 years on…
The 1953 coronation was the first to be televised, and for many it would have been the first big event they'd watched on television. His Majesty's coronation will be widely televised and there is sure to be extensive coverage of the ceremony across the internet and social media.
A special emoji has even been created to mark the event. A cartoon depiction of the St Edward's Crown with a purple velvet cap will appear automatically on social media platforms when someone uses a hashtag relevant to the coronation.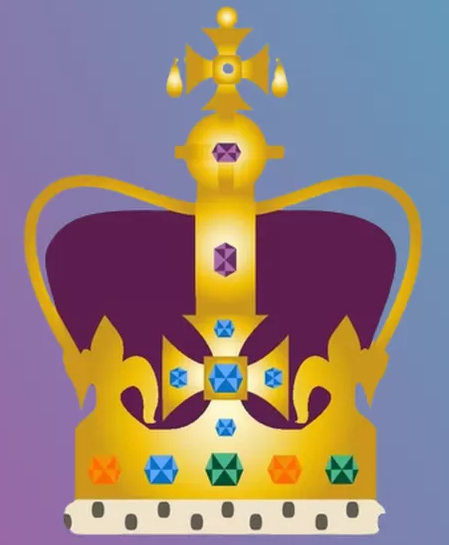 Tag us and use these hashtags in your coronation posts to see the crown emoji in action!
#Coronation, #CoronationConcert, #CoronationWeekend and #CoronationBigLunch
Change Checker's Coronation Activity Pack!
We're kicking off our Coronation weekend celebrations with some free-to-download activity sheets.
From Coronation bingo, which you can play on the big day, to some colouring sheets for the downtime in between events – we've got your party plans covered!
Download your kit below:
Add the UK King Charles Coronation Coins to your collection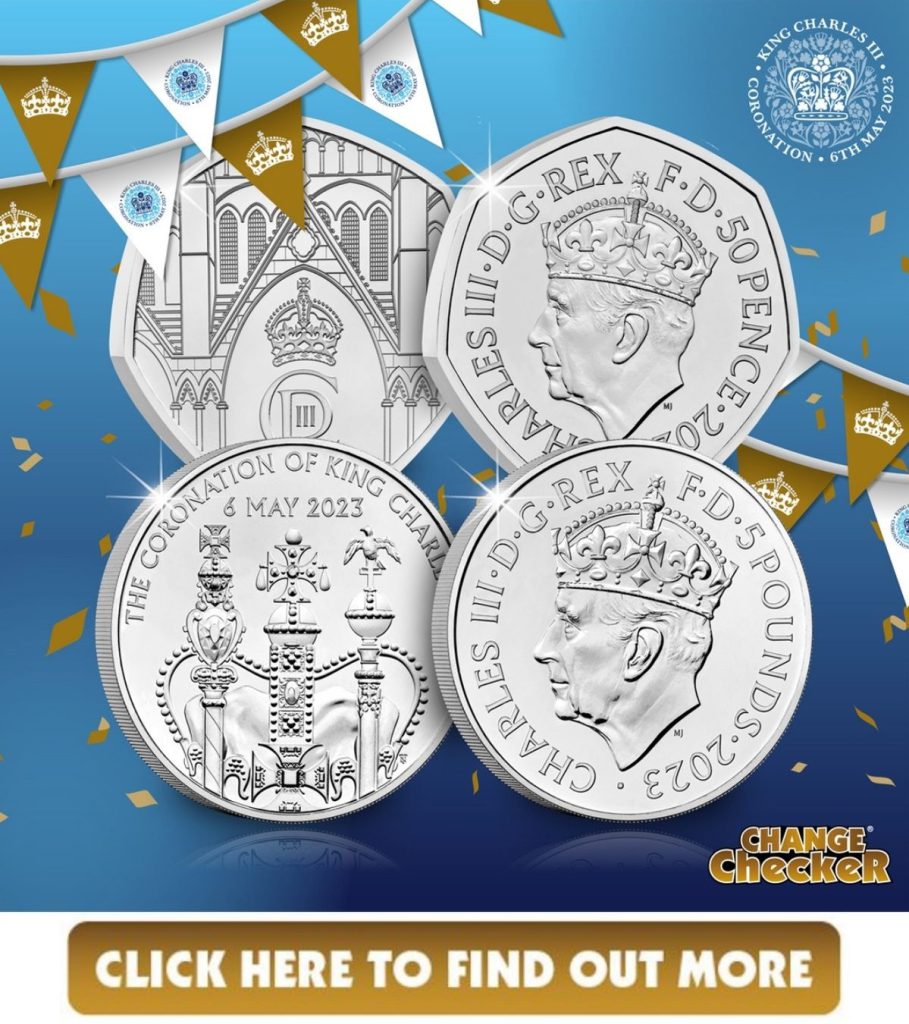 The Duke of Cambridge, HRH Prince William, is the second in line to the throne and the elder son of The Prince of Wales and Diana, Princess of Wales.
In 2022, the year that marks Prince William's 40th birthday, The Royal Mint has issued a brand new £5 coin.
Significantly, this is the first ever UK coin to be solely dedicated to The Duke, with a design by engraver, Thomas T. Docherty capturing the prince's likeness in exquisite detail.
The perfect addition to any royal collection, issued in honour of a much-loved prince and future King, you can now secure your 2022 UK Prince William 40th Birthday £5 and preserve this significant moment in British royal history for generations to come.
Secure yours today for JUST £10.99 (+p&p) by clicking here >>
Whilst this is the only coin to be solely dedicated to HRH Prince William, he has been commemorated on two previous £5 coins…
2011 Royal Wedding £5
This £5 coin was issued to celebrate the marriage of Prince William and Catherine Middleton on 29th April 2011.
The reverse bears the officially approved portraits of the couple and is only the sixth time in history that a double portrait has appeared on British coinage.
The designer, Mark Richards FRBS, was chosen in an invitation only process and describes his depiction of the couple as 'a feeling that pervades all the photographs I have seen of the couple together'.
The image is taken from one of their first official engagements together.
2018 Four Generations of Royalty £5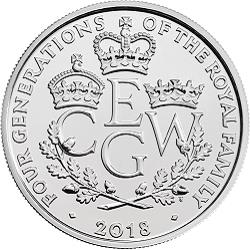 This Four Generations of Royalty £5 coin was highly anticipated since the moment HRH Prince George of Cambridge was born on 22nd July 2013.
This was the first time ever that The Royal Mint had issued a coin that celebrated all four generations of royalty in line to the throne on a single coin.
The reverse features an original design by much-loved calligrapher Timothy Noad, and ornately shows the initials of the current four generations, E, C, W, G, and represents the heritage of the House of Windsor.
Born to be King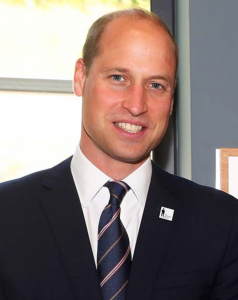 The Duke of Cambridge has been second in line to the throne, since his birth in 1982. From a young age, he possessed a desire to undertake charitable activities and projects.
Alongside his efforts in promoting the welfare of those who are serving or who have served their country in the Armed Forces, Prince William's charitable efforts expand into global affairs.
Protecting the natural environment for future generations is one of Prince William's key priorities. His Highness supports wildlife conservation initiatives and even led key programmes to end illegal wildlife trafficking on a global scale.
In October 2020, His Royal Highness launched 'The Earthshot Prize' designed to incentivise change and help to repair our planet over the next 10 years.
The Duke of Cambridge is also committed to helping children and young people. From convening a new industry-led taskforce to combat online bullying, to publically highlighting youth-engaging programmes, Prince William is dedicated to making a difference in young people's lives.
---
In the year that marks HRH Prince William's 40th birthday, we can celebrate his achievements in raising awareness of these important issues.
To commemorate the future King of the United Kingdom, you can own the brand new 2022 UK Prince William 40th Birthday £5 coin today >>
---
Secure the 2022 UK Prince William 40th Birthday £5 coin for your collection!
Secure the 2022 UK Prince William 40th Birthday £5 coin for your collection today for JUST £10.99 (+p&p) by clicking here >>
Your coin has been struck to a Brilliant Uncirculated quality and comes protectively encapsulated in official Change Checker packaging, to preserve the quality of your coin for generations to come.
Today is Prince Philip's 98th birthday, an extraordinary milestone by all accounts, and so we've taken a look back at some of the coins issued to commemorate key moments throughout his life.
Born in Corfu in 1921, he is actually the oldest living great-grandchild of Queen Victoria. Prince Philip was born into the Greek royal family but his family was exiled from Greece when he was a child.
In 1939 he began corresponding with Princess Elizabeth, and after World War II he was granted permission by the King to marry her.
Prince Philip's life of royal service began at the Queen's accession in 1952 and he has since become the longest-serving consort in British history and the oldest-ever male member of the British Royal family.
2007 Diamond Jubilee £5
In 2007, Her Majesty the Queen and the Duke of Edinburgh celebrated their Diamond Wedding Anniversary, a remarkable 60 years of marriage.
Due to this massive milestone and a truly proud moment for them both, the Royal Mint issued a new £5 coin.
Designed by Emma Noble, the reverse beautifully depicts the Rose Window at Westminster Abbey. This highly sought after coin is the only UK coin to feature the conjoined portrait of the Queen and Prince Philip.
2011 90th Birthday of Prince Philip £50
In 2011 a UK £5 coin was issued by The Royal Mint in celebration of the 90th birthday of Prince Philip.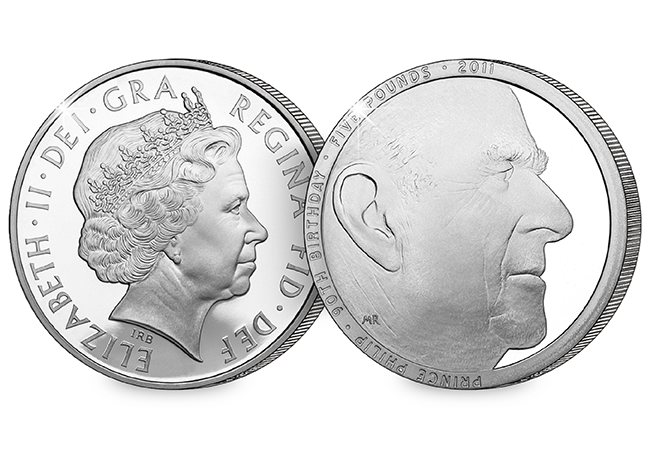 The coin's design features a specially commissioned portrait of Philip by Mark Richards FRBS.
Excitingly, just 18,730 of these coins were struck in Brilliant Uncirculated presentation packs making it one of the rarest £5 coins ever. And because of this, the coin is extremely sought after by collectors and is virtually impossible to get hold of on the secondary market.
2017 Prince Philip 70 Years of Service £5
In 2017, The Royal Mint released a brand new UK coin paying tribute to Prince Philip and his 70 years of service.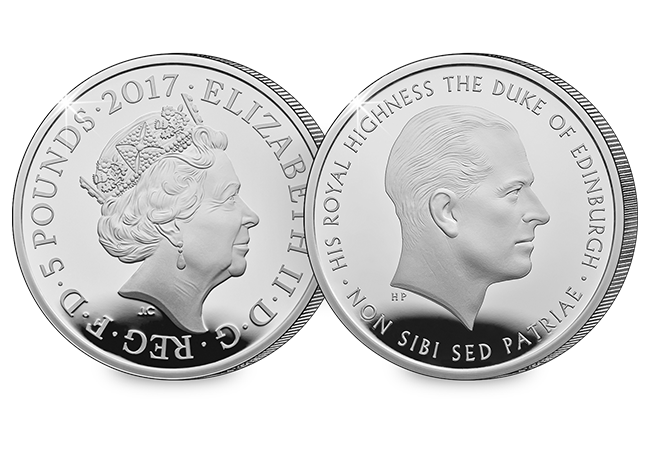 On 4th May 2017, Buckingham Palace announced that Prince Philip, the Duke of Edinburgh would be retiring from public duty. This marked an incredible 70 years of service to the Queen, the United Kingdom, British Isles and the Commonwealth.
As well as a Base Metal coin, a very limited number of Silver Proof coins were made available, with just 3,000 coins being struck. Unsurprisingly, this coin was quick to sell out at The Royal Mint and with their distributors.
Did you know he worked with the Royal Mint?
In 1952, The Duke of Edinburgh was appointed President of the Royal Mint Advisory Committee. His role included selecting the design of coins, medals and seals for the new reign of Her Majesty the Queen.
He worked with the Royal Mint right up to his retirement in 1999 so it's fair to say that the coins we know and love from years gone by, were specially selected by Prince Philip.
---
Secure the 2017 Prince Philip 70 Years of Service £5 coin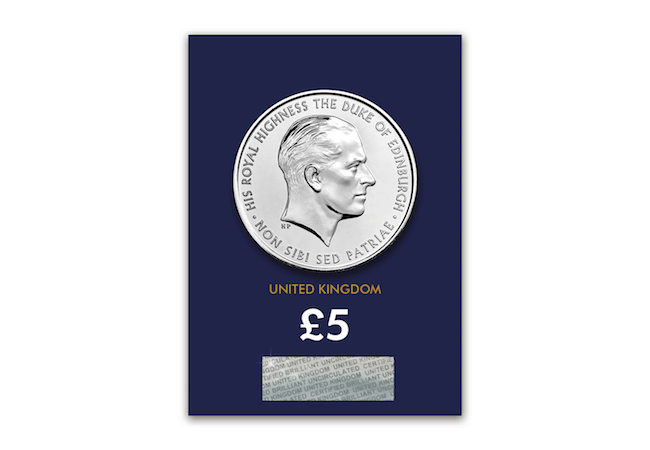 Whilst the Silver Proof version of this coin was quick to sell out, you still have the opportunity to get your hands on the Base Metal £5 coin in CERTIFIED BU quality.
Click here to secure the Brilliant Uncirculated Prince Philip 70 Years of Service £5 coin.