2021 marks an incredible 150 years since Prince Albert's vision to create a Hall for the nation was brought to fruition.
The Royal Albert Hall has since become one of the UK's most treasured and distinctive buildings and is one of the most famous music and concert venues in the world.
In this very special anniversary year, The Royal Mint has issued a BRAND NEW UK £5 coin in celebration.
Designed by Anne Desmet, this brand new coin features an instantly recognisable design in an ode to the distinctive building.
First opened by Queen Victoria in 1871, the Hall has played host to some of the world's leading artists and performances.
And, excitingly for collectors, The Royal Albert Hall now features on a UK coin for the first time!
You can own this brand new £5 coin in CERTIFIED Brilliant Uncirculated quality for JUST £10.99 (+p&p). To order yours, simply click here >>
Excitingly, this brand new coin isn't the first UK coin to commemorate British landmarks…
2018 Royal Academy of Arts £5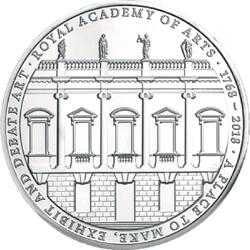 In 2018, to celebrate the 250th Anniversary of the founding of The Royal Academy of Arts, The Royal Academy (RA) and The Royal Mint collaborated to issue a £5 coin.
The reverse of this £5 was designed by celebrated architect Sir David Chipperfield RA, and features the historical facade of Burlington House, home to the Royal Academy since 1867.
There is a strong historical link between The Royal Mint and The Royal Academy of Arts, as Richard Yeo, who was one of the founding members of the Royal Academy, was also the chief engraver at The Royal Mint.
This version, struck to base metal specifications, was initially made exclusively available to Change Checkers!
2014 Trinity House £2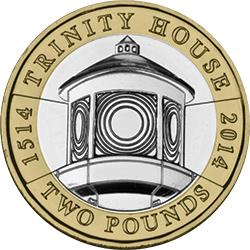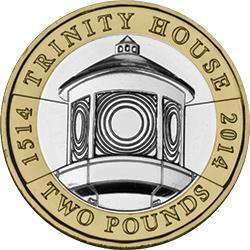 Since being granted a Royal Charter by King Henry VIII in 1514, Trinity House has provided maritime safety on the UK's waterways and coastal areas by providing nearly 600 Aids to Navigation ranging from lighthouses, buoys and beacons to satellite navigation technology.
The reverse of the 2014 £2 coin commemorates the 500th anniversary of the organisation and depicts a lighthouse lens – an enduring symbol of the seas and the safety which Trinity House continues to provide.
3,705,000 of these coins entered circulation – let us know if you've found one in your change!
2018/2019 Houses of Parliament 10p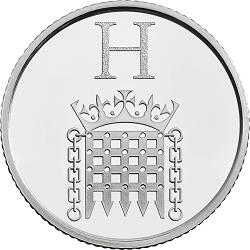 The Royal Mint sparked great excitement with the surprising announcement of the release of 26 BRAND NEW 10p coins into circulation in 2018. Their theme is the A-Z of Great Britain and these were the first ever commemorative UK 10p coins.
This 10p features the letter 'H', which sits above the official logo for the Houses of Parliament. The House of Parliament is the meeting place for the House of Commons and the House of Lords, the two houses of the Parliament of Great Britain.
220,000 of these coins were issued into circulation in 2018 and 84,000 were issued in 2019, so consider yourself lucky if you've found one in your change!
Paddington's Adventures of London 50p Coins
In 2018, for the first time ever, Paddington Bear made an appearance on a series of UK 50p coins!
These coins were issued to mark the 60th anniversary of Paddington's first appearance in Michael Bond's classic childhood tale and they quickly became a collector favourite!
Two designs were issued for circulation in 2018 and they saw Paddington visit Paddington Station and Buckingham Palace. Excitingly, Paddington's tour of London continued in 2019, as he visited a further two landmarks – the Tower of London and St. Paul's Cathedral!
Do you have a favourite Paddington 50p? Let us know in the comments below!
Tower of London £5 Coins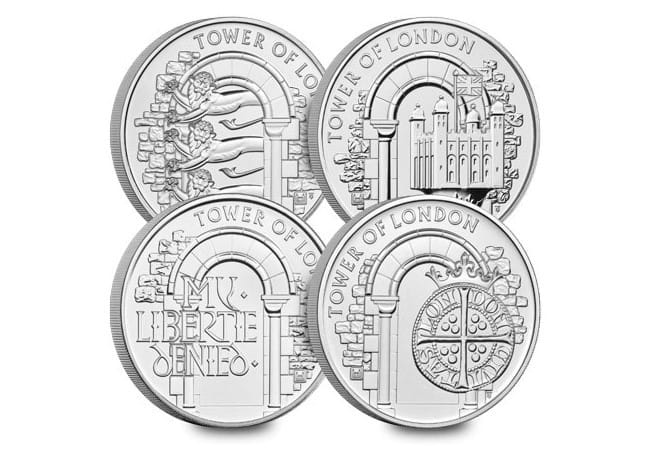 Built during the Norman Conquest in 1066, Her Majesty's Royal Palace and fortress of the Tower of London has been used as a prison, jewel house, mint and even a menagerie.
In tribute to the Tower, The Royal Mint issued a four coin series throughout 2019 celebrating the history of the Tower of London, one of Britain's most iconic attractions. The series included coins depicting the following:
The Legend of the Ravens
The Yeoman Warders
The Ceremony of the Keys
The Crown Jewels
The collection continued into 2020 with four new £5 coins featuring original designs, each exploring a different element of the Tower of London's history. This series included designs of the following:
The Infamous Prison
The Royal Mint
The Royal Menagerie
The White Tower
You can find out more about these coins here.
2009 Kew Gardens 50p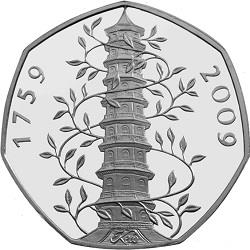 The Kew Gardens 50p hit the headlines in February 2014 when it was revealed as the rarest 50p in circulation, with just 210,000 issued. It's since been unbeaten at the top of our Scarcity Indexes as the UK's most sought-after 50p.
The Royal Botanic Gardens in Kew are a UNESCO World Heritage Site which boast 4.5 acres of gardens under glass as well as a soaring treetop walkway. One of the garden buildings is a Chinese Pagoda built in 1761 which features on the design of this scarce commemorative 50p.
This coin was re-issued in 2019 as part of the 50th Anniversary of the 50p Celebrations. The 2019 version of this coin was a commemorative-only issue and did not enter general circulation.
Are you lucky enough to have one in your collection? Comment below!
2005 60th Anniversary of the end of WWII £2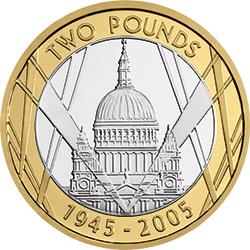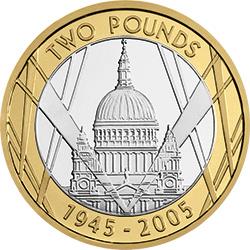 On 8th May 1945, Winston Churchill announced VE Day – Victory in Europe, which marked the end of World War Two and followed Germany's surrender about a week after Adolf Hitler had committed suicide.
The reverse design of this £2 features a depiction of St. Paul's Cathedral which survived the Blitz to become a great symbol of hope to a war-torn nation.
The edge inscription reads – IN VICTORY: MAGNANIMITY, IN PEACE: GOODWILL – part of the famous maxim that prefaces Churchill's history of the Second World War.
---
We're thrilled to see The Royal Albert hall join an incredible series of UK coins celebrating famous British landmarks.
Will you be securing one for your collection? Let us know in the comments below!
---
Secure the brand new 2021 UK Royal Albert Hall £5 for your collection!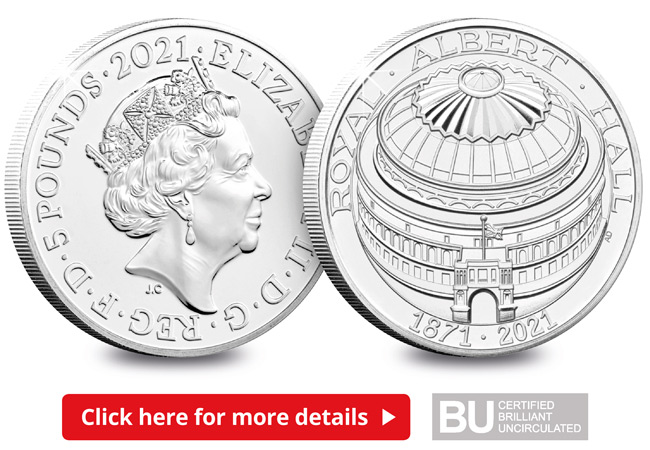 Secure the brand new 2021 UK Royal Albert Hall £5 for your collection for JUST £10.99 (+p&p) today >>
Your coin will come in superior Brilliant Uncirculated quality presented in official Change Checker packaging.
On 6th June 1944, the D-Day Landings turned the tide of the Second World War. Allied troops landed at five different beaches, famously codenamed: Utah, Omaha, Gold, Juno, and Sword.
At these beaches, the largest amphibious assault in history was launched and this attack paved the way for the liberation of German-occupied France and is largely considered the start of the victory on the Western Front.
Most UK collectors will be familiar with the United Kingdom 75th Anniversary of D-Day £2 coin issued in 2019 to commemorate the historic event. However, Allied Nations across the globe have been commemorating this important anniversary with unique coin issues from their very own Mints.
Today, we will be looking at the extraordinary coins issued by Australia, Canada and Belgium, in addition to the UK £2, that have been brought together in a strictly limited presentation pack.
United Kingdom £2
Over sixty-one thousand British Troops were deployed as part of the D-Day Operations, landing on the 6th June at Gold and Sword. What's more, by 1944 over 2 million troops from over 12 countries were in Britain in preparation for the invasion.
To commemorate Britain's great effort in opening up this second front against the German army, The Royal Mint issued a United Kingdom £2 coin for 2019.
This coin was produced in collaboration with Imperial War Museums and was designed by Stephen Taylor. Speaking about his work on the design, Taylor emphasises that he wanted to 'build up the scale of the operation' and that the 'fonts are inspired by markings on US, Canadian and British landing craft, capturing the spirit of the international cooperation.'
Canada $2
Operating within the British command structure, Canadian troops provided the third largest force for Allied operations in Western Europe. Landing at Juno, between British troops at Gold and Sword, over 21,000 Canadian troops were involved in the D-Day Landings.
The Canadians played a crucial role in the action that effectively ended the Normandy campaign a few months later, cutting off German forces at the Falaise gap.
To commemorate such a huge achievement, The Royal Canadian Mint issued a $2 coin, following their proud tradition of honouring Canada's rich military history with commemorative $2 coins.
The design, by Alan Daniel, features unique touches of selective colour to honour this most special anniversary.
Australia $1
On D-Day, over 2,000 Australian airmen took part in the battle of the skies above the invasion beaches, in addition to 500 Australian sailors serving in the escort fleets.
Notably, Australian officers held places in various British units throughout the campaign, gaining experience of British practises which they could then take home after the war.
Designed by Bronwyn King, the intricate design on this Australian $1 shows a flight of planes all heading in a single direction, with an Australian Kangaroo featured at the bottom.
Belgium 5 Euro
Although there are few recorded Belgium troops on 6th June D-Day Landings, Belgium soldiers played a key part in the Battle of Normandy, which followed the initial D-Day Landings operation.
What many people also don't know is that the exiled Belgium government in the UK raised its own units in Britain, and Belgium pilots flew in the RAF.
Designed by Luc Luycx, this remarkable 5 euro features a map of Normandy with arrows pointing across to the beaches where troops landed on D-Day. The reverse of the coin shows a map of Europe with 'Belgium' in the country's three languages: French, Dutch and German.
A total of 156,000 Allied Troops took part in the D-Day Landings from across 12 countries – it truly was an international effort!
---
75th Anniversary of D-Day Allied Nations Coin Pack
To commemorate this most important anniversary year, Change Checker have brought together these four remarkable coins from four world-renowned Mints to create the Change Checker 75th Anniversary of D-Day Allied Nations Coin Pack.
To add one to your collection and commemorate the international troops who fought in D-Day, click here >>
I can't help but get a bit excited at this time of year, and now that my Change Checker Advent calendar is counting down to Christmas, I really can't wait for the big day!
But what's got me even more excited is to see how Santa's little elves have been busily working away this year to release the most wonderfully festive coins in time for Christmas.
From all across the world we've seen renowned Mints issue beautiful Christmas coins that would take pride of place in any collection and I for one would certainly treasure forever (here's hoping there's one for me under the tree this year!).
I've put together a list of some of my favourite 2018 Christmas coins from around the world that I'd like to share with you, starting of course with the UK Nutcracker £5.
2018 UK Nutcracker £5
We all know that £5 coins are the ultimate collector's piece, so I really enjoyed seeing this year's festive £5, the Nutcracker.
The 2018 Christmas £5 coin features a magical design of an enchanting Nutcracker scene, by acclaimed engraver, Harry Brockway. According to legend, 'Nutcracker' represents strength and power and serves as a guardian – the perfect protector to watch over your family this Christmas time.
This is actually only the second time ever that The Royal Mint has released a Christmas £5 coin, and I'm sure that collectors will want to stay on top of this new tradition and make sure they don't miss any of these coins for their collection, starting with last year's Christmas Tree £5.
2018 UK The Snowman 50p
I love The Snowman Christmas story and so it came as no surprise to me to see that this coin was a favourite this year, with both Silver Proof and Gold versions completely SELLING OUT on the first day of issue! 
Issued by The Royal Mint to celebrate the festive season, The Snowman 50p marks the 40th anniversary of the publication of Raymond Briggs' much-loved festive tale and was designed by Natasha Ratcliffe to depict the boy and the snowman flying through the night sky above Brighton Pier.
The Isle of Man has previously issued Christmas 50ps featuring The Snowman and these now sell for £100's on the secondary market, which I'm sure would have added to the collectability of this first ever UK Christmas 50p.
2018 Isle of Man Wren £2
You might be familiar with the Isle of Man Christmas 50p coins, but this Christmas a very special £2 coin has been issued featuring a festive wren design.
Hunt the Wren, as it is known on the island has become one of the most popular yet more unusual Manx traditions in practice today, although it actually dates back to Pagan times! This year, the Boxing Day tradition has been celebrated on a £2 coin and only a limited quantity of these coins will enter circulation on the Isle of Man.
Typically, the mintages for Isle of Man coins are much lower than UK coins, with none of the previous Manx Christmas 50ps exceeding 30,000!
2018 Canada 3D Snowball Fight 50 Cents
We all love a snowball fight! Chances are though that in the UK we won't see quite as much snow (if any) this year as Canada. But don't despair, as this wonderful Canadian 50 Cent coin allows you to bring to life the magic of a snowball fight on an innovative 3D coin! 
The Royal Canadian Mint is renowned for their forward thinking technology, and this Christmas they have used lenticular printing to create artist Tony Bianco's fun-filled design with an illusion of depth, which actually appears to move as the coin is viewed from different angles – so watch out for those snowballs!
It really put a smile on my face when I came upon this coin in my research, and with a mintage of just 20,000 I'm sure Canadian Change Checkers will be eager to add this coin to their collection.
2018 Australia Looney Tunes Christmas Star Shaped $1
When it comes to dressing the Christmas tree this year, I'm sure Australian Change Checkers will be thrilled with this exquisite star shaped 99.99% Pure Silver $1 coin, which comes with protective casing that can be hung as a decoration.
The Perth Mint has produced some fantastic star shaped Christmas coins over the past few years and this year's coin is no exception. One of the best known animated characters of all time, Buggs Bunny and his girlfriend Lola are celebrated in colour printing for this vibrant and festive Looney Tunes design.
This coin is actually legal tender in Tuvalu (a small island off Australia), but I certainly wouldn't be spending it if I found one in my stocking!
2018 New Zealand Disney Silver $1
2018 must be the year for animated characters, as the new $1 from New Zealand features the iconic Mickey Mouse and his friends for this Disney Christmas themed 999 Fine Silver coin.
This is the fifth annual release from the New Zealand Mint and has been so incredibly popular this year that it has in fact sold out completely! Although with such an appealing theme and a very low mintage of just 10,000 this comes as no surprise to me.
Like the Australian Christmas coin, this $1 also comes in a special presentation case to be hung as a decoration – just imagine creating your very own tree filled with international Christmas coins!
I'm sure you'll agree that wherever you are in the world, there's something extra special about a Christmas coin which brings everyone together at this time of year. Whether or not you're a dedicated collector, or simply enjoy Christmas collectables, these coins are impossible to resist!
---

Secure the perfect numismatic gift this Christmas! 
With Christmas just around the corner, check out our charming selection of festive commemoratives that could make the perfect gift for friends or family, or as a special Christmas treat for yourself… we won't tell if you don't.