The UK's incredibly popular Snowman 50p coin is to be followed up by a brand new Gruffalo 50p coin. 
*** UPDATE ***
The Royal Mint have now announced that this highly anticipated coin will be available to order from the 19th of February! With just over a week to go, we can't wait to finally see the Gruffalo 50p!
According to the Royal Proclamation, published on 9 November there will be a new coin:
– A depiction of the Gruffalo accompanied by the inscription "THE GRUFFALO".
The coin will be issued in 2019 to celebrate 20 years of Julia Donaldson's The Gruffalo, with commemorative collector's editions  in Cupro-Nickel and Silver being made available. It is not yet clear whether this coin will be issued for circulation.
The next 50p collecting craze?
Although all the details have not been released yet and the actual design is still top secret, it seems likely that the Gruffalo 50p coin will be as popular with the British public as Peter Rabbit and friends have proved over the last three years.
Stay up to date with all the latest Gruffalo news…
Fill in your details below to be kept up to date with all the latest news about the Gruffalo 50p coin.
[contact-form][contact-field label="Name" type="name" required="1″][contact-field label="Email" type="email" required="1″][/contact-form]
---
If you're interested in coin collecting, our Change Checker web app is completely free to use and allows users to:
– Find and identify the coins in their pocket
– Collect and track the coins they have
– Swap their spare coins with other Change Checkers
Sign up today at: www.changechecker.org/app
We're often asked by Change Checkers what can they collect once they've completed their collections of 50ps, £1s and £2s.
Quite simply, there's only one answer. £5 coins. These are my reasons why:
1. A Treasure Hunt
In the past, collectors were able to get £5 coins from banks and post offices, but nowadays some of the older designs are like gold-dust. And more often than not, new UK £5 issues are snapped up by collectors on release, so it can be quite a challenge tracking down every single one for a complete collection. You can source online, in auctions and of course from Change Checker! We've built up some superb stock over the years which we are now making available to collectors.
2. When less is more
In this case – interest. It's obvious that popular coin issues create instant and on-going demand for a coin, but the same can be said for 'less interesting' coin designs. Let me explain…
This may come as a surprise, but a coin that is issued with a less interesting theme or design and is not initially popular with collectors, can be a real hidden gem for coin collections. This is because the less coins that are sold, the lower the final number of units that are available to future collectors.
But whilst most collectors would shy away from unpopular themes, it is these very coins that are likely to become the most sought after in years to come. And the 2011 Prince Philip £5 coin is a prime example…
Back in 2011 a UK £5 coin was issued by The Royal Mint in celebration of the 90th birthday of Prince Philip.
The coins design featured a specially commissioned portrait of Philip by Mark Richards FRBS. Just 18,730 of these coins were struck in Brilliant Uncirculated presentation packs making it one of the rarest £5 coins ever.
And because of this, the coin is extremely sought after by collectors and is virtually impossible to get hold of on the secondary market.
3. Only available for a limited time
As you probably already know, coins with a lower mintage are often the most sought-after by collectors in years to come. And the coins with popular themes are timeless pieces of numismatic history that only become more and more desireable as time passes.
£5 coins are only available for a limited time and when you add to this the intense interest in the event the coin is commemorating (usually important royal events), you have a hugely collectable coin, sought after by collectors from all over the world.
4. Historically valuable
One of the key points Change Checkers look out for when deciding which coins to add to their collection, is the possibility that the value of that coin will increase and we've seen it happen many times before with circulation coins. The Kew Gardens 50p for example.
One thing you can be sure of though is the historical interest of £5 coins will be worth more to future generations than the £5 face value now. When you take all the above points into account, there is no doubt that the importance of £5 coins ensures the coins remain sought-after and collectable.
So do you have any £5 coins in your collection? Let us know via Facebook, Twitter or leave a comment below!
Interested in finding out if you own one of the rarest £5 coins? Click here to find out more>>
---
Exclusive £15 SAVING – Own the FIRST EVER UK £5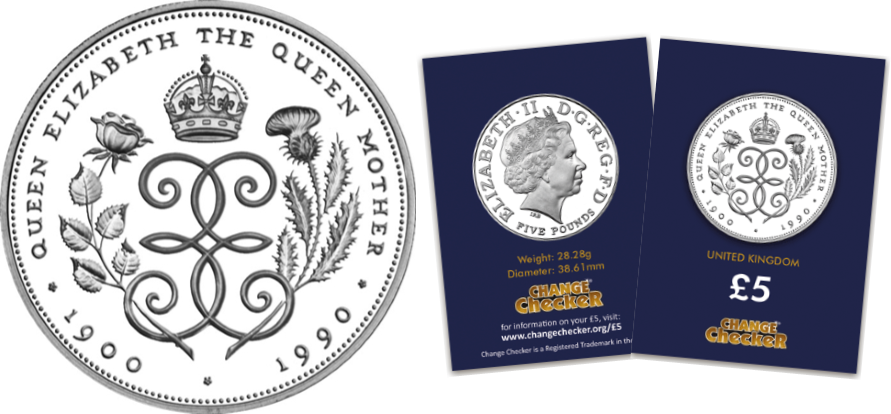 The UK's FIRST EVER £5 coin was fittingly issued to celebrate the 90th birthday of Queen Elizabeth, the Queen Mother. 
A limited number of these are available to our collectors at the exclusive discounted price of JUST £9.99 (+p&p) – that's a £15 SAVING.
Click here to secure your Queen Mother 90th Birthday £5 for just £9.99 (+p&p)
As part of the Great One Pound Coin Race, we want to find out Britain's ultimate favourite £1 coin.
Over the last couple of months we've been asking Change Checkers to vote for their favourite UK, Scottish, Northern Irish, Welsh and English £1 coin designs.
Now this is the last poll left to vote in until we find out which £1 coin is Britain's all-time favourite design.
Please vote for your favourite £1 coin from the finalists in the below poll:
[polldaddy poll="9721785″]