Posts Tagged '50th anniversary'
The countdown has begun and in JUST 50 days, our decimal coinage will celebrate its 50th anniversary!
Join in with our celebrations!
To celebrate the anniversary of the biggest change our UK coinage has ever seen, we've launched a 50 Day Countdown until the Decimalisation Anniversary!
Every day, for 50 days, we'll be posting different activities for you to read, watch and get involved in. We've got quizzes, giveaways and so much more planned, so make sure you've got your eyes peeled across all of our channels so that you can get involved!
The 50th anniversary of Decimal Day marks a significant change in our UK currency which changed the day to day lives of every British Citizen in the United Kingdom.
It was the subject of passionate debate for centuries, so during our 50 Day Countdown, we'll be taking a closer look at the history and story behind the decimal changeover. To test your knowledge, we'll even have some quizzes for you to get involved with!
So, will you be joining us on our Countdown?
Make sure you've subscribed to the Change Checker Podcast, our Youtube channel and you've followed us on Facebook, Instagram, and Twitter to make sure you don't miss out on some of the exciting prizes up for grabs!
---
If you have memories of the changeover, or have any interesting facts about Decimalisation, make sure you're commenting below!
---
Secure the 14 coins which were affected by the decimal changeover with the Decimalisation Collector Page!
This collector page includes space to display the 14 coins which were affected by the decimal changeover on 'D-Day' in 1971 and makes for the perfect heirloom for any aspiring collector, or for those interested in the heritage of British coins.
Using secure push-fit blisters to display each coin in the collection, your collector page is also designed to fit neatly inside the Change Checker Album.
Secure yours for JUST £30.00 (+p&p) when you click here >>
With just over a month to go until the official 50th anniversary of the 50p coin, celebrations have now hit Jersey and Guernsey as the British Crown Dependencies mark this monumental numismatic milestone.
As the world's first seven-sided coin, the 50p caused quite a stir when it was first issued in 1969, however it has since become one of the most popular and highly collected coins in circulation, both across Britain and its Crown Dependencies.
To celebrate the 50th Anniversary, a unique pair of Jersey and Guernsey 50p coins have been specially re-issued this year.
This set includes re-issued versions of the 1969 Ducal Cap 50p from the Bailiwick of Guernsey and the 1969 Coat of Arms from the Bailiwick of Jersey. These were the first 50p coins issued in the British Crown Dependencies and the pair have now been re-struck with the 2019 year date in Brilliant Uncirculated quality for collectors.
Whilst Jersey and Guernsey coins aren't legal tender in the UK, they have a history of becoming highly collectable due to their low mintage figures…
Guernsey 50p Mintage Figures
Two definitive 50p coin designs have been issued in Guernsey since decimalisation – The Ducal Cap and Freesia Flowers.
The 1969 Ducal Cap 50p has been re-issued in the smaller specification for the 50th Anniversary of the 50p.
Anthony Wagner's design features the Ducal Cap of the Duke of Normandy on the reverse.
Unlike UK coins, the obverse of the Guernsey Freesia Flowers 50p feature the Guernsey Coat of Arms, which includes three lions next to Queen Elizabeth II's portrait. This makes the 50p particularly distinguishable.
Whilst Guernsey coins aren't legal tender in the UK, they do turn up in our change from time to time. And if you're lucky enough to come across one, make sure you check to see if you've been able to find Guernsey's rarest definitive 50p – the 1987 Freesia Flowers.
A tiny 5,000 Freesia Flowers 50ps were released in 1987 – that means there's only enough for roughly 8% of the population of Guernsey to own one of these coins each!
Jersey 50p Mintage Figures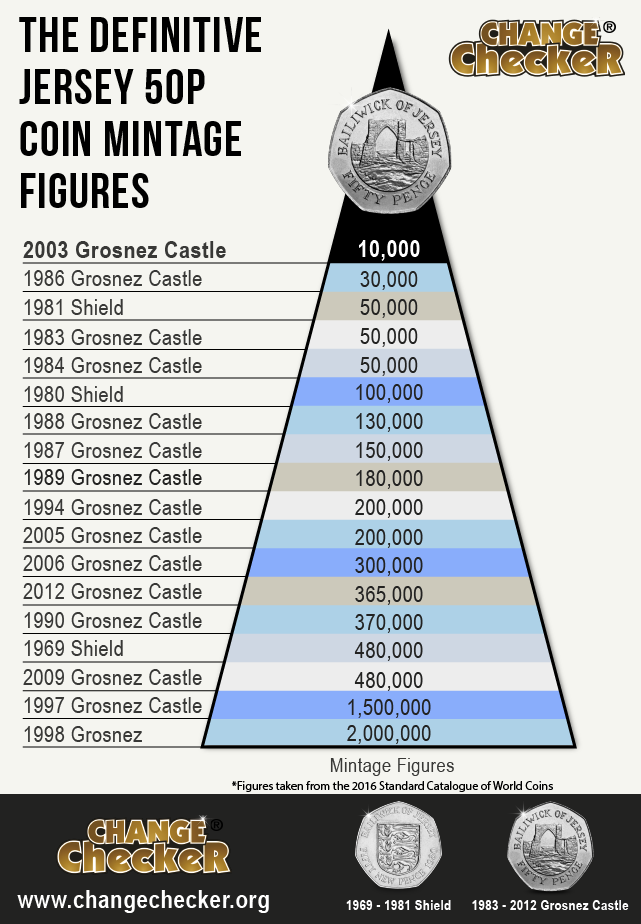 Two definitive 50p coin designs have also been issued in Jersey since decimalisation – the Shield and Grosnez Castle.
The 1969 Shield 50p has been re-issued in the smaller specification for the 50th Anniversary of the 50p.
George Kruger Gray's design features three lions on a shield on the reverse. The obverse features Arnold Machin's portrait of Her Majesty the Queen.
Again, these coins aren't legal tender in the UK, so if you do find one in your change it would have found its way to you by accident, perhaps due to a holiday maker spending it by mistake.
Whether you find yourself checking your change in Jersey or the UK, you'll want to keep a watchful eye on any Grosnez Castle 50ps that you might be lucky enough to find, as one year in particular is very rare…
Just 10,000 Grosnez Castle 50ps were issued in 2003 – compare that to the 23,583,000 Britannia 50ps released in the UK in 2003 and you'll appreciate just how rare this coin really is!
Have you been lucky enough to come across any Jersey or Guernsey 50ps, either in circulation in the UK or when you've been on holiday to the British Isles? And will you be securing the special 50th Anniversary pair to mark this milestone moment?
---
Own the BRAND NEW 50th Anniversary of the 50p Pair
This unique pair of 50p coins includes Jersey and Guernsey's first year of issue designs 50ps from 1969 – re-issued with the 2019 year date!
*** UPDATE ***
The Definitive 50p Collecting Challenge has now come to an end as the 50p coin celebrated its 50th anniversary on the 14th October 2019, however you can still take up the challenge for yourself!
Best of luck hunting down all the definitive 50ps from your change!
There are currently 21 different definitive 50p coin designs to be found in your daily change. Your mission is to collect all of them from your change.
Definitive 50p coins
The mintage chart below shows how many of each UK definitive 50p coin is currently in circulation.
The rarest definitive 50p is the 2017 Royal Shield, so make sure you keep your eyes peeled and check the dates on your Royal Shield 50ps on the hunt for this coin.
Yasmin and I were actually lucky enough to come across the 2017 Royal Shield during a 50p coin hunt, so it can be done and they most certainly are out there if you check your change!
We don't yet know the mintage figures for 2018 and 2019 50p coins, so these coins haven't been included on the chart, however it's worth holding onto these coins as you never know how rare they might turn out to be! Our mintage charts and the Definitive 50p Checklist will be updated as soon these figures are confirmed.
You might have also noticed that no definitive 50p coins were issued for circulation in 2009, 2010, 2011 and 2016. These coins won't be included in the Definitive 50p Collecting Challenge, however if you do manage to find one in your change you will be very lucky as they would have come from an Annual Coin Set and are not intended for circulation.
You can download and print the Definitive 50p Collecting Challenge checklist here to keep track of the coins you've managed to find so far.
---