Posts Tagged 'Alan Turing banknote'
The UK banknotes have gone through some big changes since they were first introduced but do you know the story behind them?
In this blog, we guide you through the history of UK banknotes as we take a look at just how far they've come…

7th Century – China
The first recorded use of 'paper' money was in China back in the seventh century! However, it was until over a thousand years later that paper money made its way to Europe.
16th Century – Goldsmith-Bankers
In the 16th century, the goldsmith-bankers would issue receipts for cash, known as 'running cash notes'. They were made out in the name of the depositor and also carried the words, 'or bearer', after the name of the depositor.
This similar phrase still appears on British banknotes today: "I promise to pay the bearer on demand the sum of…"
1694 – Bank of England
When the Bank of England was established in 1694 to raise money for King William III's war effort, they issued notes in exchange for deposits. These were the first recorded bank notes to feature a cashier's signature!
18th Century – Fixed Denominations
The issuing of fixed denomination notes first started in the 18th century. Notes were printed with the pound sign and the first digit included, but any following digits were then added by hand!
By 1745, notes were issued in denominations ranging from £20 to £1,000 but it wasn't until 1759, as a result of gold shortages caused by the seven years of war, that a £10 note was issued.
The £5 note followed in 1793 at the start of the war against Revolutionary France and by 1797 the £1 and £2 notes were issued.
1853- Fully Printed
In 1853, the first fully printed banknotes were introduced, meaning hand-written denominations on notes were phased out.
Early 20th Century – 10 Shilling Note
During the First World War, the link between notes and gold was broken. The government needed to preserve bullion stocks and so the Bank stopped paying out gold for its notes.
In 1914 the Treasury printed and issued 10 shilling and £1 notes and in 1931, Britain left the gold standard.
Late 20th Century – Feature of Historical Figures
The late 20th century saw the first introduction of historical figures on the designs of UK banknotes. Since 1970, we've seen figures including scientist Isaac Newton, composer Edward Elgar and nurse Florence Nightingale featured on our banknotes.
21st Century – Polymer notes and BAME figures
In the 21st century we have seen the introduction of the polymer £5, £10 and £20 banknote, as a cleaner, safer and stronger alternative to the paper notes.
These notes have become incredibly popular with collectors, with some polymer £20 notes fetching far over their face value on the secondary market!
However, a lack of Black, Asian and Minority Ethnic (BAME) figures being recognised on legal tender led to campaigning for greater inclusivity in 2020.
These campaigns come after Chancellor Rishi Sunak stated he was considering proposals from a campaign group. He has since asked the Royal Mint to come up withnew designs honouring BAME figures who have served the nation – such as military figures and nurses.
Whilst details of these figures and designs remain under consideration, we look forward to hearing more as the story unfolds.
---
Did you know how far back in history our banknotes date? Let us know in the comments below!
---
Secure the last-ever £1 banknote to your collection!
Click here to secure your piece of British Numismatic history for just £10 (+p&p) >>
This morning The Bank of England revealed Alan Turing as the new face of the £50 banknote, which will be released into circulation in 2021.
In their search to find an eminent British scientist to feature on the £50 note, a total of 227,299 nominations were sent to The Bank of England. 989 eligible characters were narrowed down to a shortlist of just 12 before Turing was finally selected.
Codebreaker Alan Turing will be on Britain's new 50-pound currency https://t.co/PcmHWkqre3

— TIME (@TIME) July 15, 2019
Other candidates included Rosalind Franklin, Stephen Hawking, Ernest Rutherford and Mary Anning to name a few.
The Bank's chief cashier, Sarah John said, "The strength of the shortlist is testament to the UK's incredible scientific contribution. The breadth of individuals and achievements reflects the huge range of nominations we received for this note and I would like to thank the public for all their suggestions of scientists we could celebrate."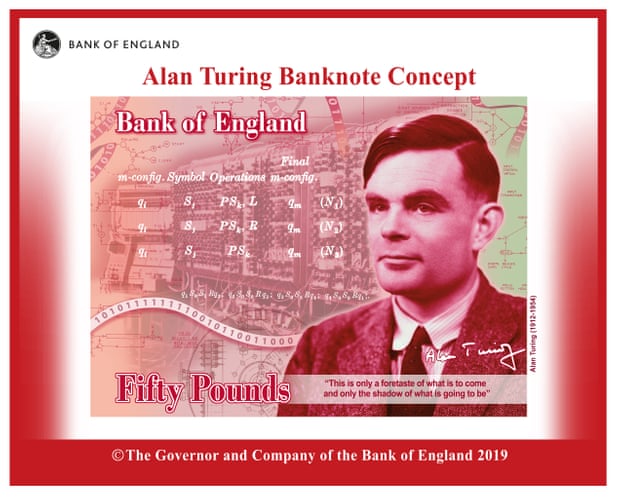 About Alan Turing
Alan Turing is perhaps best known for his outstanding code-breaking which was vital to the Allied victory in WWII.
However, he was also considered a pioneer in computer sciences and the development of the early computer. His work has had an enormous impact on our lives today.
The Bank of England governor, Mark Carney said, "Alan Turing was an outstanding mathematician whose work has had an enormous impact on how we live today. As the father of computer science and artificial intelligence, as well as [a] war hero, Alan Turing's contributions were far ranging and path breaking. Turing is a giant on whose shoulders so many now stand."
Sadly, in 1952 he was prosecuted for homosexual acts and died in 1954 from cyanide poisoning. It was determined that his death was an act of suicide.
The new note
Next year the new £20 polymer note will be issued, featuring British Artist, JMW Turner.
This will be the third UK banknote to be made from polymer and will be swiftly followed by the new £50 note in 2021, thus completing the UK's changeover to plastic banknotes.
These notes are more durable, secure and environmentally friendly than paper notes.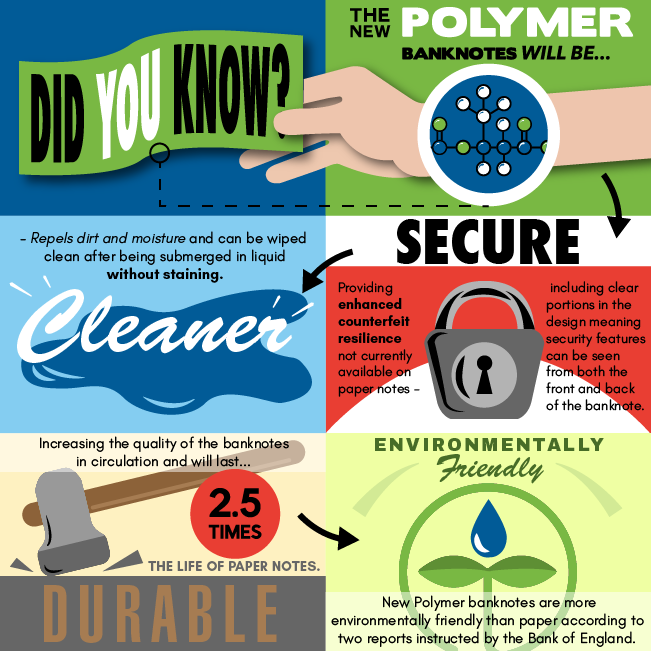 The future of cash
There have been debates in recent years as to whether or not Britain should become a cashless society.
The rise of card and electronic payments means that many see cash as becoming obsolete, with the 1p and 2p coins at the heart of the debate.
In addition to this, the validity of the £50 note has also been questioned, as it is rarely used in everyday payments and is widely thought of as being used by criminals.
The good news for Change Checkers is that the Treasury have confirmed that cash will be around for years to come.
And, with the introduction of the new Alan Turing £50 note in 2021, I think it's fair to say that cash is still king.
---
If you're interested in coin collecting, our Change Checker web app is completely free to use and allows users to:
– Find and identify the coins in their pocket
– Collect and track the coins they have
– Swap their spare coins with other Change Checkers
Sign up today at: www.changechecker.org/app