Posts Tagged 'circulation coins'
On Saturday 17th October, a surprise coin release made the headlines, as a brand new 50p was released to celebrate how diversity built Britain.
This new 50p is the first in a series to celebrate diversity across the whole of Britain and how our diverse culture has helped to shape the rich history and heritage of our nation.
Collectors will also be delighted to hear that 2.5 million Diversity in Britain 50ps are expected to enter circulation today, so now's the time to get checking your change for this brand new release!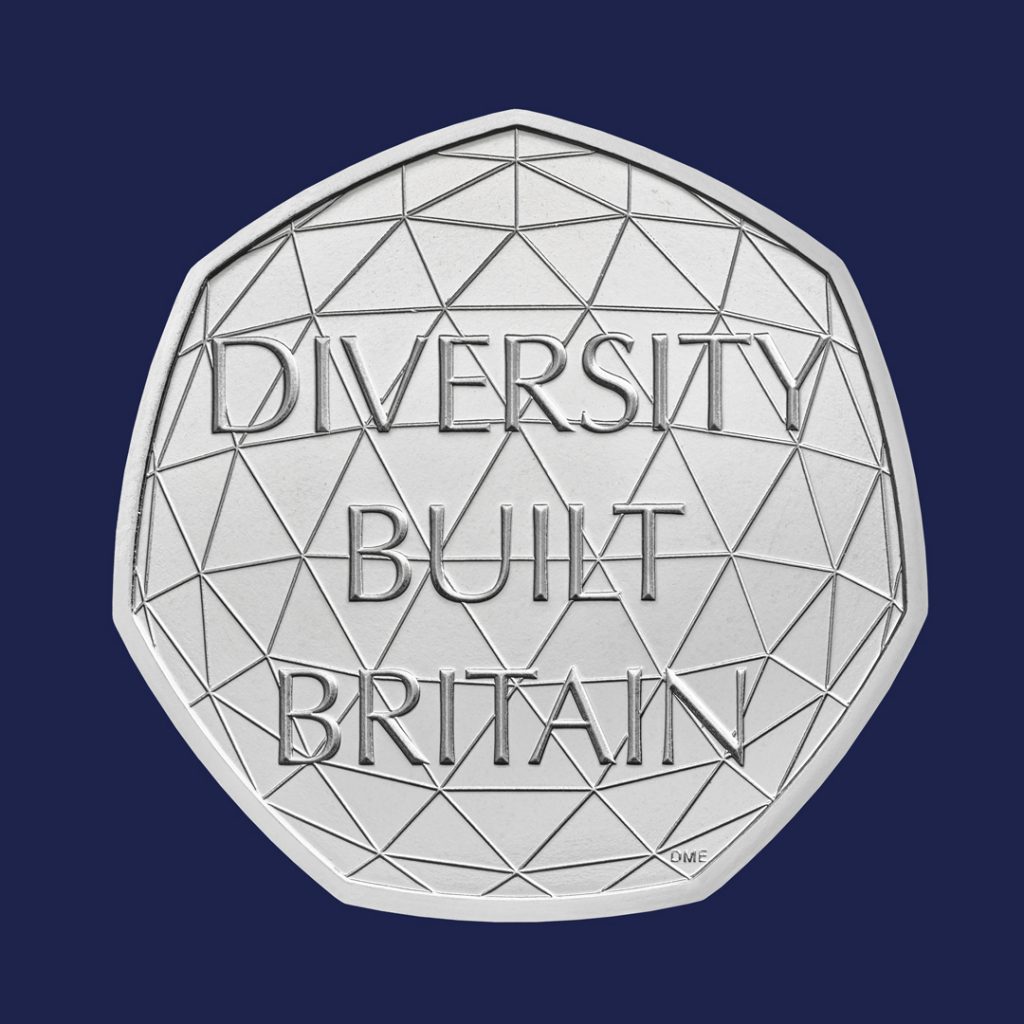 Designed by Dominque Evans, the new 50p features the words "DIVERSITY BUILT BRITAIN" against a network of interconnected triangles, symbolising the importance of connections between communities, and the strength of these connections cross the country.
Dominique Evans is one of the UK's foremost coin designers and has reflected her own experience of diversity, growing up as a mixed-race woman, as inspiration for her design.
"When designing this coin, I began by thinking about the people who inspire me and what diversity has meant in my life. I believe that no matter where you are born, we all belong under the same sky and this was the starting point of the design," Evans said.
Celebrating Diversity on UK Coins
Rishi Sunak, Chancellor of the Exchequer and Master of the Mint, unveiled the brand new UK 50p which celebrates British diversity and marks the profound contribution ethnic minority communities have made to our nation's history.
He said, "For generations, ethnic minority groups have fought and died for this country we have built together; taught our children, nursed the sick, cared for the elderly; and through their enterprising spirit have started some of our most exciting and dynamic businesses, creating jobs and driving growth."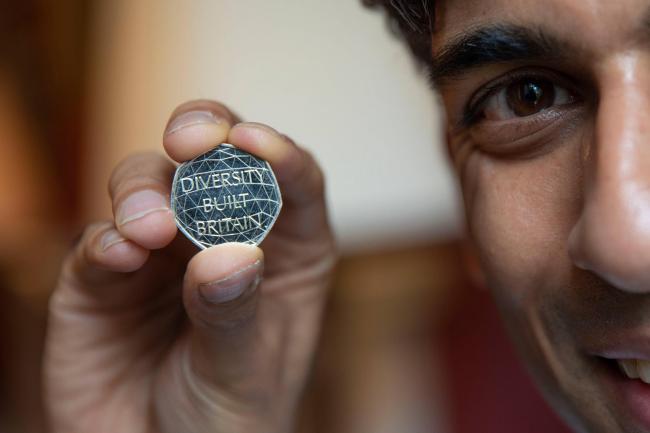 The coin was commissioned earlier this year following discussions with the We Too Built Britain campaign and calls for BAME figures to appear on UK coins and banknotes.
Look out for the Diversity Built Britain 50p in your change!
This release really has come as a wonderful surprise for Change Checkers and I'm sure demand for the new issue will be high as collectors rush to secure one for their 50p collection.
Will you be adding the 2020 Diversity Built Britain 50p to your collection? Let us know in the comments below!
Secure your Diversity 50p in Collector Quality – JUST £4.50 (+p&p)
Get ahead of the crowd and secure this brand new 50p coin in superior collector quality!
Click here to own the 2020 UK Diversity Built Britain 50p in superior Brilliant Uncirculated quality today!
It's time for your latest Scarcity Index update, where we'll reveal the UK's most sought-after circulation coins of the last three months! And it's all change for the A-Z 10ps, as NHS establishes itself in top spot…
You can use the updated A-Z 10p, 50p and £2 indexes below to discover how sought-after the coins in your collection really are.
This information has been compiled using data from the Change Checker Swap Centre and presented in the easy to use indexes below, with arrows to signify how many places up or down a coin has moved since the last Scarcity Index.
A-Z 10p Scarcity Index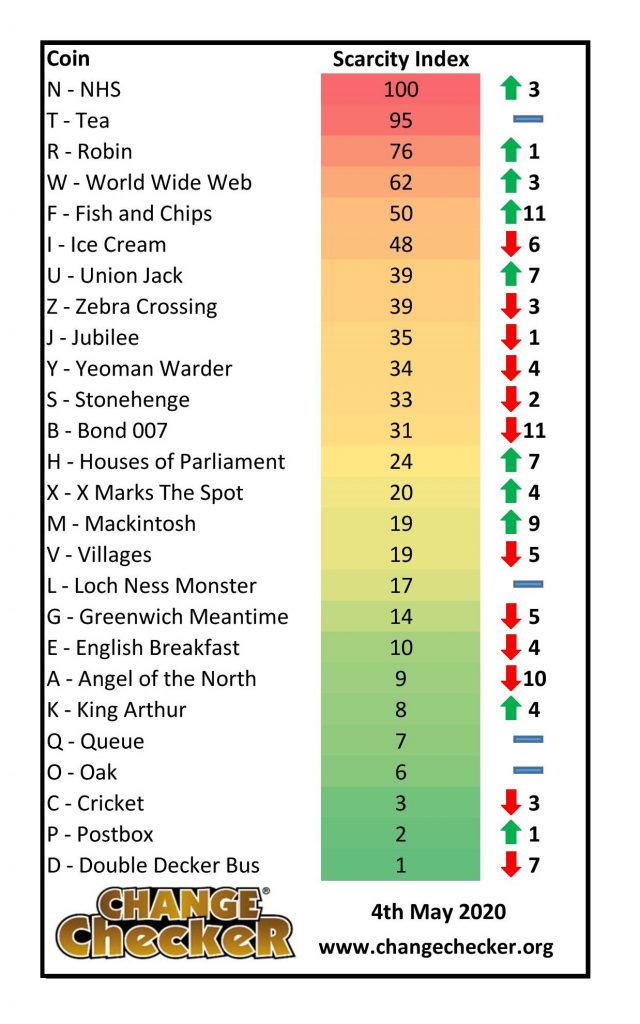 Well we really have seen quite a mix up for the latest A-Z 10p Scarcity Index update, with a new leader taking top spot!
B for Bond has not only been knocked off the top spot, but has actually dropped 11 places down towards the middle of the pack.
In its place we have a very worthy winner and it comes as no surprise that the most sought-after A-Z 10p is currently N for NHS. Now, more than ever, the NHS is playing a vital role to keep us safe and well during the coronavirus pandemic and so it seems only fitting that this 10p has grown in popularity. Acting as a reminder of the strength, hope and support of not only our National Health Service, but the British people as a whole during this unpreceded time in history.
Other key movers to keep an eye on are the F for Fish and Chips and M for Mackintosh 10ps, moving up the index 11 and 9 places respectively.
Regardless of where they feature on the above index, if you have any of the A-Z 10ps in your collection you should consider yourself lucky, as they are particularly hard to come by in circulation and each design has a relatively low mintage (just 220,000 of each design released in 2018 and 2.1 million overall in 2019).
50p Scarcity Index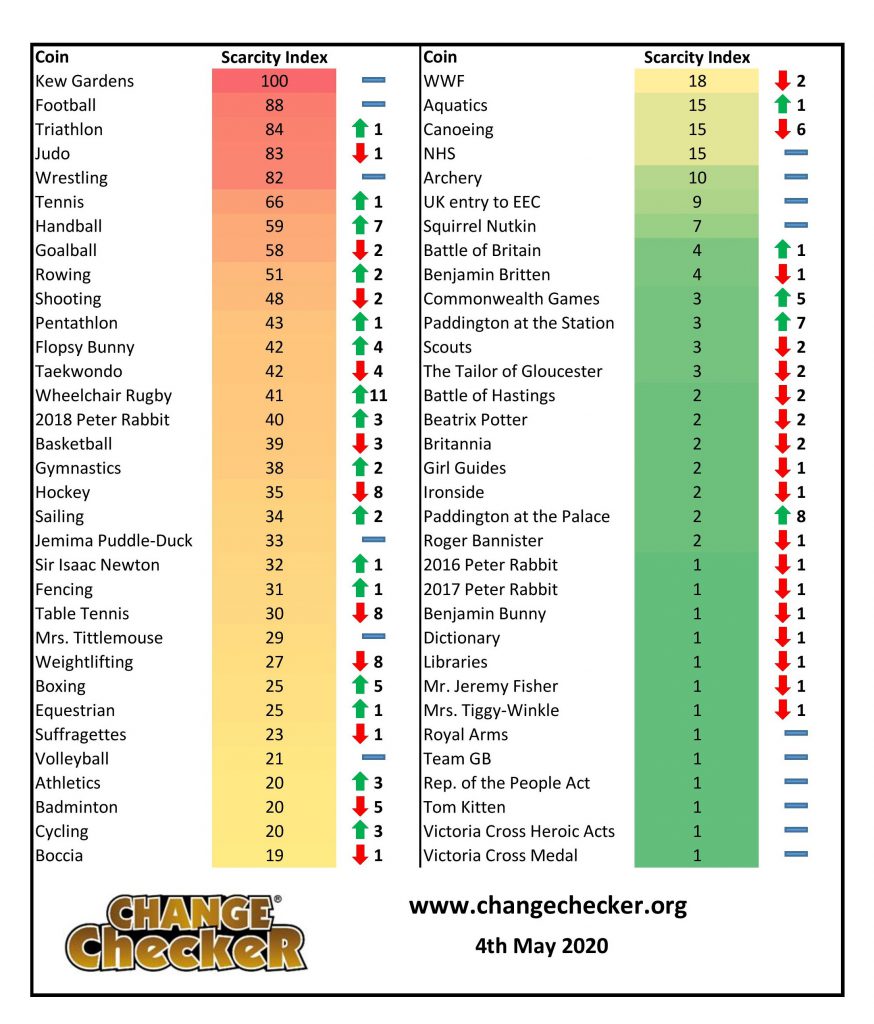 The 50p Scarcity Index has remained fairly stable at the top and bottom, with Kew Gardens holding strong in the top spot, a whole 12 points ahead of the second scarcest 50p in circulation, the Olympic Football.
There's been a bit of a shuffle around with the Olympic 50ps, with Wheelchair Rugby moving up the index by 11 places! Although it's definitely worth noting that all of the Olympic 50ps are particularly sought-after due to their low mintage figures and an estimated 75% have been removed from circulation by collectors, making them even harder to get hold of.
Perhaps we'll see the popularity of these coins increase further next year when the Olympic Games will be held in Tokyo, following their postponement this year.
Another couple of sought-after 50ps we've been keeping our eyes on are the 2018 Peter Rabbit and Flopsy Bunny coins. Since making an appearance on the index for the first time towards the end of last year, they've since been creeping their way up and up. In this update, Peter Rabbit has moved up by 3 places and Flopsy Bunny by 4! As the two rarest Beatrix Potter 50ps in circulation, it's no wonder these coins are so sought-after, but are you lucky enough to have them in your collection?
£2 Scarcity Index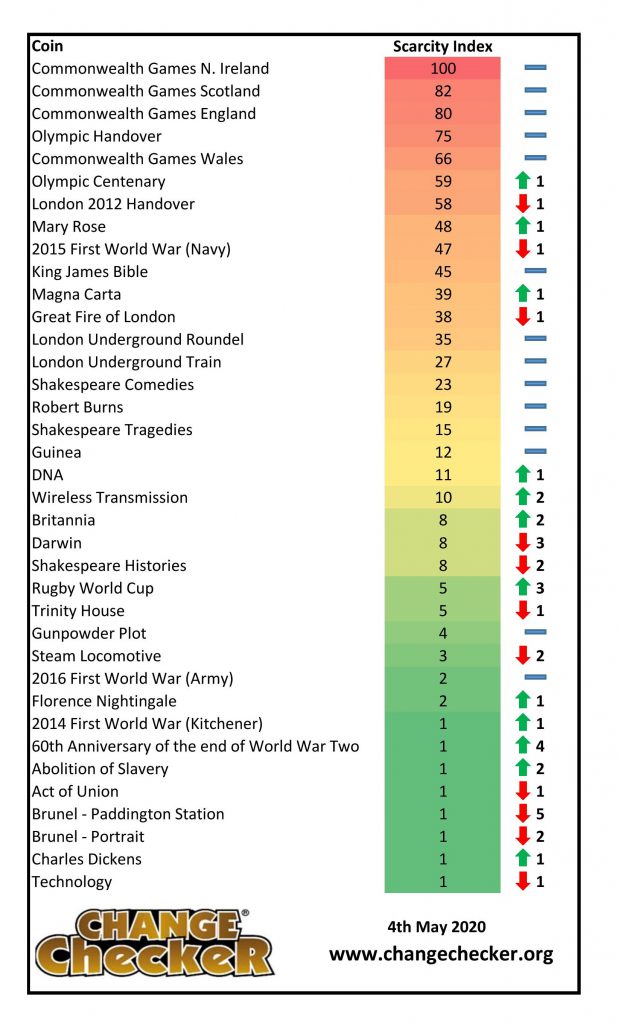 The top five coins on the £2 index remain strong, with the Commonwealth Games Northern Ireland keeping its position at the top, 18 points above the second most sought-after £2 coin in circulation.
We've seen little activity throughout the top half of the index, with only a few coins shuffling one or two places.
However there's been a bit more movement in the second half of the index, with the key coin to watch being the 60th Anniversary of the End of World War Two (commonly known as St Paul's Cathedral) £2. This coin has moved up the index by 4 places and the increased popularity could possibly be due to the significant anniversary year, as 2020 marks 75 years since the end of World War Two.
We're yet to see any new £2 coins in our change since demand has been so low, although I'm sure I speak for many collectors when I say we eagerly anticipate the release of new £2's into circulation, hopefully in the near future.
How your Scarcity Index works
Generally collectors have had to rely upon mintage figures to identify the scarcest coins. But they only tell part of the story. Trying to find a good quality coin from 15 – 20 years ago, even for a higher mintage issue, is much more challenging than a more recent issue, as coins become damaged over time and are ultimately removed from circulation.
Additionally, some designs are more hoarded than others by people who might not normally collect coins – the poignant First World War £2 Coin series being an example. Finally, it can be up to a couple of years before the Royal Mint eventually confirms the actual mintage for an issue.
That's why we have combined the mintage information with two other key pieces of information.
How many of each design are listed as "collected" by Change Checkers, indicating the relative ease of finding a particular coin.
The number of times a design has been requested as a swap over the previous 3 months, showing the current level of collector demand.
Importantly, as new coins are released and popularity rises and falls across different designs the Scarcity Index will be updated quarterly allowing Change Checkers to track the relative performance of the UK's circulation coins.
How much are my coins worth?
The Scarcity Index does not necessarily equate to value but it is certainly an effective indicator. For example, the Kew Gardens 50p coin commands a premium of up to 200 times face value on eBay.
You can use the 6 point guide to help you determine a more realistic value for your coins.
What about £1 Coins?
The £1 Scarcity Index has already been published for the Round £1 coins and, because they are no longer being issued, this is now set in stone.
---
If you're interested in coin collecting, our Change Checker web app is completely free to use and allows users to:
– Find and identify the coins in their pocket
– Collect and track the coins they have
– Swap their spare coins with other Change Checkers
Sign up today at: www.changechecker.org/app
Which coins should you be looking out for in your change?
We've taken a look at the mintage figures for UK coins to find out which ones are the rarest in circulation...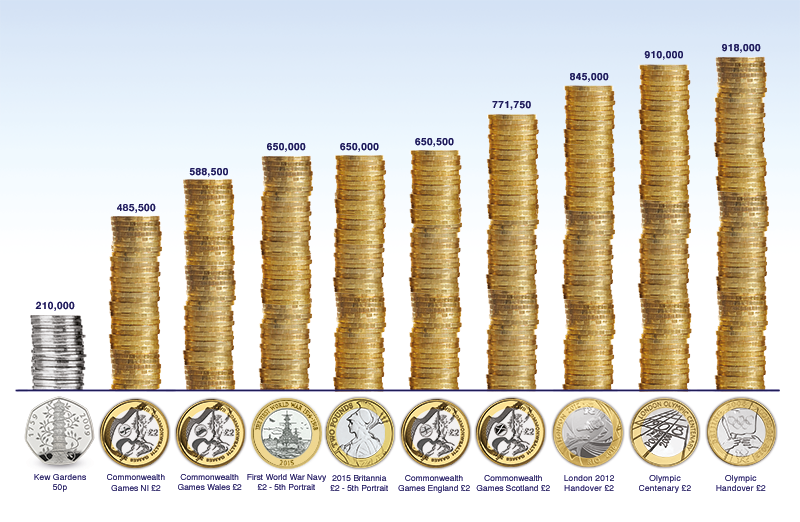 What you might be surprised by is that on our top 10 list, just 1 out of the 10 coins is a 50p!
The rarest UK coin currently in circulation is the Kew Gardens 50p, but the 9 rarest coins after that are actually £2s.
Whilst 50p coins are very popular amongst collectors at the moment, it's certainly worth noting that it is in fact the £2 coins which you should be keeping your eyes peeled for, as some of the ones you can find in your change are very rare.
Other rare coins to look out for
Of course, this doesn't take into account the rare error coins that have been found in circulation, such as:
Whilst exact mintage figures for these error coins may be unknown, we can assume that they could each be rare enough to find themselves near the top of the list.
A-Z of Great Britain 10p coins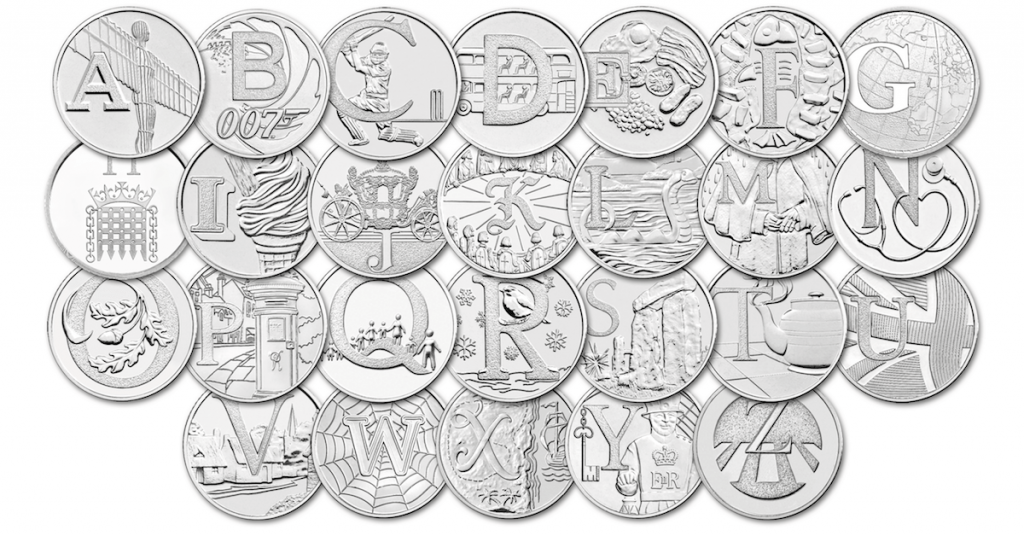 It's also worth noting that whilst mintage figures for the individual designs haven't been released, if we assume that each A-Z of Great Britain 10p has been struck in equal quantities, then there would be approximately 281,000 of each design.
This would put each A-Z 10p design in equal second place on the list of the top 10 rarest coins in circulation!
What about the coins no longer in circulation?
Currently the Kew Gardens 50p is the rarest coin in circulation, but did you know that it isn't actually the UK's rarest 50p?
This title goes to the 1992/93 UK EC Presidency 50p, with a mintage of just 109,000 – almost half of the Kew Gardens!
In 1997, 50p coins were redesigned in the smaller specification and this coin was demonetised, meaning it is no longer in circulation.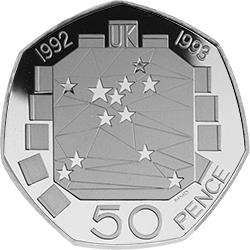 The same can be said of the 1989 Claim of Right £2, which was demonetized in 1997 when the bi-metallic £2 coin was introduced.
This coin has a mintage of 381,400 which makes it the rarest UK £2 and would put it in second place on the list if it were still in circulation.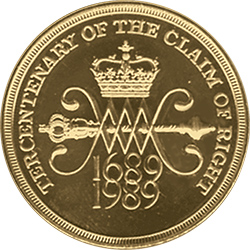 Are you lucky enough to have any of the top 10 rarest coins in your collection? Or perhaps you've even been lucky enough to get your hands on the pre-1997 coins listed above. Let us know in the comments below!
---
If you're interested in coin collecting, our Change Checker web app is completely free to use and allows users to:
– Find and identify the coins in their pocket
– Collect and track the coins they have
– Swap their spare coins with other Change Checkers
Sign up today at: www.changechecker.org/app