Exciting news! The Royal Mint have revealed the latest mintage figures for 2018 coins!
Seven 50p coins entered circulation in 2018 and collectors across the nation have been debating how rare each one might be.
But now the official figures have been revealed and it looks like there are some particularly rare ones we should be looking out for…

The rarest Beatrix Potter 50ps
Collectors who have held on to their 2018 Beatrix Potter 50ps will be delighted to see that these coins have lower mintages than any of the previous Beatrix Potter coins issued in 2016 and 2017.
In fact, three out of the four Beatrix Potter 50ps released in 2018 are even rarer than the 2016 Jemima Puddle-Duck 50p – previously thought of as the rarest Beatrix Potter 50p in circulation!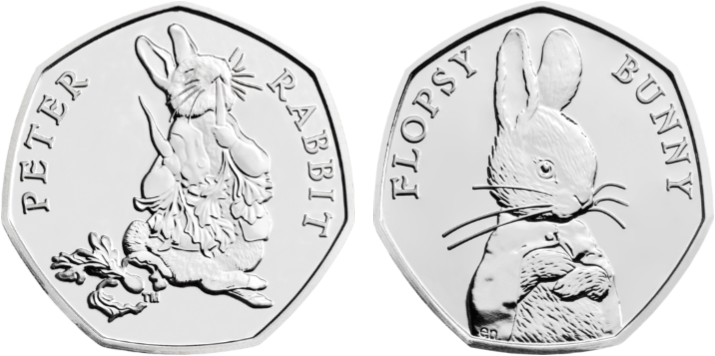 With a mintage of just 1,400,000 the 2018 Peter Rabbit and 2018 Flopsy Bunny 50ps are sure to become incredibly sought-after amongst collectors, as they take joint second spot on our mintage figure chart (which excludes Olympic 50ps).
These two coins, alongside the 2018 Mrs Tittlemouse (mintage: 1,700,000) have pushed the 2017 Sir Isaac Newton (mintage: 1,801,500) off the podium.
Whilst the 2018 Tailor of Gloucester has a slightly higher mintage at 3,900,000 the other three coins in the 2018 series have only been pipped to the post by the UK's rarest 50p in circulation, the Kew Gardens.
With a mintage of 210,000 this 50p is considered the holy grail of change collecting and dominates the Change Checker mintage figure charts and Scarcity Index.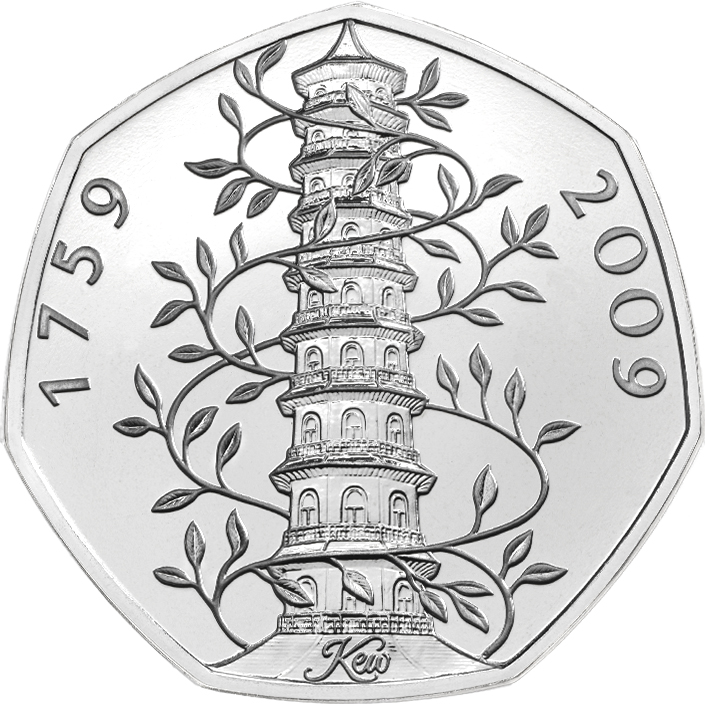 What about the Olympic 50ps?
In 2012, the release of the Olympic 50p series kick started a collecting frenzy across the nation.
It's estimated that around 75% of these coins have been removed from circulation by collectors which means they are incredibly sought-after, especially considering these 50ps have some of the lowest mintage figures in circulation…
Many of the Olympic 50ps have a mintage less than 2,000,000 with the rarest (the Olympic Football 50p) having a mintage of just 1,125,500.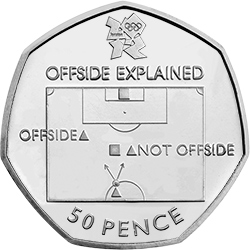 Taking these rare 50ps into consideration, the 2018 Peter Rabbit and Flopsy Bunny coins would sit in joint sixth position, below the Kew Gardens, Football, Wrestling, Judo and Triathlon 50ps.
£2 Coin Update
As well as updating the 50p mintage figures, The Royal Mint also revealed that no £2 coins were issued into circulation last year.
There have been no new £2 coins issued into circulation since 2016, which may in part be due to the introduction of the new 12-sided £1 coin in 2017.
The new definitive £2 was released in 2015, replacing the Technology £2 with a Britannia design, but for the past two years it seems there has not been enough demand to issue this coin for circulation.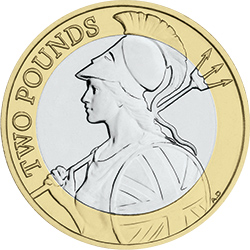 In fact, aside from the £1 coin, no new definitive coins were released at all last year, from the 1p to the £2 coin.
A-Z 10p update
Despite no definitive 10p coins entering circulation in 2018, The Royal Mint have confirmed mintage figures for the highly popular A-Z of Great Britain 10p coins.
From Angel of the North to Zebra Crossing, 26 new 10p designs were released in 2018 to celebrate what makes Britain British.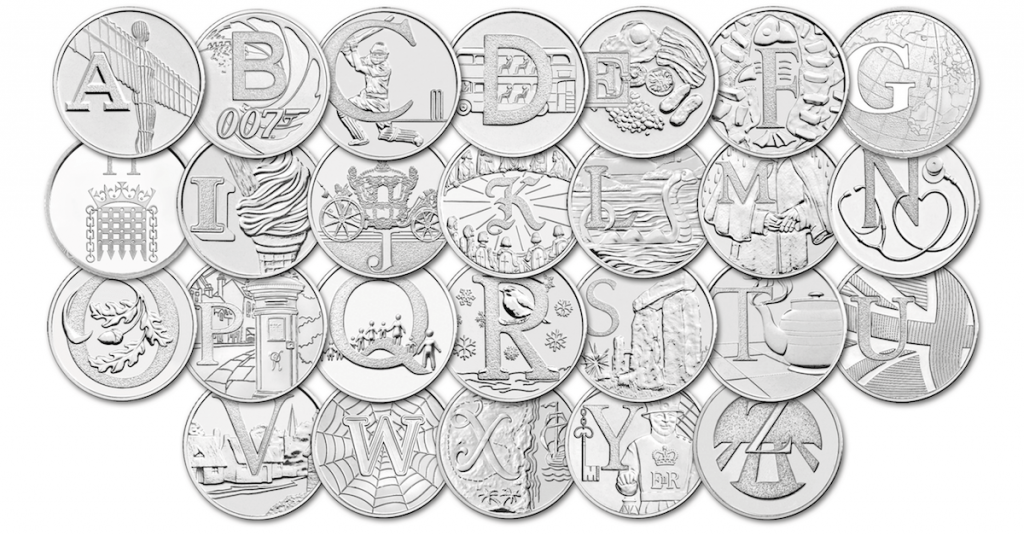 Initially, 2.6 million of these coins were released, followed by another 2.6 million later in the year.
However, up until now the individual mintages for each design had not been confirmed.
The mintage figure update now reveals that 220,000 of each design entered circulation in 2018, which makes the individual 2018 10p coins almost as rare as the Kew Gardens 50p…
Have you been lucky enough to find any of these coins in your change? It's always exciting when new mintage figures are revealed and your realise just how rare the change in your pocket really is!
We'll be updating the Change Checker Scarcity Index next month and it will be exciting to see how these new figures impact the index.
---
If you're interested in coin collecting, our Change Checker web app is completely free to use and allows users to:
– Find and identify the coins in their pocket
– Collect and track the coins they have
– Swap their spare coins with other Change Checkers
Sign up today at: www.changechecker.org/app
A common query we've been hearing at Change Checker HQ comes from people asking about variations in their 12 sided £1 coins.
Having read David Groom's fascinating articles in the April and May issues of Coin News, we've found the key facts which explain these variations, what to look for and why they might have occurred.

We know that of the 1.5 billion 12 sided £1 coins struck to replace the old round pound, roughly half a billion are dated 2016.
Of course, having such a high mintage figure must lead to varieties in design and quality of striking, however in the Coin News examination of just 40 randomly selected 12 sided £1 coins, an extraordinary number of varieties appeared…
Edges
Perhaps the most talked about variation with the 12 sided £1 is the milling on the edge of the coin, with 'lefties' being a common error in the milling process.
Obverses
Groom's article suggested four clear variations can be found on the obverse of the coin, including position of the design and text.
Reverses
Groom also highlighted the four clear features of difference for the reverses of the new £1 coins.
Misalignment
One of the most common variations seems to be misalignment of the coins, particularly where the outer and inner sections do not align properly.
Dates
We have spoken before in our blog about the dual-dated £1 coins, with one such coin being valued at £3,000.
Groom also mentions that many examples of the 2016 pound coin have the date numbers very poorly struck, making the date hard to read.
Royal Mint trial coins
Trial coins are issued when new coin specifications are being tested, but they should not enter circulation.
These feature the words 'The Royal Mint' and 'Trial Piece'.
Whilst there are clearly a number of variations to be found in the 12 sided £1 coins, Coin News suggests that these may arise from off centre striking, or be due to the different characteristics from the two metals of the bimetallic coin.
Auction sites such as eBay may have sellers claiming these as 'error' coins, with listed prices rising to hundreds or even thousands of pounds, but for us Change Checkers, finding these variations in our coins is what makes collecting that much more interesting.
Many of you have been in touch telling us about the difference in your 2016 and 2017 12 sided £1 coins. Have you spotted any of the above variations in your coins?
– Credit 'Up close, the new 12 sided £1 coin' – David Groom, Coin News, April and May 2018
---
If you're interested in coin collecting, our Change Checker web app is completely free to use and allows users to:
– Find and identify the coins in their pocket
– Collect and track the coins they have
– Swap their spare coins with other Change Checkers
Sign up today at: www.changechecker.org/app
Earlier this year, we announced the exciting news that the UK's incredibly popular Beatrix Potter 50p coins are to be followed up by two new Paddington™ 50 pence coins.
It's now with great anticipation that we can reveal the first Paddington coin has been officially released!
Celebrating the very British bear
The coins have been issued to celebrate the 60th anniversary of Paddington's first adventure and this first design is based on the modern adaptation from the CGI-live action movie, featuring Paddington on his suitcase in front of the station and excitingly, one more Paddington 50p coin will also be released by The Royal Mint later this year and this coin will feature the bear waving a Union Flag outside Buckingham Palace.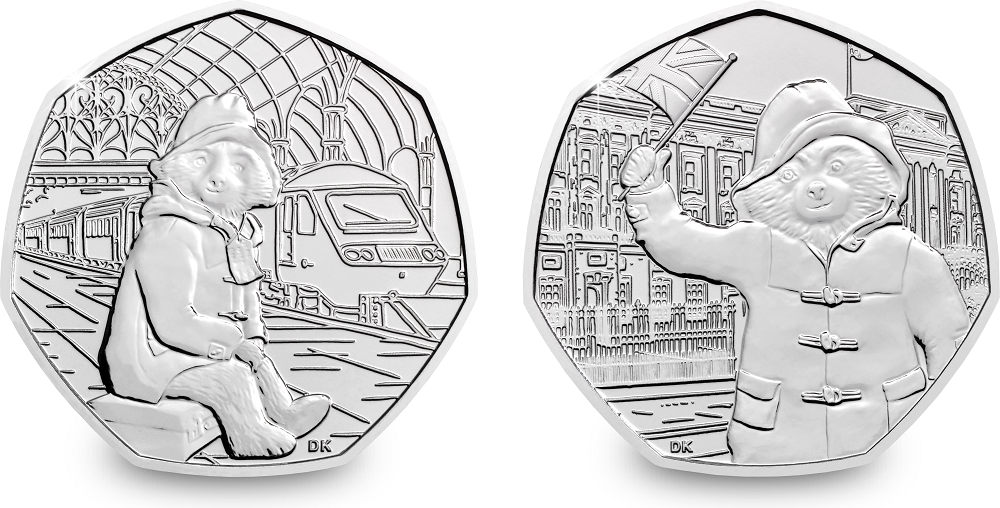 Of course fans of the movie Paddington 2, will also remember a 50p coin playing an important part in his adventure.
Not the first Paddington coin…
Whilst this is not the first time Paddington has appeared on a coin, it is his first time appearing on official UK coinage.
The nation's loveable bear has previously featured on 1 crown (25p) coins from both Isle of Man and Gibraltar – now listed for as much £30 on eBay.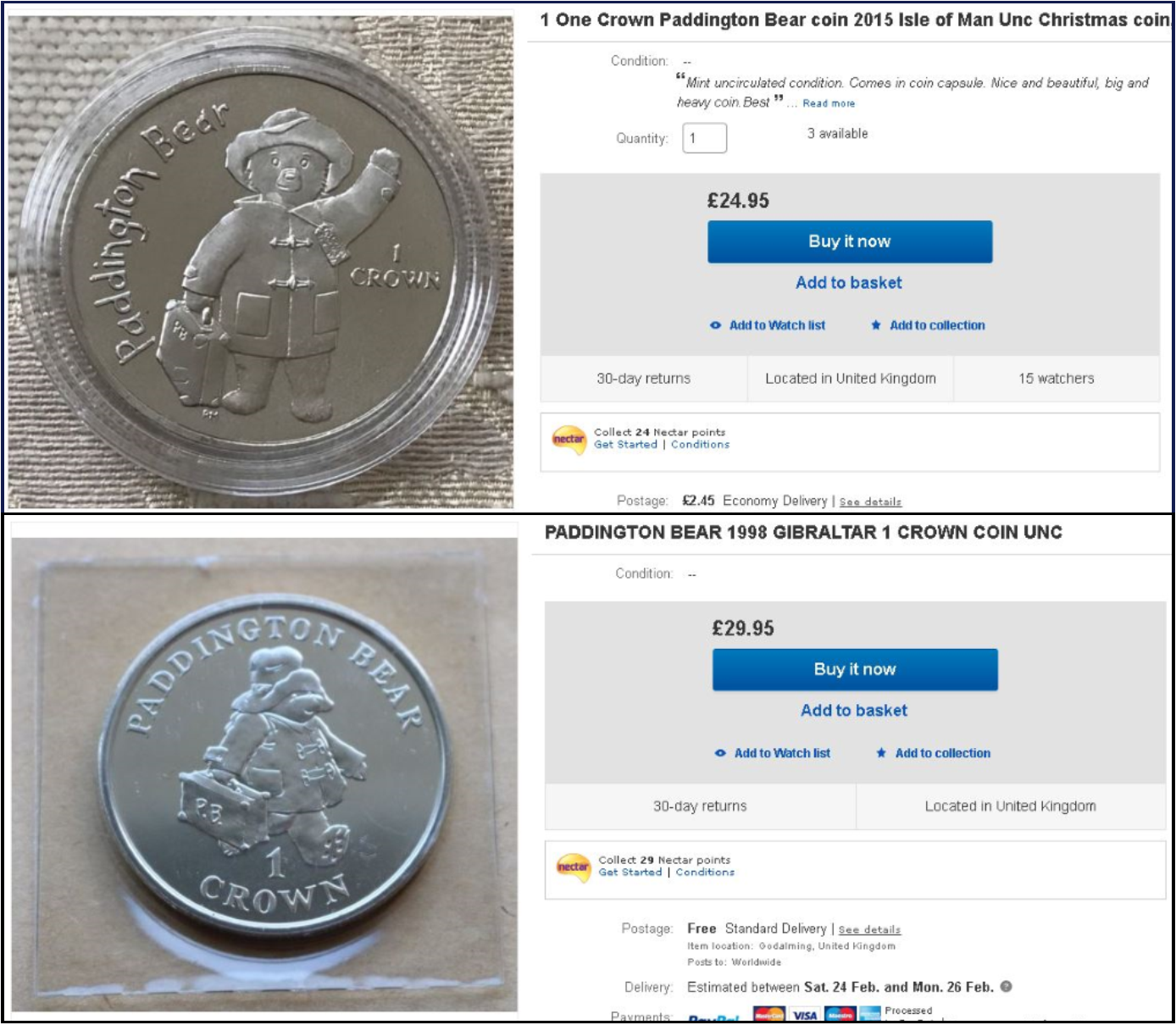 Due to the popularity of these coins, and the whole new generation of collectors created by the Beatrix Potter 50ps, it is expected that these coins will be extremely sought-after by collectors and Paddington fans alike.
These coins will be available in Brilliant Uncirculated collector's edition, with coloured Silver and even Gold versions also being made available.
---
Paddington at the Station 50p, now available to own!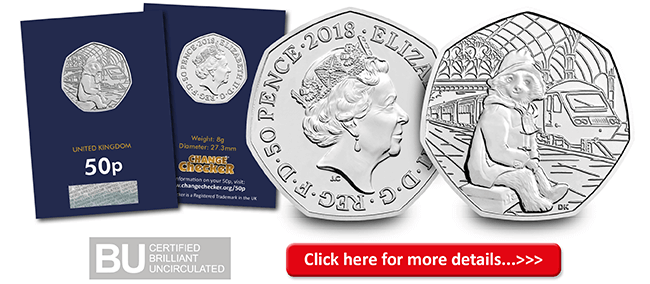 You can now own the FIRST EVER UK 2018 Paddington 50p Coin in superior collector quality.