Are you ready to discover the mighty beasts of the sea and sky?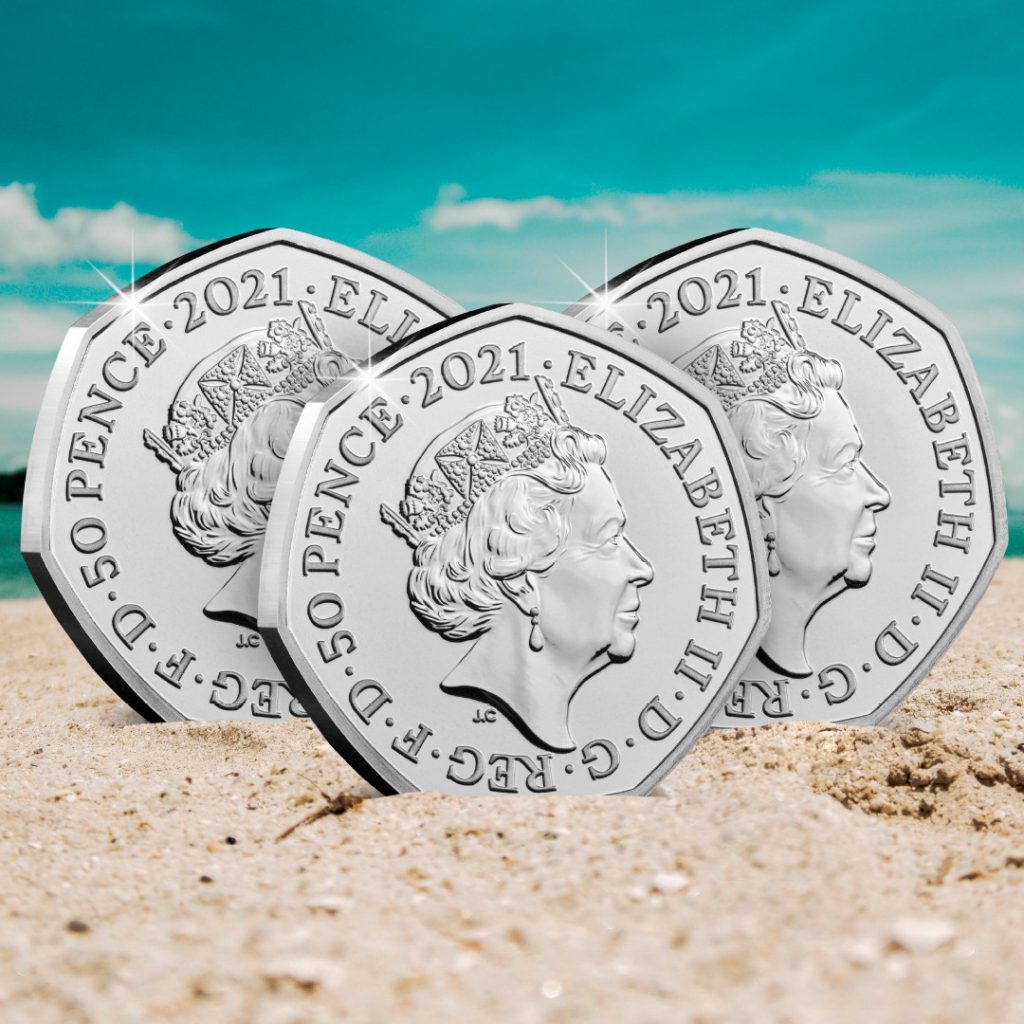 The Royal Mint has confirmed that a brand new series of 50p coins is set to commemorate Mary Anning and her discovery of the giants of the Jurassic Coast.
Mary Anning is remembered as being one of the greatest fossil hunters and paleontologists to have ever lived. At the start of her career, she claimed her excavations were merely to explore her 'curiosities' but later, she was to discover remains of some of the greatest creatures to have ever swam in our shores and soared in our skies.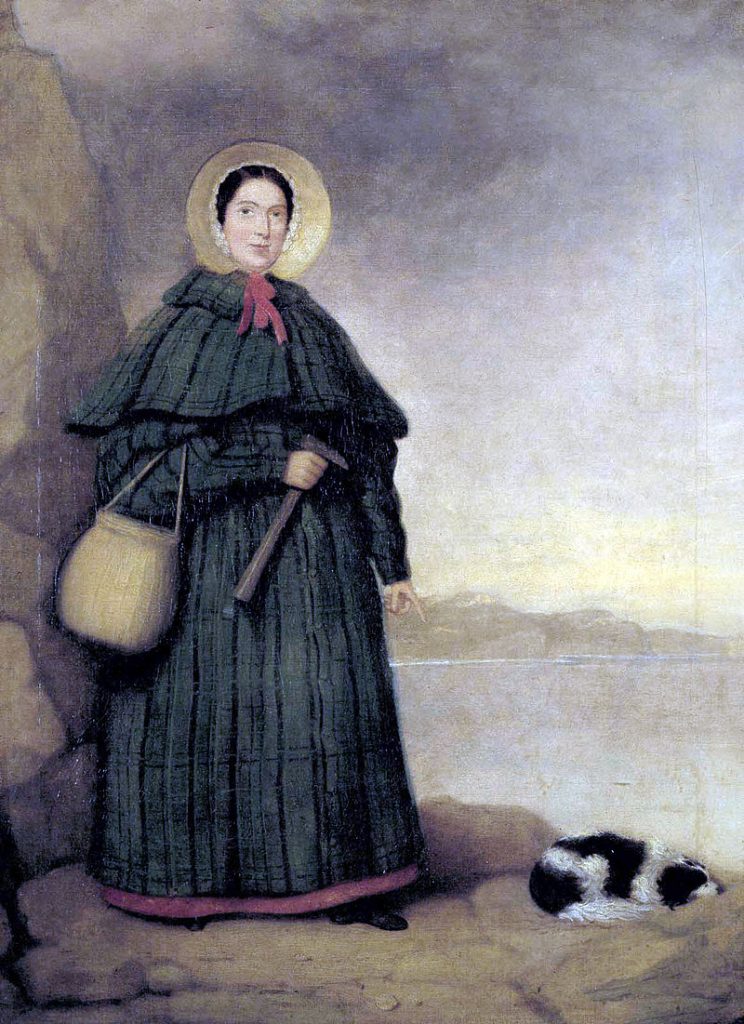 Famous in her home town of Lyme Regis, Dorset, Anning's work left a legacy of fossil hunting, paleontology and science. Dinosaur fans and historians alike, still flock to the seaside town in their thousands every year to learn more about her discoveries and to try and unearth their very own creatures in the sand and rocks!
The 2021 Mary Anning Dinosauria Collection is set to be a soaring success as it follows in the huge dinosaur footprints of last year's Dinosauria 50p series, that introduced us to the Megalosaurus, Iguanodon, and Hylaeosaurus!
Whilst the designs of these coins remain top secret, they have been issued once more in collaboration with the National History Museum so we're certain they will be dino-mite!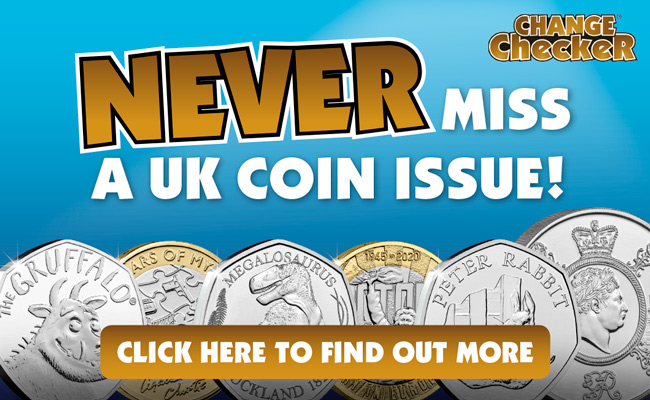 If you want to be one of the very first to secure the 2021 Mary Anning Dinosauria 50p coins for your collection as soon as they become available, for the cheapest available price, you can do so with the Change Checker New Issue Subscription service.
To find out more and to sign-up, simply click here >>
A Christmas Carol, published in 1843, is arguably one of Charles Dickens' most famous novels – teaching us to keep the spirit of Christmas and kindness in our hearts all year round.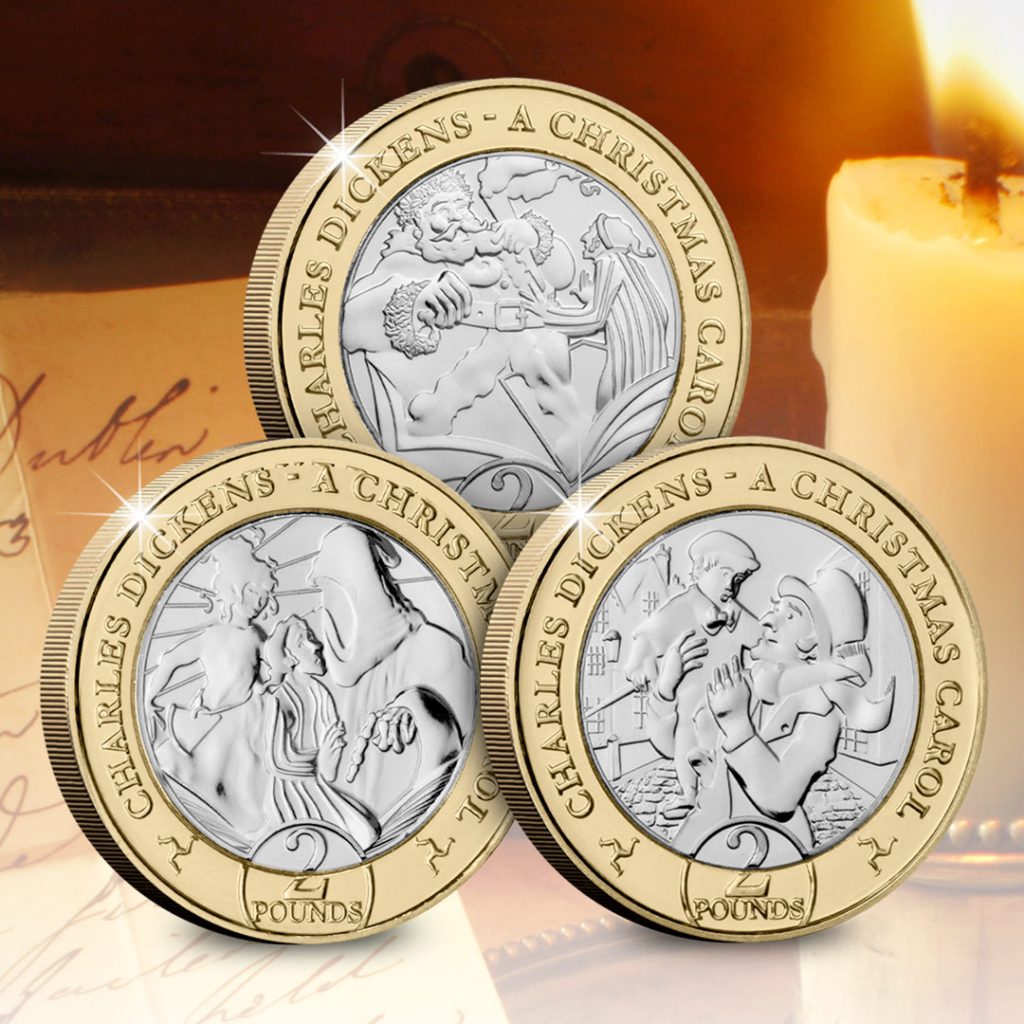 And, in this 150th year since the passing of the greatest novelist of the Victorian Era, Charles Dickens has been celebrated with the release of three enchanting £2 coins, each inspired by his timeless festive tale, including:
Scrooge and the Ghost of Christmas Present
Scrooge and the Ghost of Christmas Past and Ghost of Christmas Yet to Come
Scrooge with Tiny Tim as a representation of his redemption
The 2020 Isle of Man 'A Christmas Carol' £2 Set is a truly unique festive addition to any collection this Christmas season, or could even make the perfect Christmas gift or stocking filler for a friend or relative!
We only have a limited stock available for Change Checkers, so don't miss out on your chance to own this BRAND NEW 2020 'A Christmas Carol' £2 Set for JUST £25.00 (+p&p) by clicking here >>
---
Following in the popularity of previous Isle of Man Christmas coins, this set is sure to be in high demand amongst collectors.
JUST 3,000 of each design will be entering circulation on the Isle of Man, so these coins will be particularly hard to come by, as i'm sure collectors on the island will be quick to snap them up!
Let's a take a look at some other festive issues we've seen from the Isle of Man…
2019 Santa £2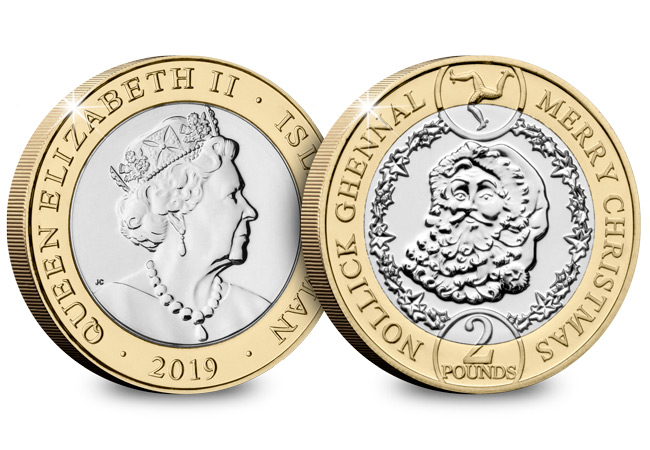 Traditionally, the Isle of Man release Christmas themed 50ps most years, however last year, this incredibly popular Santa £2 coin was released
This magical design features an enchanting portrait of Old St. Nick and bears the inscription 'Nollick Ghennal' which is Manx for 'Merry Christmas'.
At the top of the coin, the distinctive Isle of Man Triskelion (three armoured legs) can be seen.
2003 Snowman 50p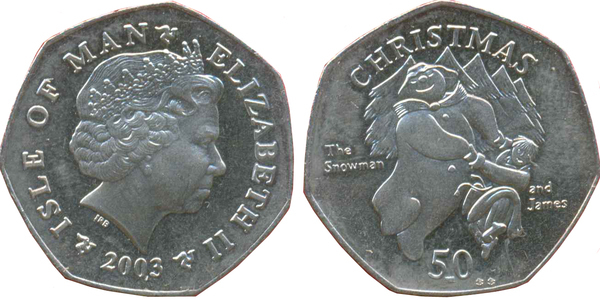 2003 marked the very first time The Snowman featured on circulating coinage.
The Isle of Man released a limited-edition coin to mark the 25th anniversary of the release of the 'The Snowman' by Raymond Briggs.
Only 10,000 of these coins were ever minted, which makes it incredibly sought-after. In fact, this coin sells for well over face value on the secondary market, often fetching more than £200!
Since 2003, the Snowman has featured on a number of Isle of Man Christmas coins, and has even made two appearances on UK coins, which have been incredibly popular with collectors!
2018 Hunt the Wren £2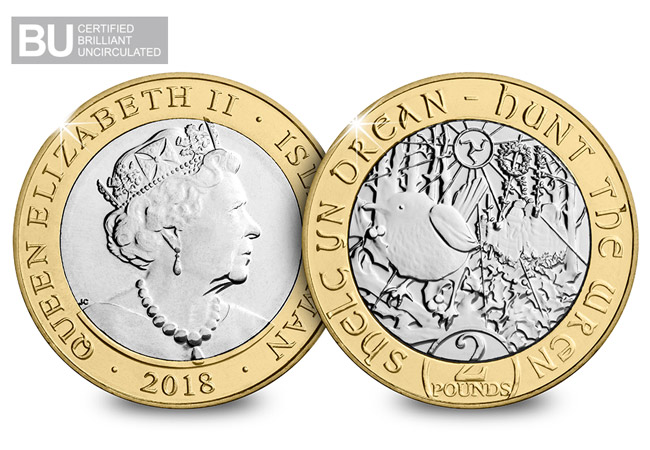 On boxing day on the Isle of Man, communities come together across the island to dance and sing in the streets around "the king of all birds" who is paraded around on a pole.
Hunt the Wren, as it is known on the island has become one of the most popular yet more unusual Manx traditions in practice today.
The practice dates back to Pagan times and is centred on the wren bird, which is hunted and then danced through the streets on a special pole.
This £2 coin was issued in 2018 by The Isle of Man to celebrate the Manx tradition.
2013 Christmas Wreath and Stocking 50p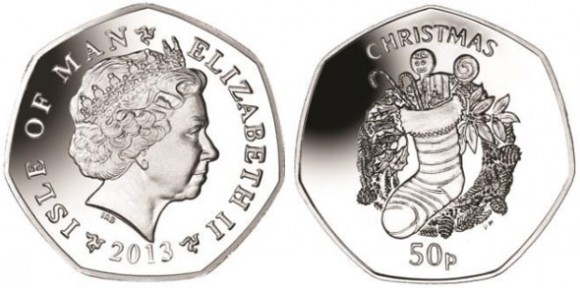 This festive 50p was issued in 2013 on the Isle of Man and features a traditional Christmas wreath and stocking.
It is estimated that only 30,000 of these coins entered circulation on the Isle of Man, making them particularly sought-after. Due to the island having a population of less than 85,000, mintages tend to be much lower than we see in the UK.
---
Let us know in the comments below what you think of these brand new A Christmas Carol £2 coins!
Will you be bringing them home this Christmas?
---
Secure this set of three 'A Christmas Carol' £2 coins to your collection today!
These coins truly are a wonderful addition to any collection and can even make the perfect gift for a loved one!
Secure yours today for JUST £25.00 (+p&p) by clicking here >>
For decades, UK coinage has celebrated some of the most influential and significant people in British history.
However, a lack of Black, Asian and Minority Ethnic figures (BAME) being recognised on legal tender has led to campaigning for greater inclusivity.
This comes after Chancellor Rishi Sunak stated he was considering proposals from a campaign group. He has since asked the Royal Mint to come up with new designs honouring BAME figures who have served the nation – such as military figures and nurses.
Will Mahatma Gandhi be the first to feature?
It has been confirmed that the first figure to be considered in a new series of UK coins that will recognise and celebrate BAME figures on UK currency will be Mahatma Gandhi.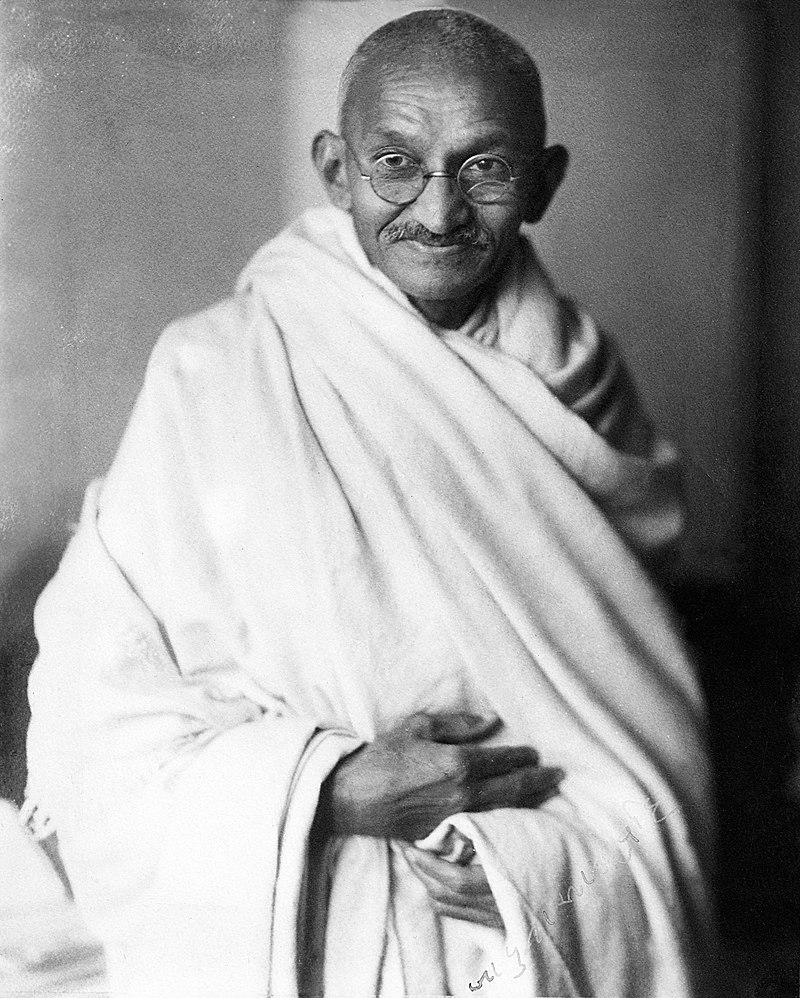 Gandhi is most well known for leading the successful campaign for India's independence, using nonviolent resistance which inspired human rights movements across the world.
However, he also has strong ties with London, having attended the University College of London law school in 1888.
Despite leaving for India after being called to the bar in 1891, he continued to return to London, right up until his final visit in 1931 where he attended a conference on the future of India.
Military nurse Mary Seacole and spy Noor Inayat Khan also being considered
The Jamaican-born business woman and nurse, Mary Seacole is being considered as one of the figures to feature on a British currency.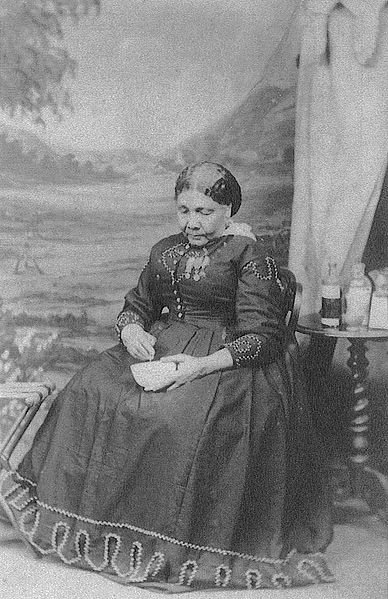 At the outbreak of the Crimean War, Seacole travelled to England hoping to join Florence Nightingale's famous team of nurses.
However, she was turned down and instead travelled to Crimea herself where she established the "British Hotel", intended to be somewhere soldiers could rest and eat.
With the location of her hotel being so close to the conflict, she was able to visit the battlefield, sometimes under fire, to nurse the wounded. Indeed, she nursed sick soldiers so kindly that they called her 'Mother Seacole'.
In May, a community hospital was named after the pioneering nurse and there is also now a trust in her name, which aims to educate and inform the public about her life, work and achievements.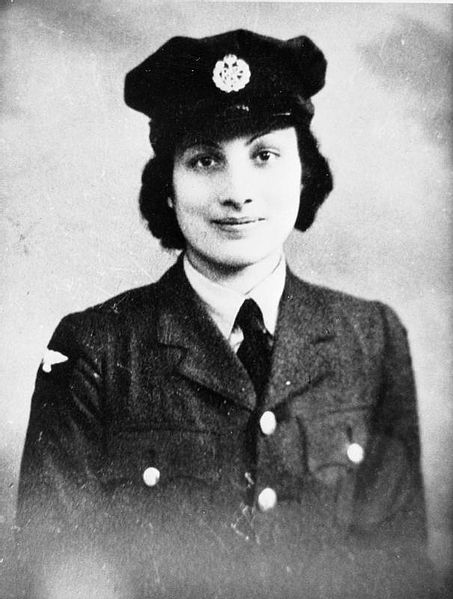 Noor Inayat Khan is also another figure in consideration. Khan was a wartime British secret agent of Indian descent who was the first female radio operator sent into Nazi-occupied France in 1943, by the Special Operations Executive (SOE).
Many members of the same network were arrested not long after entering France, but she spent the summer moving from place to place, trying to send messages back to London while avoiding capture.
In November 1943, she was sent to Pforzheim prison in Germany where she was kept in chains and in solitary confinement. Despite repeated torture, she refused to reveal any information about British Intelligence.
2014 Walter Tull £5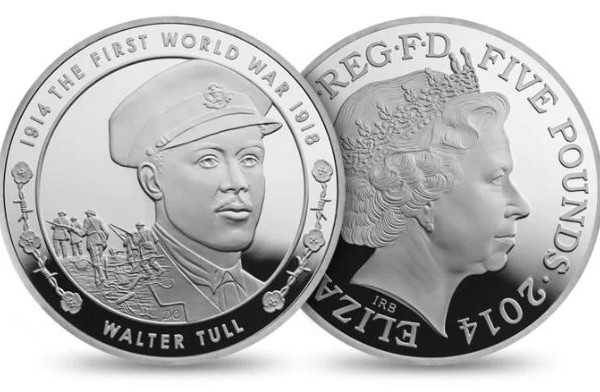 In 2014, a commemorative Silver Proof £5 coin was issued within a series of coins commemorating the First World War.
Recognised as the first black officer in Britain's Armed Forces, Walter Tull is celebrated on this £5 coin as a hero and famous figure from the war.
However, coins such as this celebrating BAME figures on UK coins are few and far between, and when issued as higher specification precious metal coins, they end up being less accessible to the general public.
Banknotes of Colour Campaign
A 'Banknotes of Colour' campaign is currently being led by former Conservative parliamentary candidate, Zehra Zaidi in efforts to see the better representation of non-white peoples on British currency.
She said, "We must tell the story of inclusive representation as it matters for cohesion and it matters in the narrative of who we are as a nation."
We look forward to hearing more as the story unfolds as Rishi Sunak considers these proposals which would recognise and celebrate BAME figures on UK currency.
---
If you're interested in coin collecting, our Change Checker web app is completely free to use and allows users to:
– Find and identify the coins in their pocket
– Collect and track the coins they have
– Swap their spare coins with other Change Checkers
Sign up today at: www.changechecker.org/app