Posts Tagged 'Definitive coins'
It's an exciting time in the collecting world, with many 'firsts' to look forward to as we enter a new era of King Charles III coinage.
From the first ever King Charles III portrait featuring on our coins, to the UK's first ever Coronation 50p, there's already been some remarkable milestones celebrated on the coins you can find in your change.
These issues will undoubtedly become increasingly sought-after in years to come. But demand for King Charles III coins is already proving to be high!
In August, the Isle of Man released the FIRST King Charles III Decimal Coin Set – including all seven of their decimal coins, which lucky islanders will be able to find in their change.
Isle of Man Manx Wildlife Set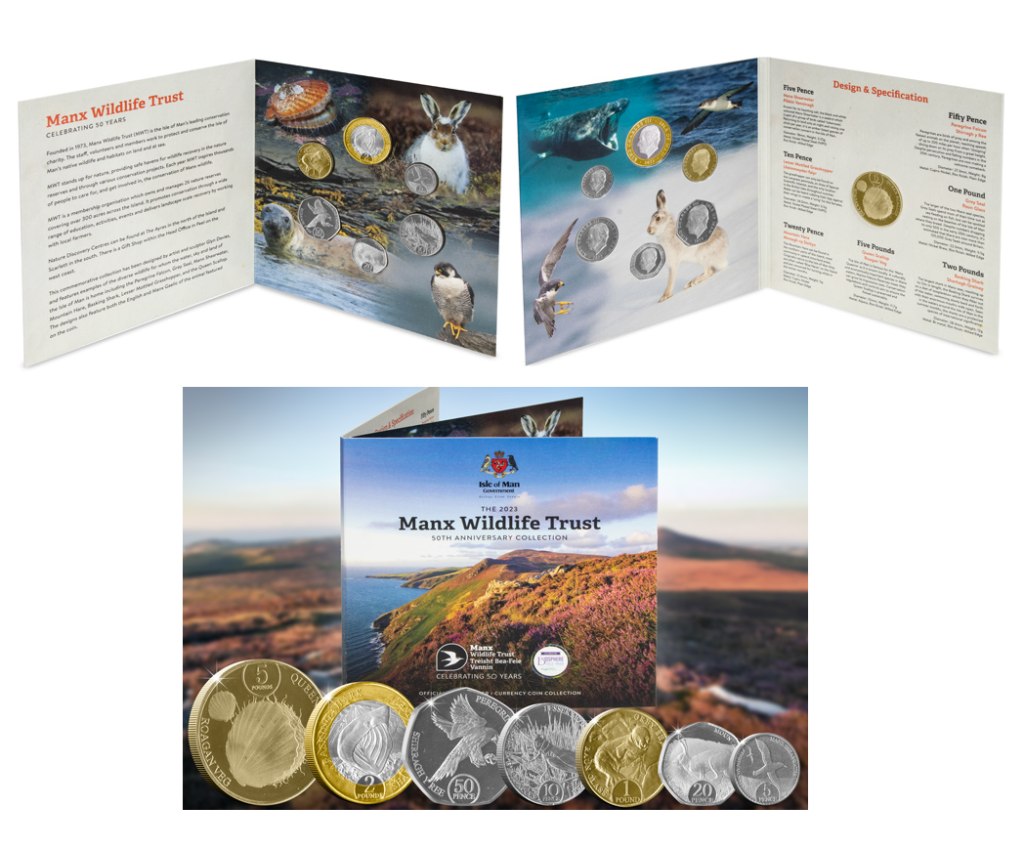 I knew these coins would be popular, but I was shocked at just how quickly we sold through our allocation… In fact, all our stocks had completely sold out in just a few days!
Popularity for the first full King Charles III coin set has certainly got us thinking about what could lie ahead for UK coins and just how high the demand might be when we start to see more King Charles coins released.
So far, the 2022 Memoriam 50p and 2023 Coronation 50p have found their way into our change and we released collector maps for both so that Change Checkers can track where across the country these coins are being found.
If you're lucky enough to have found the new Coronation 50p in your change, make sure you add it to our map here >>
In the meantime, I (like many other collectors) am eagerly awaiting the chance to find more King Charles III coins in my change and build up a new collection.
For almost 70 years, our definitive and commemorative coins have featured the Queen's portrait, but with a new era of King Charles III coinage upon us, the collecting race begins once again!
---
Own the Queen Elizabeth II LAST Definitive Coin Set
2022 marked the final year of Her Majesty's reign and, as such, these 2022 dated definitives coins were the last ever to be issued with the Queen's portrait on the obverse.
We have limited stocks available, so don't miss the chance to secure yours for just £35 (+p&p) here >>
2022 is likely a year no collector will forget.
We've celebrated a Platinum Jubilee, mourned the loss of our Queen and welcomed a new monarch to the throne.
And, as ever, these extraordinary moments are retold through our UK coins.
Today, to commemorate Queen Elizabeth II's incredible life and reign, an official UK Memorial coin set has been released. The coins feature the eight definitive coins from 2022, alongside the new Memorial 50p and £5 with the King's portrait.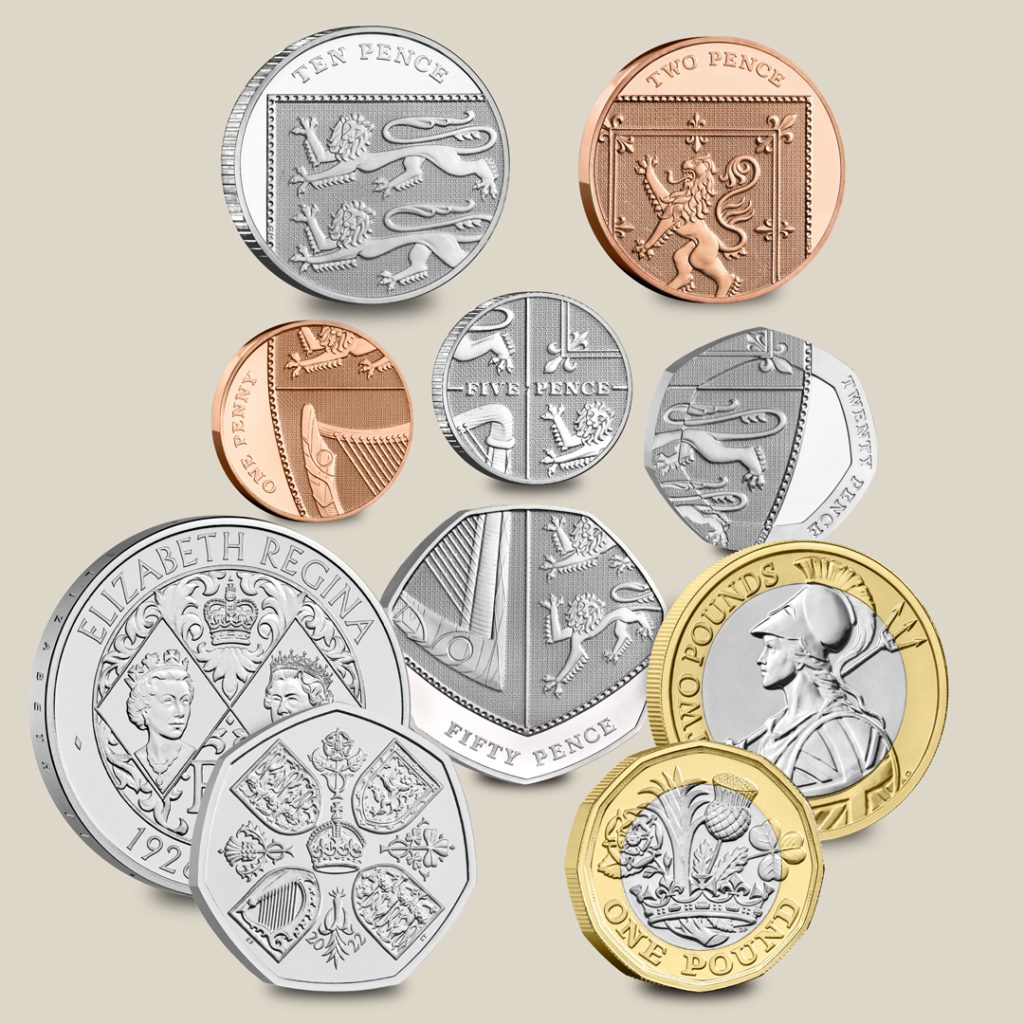 Last UK Coins of Queen Elizabeth II
Importantly, the definitive coins in this set will be the last in the UK to feature Her Majesty's portrait.
What's more, each definitive obverse design also features a special privy mark to show the Queen's year of birth and year of passing – a never-before-seen feature for these coins, which is bound to add to their collectability.
Since Her Majesty's passing, we've seen incredible demand for QE II coins. Both historic and new issues. Recent releases are continuously selling out at The Royal Mint and older issues are becoming increasingly scarce as the nation rushes to secure keepsakes and lasting tributes for the Queen.
And this set features the very last coins of Her Majesty Queen Elizabeth II, meaning rapid sell outs of the limited precious metal versions are absolutely on the cards…
The good news for collectors is that the Brilliant Uncirculated version of the set is unlimited.
However, The Royal Mint have announced that stock will only be available until the 31st December 2022, so the sales window is incredibly limited for those of you wanting to secure this set.
Appearing on our coins throughout her outstanding reign as our longest serving monarch, I'm sure you'll agree that this set really is a touching tribute to Her Majesty. It's a piece of history to treasure for generations to come.
---
Let us know in the comments below if you like the privy mark on the last Queen Elizabeth II coins.
---
Own the Last Coins of Her Majesty, with special privy mark, in Brilliant Uncirculated quality
You can own the 2022 Queen Elizabeth II Memorial Coin Set in Brilliant Uncirculated quality here >>
But, due to the limited sales window, you'll need to act fast to make sure you don't miss out.
The iconic UK definitive bi-metallic £2 has just been re-issued by The Royal Mint, celebrating 25 years since it first entered circulation!
Order your 2022 UK 25th Anniversary CERTIFIED BU £2 here >>
This brand new coin follows the design of the first definitive £2, the Technology £2. But eagle-eyed collectors will spot some very special features on this new issue…
25 years of our bi-metallic £2 celebrated with a new lenticular feature
In the centre of the original Technology £2, you'll see the central lenticular area transform from four separate scrolls into eight intertwined scrolls, representing the Iron Age.
But, instead of eight scrolls, this re-issued bi-metallic £2 reveals the number '25' when tilted – a clever way of celebrating the anniversary!
Last QEII Commemorative Bi-Metallic £2
The 25th anniversary of the £2 coin is confirmed to be the last UK commemorative bi-metallic £2 coin which features an effigy of Her Late Majesty.
This is sure to make this coin even more sought-after, as collectors rush to find the last UK coins with Queen Elizabeth II's portrait on them.
Special dual-date
As well as the unique lenticular feature, this brand new £2 also features a special dual-date.
Featuring the original 1997 date on the reverse, and the 2022 date on the obverse, this coin becomes one of just a handful of UK coins to have a dual-date on its design.
Special Privy Mark
The obverse not only features Jody Clark's QEII portrait, but also includes a special privy mark in the form of the central Iron Age circle.
Order your 2022 UK Bi-Metallic Re-issued 25th Anniversary CERTIFIED BU £2 here >>
Sell out history
Plus, this year has already seen £2 coin SELL OUTS. On the day the 150th Anniversary of the FA Cup £2 launched, limited edition specifications SOLD OUT within mere hours!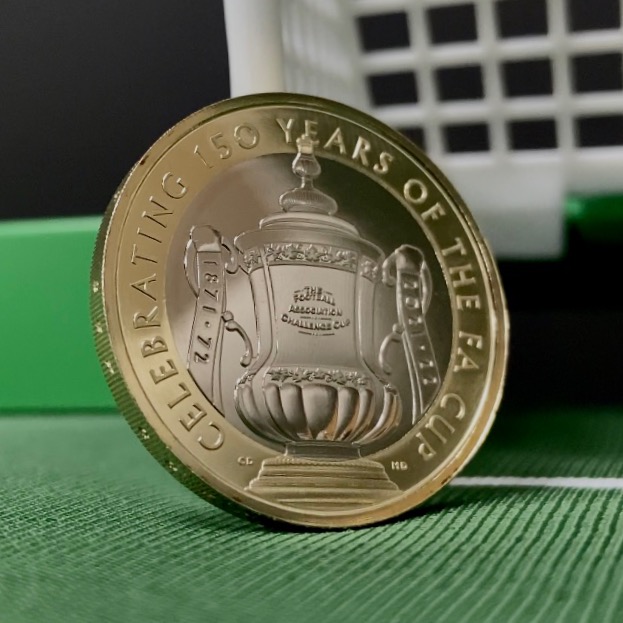 Make sure you get your hands on the 2022 UK 25th Anniversary CERTIFIED BU £2 by ordering yours here >>
The favourite UK £2 coin – voted by you!
Earlier this year, we asked Change Checkers which bi-metallic £2 design was their favourite. Can you guess which one came out on top? Find out here >>
The Scarcest Bi-metallic £2 coins
Plenty of popular bi-metallic £2 coin designs have gone into circulation since 1997, but the most scarce £2 coin is the 2002 Commonwealth Games NI £2.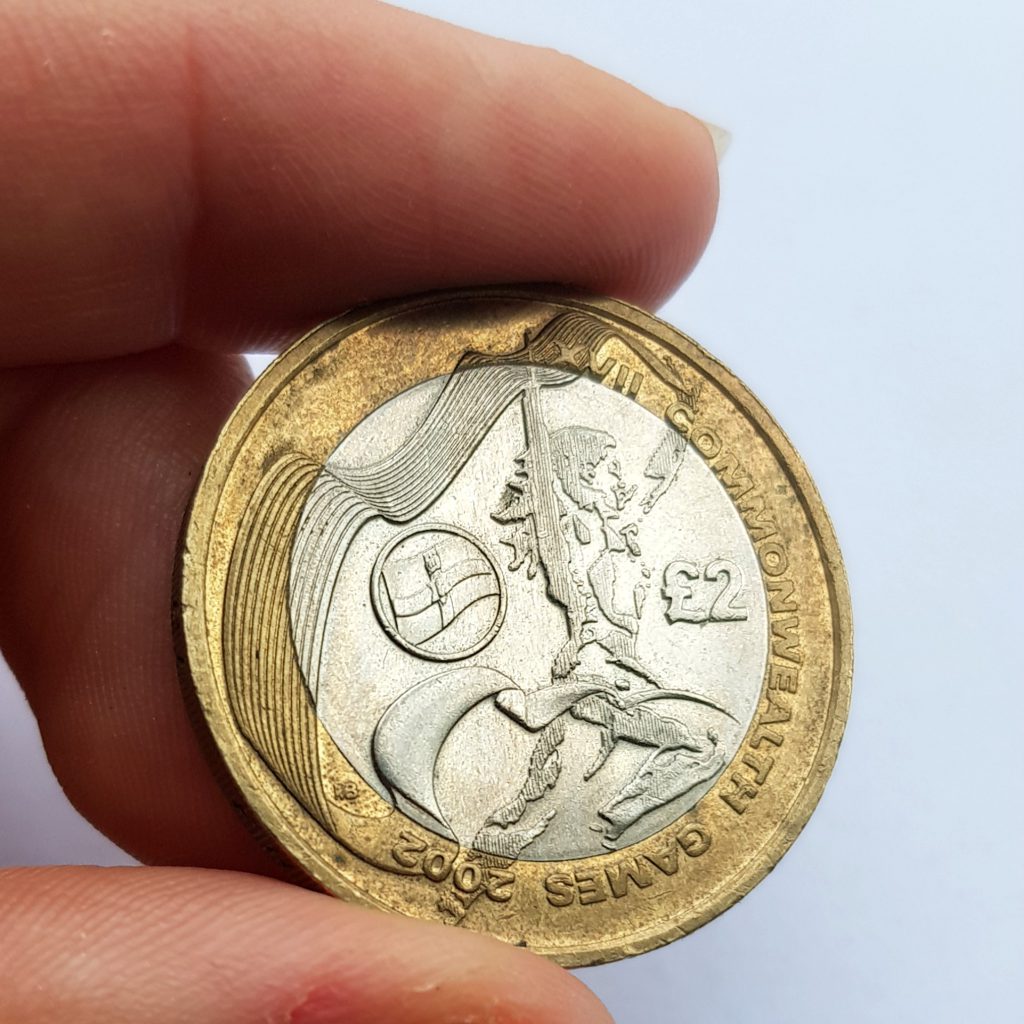 With a mintage figure of just 485,500, this coin is particularly hard to spot in your change. Find out more about this coin here >>
£2 'errors'
You may also spot £2 'errors' in your change too, although these are very rare. They can occur when striking the bi-metallic coins, which has a very specific process. If you'd like to learn more about error and mis-strike coins, click here >>
---
The re-issued bi-metallic £2 coin is sure to be a hit with collectors. What is your favourite £2 from the last 25 years?
---
Order your 2022 UK Bi-Metallic Re-Issued 25th Anniversary CERTIFIED BU £2 here >>