*** UPDATE ***
Like many of you, we were waiting in high anticipation for the Tokyo Olympics this year, but as we had to wait a little longer, we decided to host our very own Change Checker version of events…
And we've now chosen our Bronze, Silver and, Gold prize winners! Simply watch our video below to find out if you've won…
Every Friday we've been running a different coin-based challenge for you to take part in, which you can see on our Facebook page!
Each video showcased a demonstration of the week's event and all you needed to do to be in with the chance of winning some incredible prizes was:
Watch our weekly video here
Have a go at the challenge yourself, and
Leave a picture or video of your attempt in the comments on our Facebook post!
For each event, we have chosen a Gold, Silver and Bronze winner, who will each be winning a prize!
Simply watch our video in this blog, or on our Facebook page, to find out if you've been chosen as one of our winners!
Bronze: a set of three Change Checker Trading Cards to add to your collection!
Silver: a set of SIX Change Checker Trading Cards to add to your collection!
But, last and definitely by no means least, our Gold winners will be taking home an incredible NINE Change Checker Tradings Cards AND a year's subscription to Coin Collector Magazine!
We are so grateful to Coin Collector Magazine for getting involved, so a huge thank you goes to them!
Our Awards Ceremony video is now live on our Facebook channel and you can see it here.
Thanks so much to everyone who took part and congratulations to our winners!
Don't forget to send us an email at [email protected] to claim your prize!
---
If you're interested in coin collecting, our Change Checker web app is completely free to use and allows users to:
– Find and identify the coins in their pocket
– Collect and track the coins they have
– Swap their spare coins with other Change Checkers
Sign up today at: www.changechecker.org/app
HRH Prince Harry launched the very first Invictus Games at Queen Elizabeth Olympic Park, London in 2014, showcasing the incredible power of sport to inspire recovery and rehabilitation, and increase respect for those who have served their country.
The Games have installed a real sense of belonging for all, and as the international adaptive multi-sport event makes its way 'down under' to Sydney, Australia,  something extra special will be happening this year for the Invictus Games to mark the fourth year running.
Because to commemorate this special event, The Royal Australian Mint have released a limited quantity of commemorative $2 AUD coins into circulation in Australia.
This $2 coin features a competitor in a wheelchair, with the words "Invictus Games" on the reverse. Taken from the Latin word for 'unconquered', 'Invictus' captures the spirit of the games and the competitors who won't be defined by their injuries or disabilities.
2.3 million of these coins have been released over the past few months, meaning that they should be in the pockets of Australian change collectors by the time the games take place in October.
Invictus Games Sydney 2018 Chief Executive Officer Patrick Kidd OBE says:
"These coins are a fitting tribute to the men and women who serve and have served in our Defence forces and their families. The picture on the coin celebrates the unconquered spirit that this community displays each and every day and that you will all witness when these Games come to Sydney in October."
Over 500 competitors from 18 nations will compete in 11 different sports during the Games, including:
Archery
Athletics
Indoor Rowing
Jaguar Land Rover Driving Challenge
Powerlifting
Road Cycling
Sailing
Sitting Volleyball
Swimming
Wheelchair Basketball
Wheelchair Rugby
Will any of you change checkers be heading 'down under' to watch the Games this October? Or if you have any Aussie friends, make sure they keep an eye out for the coin in their change!
---
Secure your Invictus Games $2!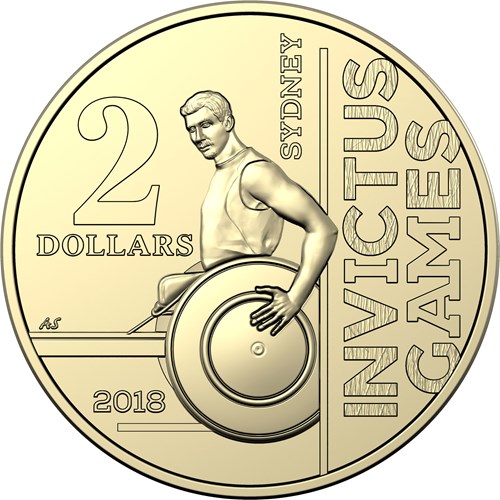 We've managed to get hold of 125 coins for UK collectors so you can now own this fantastic $2 coin from Australia, representing triumph over adversity.
Christmas is a time for socialising with friends and family and more often than not that involves playing a game or two.
However, maybe you're bored on the annual family game of Monopoly? Maybe Granny always wins at Cluedo?
So, as an early Christmas present to all you Change Checkers we've created 3 coin inspired games for you to enjoy over the festive period.
Change Checker Christmas Quiz
Our quiz consists of 40 questions split over 4 categories: General Knowledge, United Kingdom, History and Sport.
Only a true numismatic whizz will get 40/40 on this quiz; you've been warned, there's some pretty tricky questions!
You can play individually or why not ramp up the festive competitiveness and play as a team.
The winners get to open their presents first!
Download the quiz here: Change Checker Christmas Quiz
Change Checker Word Search
Who doesn't love a Word Search?! There's 21 change collecting words hidden amongst an array of letters and finding them all may take longer than you think.
Who will become the family Word Search champion this Christmas?
The last person to find all the words does the washing up!
Download the Word Search here: Change Checker Word Search
Change Checker Spot The Difference 
You'll need a very keen eye if you're going to find all 10 differences. While some are more obvious than others, some are fiendishly difficult!
Why not challenge somebody to a race, who can spot all the differences the fastest?
The slowest person has to finish the brussel sprouts!
Download our Spot The Difference game here: Change Checker Spot The Difference
Answers to all the games can be found here