We've just heard that something very exciting is making its way out of the deep dark wood and we can't wait to share the news with you Change Checkers!
Rumour has it that the Gruffalo will be returning for a second 50p coin…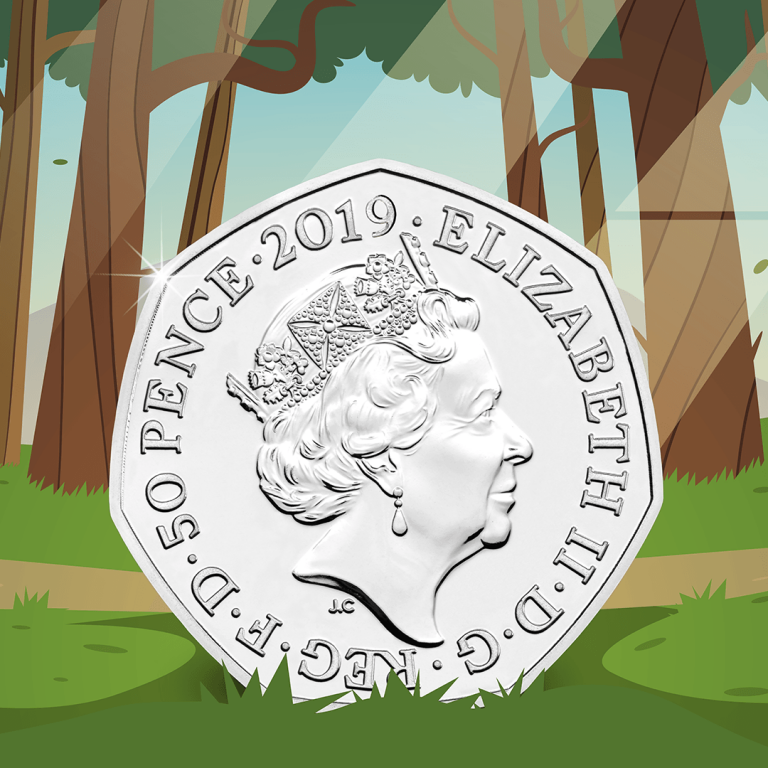 No further details have been released just yet and any designs remain top secret, but what would you like to see on the second Gruffalo 50p?
The first ever UK Gruffalo 50p was released earlier this year and the response from collectors was phenomenal!
In fact, this coin was perhaps one of the most sought-after 50ps of recent years.
The release of a second coin is bound to cause a stir, not only in the collecting world, but amongst families and fans of the Gruffalo book too.
Stay up to date with all the latest Gruffalo news…
Fill in your details below to be kept up to date with all the latest news about the Gruffalo 50p coin.
---
Start your Gruffalo 50p collection today with the first coin in the series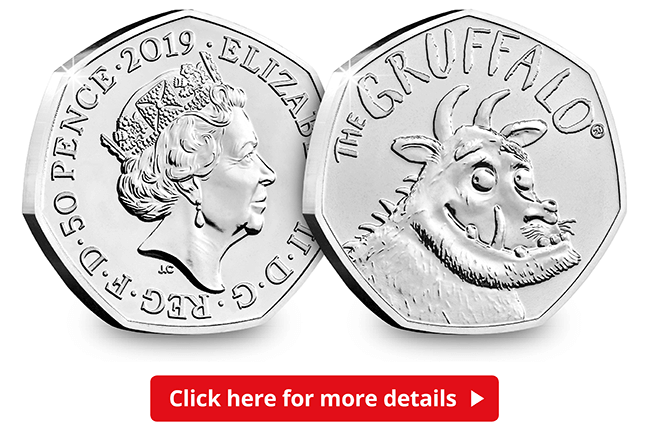 If you haven't secured the first Gruffalo 50p yet, now's the time to get your collection started!
Own the first UK 2019 Gruffalo® 50p coin in superior Brilliant Uncirculated Quality today for just £4.50 (+£2.99 p&p) here.
I love Peter Rabbit. You love Peter Rabbit. The world, it seems, loves Peter Rabbit.
And so I'm sure you'll be just as excited as I am to hear that The Royal Mint will be releasing a BRAND NEW Peter Rabbit coin for 2019 on the 19th of March!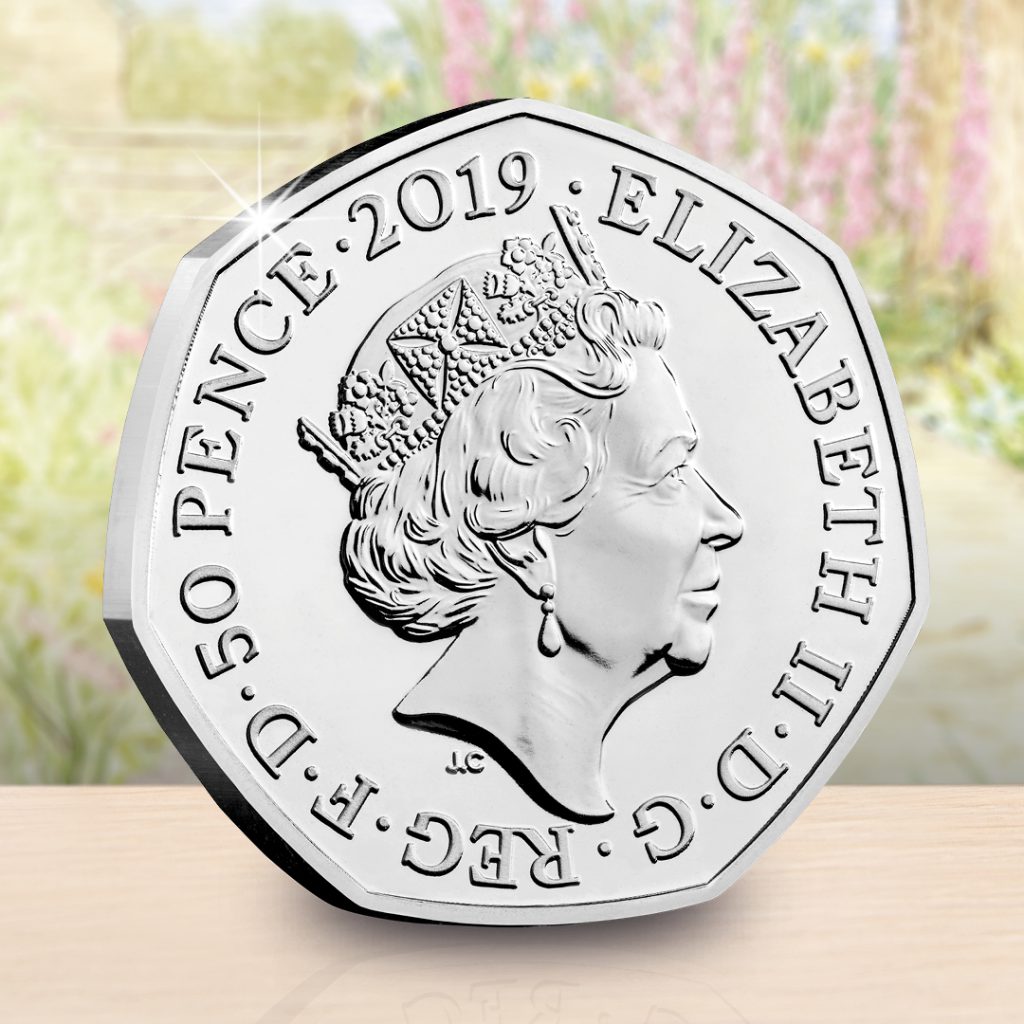 Although all the details have not been released yet and the actual design is still top secret, it seems likely that the Peter Rabbit 50p coin will be hugely popular with the British public and collectors of the Beatrix Potter 50p coin series.
Stay up to date with all the latest 2019 Peter Rabbit news…
Fill in your details below to be kept up to date with all the latest news about the 2019 Peter Rabbit 50p coin and be the first to find out when it becomes available to order.
---
If you're interested in coin collecting, our Change Checker web app is completely free to use and allows users to:
– Find and identify the coins in their pocket
– Collect and track the coins they have
– Swap their spare coins with other Change Checkers
Sign up today at: www.changechecker.org/app
Less than a year since his death, The Royal Mint have released a brand new Stephen Hawking 50p coin, honouring his works as one of the most influential physicists of the modern age.
Hawking's 'A Brief History of Time' enlightened millions to the workings of the universe and revolutionised the way we understand time and space. As an ambassador for science, his significant contributions to humanity have left a lasting presence on all of us.
The exciting release of this coin makes Hawking one of only three people to be immortalised on a coin so soon after his passing, putting him alongside Winston Churchill and the Queen Mother in the history of famous figures commemorated on a UK coin within a year of their passing.
To commemorate Britain's most famous physicist, a man who brought science to life in a way that the everyday person could connect with, this brand new 50p has been issued in Brilliant Uncirculated, Silver Proof and Gold Proof editions.
The striking design by Edwina Ellis features a stylised black hole to reflect his breakthrough work, as well as an inscription of his name and most notable 'Bekenstein-Hawking formula' describing the thermodynamic entropy of a black hole.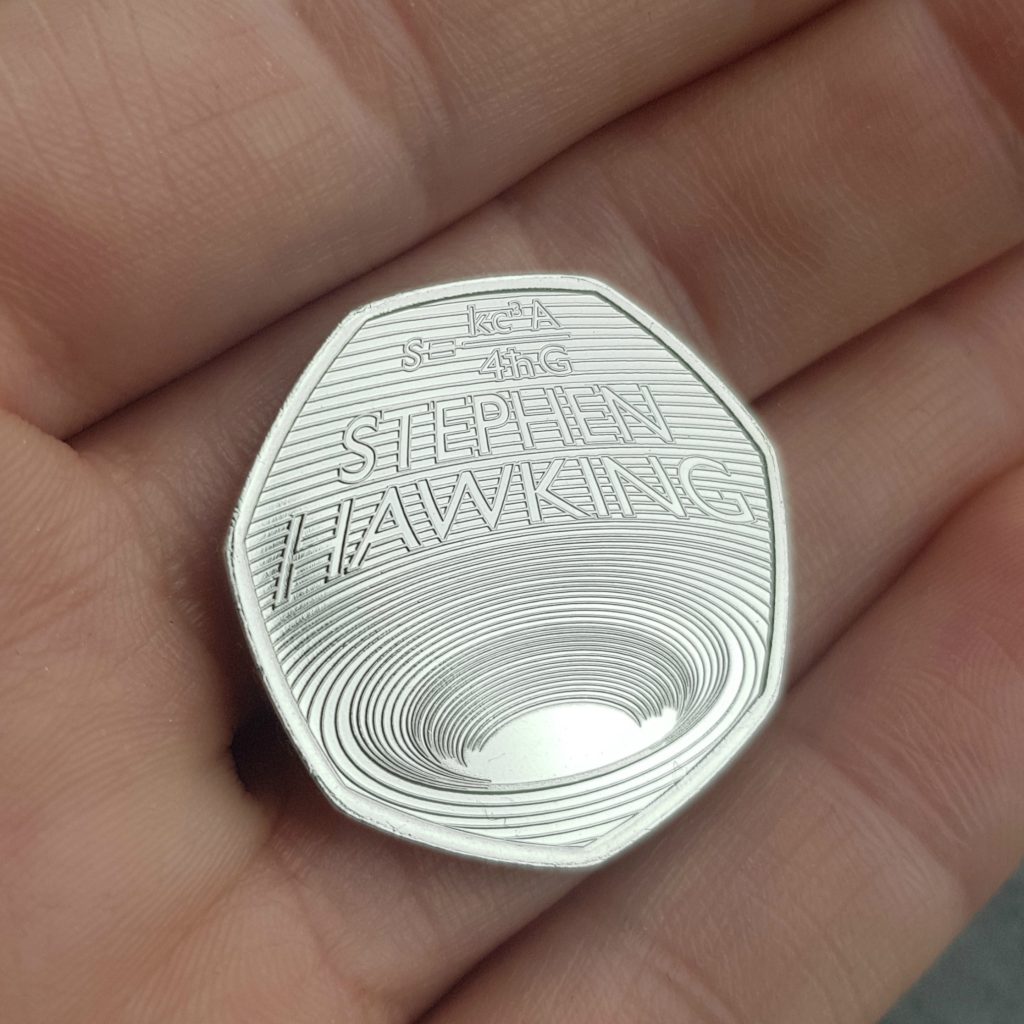 Edwina said of the design, "Stephen Hawking made difficult subjects accessible, engaging and relatable and this is what I wanted to portray in my design, which is inspired by a lecture he gave in Chile in 2008. Hawking, at his playful best, invites the audience to contemplate peering into a black hole before diving in. I wanted to fit a big black hole on the tiny coin and wish he was still here chortling at the thought. I am sure he would have thought of ways to harness the shiny table of the coin too. You feel he cared about all of us understanding."
Excitingly, this is actually the first coin issued as part of a four coin series issued by The Royal Mint to celebrate 'innovators in science' and so it seems only fitting that the very first coin should feature Stephen Hawking.
We're yet to find out who will feature on the next three coins, but who do you think should be chosen to be featured alongside Stephen Hawking?
---
Secure the BRAND NEW Stephen Hawking 50p for just £3.99 (+p&p)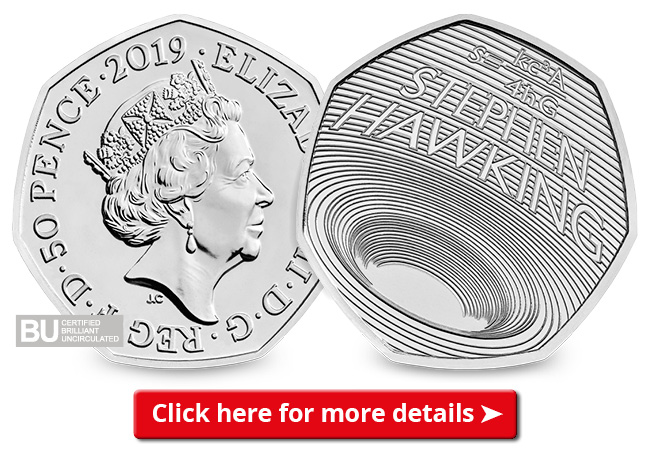 This coin won't be entering circulation, but you can add it to your collection in superior collector's quality.
Click here to secure the Brilliant Uncirculated Stephen Hawking 50p for your collection for just £3.99 >>