Posts Tagged 'new release'
With fewer coins going into circulation these days, we want to give collectors the chance to own future 2019 UK coins for face value.
So, we've launched the Face Value Coin Ballot to to do just that!
Simply sign up to the Face Value Ballot and each time there's a new 50p released this year, we'll select 1,000 people to add the latest coin to their collection for face value, in superior brilliant uncirculated quality! 500 people will be selected for every 2019 £2 release.
If you're lucky enough to be chosen, we'll still keep your name in the pot for all future 2019 releases – so if you're really lucky you might get picked more than once!
And don't worry, if you're chosen but decide you no longer want to purchase the coin at face value, you're under no obligation to place your order.
Whilst fantastic new coins continue to be issued, the demand for cash is just so low and we don't know which coins will be entering circulation, so the ballot gives collectors a fair chance to secure the latest coins at face value.
For all the information you need to know about the 2019 Face Value Coin Ballot, take a look at the FAQ's below.
Click here to sign up to the Face Value Coin Ballot

---
FAQ's
1. How do I enter the 2019 Face Value Coin Ballot?
Please click here and follow the step by step instructions.
2. Does it cost anything to enter the ballot?
It's FREE to enter the 2019 Face Value Coin Ballot. If you are successful we will email you a link to pay for your coin at face value.
3. Who can enter the 2019 Face Value Coin Ballot?
The ballot is open to all UK residents. Employees of 288 Group and their families are not eligible to enter.
4. How many times can I enter the ballot?
Ballot entry is limited to one per household. Additional applications will not be entered into the ballot.
5. Will I need to enter the ballot each time a new coin is released?
No. You only need to enter once to then be included in the ballot for all upcoming UK new issue 50p and £2 coins in 2019.
6. Will I need to enter again if I win a ballot?
No. Even if you win, we will still automatically include you in the next ballot.
7. How will I know if my ballot entry has been successful?
The successful ballot entrants will be notified via email on launch day. You will have 7 days to confirm your reservation.
8. If I am successful, what do I need to do?
We will email you. You will need a credit/debit card to confirm your payment. Payment will not be taken until after the coin has been despatched.
9. If I am successful, when will I receive my coin?
You should receive your coin 3-5 working days after despatch.
10. If I am successful, do I have to complete my order?
If you are successful in the ballot, you have the choice of whether you wish to complete your application by making your payment. If you choose not to, your allocation will automatically be forfeited after 7 days.
How to contact us:
If you have further questions please click here to contact our Customer Service Team
Please do NOT add info@westminstercollection.com to your spam list as it may affect you receiving your successful ballot allocation. We recommend you add info@westminstercollection.com to your safe senders list.
---
Terms & Conditions
Ballot entry is limited to one per household. Additional applications will not be entered in to the ballot.
The ballot will be drawn up to three days before each launch.
The successful ballot entrants will be notified by email on the day of release for the new coin.
Successful entrants will be provided with an exclusive link to confirm their purchase of the newly released coin at face value. Please note that entrants must use the link from the email to secure the coin. We will not be able to place the order over the phone. Successful entrants will have 7 days in which to confirm their purchase. After that time their allocation will be forfeited.
We reserve the right to vary the terms and conditions at any time, including, but not limited to, stopping the 2019 Face Value Ballot completely, closing the ballot early or extending the closing date and varying the number of coins available.
The ballot is not open to employees of 288 Group or their families.
The BRAND NEW 2019 Peter Rabbit 50p has now been officially released!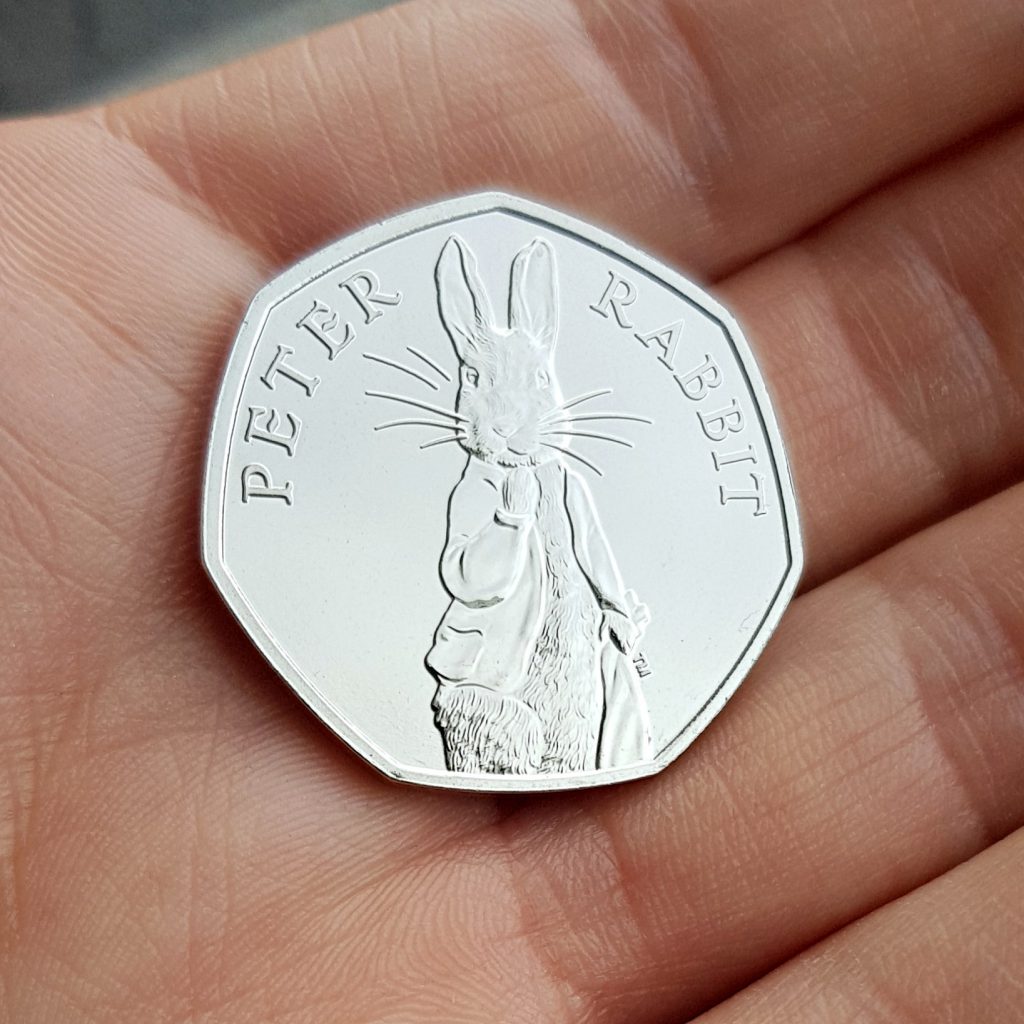 In 2016 this mischievous little bunny re-inspired the nation to start checking their change.
And that's because Beatrix Potter's enchanting tales of countryside characters were brought to life on UK coinage with The Royal Mint's introduction of the Beatrix Potter 50p series.
Likened to the 2012 Olympic 50p collecting sensation that gripped the nation, the release of these 50ps, including the very first UK Peter Rabbit coin, started a collecting frenzy across the UK.
And now this loveable little character has once again found his way out of Mr McGregor's garden and onto a brand new UK 50p coin, for the fourth year running.
First issued to celebrate 150 years since the birth of the renowned Children's author, Beatrix Potter, these 50p coins have been unprecedented in their popularity.
Thirteen coins have been issued since 2016, each featuring one of Potter's delightful characters, from Flopsy Bunny to Mrs Tiggy-Winkle and even a special coin which includes elements celebrating Beatrix as the artist behind some of the best-loved characters in children's literature.
The tale now continues with the 2019 Peter Rabbit 50p coin, featuring an original illustration of Peter Rabbit by Beatrix Potter herself, carefully engraved by Royal Mint coin designer, Emma Noble.
The illustration has been taken from the book, 'The Tales of Benjamin Bunny' and shows Peter Rabbit wearing his blue jacket, which he daringly retrieved from Mr McGregor's garden after losing it in 'The Tales of Peter Rabbit'.
He can be seen clutching a handkerchief which was used to gather onions from the garden to take back for his aunt.
The coin won't be entering circulation, but is available to purchase in Brilliant Uncirculated quality here >>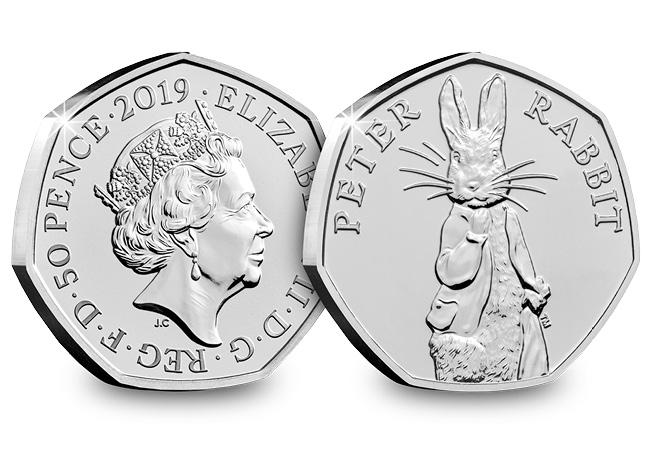 There is no doubt that this Peter Rabbit 50p coin will be as popular as the previous years, and I'm sure collectors won't want to let this bouncy bunny slip through their fingers.
---
Own the BRAND NEW 2019 Peter Rabbit 50p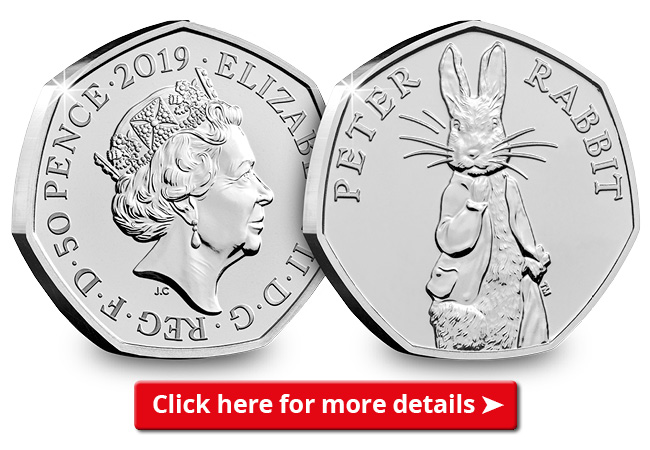 This is your chance to be ahead of the crowd and secure your 2019 Peter Rabbit 50p in superior Brilliant Uncirculated condition.
Secure the Brilliant Uncirculated issue today for just £3.99 (+p&p) >>
---
Sign up for more Beatrix Potter news!
The Royal Mint has not confirmed if more Beatrix Potter coins will be issued this year, but if you'd like to be the first to know about any updates or future Beatrix Potter coins, you can sign up to receive updates using the form below:
Less than a year since his death, The Royal Mint have released a brand new Stephen Hawking 50p coin, honouring his works as one of the most influential physicists of the modern age.
Hawking's 'A Brief History of Time' enlightened millions to the workings of the universe and revolutionised the way we understand time and space. As an ambassador for science, his significant contributions to humanity have left a lasting presence on all of us.
The exciting release of this coin makes Hawking one of only three people to be immortalised on a coin so soon after his passing, putting him alongside Winston Churchill and the Queen Mother in the history of famous figures commemorated on a UK coin within a year of their passing.
To commemorate Britain's most famous physicist, a man who brought science to life in a way that the everyday person could connect with, this brand new 50p has been issued in Brilliant Uncirculated, Silver Proof and Gold Proof editions.
The striking design by Edwina Ellis features a stylised black hole to reflect his breakthrough work, as well as an inscription of his name and most notable 'Bekenstein-Hawking formula' describing the thermodynamic entropy of a black hole.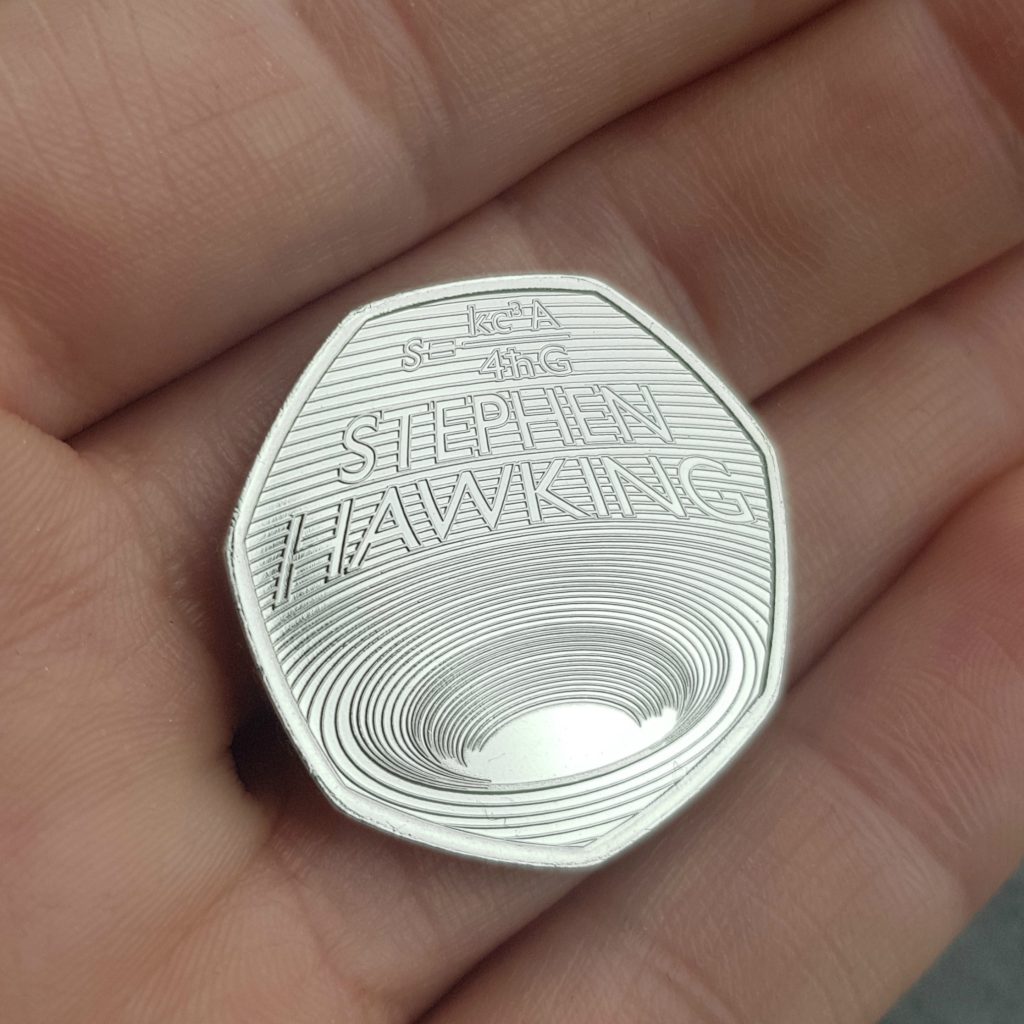 Edwina said of the design, "Stephen Hawking made difficult subjects accessible, engaging and relatable and this is what I wanted to portray in my design, which is inspired by a lecture he gave in Chile in 2008. Hawking, at his playful best, invites the audience to contemplate peering into a black hole before diving in. I wanted to fit a big black hole on the tiny coin and wish he was still here chortling at the thought. I am sure he would have thought of ways to harness the shiny table of the coin too. You feel he cared about all of us understanding."
Excitingly, this is actually the first coin issued as part of a four coin series issued by The Royal Mint to celebrate 'innovators in science' and so it seems only fitting that the very first coin should feature Stephen Hawking.
We're yet to find out who will feature on the next three coins, but who do you think should be chosen to be featured alongside Stephen Hawking?
---
Secure the BRAND NEW Stephen Hawking 50p for just £3.99 (+p&p)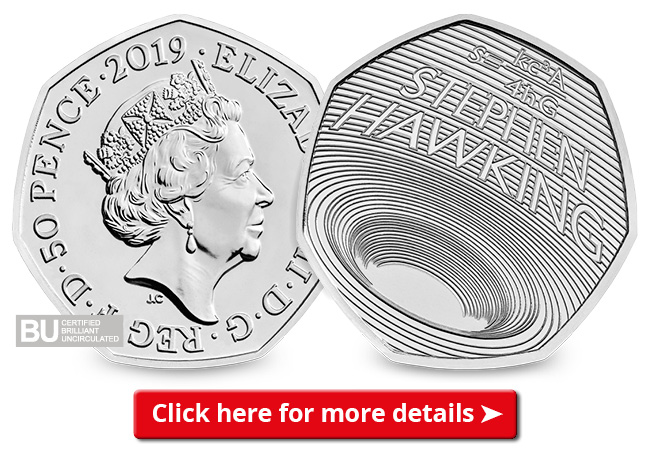 This coin won't be entering circulation, but you can add it to your collection in superior collector's quality.
Click here to secure the Brilliant Uncirculated Stephen Hawking 50p for your collection for just £3.99 >>