Posts Tagged 'new release'
Today's the day we've all been waiting for, as two BRAND NEW 2019 UK Paddington™ 50p coins have finally been revealed!
Since the Royal Proclamation on the 11th April, Change Checkers have eagerly been awaiting the release of these new coins and I'm sure you'll agree that they are well worth the wait.
The designs feature Britain's best-loved bear at some of London's most iconic attractions – the Tower of London and St Paul's Cathedral.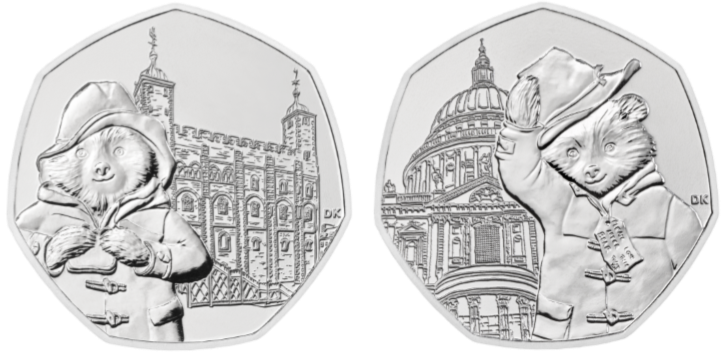 Straight from the darkest Peru and into your pockets!
In 1958, Paddington made his way to London, straight from the darkest Peru…
In June 2018 (for his 60th birthday) Paddington was spotted sat on his suitcase beside the trains at Paddington Station and later that year the bear was back, this time proudly waving a Union Jack Flag outside Buckingham Palace.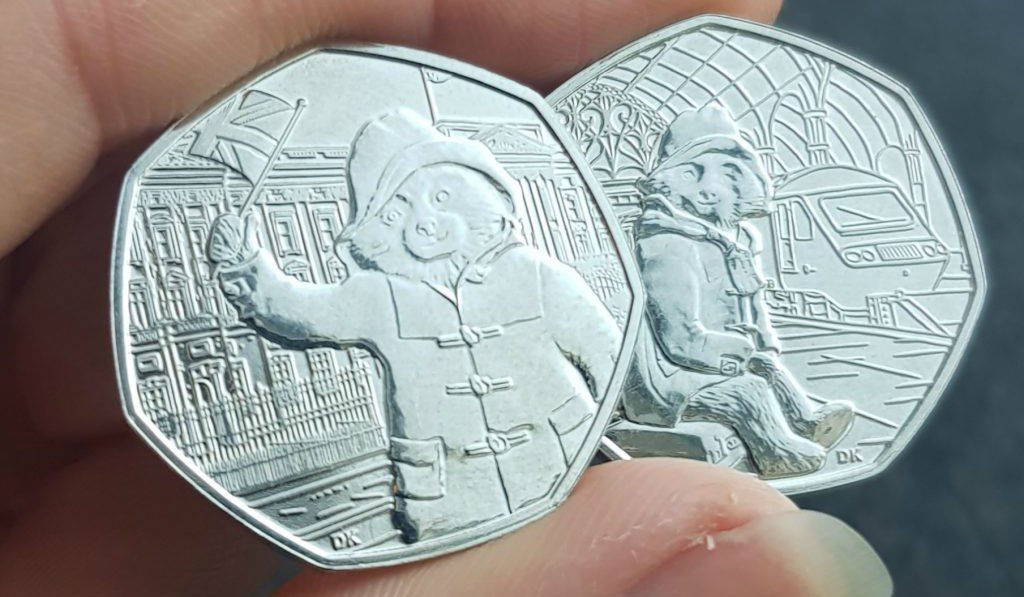 These coins from 2018 can be found in your change and added to your UK 50p coin collection – but have you been lucky enough to find them?
Paddington's adventure now continues as these latest designs by David Knapton show the bear in two new London landmarks.
And the best news is, The Royal Mint have confirmed that the first coin will also be entering circulation from August!
Let us know if you're lucky enough to come across any in your change…
Paddington at the Tower of London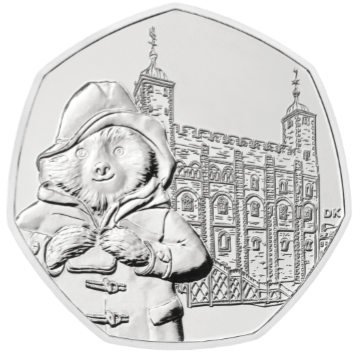 This is the first Paddington coin to be released in 2019.
David Knapton's design, based on the CGI live-action movie, shows the adorable bear outside the Tower of London, enjoying his favourite food – marmalade sandwiches!
If you can't wait to get your hands on this new coin, it is now available to secure in Brilliant Uncirculated quality.
Paddington at St Paul's Cathedral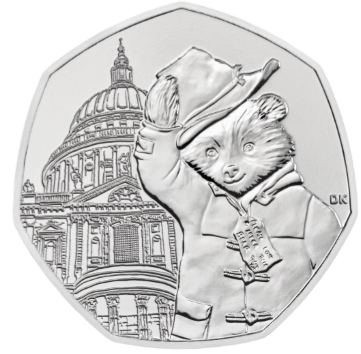 The second Paddington 50p to be released this year will feature the charming bear outside St Paul's Cathedral.
David Knapton has really captured the friendly nature of Bond's character as he doffs his little hat in greeting to you.
This coin won't be released until the 12th September, but is is available to pre-order now if you want to own it in Brilliant Uncirculated quality.
The 50p collecting craze!
50p coin collecting has become more popular than ever, especially since the release of much-loved characters such as Peter Rabbit, The Snowman and of course Paddington!
Last year's Paddington 50p coins were hugely popular and I'm sure that these new designs will be just as sought-after.
I'm certainly very excited to by the 2019 Paddington coins and can't wait for when we will start seeing them in our change!
---
Give this bear a home!
This loveable bear is looking for a home and if you'd like to take him in, you can order the 2019 Complete Paddington 50p Pack to own both coins in Brilliant Uncirculated quality today.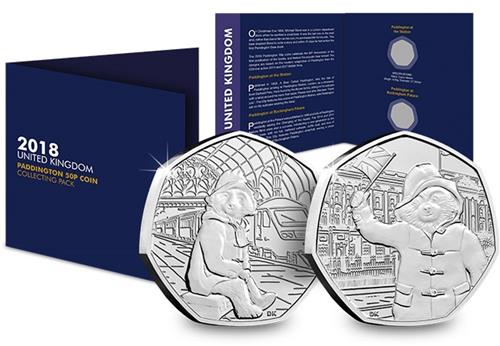 The wait is finally over and it is with great excitement that we can reveal the brand new Isle of Man Peter Pan 50p coins to you all…
These amazing coins have been developed in partnership with Great Ormond Street Hospital Children's Charity to celebrate 90 years since Peter Pan author, J.M. Barrie, gifted all future rights in Peter Pan to them.
Our friends at the Westminster Collection say, "It has been an honour working with this fantastic charity to create the WORLD'S FIRST Peter Pan 50ps, and for every coin sold a donation will go directly to GOSH Charity to support the hospital's most urgent needs: fund support services, pioneering research, equipment and refurbishment."
Peter Pan remains one of the most cherished and loved children's stories of all time and as such demand for these new 50p coins is expected to be extremely high.
Whether you're an avid 50p collector, a Peter Pan fan, or just a big kid at heart, I'm sure these coins are bound to sweep you off your feet.
The Official Peter Pan 50p Coin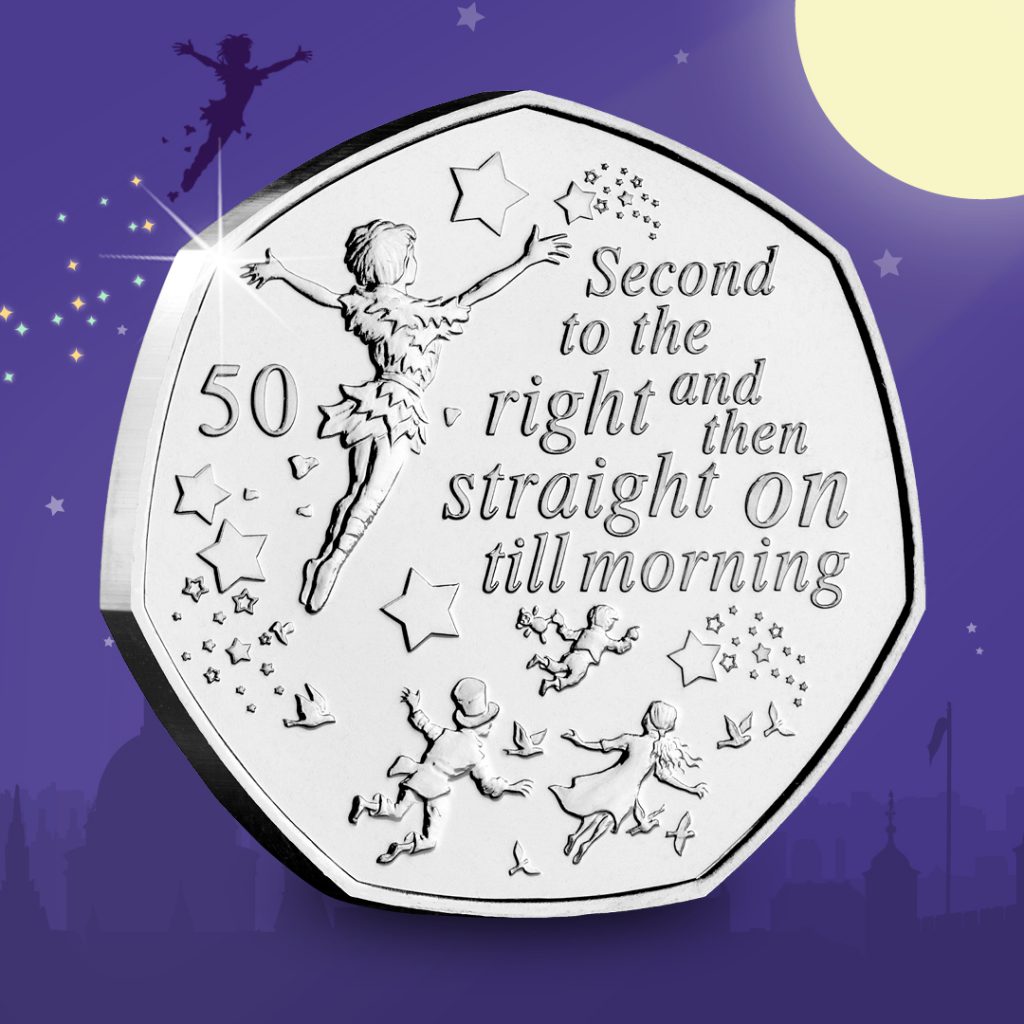 The brand new Peter Pan 50p features an engraving of David Wyatt's illustration from the Oxford University Press edition of Peter Pan, alongside a well-known and much loved quote from the book.
This is the first time ever that Peter Pan has featured on a 50p coin and I'm sure that this magical design will go down a treat with collectors, especially following the popularity of previous book character coins.
The COMPLETE Peter Pan 50p Set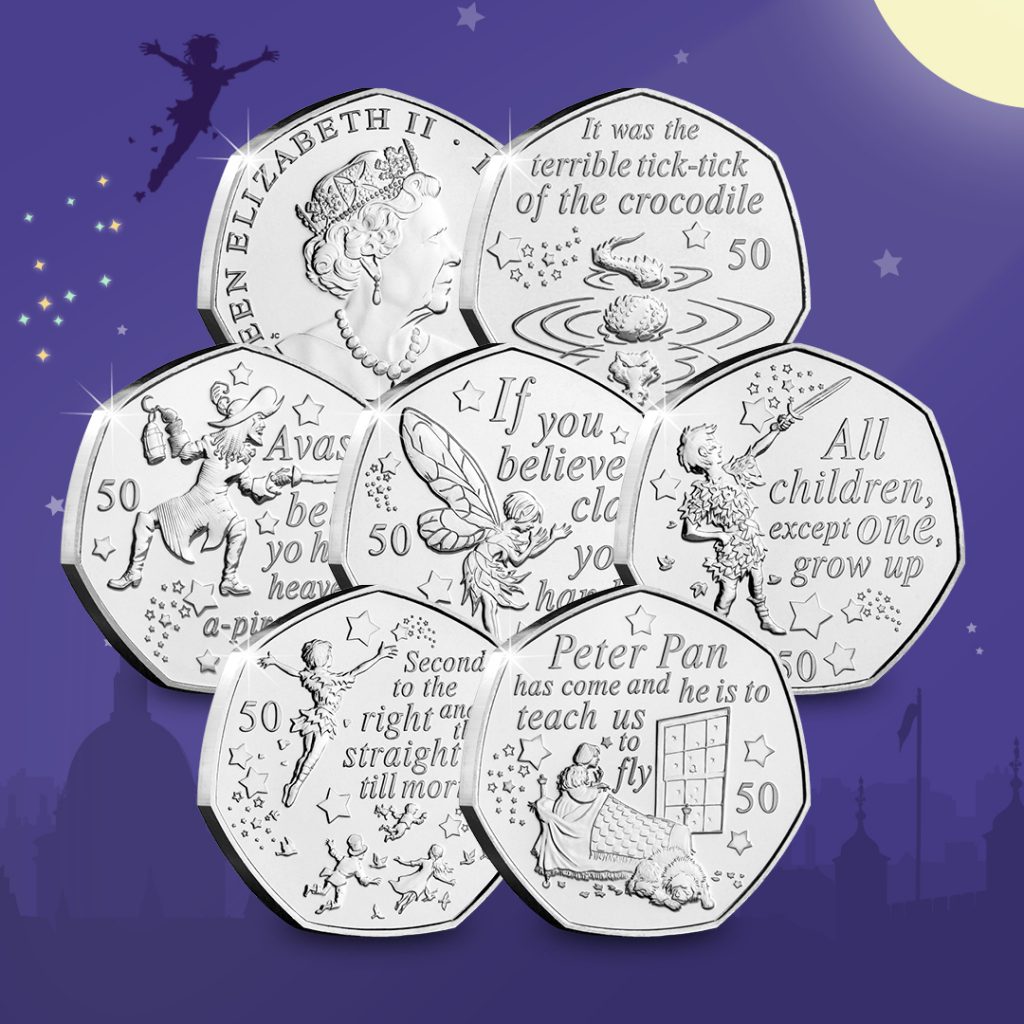 Six coins have been created in total, each featuring a different quote and an accompanying specially commissioned design showcasing one of David Wyatt's stunning illustrations from the Oxford University Press edition of Peter Pan.
Each coin is dedicated to a favourite character from the book, including Peter Pan, Captain Hook, Tick-Tock the Crocodile, Tinkerbell, Wendy and Nana.
Whilst I'm sure you'll agree each design is truly beautiful, my personal favourite has got to be Tinkerbell! Let me know in the comments below which design you prefer.
But these coins aren't just available in Brilliant Uncirculated quality; they will in fact be available in a range of other finishes too…
The Silver Proof Peter Pan 50p Coins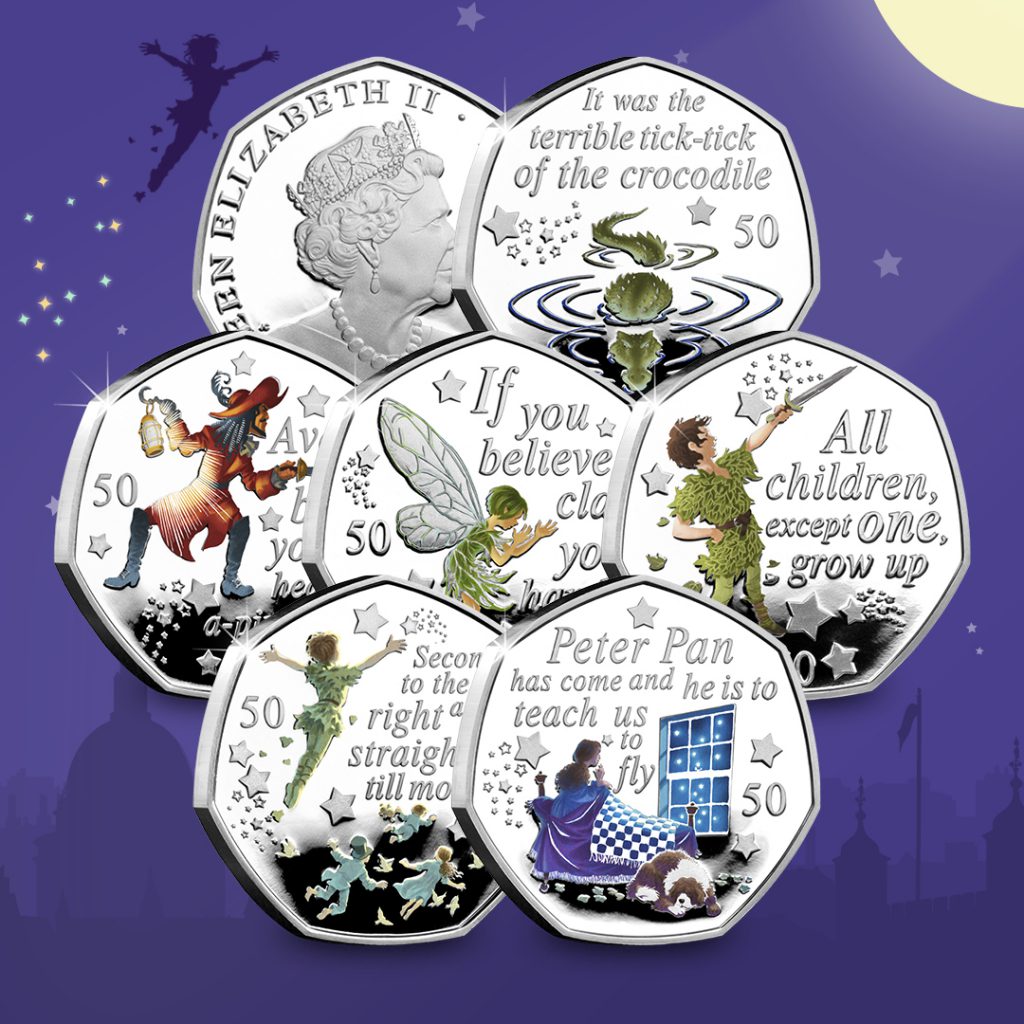 Struck in Sterling Silver to an immaculate Proof Finish, these coins feature an impressive full-colour illustration of the stunning designs, really bringing the magic of the story to life.
Silver Proof 50p's are amongst the most sought-after new issues around and with JUST 10,000 of the individual Peter Pan Silver Proof 50p and JUST 1,995 of the Silver Proof set available worldwide, a sell-out is expected.
The Gold Proof Peter Pan 50p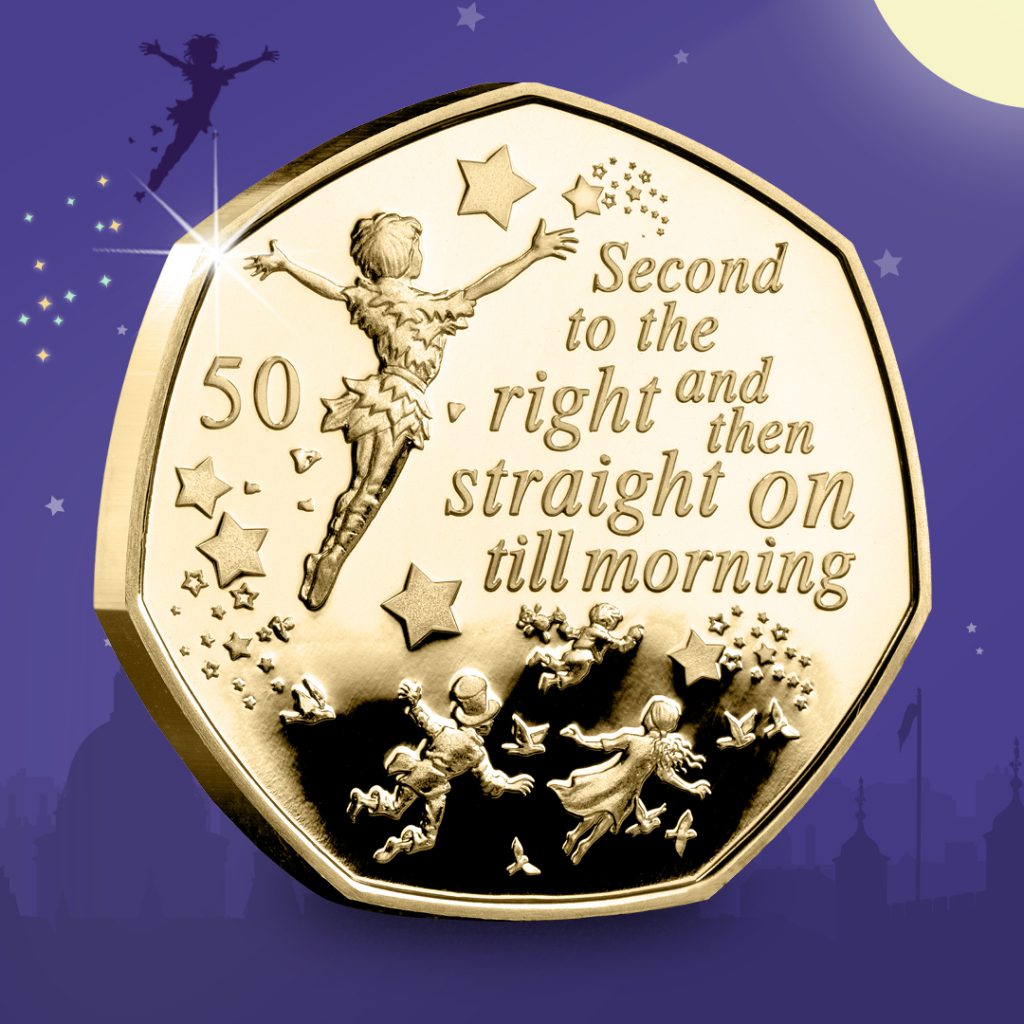 This is the crème de la crème of the range you could say…
Struck from 22 Carat Gold to a perfect Proof Finish, JUST 500 lucky collectors worldwide will be able to own this prestigious new coin.
New Gold Proof 50p's have a strong sell-out history and high demand is expected for the Gold Proof Peter Pan 50p.
The British Isles really have had some fantastic releases recently and I must say that these coins from the Isle of Man have got to be some of my favourites! But what do you think about these coins? Let us know in the comments below!
---
Add the 2019 Peter Pan 50p coins to your collection!

These beautiful new coins are now available to add to your British Isles collection, starting from £6.25 for the individual Peter Pan coin in Brilliant Uncirculated quality and £37.50 for the Brilliant Uncirculated set.
If you'd like to take a piece of magic home with you, click here to order your Peter Pan 50p coins.
With fewer coins going into circulation these days, we want to give collectors the chance to own future 2019 UK coins for face value.
So, we've launched the Face Value Coin Ballot to to do just that!
Simply sign up to the Face Value Ballot and each time there's a new 50p released this year, we'll select 1,000 people to add the latest coin to their collection for face value, in superior brilliant uncirculated quality! 500 people will be selected for every 2019 £2 release.
If you're lucky enough to be chosen, we'll still keep your name in the pot for all future 2019 releases – so if you're really lucky you might get picked more than once!
And don't worry, if you're chosen but decide you no longer want to purchase the coin at face value, you're under no obligation to place your order.
Whilst fantastic new coins continue to be issued, the demand for cash is just so low and we don't know which coins will be entering circulation, so the ballot gives collectors a fair chance to secure the latest coins at face value.
For all the information you need to know about the 2019 Face Value Coin Ballot, take a look at the FAQ's below.
Click here to sign up to the Face Value Coin Ballot

---
FAQ's
1. How do I enter the 2019 Face Value Coin Ballot?
Please click here and follow the step by step instructions.
2. Does it cost anything to enter the ballot?
It's FREE to enter the 2019 Face Value Coin Ballot. If you are successful we will email you a link to pay for your coin at face value.
3. Who can enter the 2019 Face Value Coin Ballot?
The ballot is open to all UK residents. Employees of 288 Group and their families are not eligible to enter.
4. How many times can I enter the ballot?
Ballot entry is limited to one per household. Additional applications will not be entered into the ballot.
5. Will I need to enter the ballot each time a new coin is released?
No. You only need to enter once to then be included in the ballot for all upcoming UK new issue 50p and £2 coins in 2019.
6. Will I need to enter again if I win a ballot?
No. Even if you win, we will still automatically include you in the next ballot.
7. How will I know if my ballot entry has been successful?
The successful ballot entrants will be notified via email on launch day. You will have 7 days to confirm your reservation.
8. If I am successful, what do I need to do?
We will email you. You will need a credit/debit card to confirm your payment. Payment will not be taken until after the coin has been despatched.
9. If I am successful, when will I receive my coin?
You should receive your coin 3-5 working days after despatch.
10. If I am successful, do I have to complete my order?
If you are successful in the ballot, you have the choice of whether you wish to complete your application by making your payment. If you choose not to, your allocation will automatically be forfeited after 7 days.
How to contact us:
If you have further questions please click here to contact our Customer Service Team
Please do NOT add info@westminstercollection.com to your spam list as it may affect you receiving your successful ballot allocation. We recommend you add info@westminstercollection.com to your safe senders list.
---
Terms & Conditions
Ballot entry is limited to one per household. Additional applications will not be entered in to the ballot.
The ballot will be drawn up to three days before each launch.
The successful ballot entrants will be notified by email on the day of release for the new coin.
Successful entrants will be provided with an exclusive link to confirm their purchase of the newly released coin at face value. Please note that entrants must use the link from the email to secure the coin. We will not be able to place the order over the phone. Successful entrants will have 7 days in which to confirm their purchase. After that time their allocation will be forfeited.
We reserve the right to vary the terms and conditions at any time, including, but not limited to, stopping the 2019 Face Value Ballot completely, closing the ballot early or extending the closing date and varying the number of coins available.
The ballot is not open to employees of 288 Group or their families.