Posts Tagged 'new release'
The BRAND NEW 2019 Peter Rabbit 50p has now been officially released!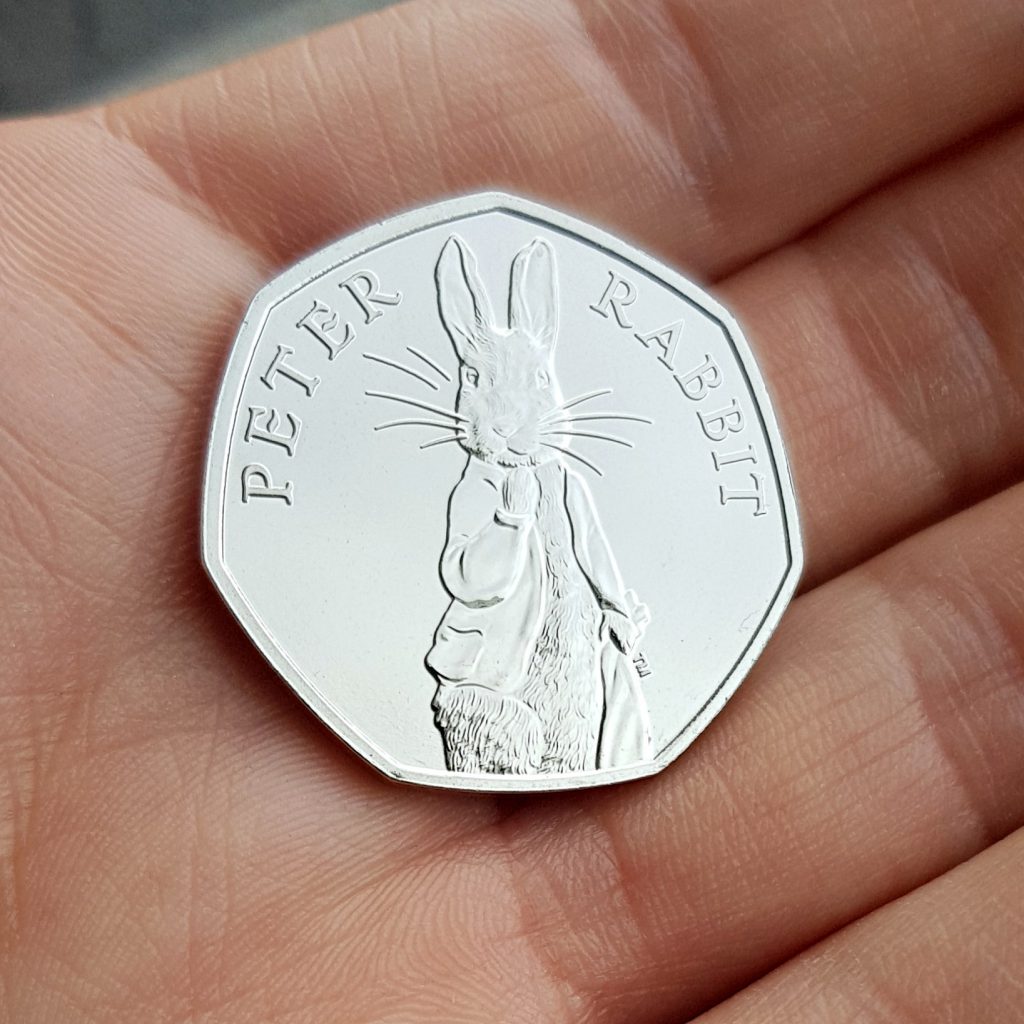 In 2016 this mischievous little bunny re-inspired the nation to start checking their change.
And that's because Beatrix Potter's enchanting tales of countryside characters were brought to life on UK coinage with The Royal Mint's introduction of the Beatrix Potter 50p series.
Likened to the 2012 Olympic 50p collecting sensation that gripped the nation, the release of these 50ps, including the very first UK Peter Rabbit coin, started a collecting frenzy across the UK.
And now this loveable little character has once again found his way out of Mr McGregor's garden and onto a brand new UK 50p coin, for the fourth year running.
First issued to celebrate 250 years since the birth of the renowned Children's author, Beatrix Potter, these 50p coins have been unprecedented in their popularity.
Thirteen coins have been issued since 2016, each featuring one of Potter's delightful characters, from Flopsy Bunny to Mrs Tiggy-Winkle and even a special coin which includes elements celebrating Beatrix as the artist behind some of the best-loved characters in children's literature.
The tale now continues with the 2019 Peter Rabbit 50p coin, featuring an original illustration of Peter Rabbit by Beatrix Potter herself, carefully engraved by Royal Mint coin designer, Emma Noble.
The illustration has been taken from the book, 'The Tales of Benjamin Bunny' and shows Peter Rabbit wearing his blue jacket, which he daringly retrieved from Mr McGregor's garden after losing it in 'The Tales of Peter Rabbit'.
He can be seen clutching a handkerchief which was used to gather onions from the garden to take back for his aunt.
The coin won't be entering circulation, but is available to purchase in Brilliant Uncirculated quality here >>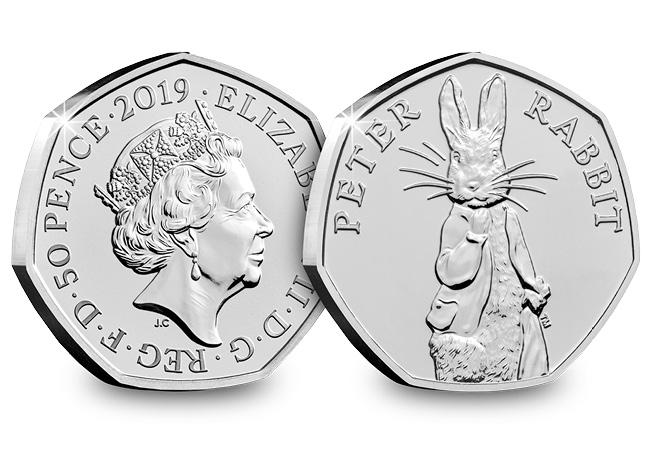 There is no doubt that this Peter Rabbit 50p coin will be as popular as the previous years, and I'm sure collectors won't want to let this bouncy bunny slip through their fingers.
---
Own the BRAND NEW 2019 Peter Rabbit 50p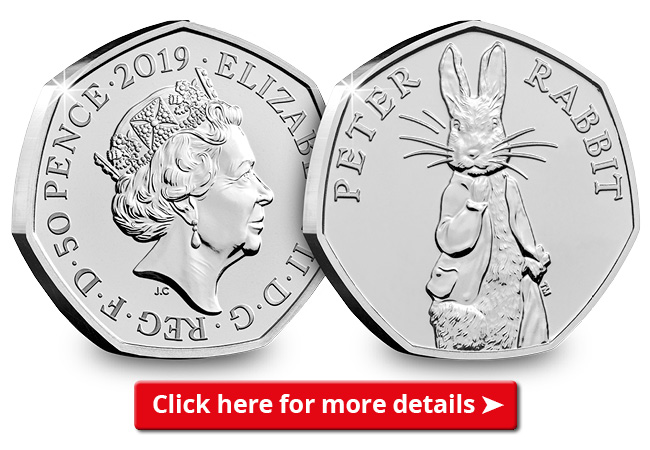 This is your chance to be ahead of the crowd and secure your 2019 Peter Rabbit 50p in superior Brilliant Uncirculated condition.
Secure the Brilliant Uncirculated issue today for just £3.99 (+p&p) >>
---
Sign up for more Beatrix Potter news!
The Royal Mint has not confirmed if more Beatrix Potter coins will be issued this year, but if you'd like to be the first to know about any updates or future Beatrix Potter coins, you can sign up to receive updates using the form below:
Less than a year since his death, The Royal Mint have released a brand new Stephen Hawking 50p coin, honouring his works as one of the most influential physicists of the modern age.
Hawking's 'A Brief History of Time' enlightened millions to the workings of the universe and revolutionised the way we understand time and space. As an ambassador for science, his significant contributions to humanity have left a lasting presence on all of us.
The exciting release of this coin makes Hawking one of only three people to be immortalised on a coin so soon after his passing, putting him alongside Winston Churchill and the Queen Mother in the history of famous figures commemorated on a UK coin within a year of their passing.
To commemorate Britain's most famous physicist, a man who brought science to life in a way that the everyday person could connect with, this brand new 50p has been issued in Brilliant Uncirculated, Silver Proof and Gold Proof editions.
The striking design by Edwina Ellis features a stylised black hole to reflect his breakthrough work, as well as an inscription of his name and most notable 'Bekenstein-Hawking formula' describing the thermodynamic entropy of a black hole.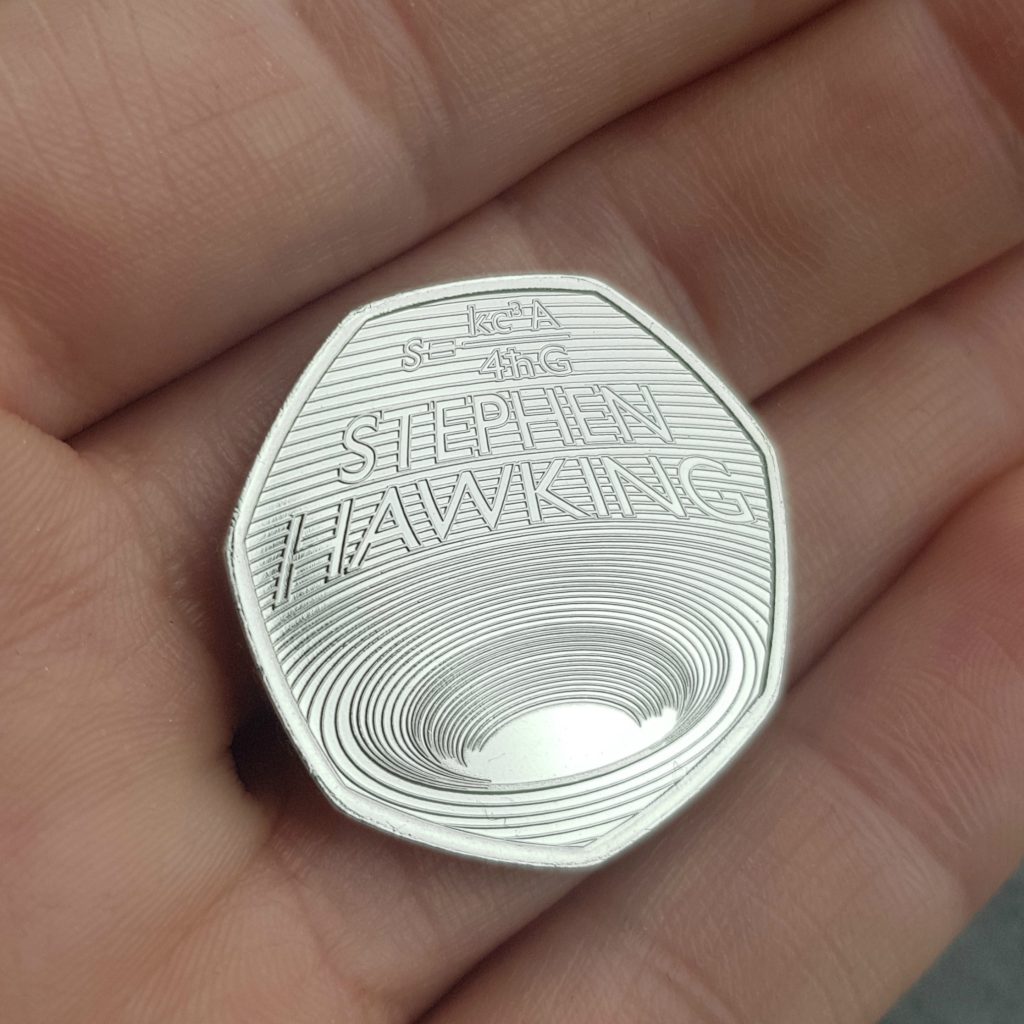 Edwina said of the design, "Stephen Hawking made difficult subjects accessible, engaging and relatable and this is what I wanted to portray in my design, which is inspired by a lecture he gave in Chile in 2008. Hawking, at his playful best, invites the audience to contemplate peering into a black hole before diving in. I wanted to fit a big black hole on the tiny coin and wish he was still here chortling at the thought. I am sure he would have thought of ways to harness the shiny table of the coin too. You feel he cared about all of us understanding."
Excitingly, this is actually the first coin issued as part of a four coin series issued by The Royal Mint to celebrate 'innovators in science' and so it seems only fitting that the very first coin should feature Stephen Hawking.
We're yet to find out who will feature on the next three coins, but who do you think should be chosen to be featured alongside Stephen Hawking?
---
Secure the BRAND NEW Stephen Hawking 50p for just £3.99 (+p&p)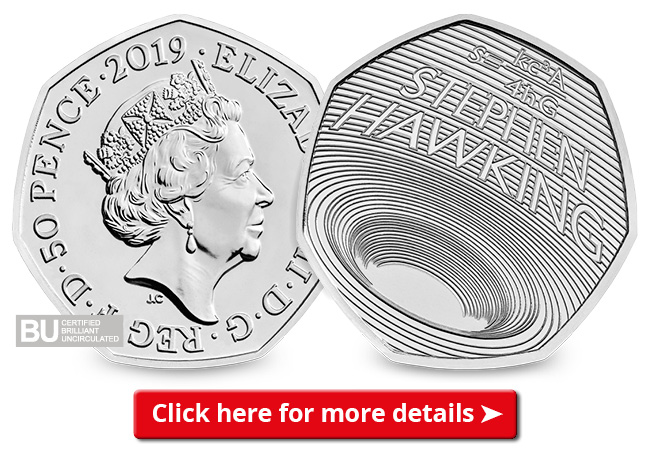 This coin won't be entering circulation, but you can add it to your collection in superior collector's quality.
Click here to secure the Brilliant Uncirculated Stephen Hawking 50p for your collection for just £3.99 >>
Earlier this year, we announced the exciting news that the UK's incredibly popular Beatrix Potter 50p coins are to be followed up by two new Paddington™ 50 pence coins.
It's now with great anticipation that we can reveal the first Paddington coin has been officially released!
Celebrating the very British bear
The coins have been issued to celebrate the 60th anniversary of Paddington's first adventure and this first design is based on the modern adaptation from the CGI-live action movie, featuring Paddington on his suitcase in front of the station and excitingly, one more Paddington 50p coin will also be released by The Royal Mint later this year and this coin will feature the bear waving a Union Flag outside Buckingham Palace.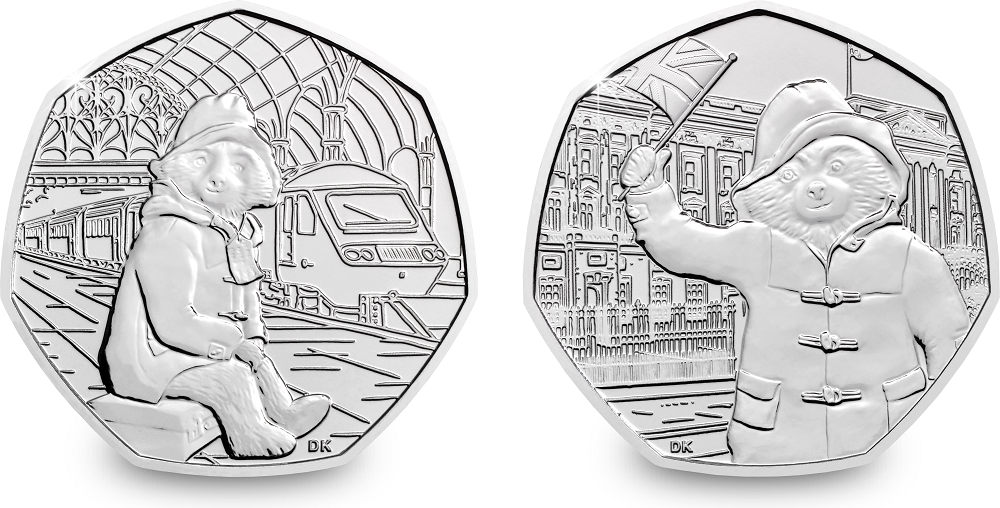 Of course fans of the movie Paddington 2, will also remember a 50p coin playing an important part in his adventure.
Not the first Paddington coin…
Whilst this is not the first time Paddington has appeared on a coin, it is his first time appearing on official UK coinage.
The nation's loveable bear has previously featured on 1 crown (25p) coins from both Isle of Man and Gibraltar – now listed for as much £30 on eBay.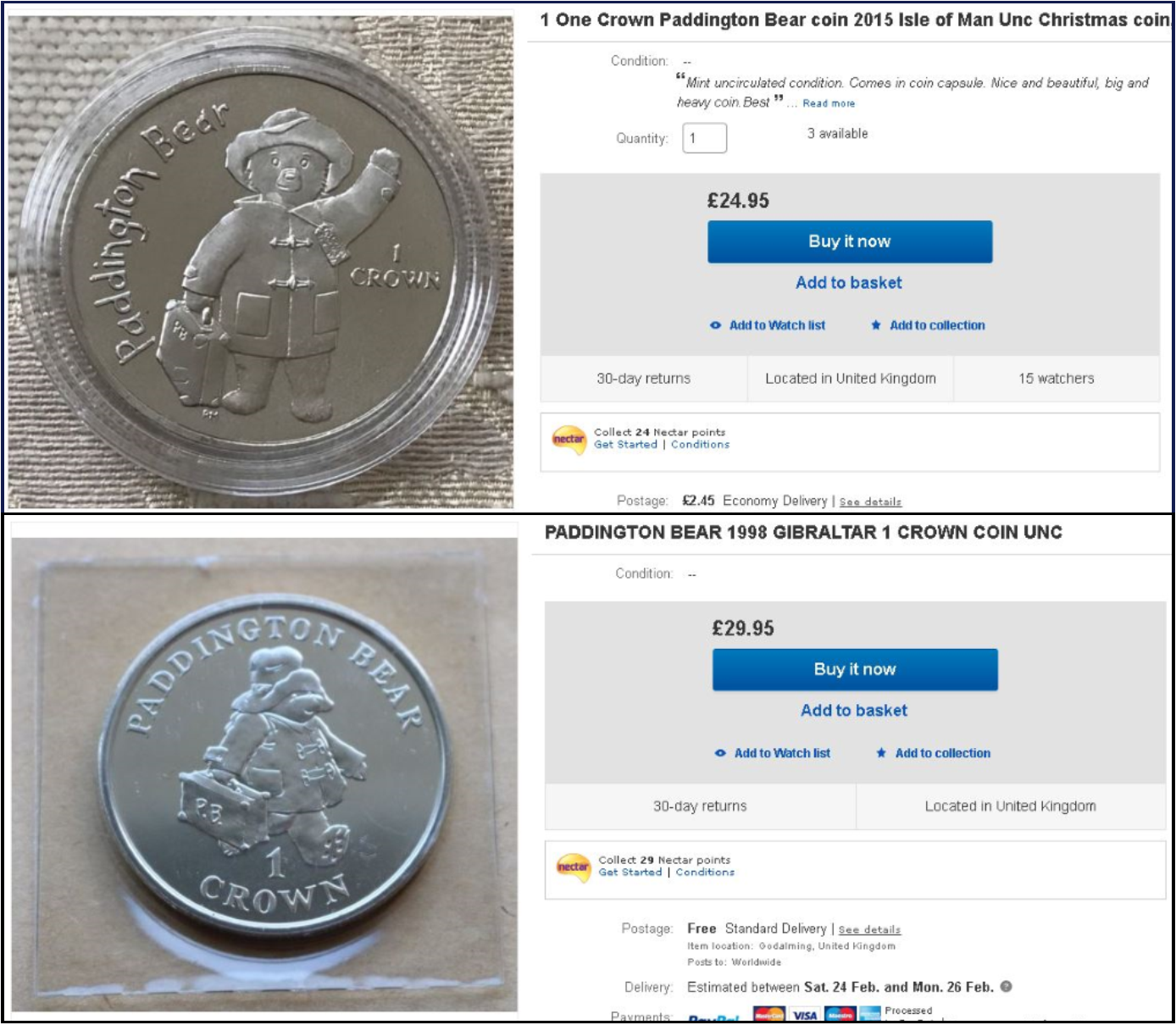 Due to the popularity of these coins, and the whole new generation of collectors created by the Beatrix Potter 50ps, it is expected that these coins will be extremely sought-after by collectors and Paddington fans alike.
These coins will be available in Brilliant Uncirculated collector's edition, with coloured Silver and even Gold versions also being made available.
---
Paddington at the Station 50p, now available to own!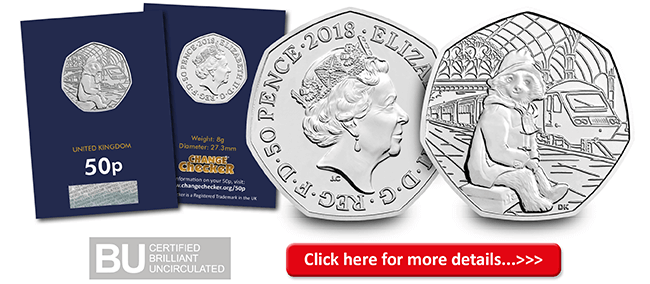 You can now own the FIRST EVER UK 2018 Paddington 50p Coin in superior collector quality.