It's been confirmed that 2018 dated £1 coins have now been released into circulation and Change Checkers are eagerly waiting for them to turn up in their change.
As of yet, the number of 2018 £1 coins in circulation is unknown and so we expect collectors to be keeping a close look out for these coins so that they can add them to their one pound collection!
The round pounds were a part of our lives for 33 years but on the 15th October 2017, the coins were withdrawn from circulation forever. Just before their withdrawal, collectors joined the biggest race of its kind ever held – The Great One Pound Coin Race.
In an effort to complete their collections, change checkers were searching old coat pockets, smashing piggy banks and checking down the back of the sofa to see if they could be the lucky owner of some of the rarest coins – including the Scotland Edinburgh City £1, which tops our £1 Scarcity Index.
12 sided £1 collection
Now that the 2018 dated 12 sided £1 coin has entered circulation, we think that it's the perfect time to start building up your collection of 12 sided £1 coins to be sure that you don't miss any from your collection.
The Nations of the Crown £1 design was chosen from a public competition, with the winning artwork being created by 15-year-old David Pearce featuring a rose, leek, thistle and shamrock bound by a crown. Although we do expect future commemorative designs on £1 coins, for now the coins issued only feature the definitive 'nations of the crown' design.
We know that of the 1.5 billion 12 sided £1 coins struck to replace the old round pound in 2017, roughly half a billion were dated 2016 and collectors will be keen to secure themselves a 2016 dated £1 coin to start their collection, which can now also include 2017 and 2018 dated coins.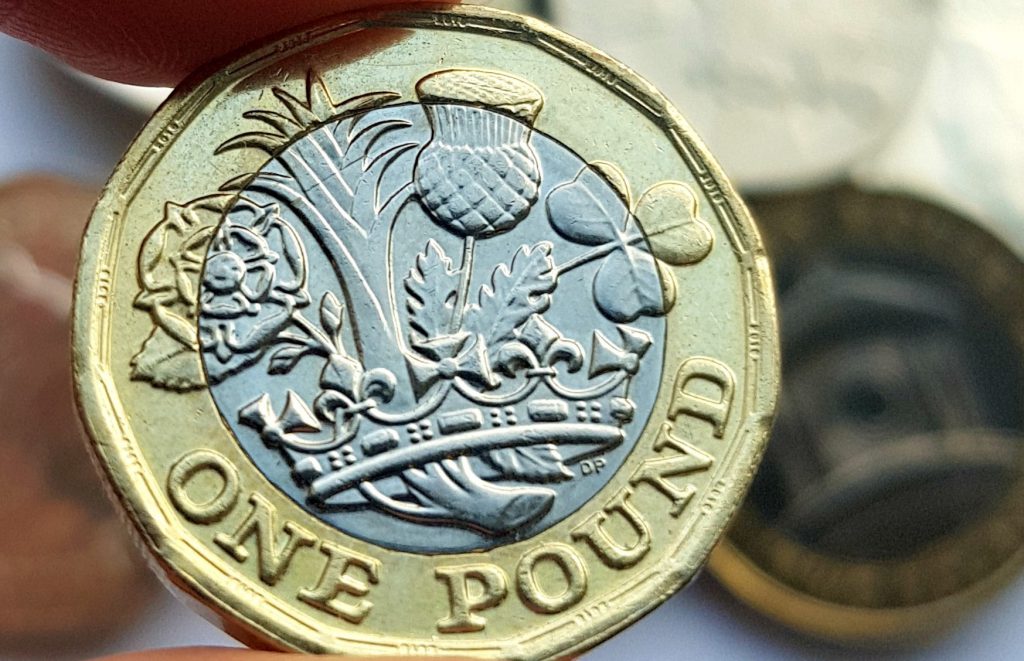 What about the errors?
When these coins were first released, there were many stories from people claiming that they had found an error coin worth thousands. In reality, with such a high number of £1 coins being minted in 2017, there were bound to be variations in the design and quality of striking which you can find out about here.
However, the confirmed dual dated £1 error coin would certainly be one to look out for, with one such coin being valued at £3,000!
Have you been one of the first few to find a 2018 dated £1 coin in your change and will you be holding onto it for your 12 sided £1 coin collection? Let us know in the comments below and don't forget to keep checking your change to see if you can spot the new 2018 pound.
---
If you're interested in coin collecting, our Change Checker web app is completely free to use and allows users to:
– Find and identify the coins in their pocket
– Collect and track the coins they have
– Swap their spare coins with other Change Checkers

Sign up today at: www.changechecker.org/app
As part of the Great One Pound Coin Race, we want to find out Britain's ultimate favourite £1 coin.
Last week we asked you to vote for your favourite Welsh £1 coin design – it was very close but 35% of Change Checkers voted the 2013 Daffodil and Leek £1 as their favourite.
This week we want to know your favourite English £1 coin design.
Let us know by voting in our poll below:
---
More information about the English £1 coin designs
The first reverse design series of £1 coins took floral emblems as its theme to represent the United Kingdom and its four constituent countries. They were designed by Leslie Durbin – one of the most highly-regarded silversmiths of the 20th Century. The Oak Tree is used on this coin to represent England.

The second series of £1 coin designs used heraldic emblems to represent the United Kingdom and its four constituent countries. This coin features three lions to represent England. The three lions date back to Richard the Lionheart (1189-1199) who used three golden lions on a scarlet background as a powerful symbol of the English throne.
The third series of £1 coin designs depicts bridges from each of the four consituent countries in the United Kingdom. This coin features the Gateshead Millennium Bridge to represent England. The Gateshead Millennium Bridge is a tilt bridge which spans the River Tyne between Gateshead and Newcastle. It is the world's first tilting bridge and has won a large number of awards for its design and lighting.
The fourth series of £1 coins used the capital cities of the four constituent countries as the basis of the reverse design. Designed by Stuart Devlin, Goldsmith and Jeweller to the Queen, this coin depicts the circular Coat of Arms of the City of London as the principal focus to represent England.
The fifth series of £1 coin designs uses pairs of floral emblems designed by Timoty Noad to represent the United Kingdom and its four constituent countries. This coin features an oak branch with an acorn alongside a stem with a tudor-inspired rose to represent England
Next week- Final: What's your ultimate favourite £1 coin design?
---
This could be your last chance to secure Britain's last 'round pound'.

If you want to get your hands on the last 'round pound' they are available here protectively encapsulated and certified as superior Brilliant Uncirculated quality.
The Royal Mint have revealed a list of places around the UK where you will be able to get a new 12-sided £1 coin on launch day guaranteed.
That will make you one of the first people to get hold of the coin before they start circulating more widely…
Here is the list of the guaranteed locations revealed by The Royal Mint:
ABERDEEN:
CLYDESDALE 1 Queen's Cross, AB15 4XU
EDINBURGH:
BARCLAYS 10-15 Princes Street, EH2 2AN
RBS 36 St Andrew Aquare, EH2 2AD
CLYDESDALE 83 George street, EH2 3ES
POST OFFICE 40 Frederick Street, EH2 1EY
GLASGOW:
BANK OF SCOTLAND 167-201 Argyle Street, G2 8BU
CLYDESDALE 30St Vincent St G1 2HL
BELFAST:
BANK OF IRELAND 4-8 High Street, BT1 5LR
ULSTER BANK 11-16 Donegall Square East, BT1 5UB
NEWCASTLE:
NATWEST 16 Northumberland Street, NE1 7EL
YORK:
POST OFFICE 22 Lendal, YO1 8DA
LEEDS:
NATWEST Leeds City Centre 8 Park Row, LS1 5HD
YORKSHIRE BANK 94-96 Briggate, LS1 6NP
MANCHESTER:
BARCLAYS 86-88 Market Street, M1 1PD
NATWEST 182 Deansgate, M3 3LY
POST OFFICE 26 Spring Gardens, M2 1BB
HSBC 2-4 Saint Anne's Square, M2 7HD
LIVERPOOL:
NATWEST 22 Castle Street, L2 0UP
BIRMINGHAM:
LLOYDS BANK 36/38 New Street, B2 4LP
POST OFFICE 1 Pinfold Street, B2 4AA
CARDIFF:
BARCLAYS St Davids Centre, CF10 2DP
LLOYDS BANK 31 Queen Street, CF10 2AG
HSBC 15 Churchill Way, CF10 2HD
LONDON:
BARCLAYS 2 Churchill Place, E14 5RB
NATWEST 1 Princes Street, EC2R 8BP
HALIFAX 33 Old Broad Street, EC2N 1HZ
POST OFFICE 24/28 William IV Street, WC2N 4DL
HSBC 103 Station Road, Edgeware, HA8 7J
SANTANDER – 2 Triton Square, NW1 3AN, 164-167 Tottenham Court Road, W1T 7JE, 57 Streatham High Rd, SW16 1PN
SITTINGBOURNE:
SANTANDER 106-108 High Street, ME10 4PP
BATH:
POST OFFICE 27 Northgate Street, BA1 1AJ