In recent years, the 50 pence piece has become the most collected coin in the world.
But here at Change Checker, we get asked a lot about the older specification 50p coins… "How many old 50ps are there to collect? How rare are my old 50ps? Can I still find these coins in circulation?" are just a few of the questions frequently asked.
So, we've put together a guide answering your questions and giving you the key facts we think you need to know about these out-of-circulation coins!
What are old specification 50ps?
The 50p emerged in 1969 as the first coin in the new decimal series.
It was also the world's first seven-sided coin and has since become the most collected coin in the country!
In 1997, the specification for the 50p changed to the size and feel we're familiar with today.
But, between 1969-1997, there were five 50p coins issued in these older specifications. But what was different about these coins?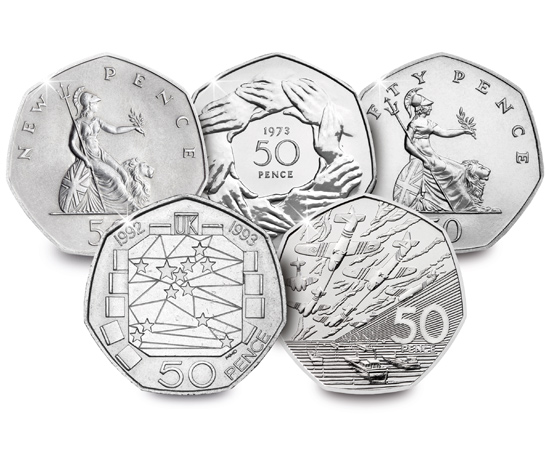 Spot the difference
Pre-1997 (old specification)
1998 onwards (new specification)
Weight
13.05g
8.00g
Diameter
30mm
27.30mm
Metal
Cupro-Nickel
Cupro-Nickel
Obverse
Effigy
1969-1985 – 2nd Portrait, Arnold Machin

1985-1997 – 3rd Portrait, Raphael Maklouf
1998-2015 – 4th Portrait, Ian Rank-Broadley

2015-onwards – 5th Portrait, Jody Clark
As you can see, despite the 50p retaining the same metal composition, the older specification was much bigger and heavier than the coin we're used to today – imagine carrying around a bundle of those in your pockets!
These coins were removed from circulation when the new specifications were introduced, so you won't come across these in your change.
What's more, shop keepers and banks won't accept these as legal tender, so we imagine a lot of these will have been kept by collectors for their private collections!
So, how many of these coins were issued? Let's take a look at our Pre-1997 50p Mintage Chart and see..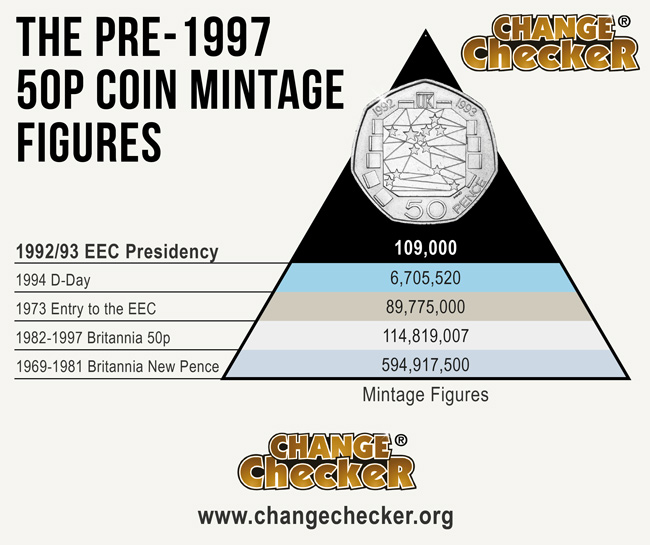 You might have spotted the top coin in our chart has a mintage of JUST 109,000! Let's take a look at each of these coins in closer detail to get the full story..
1969 Britannia New Pence
Fact File:
Year of Issue: 1969-1981
Obverse Designer: Arnold Machin
Reverse Designer: Christopher Ironside
Mintage: 594,917,500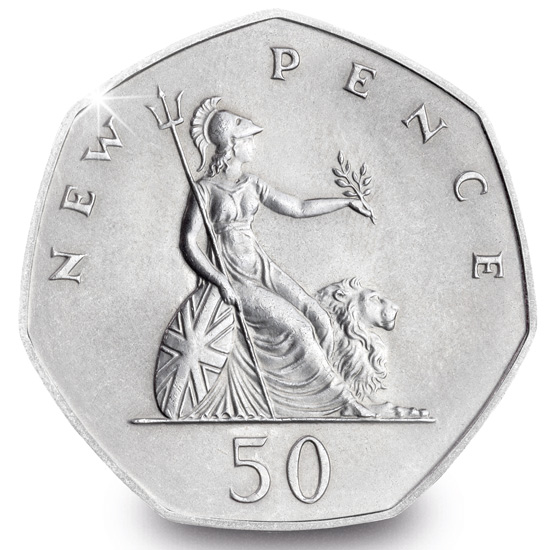 The New Pence 50p was the first 50p coin ever issued and it featured Christopher Ironside's iconic Britannia design.
Britannia first appeared on UK coinage in 1672 and since then has always been present on at least one denomination.
With a mintage of 594,917,500 is the most common of the pre-1997 50p designs, which is hardly surprising as it was the definitive 50p design between 1969-1981.
Despite it's considerably high circulating mintage, this coin is still considered collectible as it's no longer in circulation.
1973 Entry to the EEC 50p
Fact File:
Year of Issue: 1973
Obverse Designer: Arnold Machin
Reverse Designer: David Wynne
Mintage: 89,775,000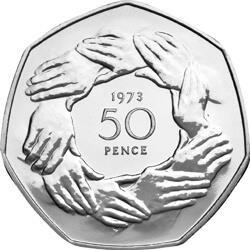 This coin was issued to celebrate the UK's entry to the EU (then called the European Economic Council or the EEC).
With a mintage of 89,775,000 it is less common that the definitive design but not the rarest out there!
It is still incredibly sought-after by collectors though as this was the FIRST-EVER commemorative 50p!
1982 Britannia Fifty Pence
Fact File:
Year of Issue: 1982/83/85
Obverse Designer: Arnold Machin (1982/82) Raphael Maklouf (1985)
Reverse Designer: Christopher Ironside
Mintage: 114,819,007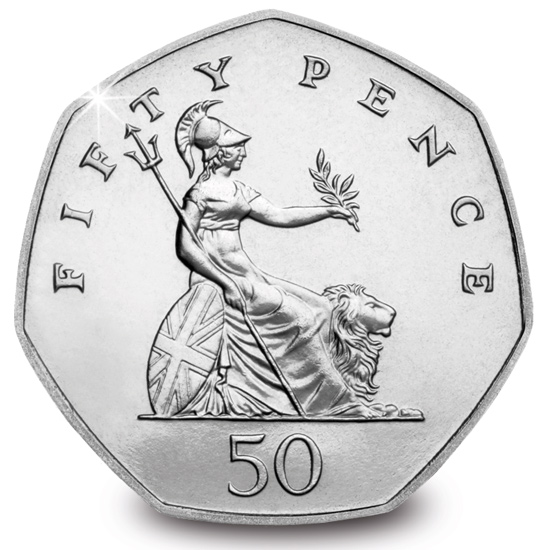 In 1982 the 'New Pence' in the design was replaced with 'Fifty Pence' as the design was no longer considered new.
Although still the definitive design, this coin was only issued in 1982, 1983 and 1985 and featured two different portraits of Her Majesty on the obverse! Machin in '82 and '83 and the new Maklouf portrait in '85.
With a mintage of 114,819,007, it's the second most-common of the Pre-1997 50ps.
1992/93 EC Presidency 50p
Fact File:
Year of Issue: 1992/93
Obverse Designer: Raphael Maklouf
Reverse Designer: Mary Milner
Mintage: 109,000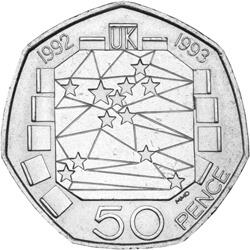 Designed by Mary Milner, this 50p celebrates the UK's presidency of the European Council of Ministers.
Excitingly, this 50p is the RAREST ever UK 50p to enter circulation. With a mintage of just 109,000 it's even rarer than the sought-after Kew Gardens 50p which has a mintage of 210,000.
As this coin is no longer in circulation AND has the lowest ever UK 50p circulating mintage, it's incredibly sought-after by collectors and if you're lucky enough to have one in your collection, you should be extremely pleased!
1994 D-Day Landings 50p
Fact File:
Year of Issue: 1994
Obverse Designer: Raphael Maklouf
Reverse Designer: John Mills
Mintage: 6,705,520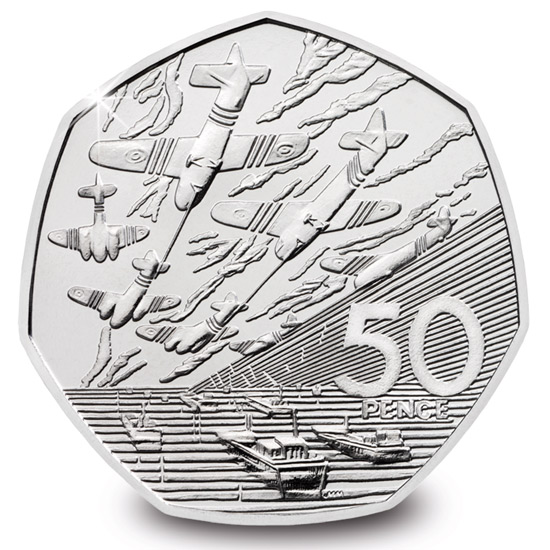 Issued to commemorate the 50th anniversary of the D-Day Landings, this was the final 50p issued in the older specifications.
Interestingly, this has been voted Change Checkers 'Favourite Ever' 50p!
With a mintage of 6,705,520 it is the second rarest of the pre-1997 50p coins.
---
So hopefully our guide to the Pre-1997 50p coins will help you along the way to expanding your collection!
What's most exciting about all five of these coins is that now they're out of circulation, they are all considered particularly sought-after by collectors!
Do you have any of these coins in your collection already? Let us know in the comments below!
---
Own the UK's FIRST-EVER Commemorative 50p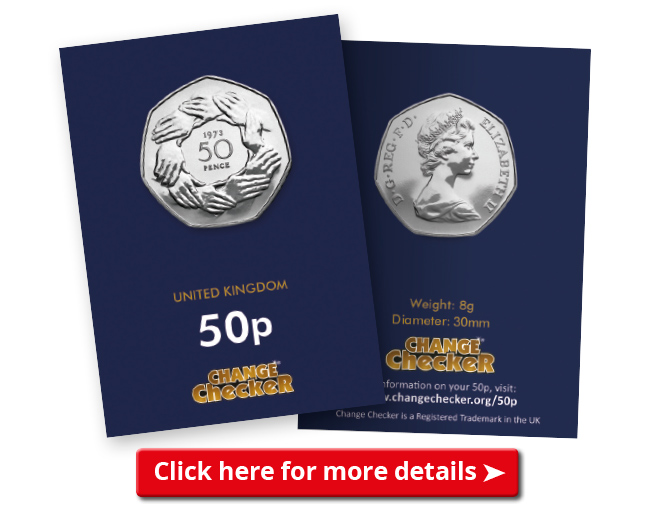 To secure the 1973 Entry to the EEC 50p – the UK's FIRST-EVER commemorative 50p – carefully encapsulated in Change Checker packaging click here >>
On this day, 265 years ago, Samuel Johnson's English Dictionary was officially published.
The dictionary is considered to be one of the most influential pieces of scholarship in the history of the English Language.
So influential in fact, it was used by famous authors such as Charles Dickens, Thomas Hardy and Oscar Wilde. The dictionary took eight years to compile and listed 40,000 words – quite the achievement!
In 2005, The Royal Mint honoured Johnson's gruelling work with the 'Dictionary' 50p, issued to mark the 250th anniversary of its publication.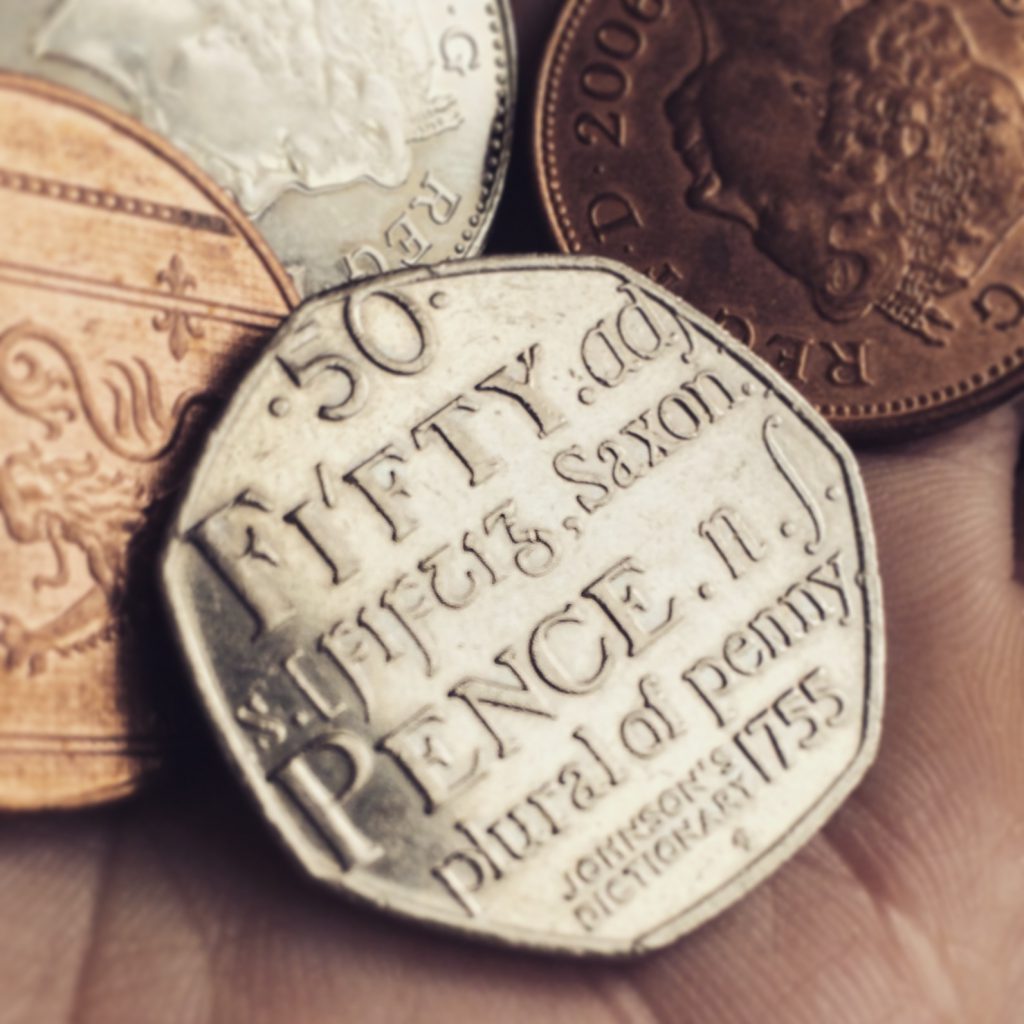 To celebrate 15 years since the release of this coin, we thought we would take the opportunity to explore the UK coins celebrating great British authors who have used Johnson's dictionary.
Now, as many Change Checkers will already know, there's been no shortage of great authors celebrated on our coinage – from classic children's authors like Beatrix Potter and Julia Donaldson, to Victorian greats like Charles Dickens and Conan Doyle – there's a big selection of coins to choose from!
To keep it simple, we've selected our Top Five below…
#5 2020 William Wordsworth £5
A brand new coin creeping in here in 5th place. This coin was issued in March of 2020 to celebrate 250 years since the birth of the famous poet and this is the first time Wordsworth has been celebrated on a UK coin.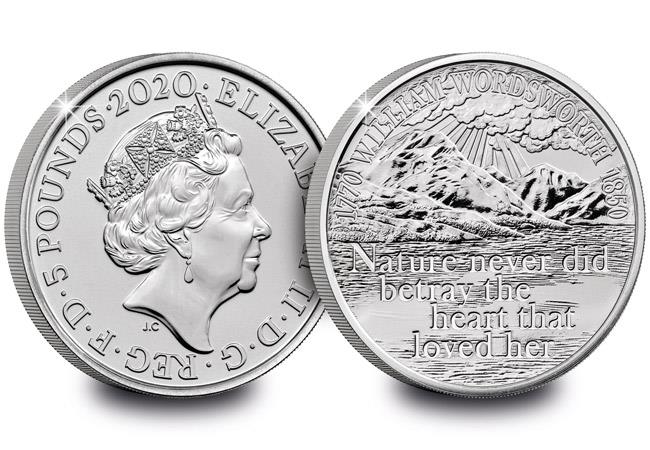 Wordsworth is considered one of the most popular poets to have written in the English language, gaining fame during the beginning of the English Romantic period.
Designed by David Lawrence, the reverse features lines taken from one of Wordsworth's most celebrated poems, 'Tintern Abbey'.
#4 Beatrix Potter Series
It just wouldn't be a Change Checker coin list without the Beatrix Potter 50p series making an appearance – coming in 4th place here!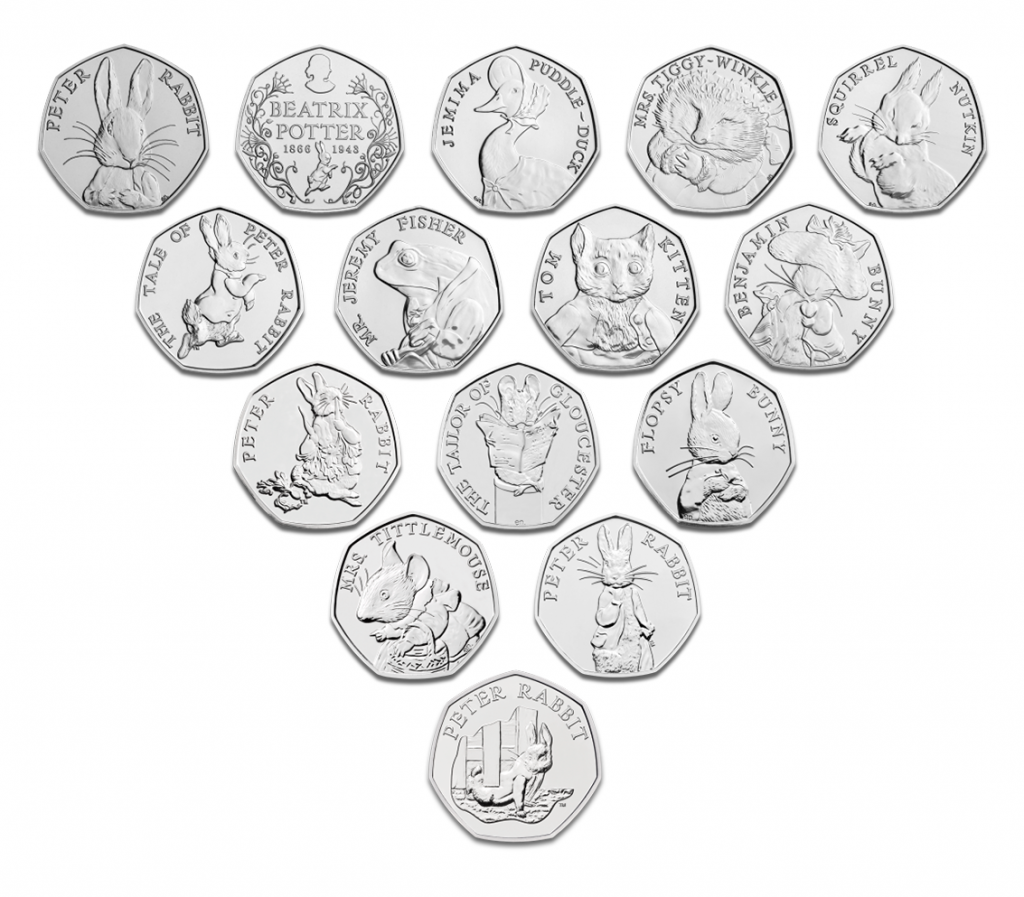 Beatrix Potter's book 'The Tale of Peter Rabbit' has sold some 150 million copies since its release in 1903. The much-loved children's character was initially featured on a 50p coin in 2016.
The 50p designs by Emma Noble have been taken straight from the illustrations of the original books and started an unprecedented collecting phenomenon. The series continued throughout 2016, 2017 and 2018 with a standalone Peter Rabbit 50p being issued in 2019 and 2020 as well.
#3 2012 Charles Dickens £2
A list of great authors wouldn't be complete without Charles Dickens, and a list of great coins wouldn't be complete without the Charles Dickens £2!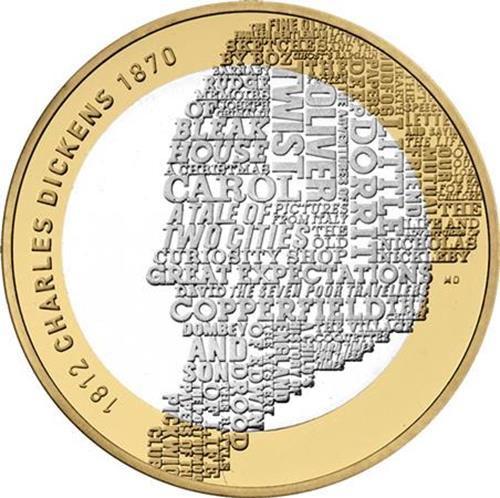 Dickens' enchanting stories, vivid characters, and depiction of Victorian life are widely acknowledged across the world by critics and scholars alike and his novels and short stories continue to be widely popular to this day.
The reverse design of this £2 coin by Matthew Dent features Dickens' recognisable profile crafted from the titles of his most famous works.
This coin had a circulating mintage of 8,190,000 and is one of my personal favourites!
#2 2020 Agatha Christie £2
First seen as part of the 2020 Annual Coin Set, the 2020 Agatha Christie £2 coin takes our 2nd place!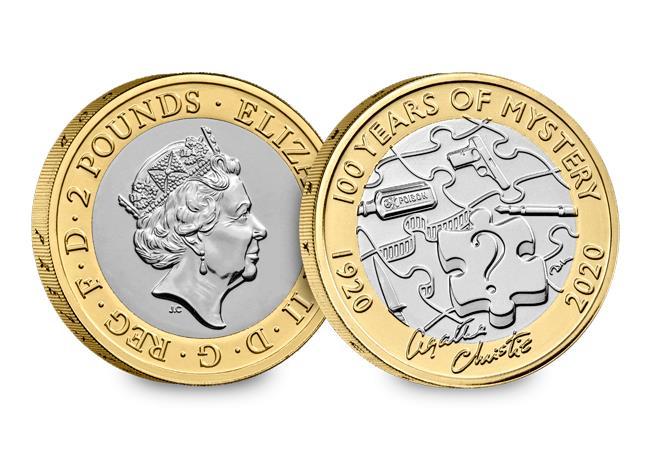 Issued to mark the 100th anniversary of Dame Agatha Christie's genre-defining murder mysteries, the author of 66 detective novels and 150 short stories, Agatha Christie has justly earned the title of the 'Queen of Crime'.
The reverse design of this coin, by David Lawrence, depicts a jigsaw puzzle with a question mark, representing the mystery behind her stories.
We are yet to find out if this coin will be issued for general circulation, but if it is we're certain Change Checkers will be rushing to find it
#1 2019 Sir Arthur Conan Doyle 50p
Our personal favourite, and taking the #1 spot, the Sir Arthur Conan Doyle 50p! And for us, there really could be no other winner..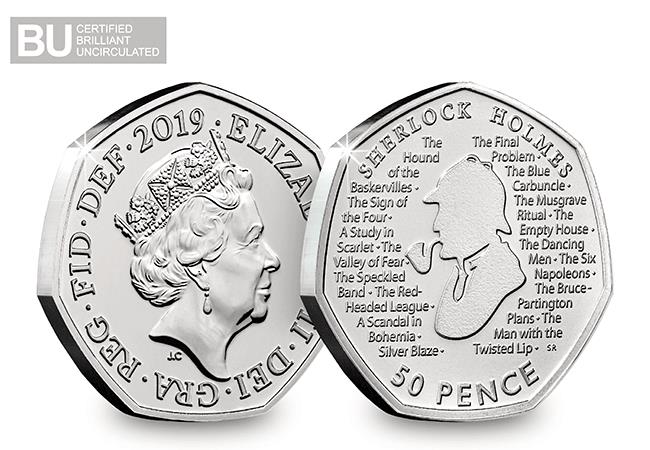 Conon Doyle revolutionised the crime genre with his creation of one Britain's best-loved detectives, Sherlock Holmes.
To mark the 160th anniversary of Doyle's birth, The Royal Mint issued a commemorative 50p coin paying homage to the author's legendary works.
The reverse has been designed by Stephen Raw and features a silhouette of Sherlock Holmes smoking a pipe, surrounded by a few of the most-famous Holmes story titles.
This coin only went into circulation in 2019 so we're yet to hear what the mintage figure is for this special 50p but we're certain any Change Checker lucky enough to have come across this in their change will be keeping tight hold of it!
So there we have it! Britain's best authors celebrated on UK coinage! We've shared our Top Five, now what are yours? Let us know in the comments below!
---
Secure the 2019 UK Sherlock Holmes CERTIFIED BU 50p for your collection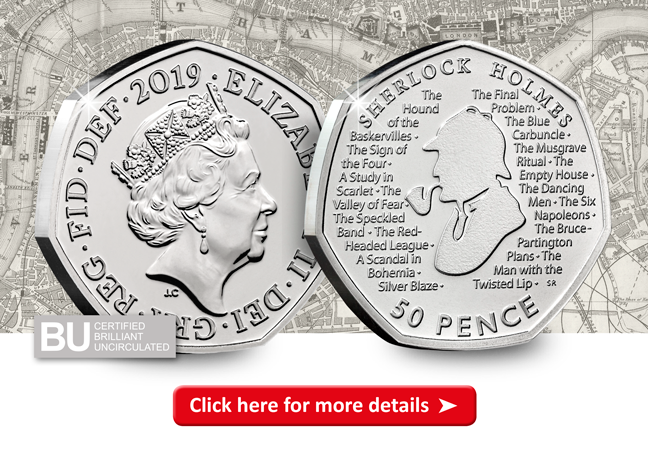 Click here to add the 2019 UK Sherlock Holmes 50p to your collection in superior Brilliant Uncirculated quality for JUST £4.50 (+p&p) .
Do you think you have a good knowledge of UK coinage? Well check out these 20 surprising facts that you might not know about UK coins!
1. The direction of each monarch's effigy faces in the opposite direction to their immediate predecessor. This has been tradition since the time of Charles II onwards, with the only exception being Edward VIII, as he preferred his left portrait to his right, which was the side proposed for coins of his reign.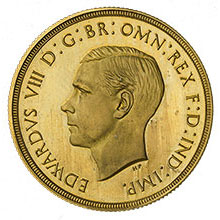 2. Two 1p coins weigh the same as one 2p coin, and two 5p coins weigh the same as one 10p coin. A 1p coin weighs 3.56g, so times that by 2 and you've got the weight of a 2 pence piece, 7.12g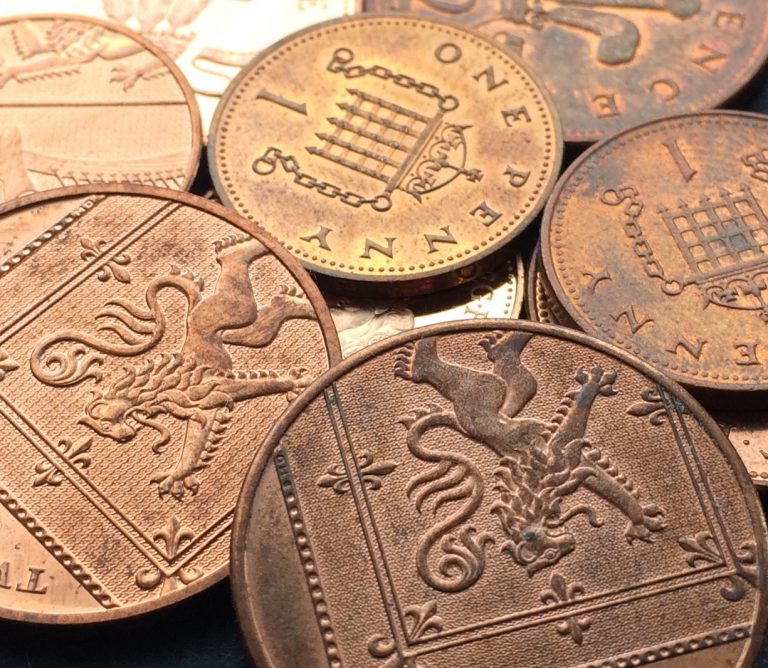 3. Whilst the high-value banknote in general circulation is the £50 note, there are such things as £1 million notes and £100 million notes. They are locked away deep in the Bank of England's vaults and are used to back the value of every notes issued by commercial banks in Scotland and Northern Ireland.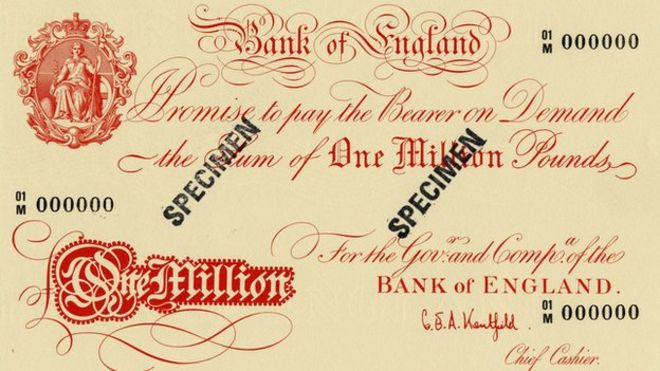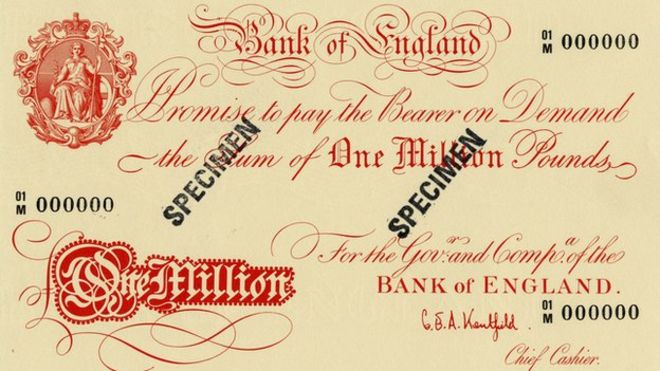 4. The word Farthing derived from a shortening of the word 'Fourthing'. As far back as 1060, an English coin was shaped like a clover, so that any of the four leaves could be broken off and used as separate pieces of currency.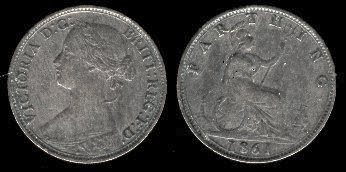 5. The commonly used term 'quid' actually originates from the phrase Quid Pro Quo, which translates literally to 'what for what'. This term first appeared back in 1661!
6. According to the central banks, Brits are the world leaders at counterfeiting. There are an estimated 300 fake notes in every one million sterling notes!
7. When the UK prepared for the decimalization of its coinage, the government embarked on an enormous media campaign including leaflets, TV spots and even songs!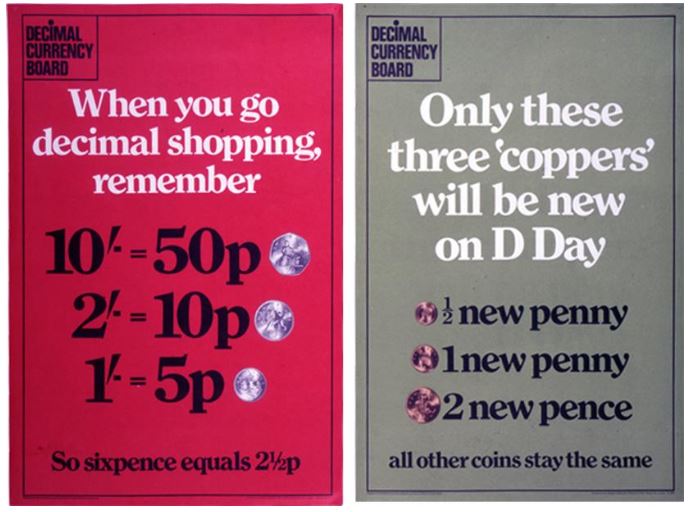 8. During the Second World War, Nazi Germany produced huge quantities of counterfeit sterling notes to try and devalue British currency. By 1945 a huge 12% of the notes in existence were counterfeit! The problem was solved by removing higher denomination notes from circulation and putting metal threads through new notes, making them harder to forge.
9. Stamps are not legal tender. Whilst you are free to accept stamps as payment for a service or goods, there is no legal obligation for you to accept them when offered. They have however been used as emergency currency in other countries.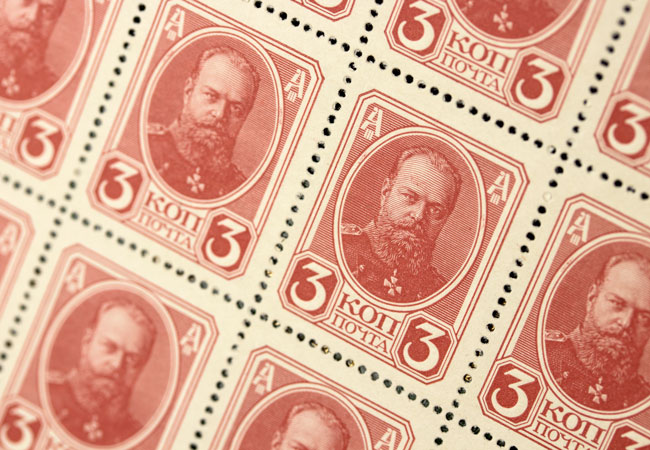 10. You cannot pay fines in pennies. Have you ever considered paying a parking fine you didn't think was fair with nothing but pennies? Well, be aware that the council is under no obligation to accept them! While relevant parties can choose to accept any type of payment they wish, in England and Wales restrictions apply on sums below £1.
11. Despite common belief, the polymer notes are not indestructible. Although we don't recommend destroying them as you won't be able to spend them!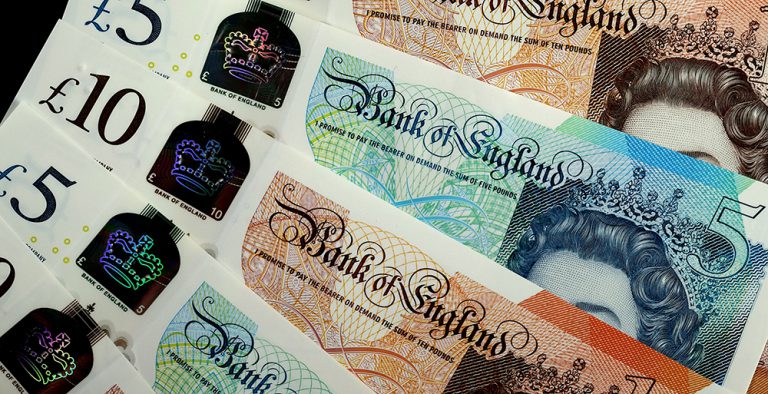 12. An estimated 28,850,000,000 UK coins are in circulation today! This is equivalent to almost 4 billion pounds worth of coins!
13. The use of gold in UK coinage ended when the First World War began. The gold sovereign, prior to 1914, was worth about £1 in circulation. However, the public were asked to hand any in to help fund the war effort. In its place came the £1 and £10 notes.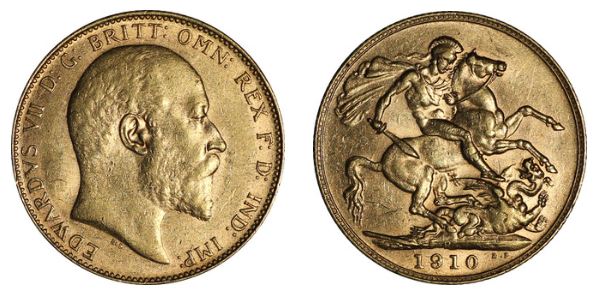 14. There is a myriad of Cockney rhyming slang to describe money. Apple core means £20, Uncle Ben means 10 and if someone asks to borrow a taxi driver, they actually mean a fiver.
15. The 'coppers' in your change, aren't actually made of copper. Since 1992, 1p and 2p coins have been made of steel, with a copper plating.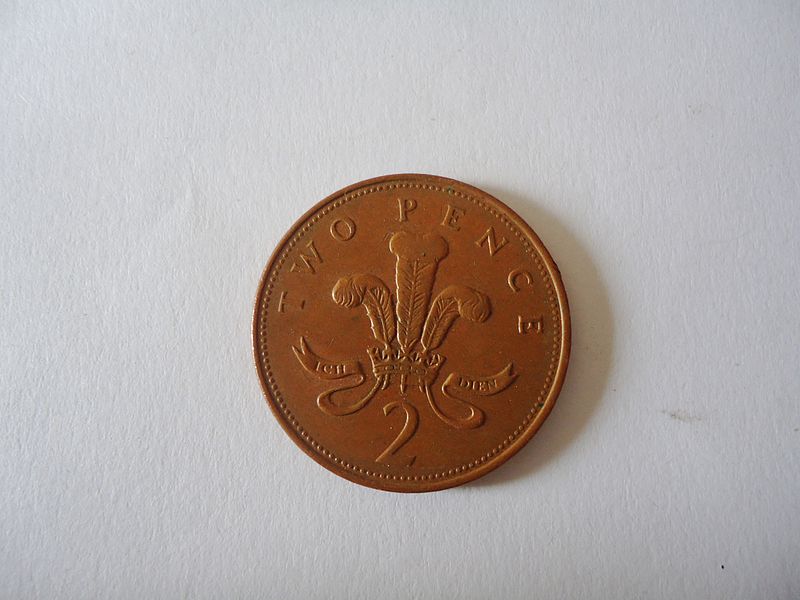 16. The UK's current definitive coinage dated 2008 or younger, make up the design of the Shield of the Royal Arms when they are all placed together. Pretty cool, right?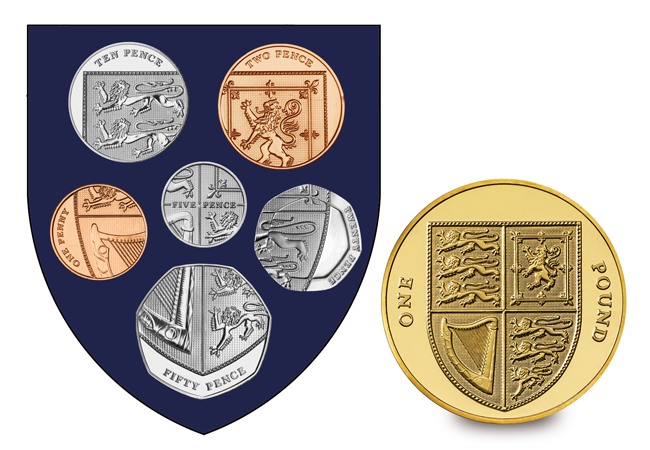 17. Legend has it, the M11 has an exit but not an entry at Junction 5 to prevent would-be thieves escaping. This is because of its close proximity to the De La Rue Currency factory – where banknotes are printed for the Bank of England. This way, any potential robbers wouldn't be able to make their escape quickly out of London and onto a motorway.
18. The Queen must officially approve any coin design before it can be made. The design is first put to the Chancellor, who then passes it on to the Queen for her official sign-off.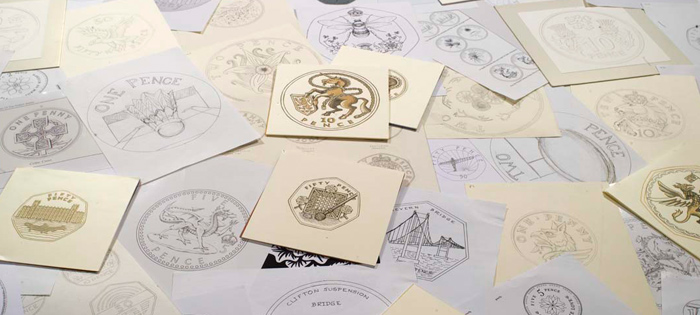 19. A full judicial trial is held to test newly-minted coins – called the Trial of the Pyx. This ceremony is held to ensure newly-minted coins conform to the required standards. The trials are held once a year and the coin's diameter, chemical composition and weight is tested. These trials have been held since the 12th century and the process remains largely unchanged since that date!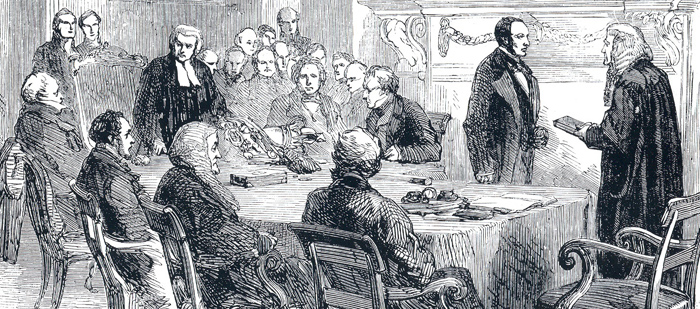 20. If you find a buried treasure chest of money and don't report it, you could face a prison sentence! Technically any hidden treasure found in the UK belongs to the Queen! All findings must be reported to the coroner within 14 days and the treasure will be offered to museums. If the museums choose not to bid on it, then the finder/land-owner gets to receive it.
How many of these surprising facts did you already know? Let us know in the comments below!
---
If you're interested in coin collecting, our Change Checker web app is completely free to use and allows users to:
– Find and identify the coins in their pocket
– Collect and track the coins they have
– Swap their spare coins with other Change Checkers
Sign up today at: www.changechecker.org/app