Scottish novelist, poet, historian, and biographer, Sir Walter Scott, is often considered both the inventor and the greatest practitioner of the historical novel.
Sir Walter Scott's early work consisted of poetic romances but his earlier books, set in Scotland, demonstrate his knowledge of Scottish history and society. His works were some of the most popular literary pieces of his time.
In the 250th anniversary year of his birth, The Royal Mint have issued a £2 coin, commemorating him and his remarkable career.
2021 UK Sir Walter Scott £2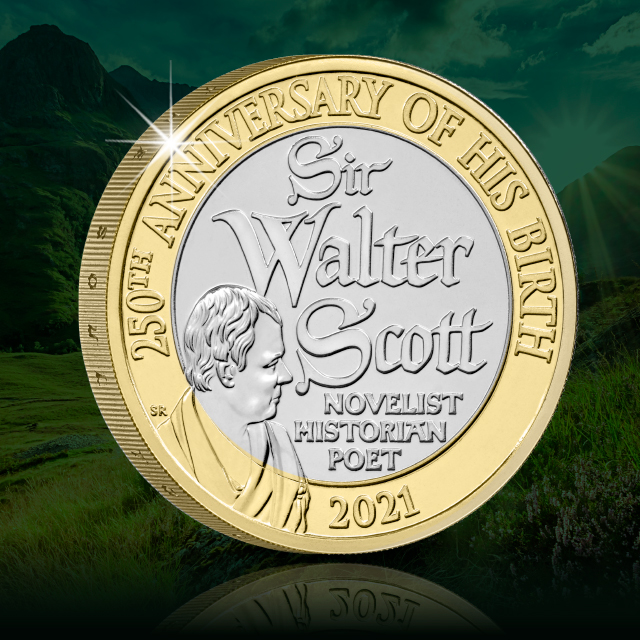 The coin, designed by Stephen Raw, features the text: "SIR WALTER SCOTT NOVELIST HISTORIAN POET" encircled by the inscription "250TH ANNIVERSARY OF HIS BIRTH" and the year date.
Excitingly, this coin also features the edge inscription, "THE WILL TO DO, THE SOUL TO DARE", a quote from his epic poem, 'Marmion: A Tale of Flodden Field'.
Issued initially as part of the 2021 Annual Coin Set, this is the first chance collectors have had to secure this individual coin to their collections.
Available in Brilliant Uncirculated quality for JUST £8.99 (+p&p), you can secure this coin today by clicking here >>
Sir Walter Scott joins an impressive portfolio of authors, poets, novelists to be commemorated on UK coins. Continue reading to find out more…
2020 William Wordsworth £5
To mark the 250th anniversary of the birth of William Wordsworth, The Royal Mint issued this £5 coin and it was the first time that the famous poet was celebrated on a UK coin.
He is one of the most popular poets to have written in the English language, gaining popularity during the beginning of the English Romantic period in literature.
Designed by David Lawrence, designer of the 2018 and 2019 Britannia, the reverse features lines taken from one of Wordsworth's most celebrated poems, 'Tintern Abbey'.
To secure this coin for your collection for JUST £10.99 (+p&p), in Brilliant Uncirculated quality, click here >>
2020 Agatha Christie £2
This £2 coin was issued in 2020 to mark the 100th anniversary of Dame Agatha Christie's genre-defining murder mysteries.
An author of 66 detective novels and 150 short stories, Agatha Christie has justly earned the title of the 'Queen of Crime'. Towards the end of her career, she was made a Dame of the British Empire for her contribution to literature.
The reverse design of this coin, by David Lawrence, depicts a jigsaw puzzle with a question mark, representing the mystery behind her stories.
You can secure this coin for your collection for £8.99 (+p&p) by clicking here >>
2018 Mary Shelley's Frankenstein £2
This £2 coin was issued by The Royal Mint to celebrate the 200th anniversary of the publication of Mary Shelley's famous novel Frankenstein; or, The Modern Prometheus.
Whilst on holiday in Geneva Mary Shelley and her poet friends, including Lord Byron and future Husband Percy Shelley, decided to have a competition to see who could write the best horror story.
Out of this Mary Shelley created Frankenstein, a story about a scientist's scary act at playing God and creating life. It went on to become one of the best loved gothic novels.
The reverse of this gothic coin was designed by Thomas Doherty and features the words 'Frankenstein' in an electric gothic font.
2017 Jane Austen £2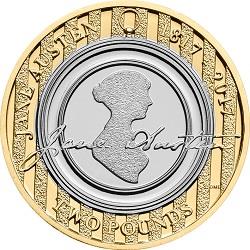 In 2017, to celebrate the life and works of one of Britain's best-loved authors, The Royal Mint issued this Jane Austen £2.
Jane Austen is one of the best-loved English novelists from the 19th century. Her novels were revolutionary and from her first novel, Sense and Sensibility, readers began a love affair with her fiction that has lasted two centuries.
Designed by Dominique Evans, a portrait of Jane Austen features on the reverse of this coin. It did not enter general circulation and was issued in collector quality only.
2016 Shakespeare £2 coins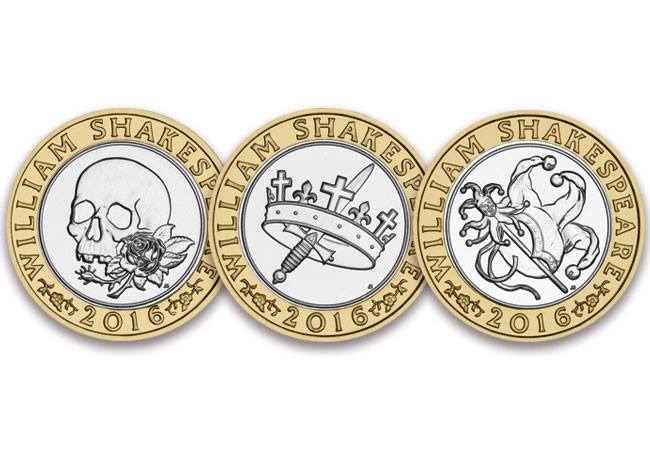 William Shakespeare is the most influential literary figure in British history and his works are an important part of Britain's cultural heritage.
In 2016, a series of three £2 coins were issued to mark the 400th anniversary since his death and to celebrate his greatest works.
Each coin's design takes inspiration from some of Shakespeare's greatest works, including Macbeth (pictured central), A Midsummer Night's Dream (far right) and his most-famous love tragedy, Romeo and Juliet (pictured left).
All three coins entered circulation but the Comedy £2 has the lowest circulating mintage – just 4,355,000!
2016 Beatrix Potter 50p
To celebrate the 150th anniversary of the birth of Beatrix Potter, the Royal Mint have released this 50p to celebrate Beatrix herself.
Designed by Emma Noble, the coin includes elements that celebrate Beatrix as the artist behind some of the best-loved characters in children's literature along with the nostalgic font used for the inscription.
This coin entered general circulation and has a mintage of 6,900,000.
---
The Sir Walter Scott £2 was initially issued as part of the 2021 UK Annual Coin Set but this is the first time that collectors will have the chance of securing this coin individually for their collections.
Will you be adding it to your collection? Let us know in the comments below!
---
Secure the 2021 UK Sir Walter Scott £2 for your collection!
Secure the brand new 2021 UK Sir Walter Scott £2 for your collection for JUST £8.99 (+p&p) by clicking here >>
Your coin has been protectively encapsulated in Official Change Checker packaging with that all-important hologram to guarantee its superior quality.
In commemoration of the life and achievements of HRH Prince Philip, Duke of Edinburgh, a UK £5 coin has just been issued.
Issued shortly after what would have been his 100th birthday and within just three months of his passing, this special tribute to Prince Philip features a portrait created by Ian Rank-Broadley FRBS that was personally approved by The Duke of Edinburgh himself.
As Britain's longest serving Consort – the Queen's "strength and stay" – and as former President of the Royal Mint Advisory Committee, it is only fitting that a new UK coin should be issued in his honour.
You can secure yours now in Brilliant Uncirculated quality for just £10.99 here >>
This new release become the sixth UK coin to feature HRH Prince Philip and in this blog we'll take a look back at his life as celebrated on £5 coins, as well as the role the Duke played in shaping UK currency.
Prince Philip in Coins
The 1972 Crown issued to mark his Silver Wedding Anniversary was an understated affair. However, in 1997, the Queen and Duke of Edinburgh celebrated their Golden Wedding Anniversary, and Prince Philip featured on a UK coin for the very first time as part of a conjoined effigy on the obverse of the commemorative £5 coin. 2007 saw a similar conjoined portrait before the recent 2017 Platinum Wedding Anniversary design, which featured the Queen and Duke of Edinburgh on horseback in what can only been seen as a nod to the original 1953 Coronation Crown as well as a third conjoined portrait.
Yet it was in 2011 that Prince Philip was finally granted the greatest privilege – his own £5 Coin to celebrate his 90th Birthday – a splendid close up portrait of the Duke by Mark Richards FRBS. This was followed in 2017, with a design of the young Prince Philip by Humphrey Paget to mark Prince Philip stepping down from public duties after 70 years of service.
First Job – new coin designs
Not only does the Duke feature on a number of UK coins, he also had a hand in the creation of new coins too!
On 21 March 1952, just weeks after the Queen's accession to the throne, Prince Philip attended his first meeting as President of the Royal Mint Advisory Committee on the design of coins, medals, seals and decorations (RMAC); a role that he would hold for the next 47 years, until his retirement in 1999.
A keen artist himself, the Prince's first job was to oversee the selection of the Queen's portrait to ordain her new coins. An uncrowned Queen was chosen from a field of seventeen designs, giving Nottingham born sculptor, Mary Gillick, the honour of creating the most seen portrait of the new Queen.
Equally importantly, the young Prince oversaw the design of the most important coin of the moment – the Coronation Crown, featuring Gilbert Ledward's Queen on horseback on the obverse and Edgar Fuller's reverse design containing the Coats of Arms of the constituent nations of the United Kingdom.
The UK's biggest ever currency change
Gillick's design remained on pre-decimal coinage until 1970, when Prince Philip was involved in another huge coinage milestone – the introduction of decimalisation.
The process required a complete redesign of Britain's coinage as well as an updated effigy of Her Majesty, designed to help the new denominations stand out.
The RMAC selected Royal Academician Arnold Machin to sculpt the Queen, this time wearing a tiara. However, it was the reverse coin designs that were perhaps more significant.
A "monstrous piece of metal"
Under Prince Philip's presidency, the RMAC started to work in top secret on designs as early as 1962, before there was any official government announcement confirming decimalisation.
The final designs were created by Christopher Ironside and featured heraldic elements of the United Kingdom. But it was the new 50p coin – introduced to replace the 10/- note – that caused the greatest stir, with its unique heptagonal (7-sided) shape.
Now Britain's most popular coin with collectors, that was certainly not the case on its launch with one newspaper calling it a "monstrous piece of metal" and a retired colonel even starting Anti-Heptagonist movement.
In the 28 years that followed Decimalisation, Prince Philip guided the RMAC through two more effigies, Raphael Maklouf (1985 – 1997) and Ian Rank-Broadly (1998 – 2015), as well as the launch of 20p, £1 and £2 coins into circulation and numerous commemorative issues.
---
Prince Philip will be remembered for many things – and among them we will remember him as the man who has had more influence over the nation's coins than any other.
With the release of the new Prince Philip £5, his legacy continues to live on as we celebrate his incredible life and achievements.
---
Secure your Prince Philip £5 Set today!
Today, you have the opportunity to secure the brand new 2021 UK Prince Philip £5 in Brilliant Uncirculated quality, alongside the 2017 Prince Philip £5 and the 2017 Platinum Wedding £5 coins to make the perfect Prince Philip £5 Set.
Your coins have been struck to a Brilliant Uncirculated finish and protectively encapsulated in official Change Checker packaging to preserve for generations to come.
A real collector's set, these coins pay a special tribute to the Prince who will forever be remembered as a treasured member of British royal history.
One of the only kings in British history to have been given the title of 'Great', Anglo-Saxon King Alfred, was famous for his laws in education and fair governance.
In the 1,150th anniversary year of his coronation, The Royal Mint has commemorated his reign with a brand new £5 coin, with a design dedicated to the Alfredian educational reforms.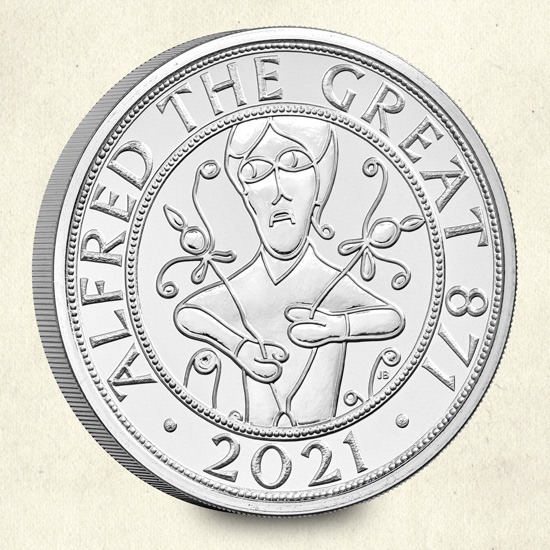 Alfred took over as King of Wessex in 871 in the middle of a year of nine major battles between the West Saxons and Vikings. He was also tested in 878 when he was forced to retreat to the marshes of Athelney (Somerset), the scene of some of the legendary stories about him, including the well-known 'burning of the cakes'.
However, Alfred came back to win a decisive victory in the same year over his Viking opponent Guthrum at Edington (Wiltshire).
John Bergdahl's design of this brand new coin is based on the Alfred Jewel, one of the most celebrated historical artefacts surviving from Anglo-Saxon England.
It was thought to have been once attached to a handle and used as a pointer stick for reading. Made of enamel and quartz, and enclosed in gold, the Alfred Jewel is inscribed "aelfred mec heht gewyrcan" meaning "Alfred ordered me made".
This exceptional and unusual example of Anglo-Saxon craftsmanship now features on this new UK £5 in a fitting tribute to Alfred the Great, who had a reputation as a learned man who encouraged education.
In Alfred's mind, learning was essential to his kingdom but most of his people were illiterate, even in their native tongue. To combat this, Alfred established a school at court, where freedmen of adequate means could learn to read, he had books translated from Latin to English, and told monks to begin writing the Anglo-Saxon chronicle, which would later act as the primary source for the early history of England
You can secure the brand new 2021 UK Alfred the Great £5 in superior Brilliant Uncirculated quality for JUST £10.99 (+p&p) by clicking here >>
There have been some incredible UK coins that have celebrated our Kings of England. Scroll down to discover more…
2020 King George III £5
The 2020 George III £5 was issued as part of the 2020 Annual Coin Set to celebrate Britain's longest reigning King, 200 years after his death.
King George III was the first king of the United Kingdom (which was officially formed in 1800) and to this day remains the longest reigning king in British History, reigning for an astonishing 59 years.
Throughout his reign, Britain fought in wars against France and America and from these wars the country emerged as a world power.
Designed by renowned Royal Mint designer, Dominique Evans, the famous portrait of George III has Windsor Palace to the left and the King's Observatory to the right.
2017 King Canute £5
To celebrate the 1000th anniversary of the coronation of King Canute, a £5 coin was issued by The Royal Mint.
Recognised as one of the most prominent kings of the Anglo-Saxon era, Canute is widely remembered for conquering kingdoms across northern Europe including England, Denmark, Norway, and areas of Sweden.
King Canute's achievements and influence paved the way for the nation we recognise today. He strengthened the currency, initiating a series of coins of equal weight to those being used in Denmark, so it's only fitting that the design of this £5 coin was inspired by the original currency of King Canute.
2009 Henry VIII £5
Henry VIII had an eventful reign over four decades from 1509 – 1547, overseeing the union of England and Wales in 1535 and founding the Royal Navy.
However he is most well-known for having six wives, two of whom were executed under the charge of treason. In later life, Henry became grossly overweight as a consequence of not being able to exercise after a jousting incident, which hastened his death in 1547.
This £5 coin was issued by the Royal Mint in 2009 to commemorate the 500th anniversary of the accession of Henry VIII to the throne. The reverse design by John Bergdahl features a recreation of the famous standing portrait of Henry VIII by Hans Holbein.
2018 Prince Charles £5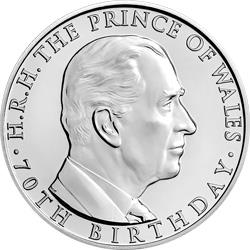 In a blog dedicated to our Kings of England, it's only fitting we pay tribute to our future King, Prince Charles.
On the 14th November 2018, HRH The Prince of Wales celebrated his landmark 70th birthday.
To mark this milestone and to honour his lifetime of dedication to the British people, an official commemorative UK £5 coin was issued by The Royal Mint.
The reverse features a new portrait of the prince by widely respected engraver Robert Elderton, who was once an apprentice engraver at The Royal Mint at its previous home in Tower hill more than 50 years ago.
---
There have been some incredible UK coins celebrating British Kings, with the brand new 2021 UK Alfred the Great £5 being no exception.
Do you have a favourite? Let us know in the comments below!
---
Secure the brand new 2021 UK Alfred the Great £5 for your collection!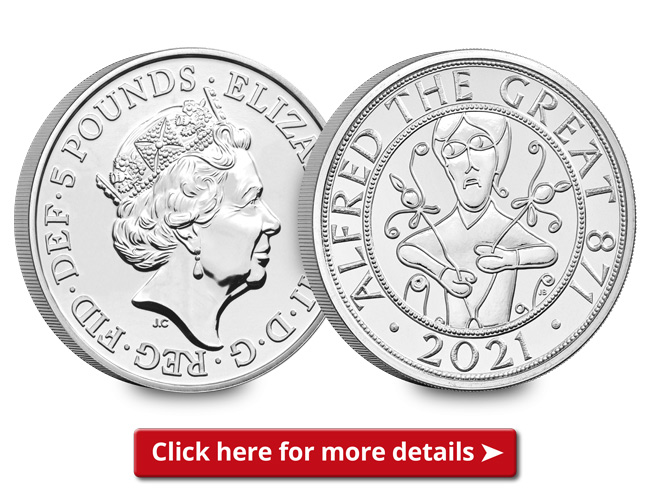 Secure the brand new 2021 UK Alfred the Great £5 for your collection for JUST £10.99 (+p&p) today >>
Your coin will come in superior Brilliant Uncirculated quality presented in official Change Checker packaging.