The Snowman™ dances onto NEW UK 50p!
It just doesn't feel like Christmas until the new UK The Snowman™ 50p is released!
You could even say it's become a festive tradition that each year, the beloved Snowman™ features on a new UK 50p. And luckily for collectors, 2023 is no exception…
In fact, this year's coin is sure to have collectors dancing for joy. That's because The Snowman™ has danced his way onto a brand new 50p in a magical scene set against a backdrop of the Northern Lights.
Available now in superior Brilliant Uncirculated quality, you can add this frosty friend to your 50p collection in time for Christmas here >>
The Story of The Snowman™ on Coins!
The Snowman™ first appeared on a UK 50p back in 2018 to celebrate the 40th anniversary of Raymond Briggs' much-loved festive tale. Since then, we've seen a Snowman™ 50p issued each year, making this new coin the 6th release in the series – and the first to feature King Charles III on the obverse.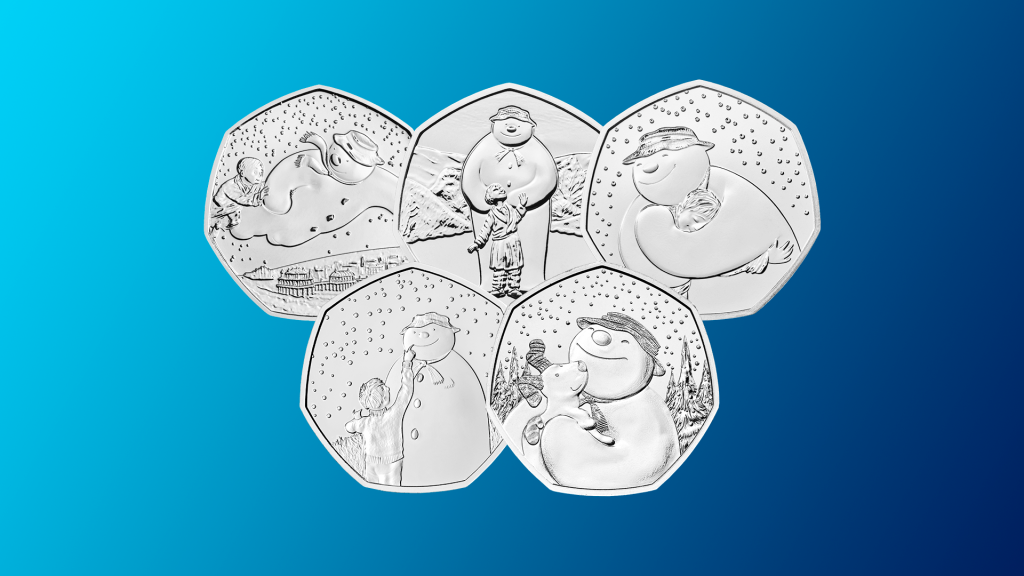 Over the years, we've been treated to some of the most iconic scenes on our coins, taken from the original tale and even the 2012 film, The Snowman™ and The Snowdog™. The Snowman™ and the young boy, James have previously been seen sharing adventures and flying through the night sky, but last year's 50p was a little different, as the adorable Snowdog™ joined the frosty fellow for the very first time!
Unsurprisingly, the Snowman™ coins prove to be some of the most popular releases each year and now only the 2022 coin is still available at the mint.
But it's not just UK collectors who are treated to coins featuring the Snowman™…
Over the years, The Snowman has featured on a number of different 50ps from The Isle of Man, some of which are incredibly sought after.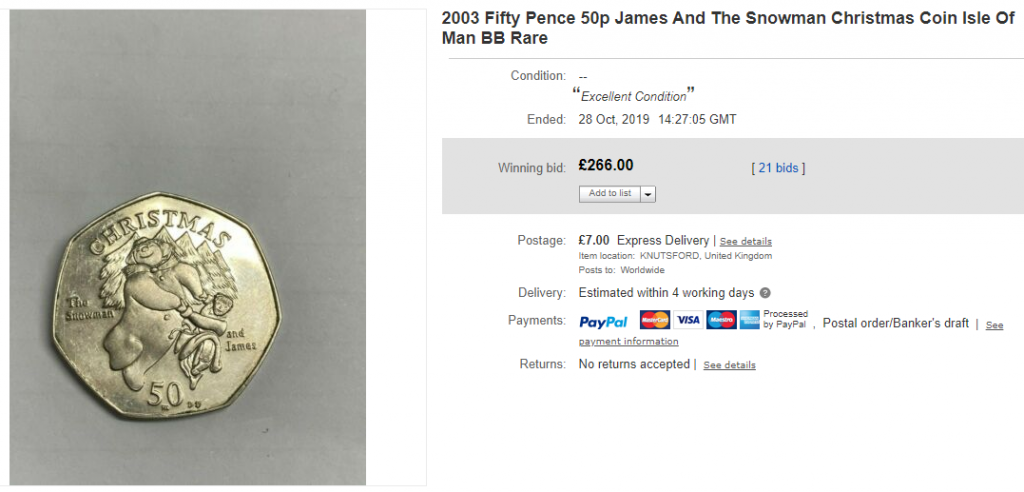 One such coin from 2003 featuring James and The Snowman™ sold for over £250 on the secondary market in 2019 – not a bad return on a 50p coin!
Now collectors have the chance to own the very latest UK release, with James and his snowy friend dancing below the famous Northern Lights – a design sure to melt the heart of any collector this Christmas.
The scene perfectly captures the magic of the heartwarming story, which is read by so many people every year. Just like the tale of The Snowman™, these new 50ps have also become a Christmas tradition, so if you weren't starting to feel festive already, you should be now!
And if you're still looking for that perfect numismatic gift this Christmas, or perhaps just a treat for yourself, look no further than the Change Checker Christmas range >>
---
Own your 2023 UK The Snowman™ 50p in time for Christmas
You can bet this latest coin will be at the top of every collector's wish list this year, so whether you're a collector of the Snowman™ 50ps yourself, or you think it'd make the perfect gift for a loved one, you can secure the 2023 UK The Snowman™ 50p for just £4.99 (+p&p) here >>