When is a Penny not a Penny?
Coins from British territories have a habit of making an unexpected appearance in our change.
Finding one in your change is an annoyance on one hand as the coins are not legal tender in the UK.  On the other hand, from a collecting point of view, new and interesting designs are always a bonus!
The Bailiwick of Jersey is the largest of the Channel Islands and is situated off the coast of Normandy, France. As a British Crown dependency, Pound Sterling is the official currency of the island. However, Jersey started issuing the Jersey Pound in 1841 not as a separate currency, but as an issue of banknotes and coins by the State of Jersey.
Jersey has a population of just over 100,000 and as with all  coins from the British Isles, mintage figures are always expected to be quite low.
When is a Penny not a Penny?
When it's 1/12 of a Shilling. After the Norman Conquest in 1066, the pound was divided into twenty shillings or 240 pennies. So before decimalisation in 1971,  1/12 of a Shilling would have amounted to 1 Penny.
The Penny by another name…
During Queen Elizabeth ΙΙ's reign, Jersey issued three commemorative 1/12th shilling coins – this penny marks the 900th anniversary of the Norman Conquest and is the last bronze 1/12th of a shilling issued during the Old Elizabeth ΙΙ coinage, 1954-1966.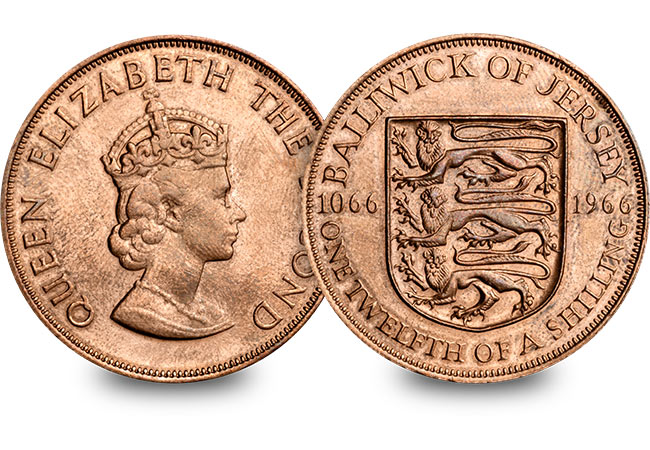 Before decimalisation, Jersey, as a British Crown Dependency, was required to use the crowned effigy of the Queen on the obverse of its coins. This coin features Cecil Thomas' famous crowned portrait of Her Majesty the Queen with the simple legend 'QUEEN ELIZABETH THE SECOND'.
The reverse, designed by Georgie Edward Kruger Gray, features the Jersey Coat of Arms containing three lions and the dates '1066' and '1966' divided either side of the shield. The Jersey Coat of Arms derives from the seal granted to the island by King Edward Ι in 1279.
As the last 1/12th of a shilling coin issued during the Old Elizabeth ΙΙ coinage this 1/12th shilling has become a coveted collector's item.
---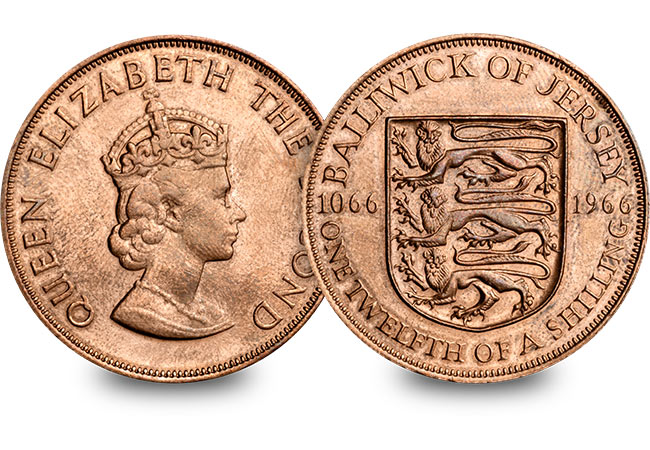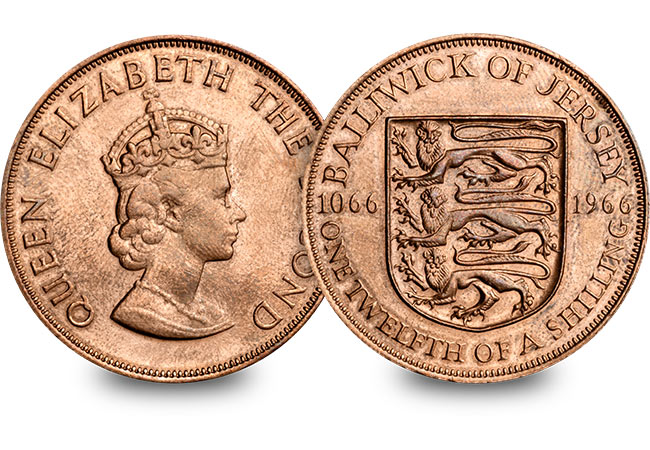 Add some depth to your coin collection
Click here to own a Jersey 1/12th of a Shilling Coin