Posts Tagged 'Round Pound'
Sleigh bells ring, are you listening? Because a brand new Gibraltar 50p and £2 coin have just been released featuring none other than Father Christmas himself!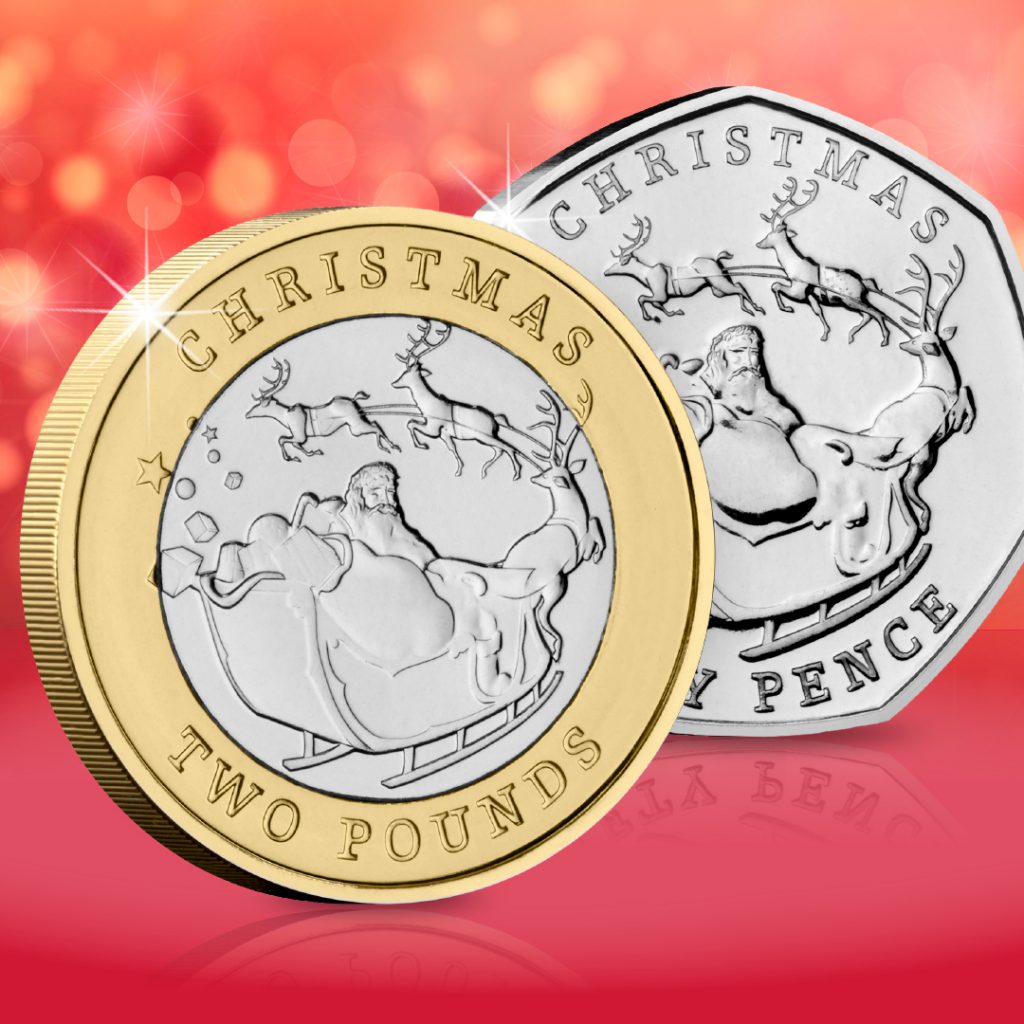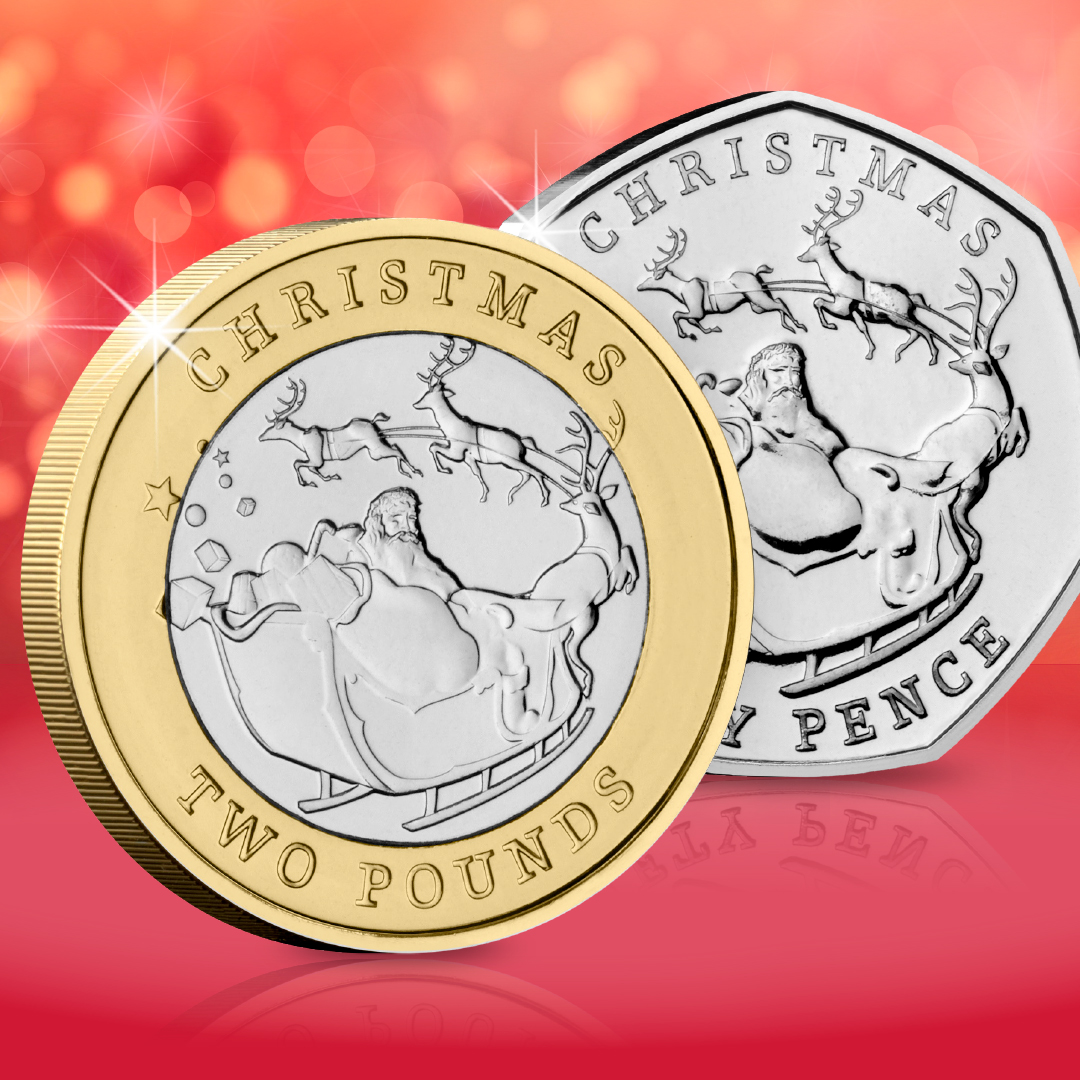 These very festive coins have been released by the Government of Gibraltar, making them particularly sought-after by collectors given the low mintage figures typical from the country!
You can secure this magical Christmas coin pair (the very best way to own these coins!) here for just £13.50 (+p&p).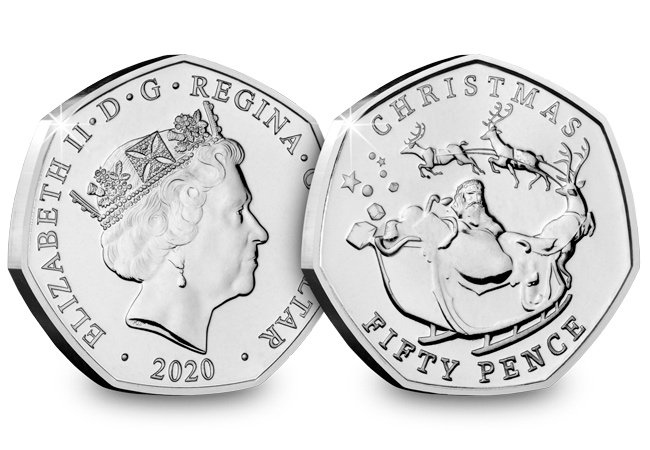 Or, you can secure the single 50p to your collection for JUST £4.50 (+p&p) by clicking here.
Your brand new Gibraltar Christmas 50p & £2 Pair will come in Official Change Checker Packaging, ready to slot into your Change Checker Album!
With previous Gibraltar issues proving immensely popular with collectors, I expect these coins will be snapped up quickly by collectors (especially as we have just a small allocation for Change Checkers!)
A history of popular coins
Gibraltar has released some truly beautiful coins in recent years, and as their mintage figures are typically much lower than UK coins, they are often highly sought-after by collectors…
Coins from Crown dependencies, such as Gibraltar and overseas British territories can sometimes make an unexpected appearance in our change.
They are identical in size, shape and weight to UK denominations which means they often find their way into tills and vending machines undetected.
Whilst these coins aren't technically legal tender in the UK, finding new and interesting designs is always a bonus!
So, whilst it may be tricky to find one in your change, Change Checker has listed our Top 10 Coins from Gibraltar that are worth trying to hunt down!
2019 Breast Cancer £2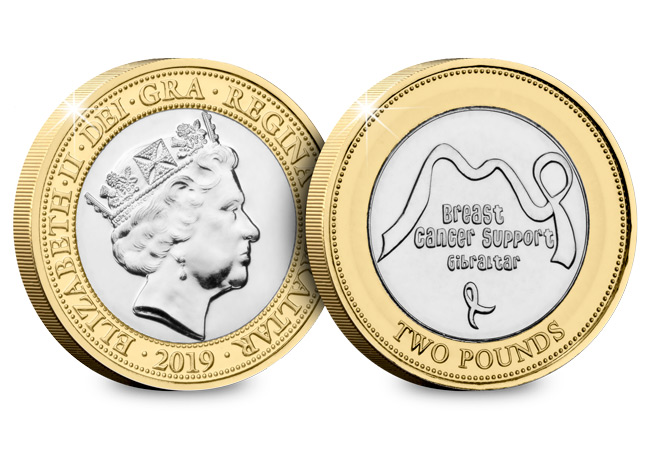 Last year the Government of Gibraltar issued a new £2 coin in partnership with Breast Cancer Support Gibraltar.
However, only a limited number were released into circulation on the Isle of Gibraltar, making it one of the most popular coins of the year, but also one of the most difficult to source.
But not many collectors were aware of the secret this coin was hiding…
The Gibraltar Breast Cancer £2 features a special portrait of Queen Elizabeth II on the obverse. It was originally drawn by Raphael Maklouf for the Gibraltar 90th Birthday £5 coin issue but has also been used on a small selection of Gibraltar coinage.
This portrait is currently not in use by any other country in the world, making any Gibraltar coin with this portrait on extremely collectable!
A limited number of coins were available at The Westminster Collection, and they sold out within hours! Collectors were quick to search on the secondary market to find them and some prices reached over £40!
Gibraltar Candytuft Flowers 50p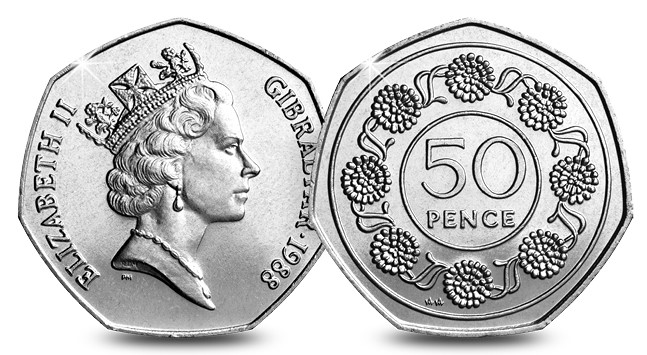 This 50p features the denomination surrounded by a crown of Gibraltar Candytuft flowers, known as 'Iberis Gibraltarica'.
Iberis Gibraltarica is the national flower of Gibraltar and is the symbol of the Upper Rock Nature Reserve which covers 40% of the country's land area. Gibraltar is the only place in Europe where it is found growing in the wild!
In 1988, JUST 30,000 of these 50ps were issued for circulation, making it 7 times rarer than the UK's rarest 50p and particularly scarce and sought after amongst collectors. Another key feature which makes this coin so collectable is that it was issued in the pre-1997 specifications, meaning it's significantly larger than the current 50ps we find in our change!
Rock of Gibraltar £1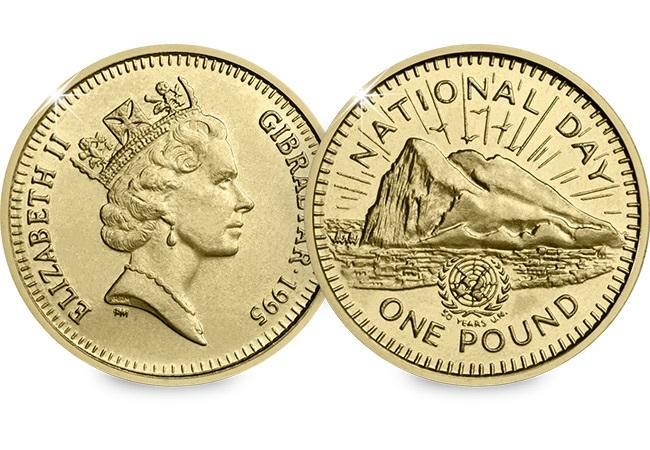 This £1 coin was issued for the 1995 National Day and for the 50th Anniversary of the UN.
National Day is celebrated annually on September 10th and is the official national day of Gibraltar.
The reverse features the iconic Rock of Gibraltar with birds and sun rays above, and the obverse features the Raphael David Maklouf engraving of Queen Elizabeth II.
This £1 is in the older round pound specifications, meaning they won't appear in your UK change as the round pound lost its legal tender status in the UK in 2016, after the introduction of the 12-sided £1. This means it's even harder to get your hands on this coin!
Neanderthal Skull £1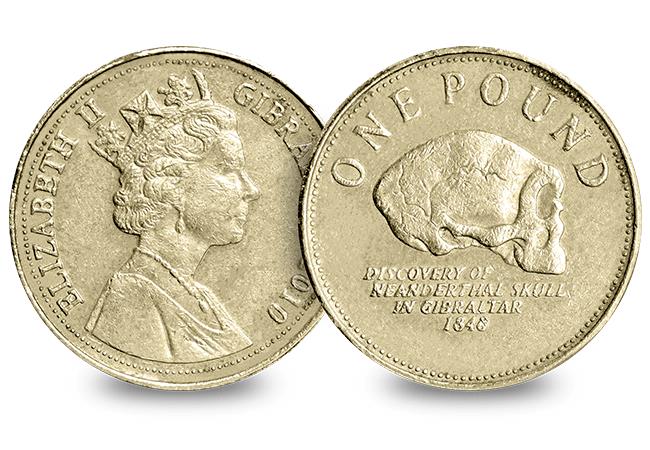 This £1 coin from Gibraltar was issued to celebrate the discovery of a Neanderthal skull in a quarry near the Rock of Gibraltar in 1848.
The Neanderthals in Gibraltar were some of the very first to ever be found and this particular skull is one of the oldest specimens known.
Designed by Philip Nathan, the reverse features the Neanderthal skull and lettering, "Discovery of Neanderthal skull in Gibraltar 1848". The obverse was designed by Raphael Maklouf and features the crowned bust of Queen Elizabeth I.
Capture of Gibraltar 50p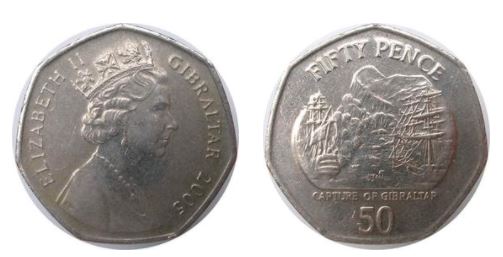 This 50p was issued in Gibraltar in 2005 to commemorate the Capture of Gibraltar in 1704, during the war of the Spanish Succession.
As part of the Allied strategy, Sir George Rooke had been sent with an Anglo-Dutch force into the Mediterranean to attack the French in Toulon. However, when his objectives proved impracticable, Rooke decided to justify his command by attacking Gibraltar.
The coin features a design on the reverse of ancient ships at sea with the Rock of Gibraltar in the background, paying tribute to the Anglo-Dutch fleet that sailed into Gibraltar. The obverse features the third portrait of Her Majesty by Royal Mint engraver Raphael D. Maklouf.
---
So will Santa be visiting you this Christmas in the form of the Gibraltar 50p and £2 pair? Comment below!
---
Don't miss your opportunity of owning this magical Christmas coin pair!
Due to the limited circulating mintages of these coins, we have just a small allocation for Change Checkers, so don't miss the opportunity to secure yours this Christmas!
Secure the 2020 Gibraltar Christmas £2 and 50p pair today for JUST £13.50 (+p&p) by clicking here >>
The first UK £1 coin was issued in 1983 to replace the £1 banknote, which only lasted a few months in circulation! The £1 coin quickly became a hit with collectors, with everyone trying to hunt down the different designs…
£1 coins were initially issued in recurring five year programmes including series of designs representing the UK and the home nations.
After more than 30 years in the nation's pockets, the familiar round £1 coin was replaced with an all new, 12-sided £1 coin in 2017 and it lost its legal tender status at midnight on 15 October 2017.
Despite this, some round pounds remain incredibly popular with collectors, due to their designs and their low mintages!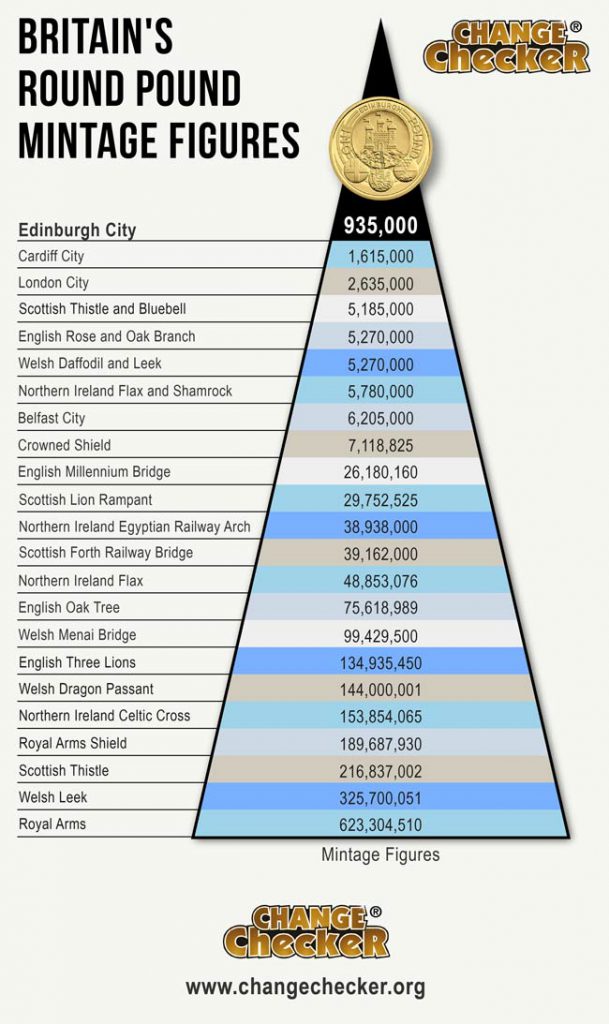 In this blog, we guide you through all of the round pound designs over the years…
Royal Coat of Arms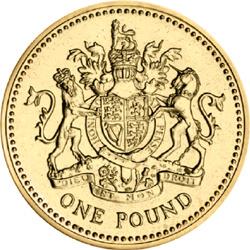 The first £1 coin design features the Royal Coat of Arms designed by Eric Sewell, a chief engraver at the Royal Mint. It also features the edge Inscription: DECUS ET TUTAMEN.
This coin was issued in 1983, 1993, 2003, 2008 and has a circulating mintage of 623,304,510.
Floral Emblems

The first reverse design series of £1 coins took floral emblems as its theme to represent the United Kingdom and its four constituent countries.
They were designed by Leslie Durbin – one of the most highly-regarded silversmiths of the 20th Century.
This series (pictured left to right) featured designs of a Scottish Thistle (1984 & 1989), Welsh Leek (1985 & 1990), Northern Ireland Flax (1986 & 1991), and the English Oak Tree (1987, 1992).
Of these coins, the Northern Ireland Flax has the lowest circulating mintage of 48,853,076.
1988 Royal Coat of Arms Crowned Shield
For the 6th year of the £1 coin, a Royal Coat of Arms design was introduced.
The first Royal Arms of England are attributed to King Richard I whose crest depicted three gold lions. Since then, the Coat of Arms has been adapted over centuries, and the reverse design of this coin displays the most modern version.
All coins dated 1988 feature this design, and 1988 was the only year it was used, making its mintage particularly low (just 7,118,825 were issued!)
Heraldic Emblems

The second series of £1 coin designs, by Norman Sillman used heraldic emblems to represent the United Kingdom and its four constituent countries.
From left to right, the series includes the Scottish Lion Rampant (1994), Welsh Dragon Passant (1995 & 2000), Northern Ireland Celtic Cross (1996 & 2001), and English Three Lions (1997, 2002).
The Scottish Lion Rampant has the lowest mintage in this series of £1 coins, with 29,752,525 entering circulation.
Bridges

The third series of £1 coin designs depicts bridges from each of the four constituent countries in the United Kingdom.
These coins were designed by Edwina Ellis (who later went on to design the incredibly popular 2019 Stephen Hawking 50p!) Pictured left to right, this series included the Scottish Forth Railway Bridge (2004), the Welsh Menai Bridge (2005), the Northern Ireland Egyptian Railway (2006), and the English Millennium Bridge (2007).
The English Millennium Bridge round pound has the lowest mintage of this series, with 26,180,160 entering circulation.
Royal Arms Shield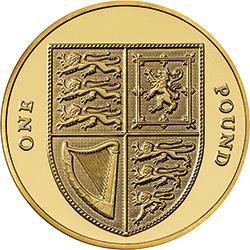 In 2008 a new reverse design for the £1 was issued featuring the Royal Shield of Arms – designed by Matthew Dent.
The edge inscription in Latin reads DECUS ET TUTAMEN which translates as; An Ornament and a Safeguard. This dates back to the first machine struck coins minted in 1662 and refers to the inscription itself which was intended to prevent people scraping valuable metal off the edge of the coin – a process known as 'clipping'.
This coin was issued for eight consecutive years from its introduction in 2008.
This coin has a circulating mintage of 311,663,630.
Capital Cities

The fourth series of £1 coins used the capital cities of the four constituent countries as the basis of the reverse design.
They were designed by Stuart Devlin, who was also the Goldsmith and Jeweller to the Queen!
The designs of these coins (pictured left to right) feature Belfast City (2010), London City (2010), Cardiff City (2011) and Edinburgh City (2011).
These round pounds have lower mintages than any previous series, with the Edinburgh City £1 having a circulating mintage of JUST 935,000! The Cardiff City £1 is close behind with a mintage of 1,615,000.
Floral Emblem Pairs
The fifth series of £1 coin designs uses pairs of floral emblems, designed by Timothy Noad to represent the United Kingdom and its four constituent countries.
The coins in this series featured designs of (pictured left to right) English Rose and Oak Branch (2013), Welsh Daffodil and Leek (2013), Scottish Thistle and Bluebell (2014), and Northern Ireland Flax and Shamrock (2014).
The coin in this series with the lowest mintage is the Scottish Thistle and Bluebell, with 5,185,000 entering circulation.
The Floral Emblem Pairs were to be the last round pound series, with the final two round pounds being issued independent of each other.
2015 Royal Coat of Arms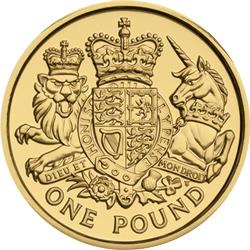 In 2015 the Royal Mint revealed a new design for the Royal Arms £1 coin.
Timothy Noad's contemporary adaptation of the traditional Royal Arms design is one of last commemorative designs to feature on the pound coin, as the newly shaped coin entered circulation in 2017.
This coin has a circulating mintage of 129,616,985.
2016 The Last Round Pound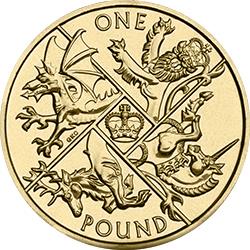 This 2016 £1 coin is the final 'round pound' issued by the Royal Mint, calling time on a coin which was first issued more than thirty years ago.
The reverse design features the animals that represent each of the four constituent UK countries and was designed by Gregory Cameron.
This coin did not enter general circulation and is only available to buy in a Brilliant Uncirculated quality.
---
So hopefully our guide to Britain's round pounds will help you along the way to expanding your collection!
What's most exciting about these coins is that they're not used in circulation anymore, which makes them particularly sought-after by collectors!
Do you have any of these coins in your collection already? Let us know in the comments below!
---
Secure the UK Royal Arms Shield Circulation £1 with FREE p&p!
Secure the UK Royal Arms Shield Circulation for JUST £5 with FREE p&p to your collection by clicking here >>
For those of you collecting date runs, you might have noticed that in 2017 The Royal Mint didn't strike a single £2 or 20p coin for general circulation.
In 2016, nearly 29 million £2 coins and almost 213 million 20p coins were struck for circulation, however the next year that number dropped to 0.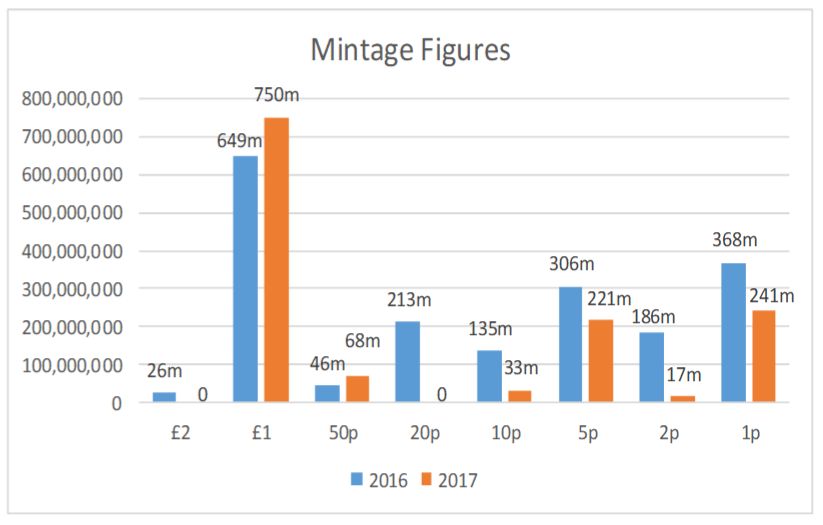 From the graph above, you'll notice that whilst most denominations had relatively few coins struck in 2017 compared to 2016, the mintage figure for £1 coins for both years is comparatively very high.
Introduction of the new £1
It's thought that the introduction of the new 12 sided £1 coin to replace the old round pound in 2017 affected the demand for the other coins in circulation.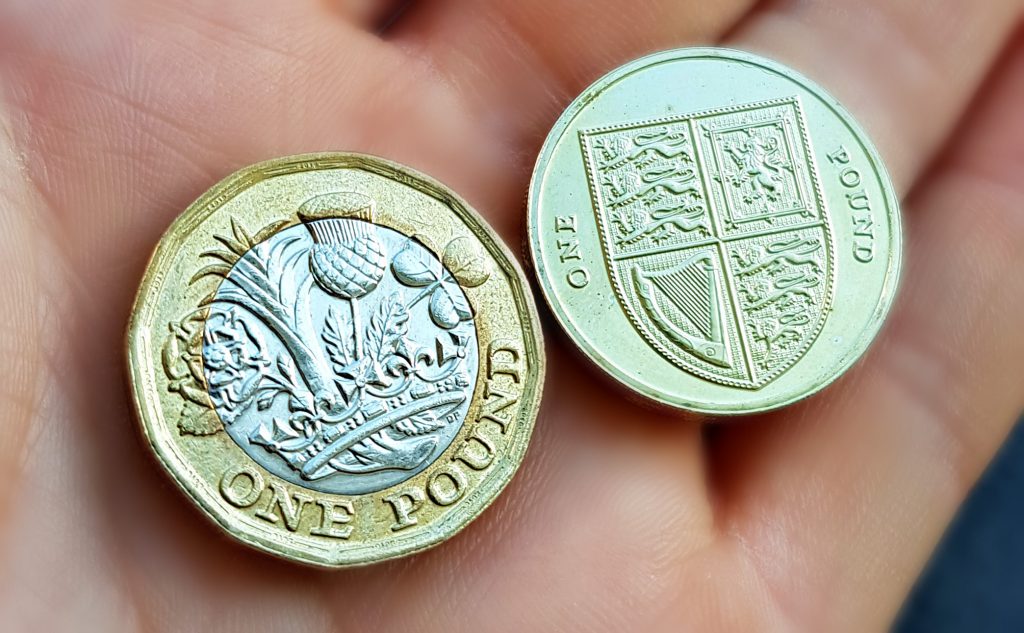 This could be down to the fact that the public were emptying their piggy banks and checking their loose change to make sure their old pound coins were used up before shops stopped accepting them. In doing so, they also ended up spending other coins in their change, meaning there was plenty of cash to re-circulate, and not as much demand for new coins to be struck for circulation.
This coupled with the growth of card payments and the decline of cash transactions, as well as the impressive 25-30 year lifespan of UK coins meant that enough £2 and 20p coins could be re-circulated in 2017 and new coins weren't needed.
The Royal Mint had been expecting this drop in demand, as had been seen in similar cases overseas when coins were withdrawn.
Where does demand for cash come from?
The Royal Mint does not actually have any real control over how and when coins go into circulation, as this is based on demand.
HM Treasury and the large cash distribution services run by the Post Office and some banks, as well as private operators handle, sort and distribute the billions of coins in circulation, even swapping stocks between themselves.
The Royal Mint and cash distribution services regularly review the amount of coins in circulation and it's only when they are short of a particular denomination that stocks will be called from The Royal Mint, who act as the manufacturer of the coin on behalf of the Treasury.
Surplus coins will be re-circulated before new coins are released.
Rare 50p coins from 2017
Whilst more 50p coins were struck in 2017 than 2016, two 2017 designs in particular actually have some of the lowest mintage figures of any 50p coins in circulation, excluding the Olympic 50p series.
The 2017 Royal Shield actually comes in as the second rarest 50p in circulation, closely followed by the 2017 Sir Isaac Newton 50p.
Take a look at our 50p and £2 mintage charts here.

Where can I find the 2017 £2 and 20p coins?
Whilst no £2 or 20p coins were issued for circulation in 2017, brilliant uncirculated commemorative coins were still issued, including the Jane Austen and First World War Aviation £2 coins.
These coins, along with the 2017 Britannia £2 and the 2017 20p which weren't issued for circulation were also featured in brilliant uncirculated quality within the 2017 Annual Coin Set, which has now sold out at The Royal Mint.
This means that the only way to get hold of these coins is to purchase the set on the secondary market, with prices typically around £65, although some sets have sold for over £100.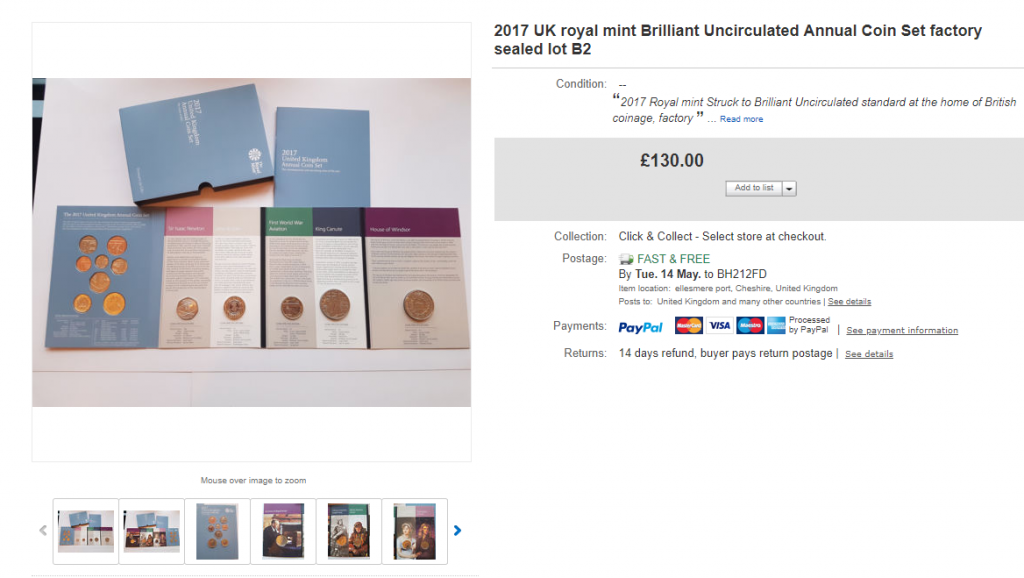 So far the 2018 £2 coins haven't been released into circulation and whilst the 2019 Royal Shield 50p has been seen in circulation, we're yet to hear if any of the other 2019 coins will turn up in our change.
Do you think the move towards a cashless society could be on the horizon, or are we still recovering from the surplus cash flow in 2017? Let us know in the comments below!
---
Secure the commemorative coins from 2017 for your collection!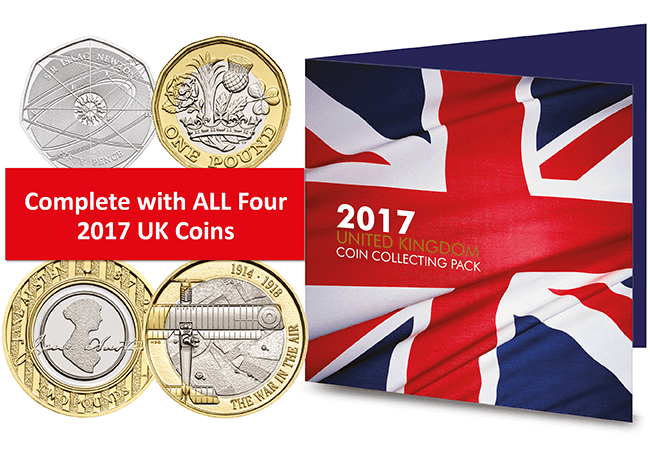 Today you can own all 4 of the United Kingdom's commemorative coins from 2017 with the Change Checker Commemorative Coin Pack, including the rare Sir Isaac Newton 50p and the Jane Austen and First World War Aviation £2 coins that can't be found in circulation.