Posts Tagged 'Circulation'
On Saturday 17th October, a surprise coin release made the headlines, as a brand new 50p was released to celebrate how diversity built Britain.
This new 50p is the first in a series to celebrate diversity across the whole of Britain and how our diverse culture has helped to shape the rich history and heritage of our nation.
Collectors will also be delighted to hear that 2.5 million Diversity in Britain 50ps are expected to enter circulation today, so now's the time to get checking your change for this brand new release!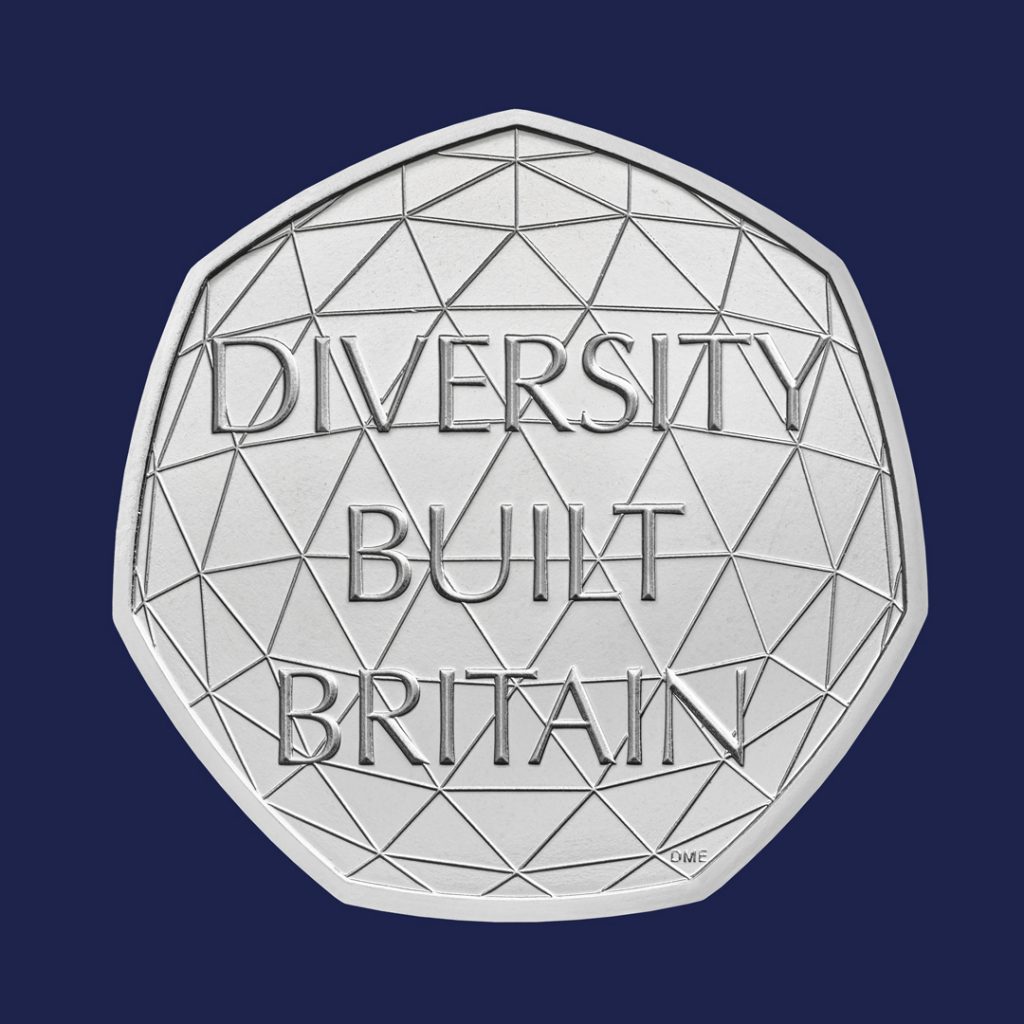 Designed by Dominque Evans, the new 50p features the words "DIVERSITY BUILT BRITAIN" against a network of interconnected triangles, symbolising the importance of connections between communities, and the strength of these connections cross the country.
Dominique Evans is one of the UK's foremost coin designers and has reflected her own experience of diversity, growing up as a mixed-race woman, as inspiration for her design.
"When designing this coin, I began by thinking about the people who inspire me and what diversity has meant in my life. I believe that no matter where you are born, we all belong under the same sky and this was the starting point of the design," Evans said.
Celebrating Diversity on UK Coins
Rishi Sunak, Chancellor of the Exchequer and Master of the Mint, unveiled the brand new UK 50p which celebrates British diversity and marks the profound contribution ethnic minority communities have made to our nation's history.
He said, "For generations, ethnic minority groups have fought and died for this country we have built together; taught our children, nursed the sick, cared for the elderly; and through their enterprising spirit have started some of our most exciting and dynamic businesses, creating jobs and driving growth."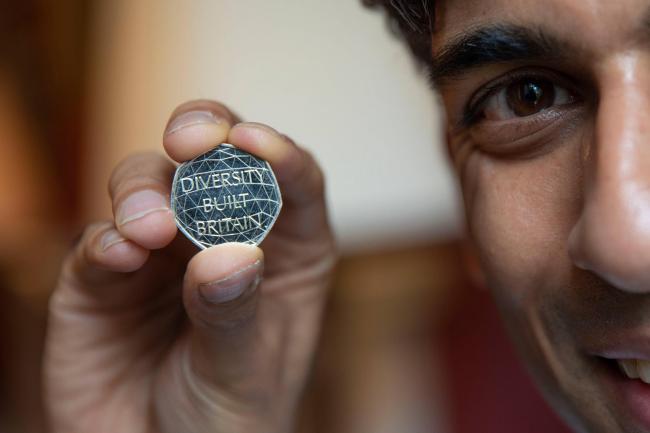 The coin was commissioned earlier this year following discussions with the We Too Built Britain campaign and calls for BAME figures to appear on UK coins and banknotes.
Look out for the Diversity Built Britain 50p in your change!
This release really has come as a wonderful surprise for Change Checkers and I'm sure demand for the new issue will be high as collectors rush to secure one for their 50p collection.
Will you be adding the 2020 Diversity Built Britain 50p to your collection? Let us know in the comments below!
Secure your Diversity 50p in Collector Quality – JUST £4.50 (+p&p)
Get ahead of the crowd and secure this brand new 50p coin in superior collector quality!
Click here to own the 2020 UK Diversity Built Britain 50p in superior Brilliant Uncirculated quality today!
Coins from Crown dependencies and overseas British territories can sometimes make an unexpected appearance in our change.
They are identical in size, shape and weight to UK denominations which means they often find their way into tills and vending machines undetected.
Finding one in your change can be an annoyance on one hand as technically the coins are not legal tender in the UK. On the other hand, from a collecting point of view, new and interesting designs are always a bonus!
Here's a look at our top 5 favourite coin designs that have been issued by Crown dependencies and overseas British territories since decimalisation:
This beautiful 50p from Guernsey features two crossed freesia flowers with 'FIFTY PENCE' and the date at the top and '50' below the design.
The obverse features David Maklouf's portrait of Queen Elizabeth II with the lettering 'Bailiwick of Guernsey' above, and also a small Guernsey Coat of Arms to the left.
This addition on the obverse makes the Guernsey 50p stand out when compared to UK 50p coins.
This 50p has the pre-1997 specifications.
Guernsey Lily £1 Coin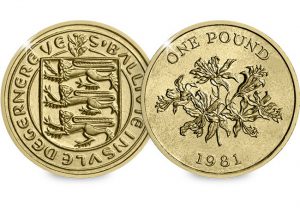 Guernsey Lily £1 issued in 1981.
The Guernsey Lily £1 features the island's Lily on the reverse, and the Guernsey Coat of Arms on the obverse.
This unusual obverse without the Queen's head makes this particular coin stand out amongst other £1 coins, and makes it sought after by collectors.
Along with the UK, Guernsey withdrew their round £1 coins from circulation in October 2017.
Isle of Man Tower of Refuge £2 
The Tower of Refuge is an important landmark on the Isle of Man. It was built in 1832 upon the reef on orders of Sir William Hillary, founder of the Royal National Lifeboat Institution.
The impressive tower with birds flying above it features on the reverse of this Isle of Man £2 coin. The obverse carries a new effigy of Her Majesty Queen Elizabeth II by Jody Clark, this effigy being reserved for the Crown dependencies and Commonwealth countries.
Gibraltar Candytuft Flowers 50p
This 50p features the denomination surrounded by a crown of Gibraltar Candytuft flowers, known as 'Iberis Gibraltarica'.
Iberis Gibraltarica is the national flower of Gibraltar and is the symbol of the Upper Rock Nature Reserve which covers 40% of the country's land area. Gibraltar is the only place in Europe where it is found growing in the wild.
With a mintage of just 30,000 in 1988, this 50p is 7 times rarer than the UK's rarest 50p  so is particularly scarce and sought after amongst collectors. This 50p has the pre-1997 specifications.
Jersey Resolute £1
The Resolute vessel was built in 1877 in Jersey by Thomas Le Huguet and was owned by Captain George Noel. The ship was used for trade before it was wrecked during a hurricane on 29th August 1905 at Friars Cove off Newfoundland.
The design depicts a two-mastered topsail schooner Resolute ship and was first issued into circulation in Jersey in 1994.
To ensure their currency would not be left vulnerable to counterfeiters, Jersey withdrew their round £1 coins from circulation in October 2017.  
So have you come across any of these coin designs in your change or do you already collect coins from other countries? Let us know via Facebook, Twitter or Instagram or leave us a comment below.
With a much lower population than the UK, some of these coins that can be found in your change can be extremely rare, so it's worth keeping hold of them.
You can see the selection of coins from Crown dependencies and overseas British territories we have available here >>
On the 1st July 2017, Canada turned 150. To celebrate, The Royal Canadian Mint released a once-in-a-life-time set of coins highlighting this milestone event in Canadian history.
And one of them glows in the dark!
The two-dollar coin, (or toonie), celebrates the wonders of Canada with an evocative design featuring the Northern Lights and it even glows in the dark thanks to special ink that contains luminescent material.
The specially designed two-dollar coin, which was issued to celebrate the 150th anniversary of Canada, features two people paddling in a canoe as the northern lights dance high above – which the Cree peoples called "the dance of the spirits".
When the coin is put in the dark, the aurora borealis glows softly, thanks to a new ink formulation that contains luminescent material.
Just 3 million of these coins were released into general circulation in Canada, meaning just one in ten Canadians were able to find one in their change.
There is no doubt that these coins would create a collecting frenzy if a similar event like this was to happen in the UK.
In fact, each and every one of these special Royal Canadian Mint releases have become a collector's item and going by previous issues, 25 cents and $2 coins are extremely difficult to get hold of.
---
If you're interested in coin collecting, our Change Checker web app is completely free to use and allows users to:
– Find and identify the coins in their pocket
– Collect and track the coins they have
– Swap their spare coins with other Change Checkers
Sign up today at: www.changechecker.org/app