With fewer coins going into circulation these days, we want to give collectors the chance to own future 2019 UK coins for face value.
So, we've launched the Face Value Coin Ballot to to do just that!
Simply sign up to the Face Value Ballot and each time there's a new 50p released this year, we'll select 1,000 people to add the latest coin to their collection for face value, in superior brilliant uncirculated quality! 500 people will be selected for every 2019 £2 release.
If you're lucky enough to be chosen, we'll still keep your name in the pot for all future 2019 releases – so if you're really lucky you might get picked more than once!
And don't worry, if you're chosen but decide you no longer want to purchase the coin at face value, you're under no obligation to place your order.
Whilst fantastic new coins continue to be issued, the demand for cash is just so low and we don't know which coins will be entering circulation, so the ballot gives collectors a fair chance to secure the latest coins at face value.
For all the information you need to know about the 2019 Face Value Coin Ballot, take a look at the FAQ's below.
Click here to sign up to the Face Value Coin Ballot

---
FAQ's
1. How do I enter the 2019 Face Value Coin Ballot?
Please click here and follow the step by step instructions.
2. Does it cost anything to enter the ballot?
It's FREE to enter the 2019 Face Value Coin Ballot. If you are successful we will email you a link to pay for your coin at face value.
3. Who can enter the 2019 Face Value Coin Ballot?
The ballot is open to all UK residents. Employees of 288 Group and their families are not eligible to enter.
4. How many times can I enter the ballot?
Ballot entry is limited to one per household. Additional applications will not be entered into the ballot.
5. Will I need to enter the ballot each time a new coin is released?
No. You only need to enter once to then be included in the ballot for all upcoming UK new issue 50p and £2 coins in 2019.
6. Will I need to enter again if I win a ballot?
No. Even if you win, we will still automatically include you in the next ballot.
7. How will I know if my ballot entry has been successful?
The successful ballot entrants will be notified via email on launch day. You will have 7 days to confirm your reservation.
8. If I am successful, what do I need to do?
We will email you. You will need a credit/debit card to confirm your payment. Payment will not be taken until after the coin has been despatched.
9. If I am successful, when will I receive my coin?
You should receive your coin 3-5 working days after despatch.
10. If I am successful, do I have to complete my order?
If you are successful in the ballot, you have the choice of whether you wish to complete your application by making your payment. If you choose not to, your allocation will automatically be forfeited after 7 days.
How to contact us:
If you have further questions please click here to contact our Customer Service Team
Please do NOT add info@westminstercollection.com to your spam list as it may affect you receiving your successful ballot allocation. We recommend you add info@westminstercollection.com to your safe senders list.
---
Terms & Conditions
Ballot entry is limited to one per household. Additional applications will not be entered in to the ballot.
The ballot will be drawn up to three days before each launch.
The successful ballot entrants will be notified by email on the day of release for the new coin.
Successful entrants will be provided with an exclusive link to confirm their purchase of the newly released coin at face value. Please note that entrants must use the link from the email to secure the coin. We will not be able to place the order over the phone. Successful entrants will have 7 days in which to confirm their purchase. After that time their allocation will be forfeited.
We reserve the right to vary the terms and conditions at any time, including, but not limited to, stopping the 2019 Face Value Ballot completely, closing the ballot early or extending the closing date and varying the number of coins available.
The ballot is not open to employees of 288 Group or their families.
Every year The Royal Mint mark the year's memorable events and anniversaries that capture the nation by striking these stories onto circulating coins, and 2019 is no different.
Today, The Royal Mint have unveiled the new themes and designs for all the 2019 commemorative coins, and Change Checkers can look forward to some fascinating British anniversaries being commemorated.
50p: The 160th anniversary of the birth of Sir Arthur Conan Doyle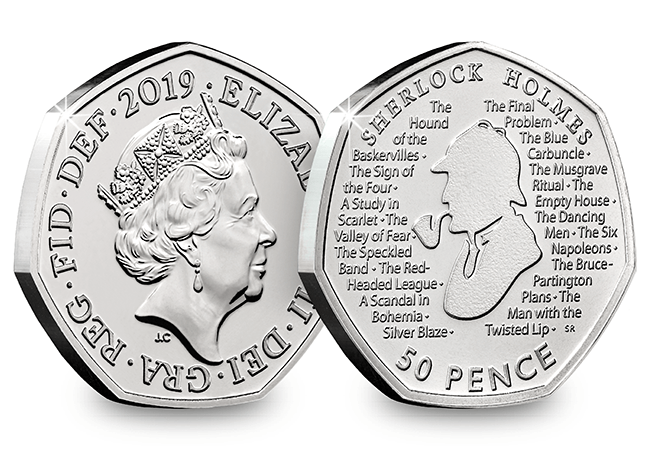 As the father of modern crime writing, Sir Arthur Conan Doyle's legacy lives on 160 years since his birth, thanks to his iconic creation – Britain's greatest detective, Sherlock Holmes™.
The classic tales of Sherlock Holmes and his sidekick Dr. Watson are treasured reads which have led Doyle to become one of the most famous writers in the world.
Reverse designer: Stephen Raw
£2: The 260th anniversary of the formation of Wedgwood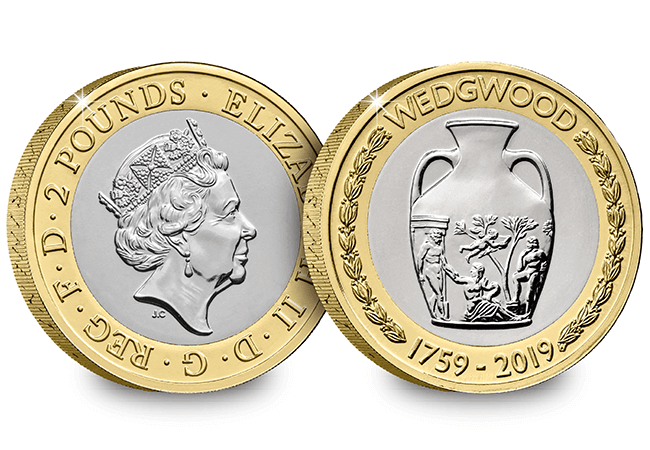 The industrial revolution of the 18th century shaped Britain's future and brought about great social changes and technological advancements. Josiah Wedgwood created his pottery empire using modern mass production methods, which we still use today.
Reverse designer: Wedgwood Design Team
£2: The 75th anniversary of the D-Day Landings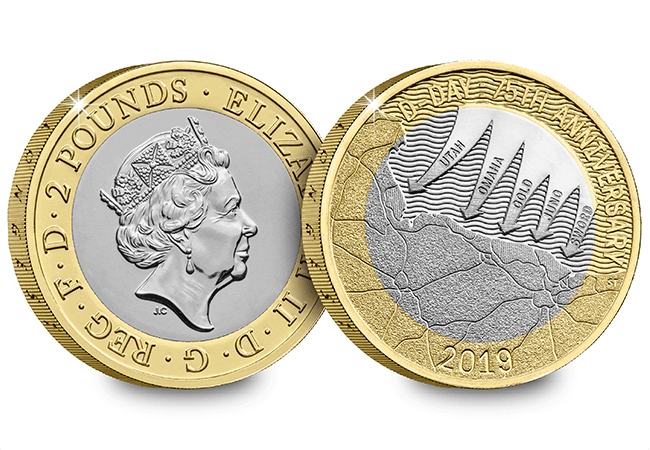 On the 6th of June 1944, the D-Day landings turned the tide of the Second World War. Allied troops landed at five different beaches codenamed Utah, Omaha, Gold, Juno and Sword for the largest amphibious assault ever launched. This gave them a position from which they could advance into Germany and paved the way for victory on the Western Front and the liberation of Europe.
Reverse designer: Stephen Taylor
£2: The 350th anniversary of Samuel Pepy's last diary entry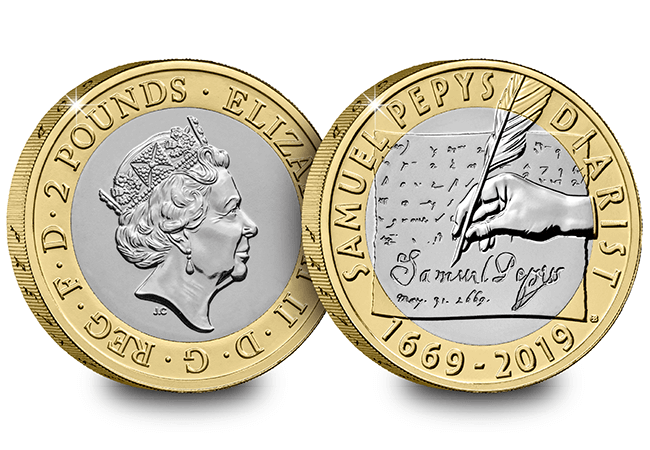 Samuel Pepy's diary entries provide detailed and personal observations from some of Britain's most significant moments in history, such as the Restoration, the Plague and the Great Fire of London. His diary has been essential for understanding these events and their impact on people at the time and give invaluable first-hand insights.
Reverse designer: Gary Breeze
£5: The 200th anniversary of the birth of Queen Victoria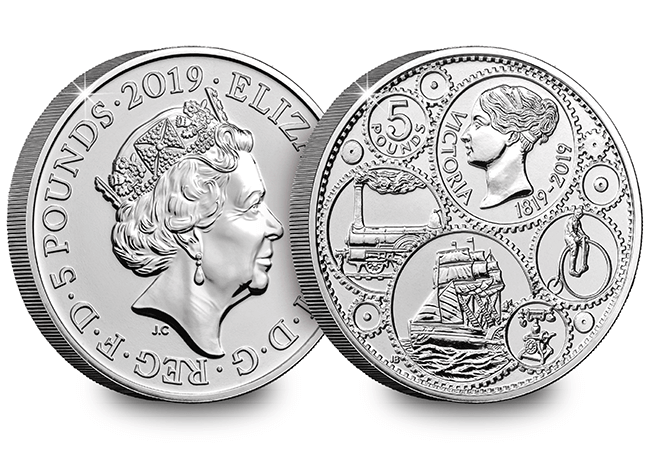 At her birth in 1819, no one knew that Queen Victoria's reign would span the rest of the century and make her one Britain's most famous rulers. She came to the throne aged just 18 years old, at a time when Britain's Empire was growing and becoming the world's pre-eminent superpower in an era of unrivalled peace and prosperity.
Reverse designer: John Bergdahl
The announcement of the year's coins is always an exciting moment for Change Checkers, particularly when the anniversaries are as significant as these.
And now we can now start looking forward to finding these new designs in our change throughout the year!
---
Own the 2019 Commemorative Coin Set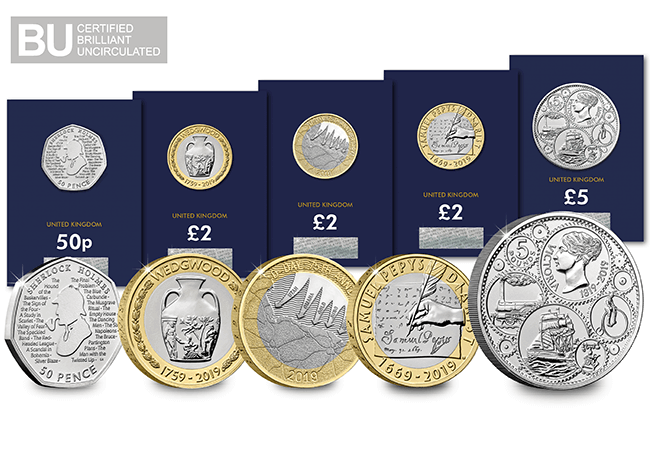 If you can't wait to find these coins in your change, be one of the first to own the complete set!
Only weeks since it was confirmed that a new £2 coin featuring Britannia will be issued later this year, we have more exciting news that another £2 coin is just around the corner.
Prior to release, any new UK coin specification is always announced by Royal Proclamation in the London Gazette, and their latest update has confirmed the unexpected new arrival.
But this is not going to be any ordinary £2 coin…
In fact this coin is unprecedented.
Although it will be legal tender and have a conventional denomination, it will be 38.6mm in diameter and struck in fine silver. Crucially, it will also be the UK's first coin to be struck with a weight of 1.5 ounces.
It will be a £2 coin which is far removed from the bi-metallic versions which we know so well.
But of course, a £2 coin with a crown-sized diameter and purity of .999 fine silver is nothing new to collectors. After all, the Silver Britannia has been issued every year since 1997 with exactly those specifications.
The key difference with this new coin is its unusual weight. A 1.5 oz coin with the diameter of a £5 coin means we can expect this new coin to be approximately 1.5 times thicker than a normal commemorative £5 coin.
A traditional design
As worded in the Gazette, the reverse design of this new Silver coin will feature;
"three Lions passant guardant, being that quartering of Our Royal Arms"
In other words, the section of the Royal Arms Shield which appears on standard issue UK £1 coins – pictured here.
So the question is – why is this new commemorative £2 coin being issued?
A brand new coin specification is normally reserved for only the most significant of occasions. The Royal Baby is due in April so could it be in anticipation of the latest addition to the Royal family?
We will find out in due course, but for now we can only speculate and your guess is as good as ours!
---
UPDATE:
The Royal Mint has confirmed that they will be issuing a commemorative coin for the new Royal Baby, but it will have a £5 denomination.
So the mystery remains as to why and when this new 1.5 oz silver coin will be released…