Agatha Christie's first novel The Mysterious Affair at Styles was published in 1920 and it kick-started the nation's love of her detective novels and murder mysteries.
In 2020, to mark 100 years since her first publication, The Royal Mint celebrates the world's best-selling novelist with this brand new 2020 UK Agatha Christie £2.
2020 UK Agatha Christie £2
David Lawrence's design of this coin pays homage to Christie's crime novels, with a piece of a jigsaw slotting into place and her signature at the bottom.
The coin also features the edge inscription '100 years of mystery 1920'-2020' to mark this very special anniversary.
Issued initially as part of the 2020 Commemorative Coin Set, this brand new £2 coin has just been individually released and is available in Brilliant Uncirculated quality for JUST £8.99 (+p&p)
Murder, Mystery, and Masterpieces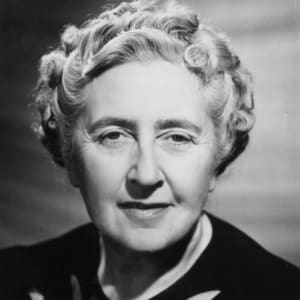 After the end of the First World War, Christie published her first novel The Mysterious Affair at Styles. This incredibly popular story introduced readers to one of Christie's most famous characters – Belgian detective Hercule Poirot*.
Writing well into her later years, Christie wrote more than 70 detective novels as well as short fiction. Her books have been made into films, television, and radio programmes. In 1971, she was made a Dame of the British Empire for her outstanding contribution to Literature.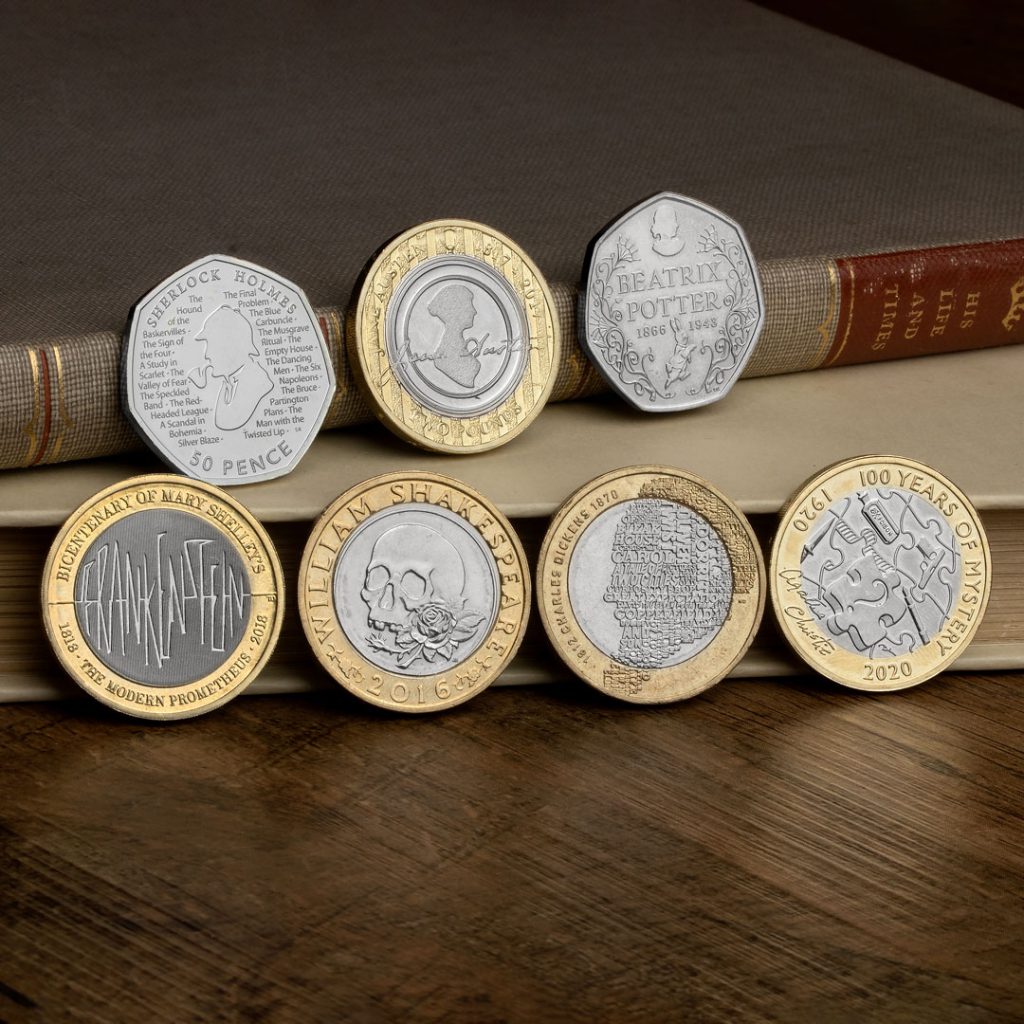 In 2020, she is celebrated once more with this brand new £2 coin and she becomes another UK author to be commemorated on UK coinage…
2016 Shakespeare £2 Series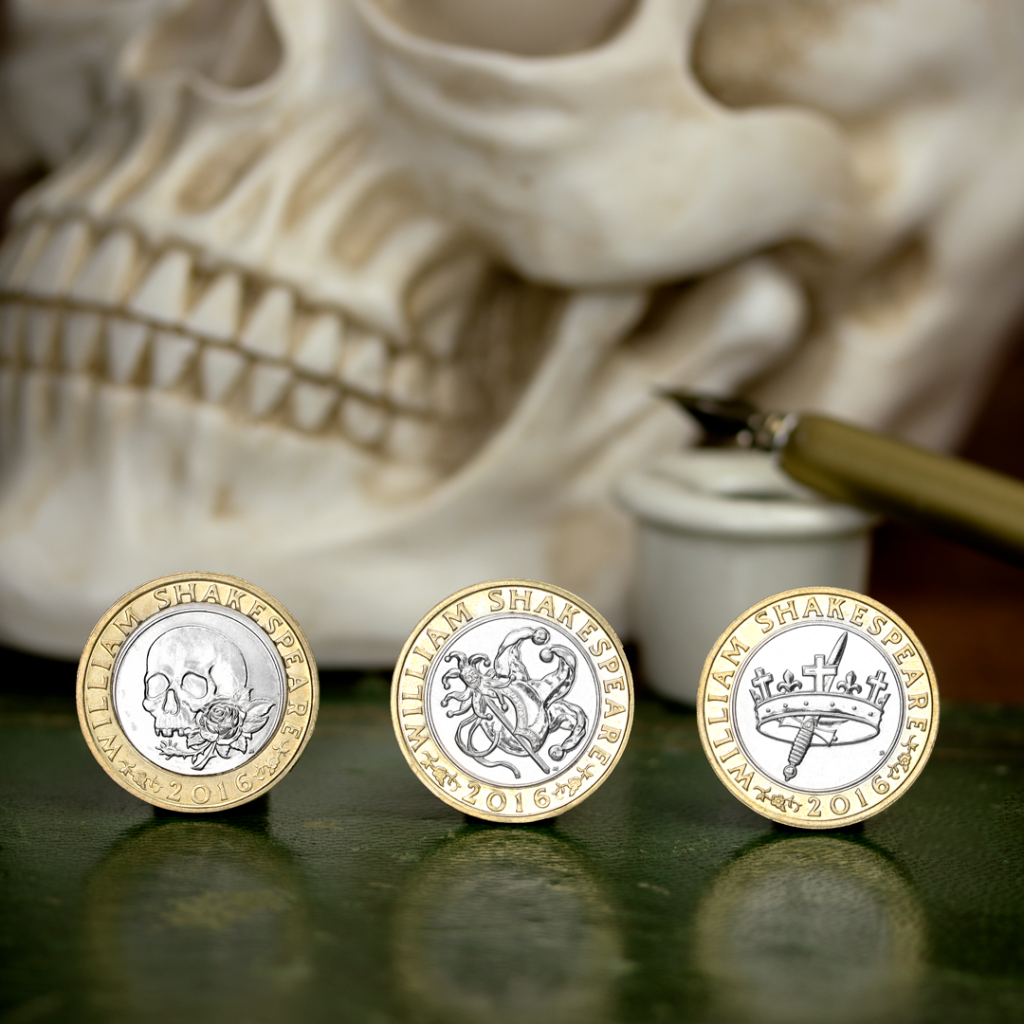 William Shakespeare is the most influential literary figure in British history and his works are an important part of Britain's cultural heritage.
In 2016, a series of three £2 coins were issued to mark the 400th anniversary since his death and to celebrate his greatest works.
Each coin's design takes inspiration from some of Shakespeare's greatest works, including Macbeth (pictured right), A Midsummer Night's Dream (central) and his most-famous love tragedy (pictured left).
All three coins entered circulation but the Comedy £2 has the lowest circulating mintage – just 4,355,000!
2017 Jane Austen
In 2017, to celebrate the life and works of one of Britain's best-loved authors, The Royal Mint issued this Jane Austen £2.
Jane Austen is one of the best-loved English novelists from the 19th century. Her novels were revolutionary and from her first novel, Sense and Sensibility, readers began a love affair with her fiction that has lasted two centuries.
Designed by Dominique Evans, a portrait of Jane Austen features on the reverse of this coin. It did not enter general circulation and was issued in collector quality only.
2019 Sherlock Holmes 50p
In 2019, to mark 160 years since the birth of Sir Arthur Conan Doyle, The Royal Mint issued this 50p coin.
The prolific writer is best known for his incredibly popular detective stories featuring the fictional Sherlock Holmes™. It is said his works revolutionised the crime genre, and despite Doyle sharing an ambivalent relationship with his famous character, Holmes' popularity resulted in Doyle becoming one of the best-paid authors of the time.
The reverse has been designed by Stephen Raw and features a silhouette of Sherlock smoking a pipe, surrounded by a few of his most-famous story titles.
It entered general circulation but the exact mintage figures have not been confirmed yet!
2012 Charles Dickens £2
The Charles Dickens £2 coin was issued by The Royal Mint in 2012 to commemorate the 200th anniversary of one of Britain's most famous and beloved writers.
His enchanting stories, vivid characters and depiction of Victorian life are widely acknowledged across the world by critics and scholars alike and his novels and short stories continue to be widely popular.
The design features Dickens' recognisable profile crafted from the titles of his most famous works and is a favourite amongst collectors.
This coin was released into general circulation and has a mintage of 8,190,000.
2018 Mary Shelley's Frankenstein £2
This £2 coin was issued by The Royal Mint to celebrate the 200th anniversary of the publication of Mary Shelley's famous novel Frankenstein; or, The Modern Prometheus.
Whilst on holiday in Geneva Mary Shelley and her poet friends, including Lord Byron and future Husband Percy Shelley, decided to have a competition to see who could write the best horror story. Out of this Mary Shelley created Frankenstein, a story about a scientist's scary act at playing God and creating life. It went on to become one of the best loved gothic novels.
The reverse of this gothic coin was designed by Thomas Doherty and features the words 'Frankenstein' in an electric gothic font. It features the edge inscription, Bicentenary of Mary Shelley's The Modern Prometheus.
It did not enter general circulation.
2016 Beatrix Potter Anniversary 50p
To celebrate the 150th anniversary of the birth of Beatrix Potter, the Royal Mint have released this 50p to celebrate Beatrix herself.
Designed by Emma Noble, the coin includes elements that celebrate Beatrix as the artist behind some of the best-loved characters in children's literature along with the nostalgic font used for the inscription.
This coin entered general circulation and has a mintage of 6,900,000.
---
We love seeing Britain's best-loved authors come to life on our UK coins, but which author coin is your favourite? Comment below!
---
Secure the 2020 UK Agatha Christie £2 to your collection today!
To secure yours in Brilliant Uncirculated quality for just £8.99 (+p&p) click here >>
* AGATHA CHRISTIE, POIROT and the Agatha Christie Signature are registered trademarks of Agatha Christie Limited in the UK and elsewhere. All rights reserved.
For decades, UK coinage has celebrated some of the most influential and significant people in British history.
However, a lack of Black, Asian and Minority Ethnic figures (BAME) being recognised on legal tender has led to campaigning for greater inclusivity.
This comes after Chancellor Rishi Sunak stated he was considering proposals from a campaign group. He has since asked the Royal Mint to come up with new designs honouring BAME figures who have served the nation – such as military figures and nurses.
Will Mahatma Gandhi be the first to feature?
It has been confirmed that the first figure to be considered in a new series of UK coins that will recognise and celebrate BAME figures on UK currency will be Mahatma Gandhi.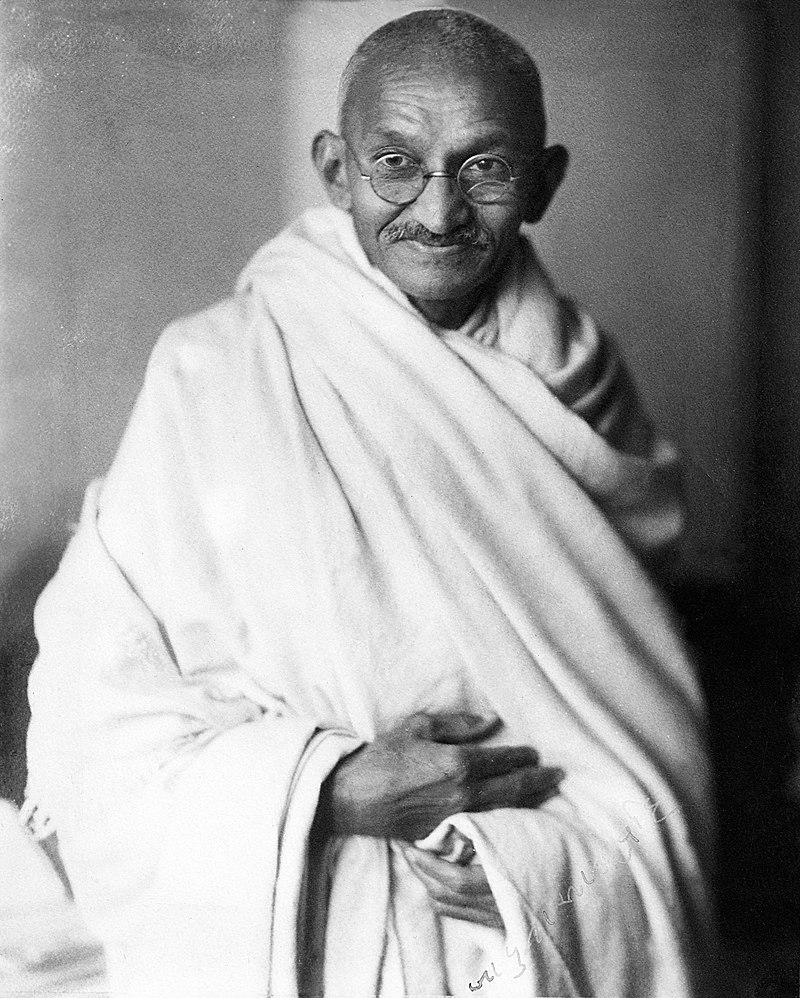 Gandhi is most well known for leading the successful campaign for India's independence, using nonviolent resistance which inspired human rights movements across the world.
However, he also has strong ties with London, having attended the University College of London law school in 1888.
Despite leaving for India after being called to the bar in 1891, he continued to return to London, right up until his final visit in 1931 where he attended a conference on the future of India.
Military nurse Mary Seacole and spy Noor Inayat Khan also being considered
The Jamaican-born business woman and nurse, Mary Seacole is being considered as one of the figures to feature on a British currency.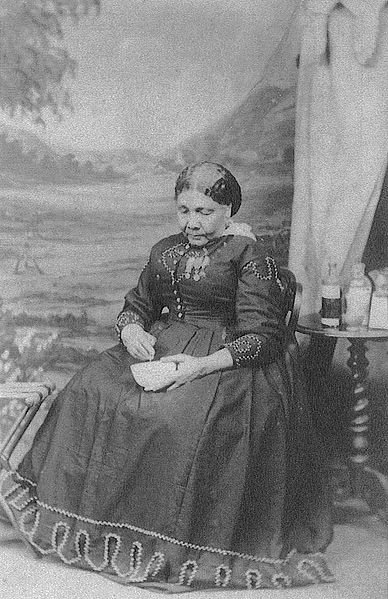 At the outbreak of the Crimean War, Seacole travelled to England hoping to join Florence Nightingale's famous team of nurses.
However, she was turned down and instead travelled to Crimea herself where she established the "British Hotel", intended to be somewhere soldiers could rest and eat.
With the location of her hotel being so close to the conflict, she was able to visit the battlefield, sometimes under fire, to nurse the wounded. Indeed, she nursed sick soldiers so kindly that they called her 'Mother Seacole'.
In May, a community hospital was named after the pioneering nurse and there is also now a trust in her name, which aims to educate and inform the public about her life, work and achievements.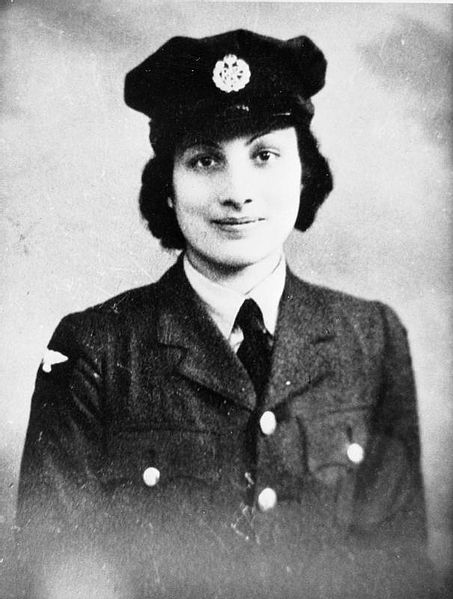 Noor Inayat Khan is also another figure in consideration. Khan was a wartime British secret agent of Indian descent who was the first female radio operator sent into Nazi-occupied France in 1943, by the Special Operations Executive (SOE).
Many members of the same network were arrested not long after entering France, but she spent the summer moving from place to place, trying to send messages back to London while avoiding capture.
In November 1943, she was sent to Pforzheim prison in Germany where she was kept in chains and in solitary confinement. Despite repeated torture, she refused to reveal any information about British Intelligence.
2014 Walter Tull £5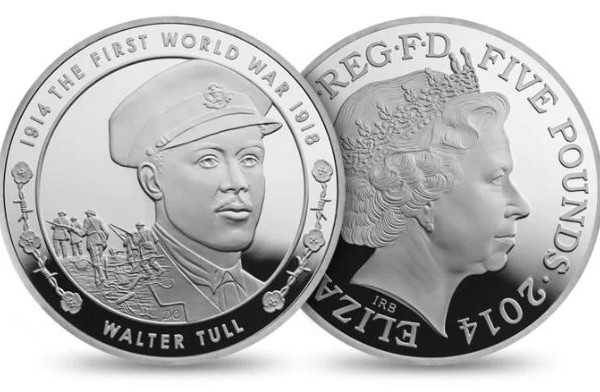 In 2014, a commemorative Silver Proof £5 coin was issued within a series of coins commemorating the First World War.
Recognised as the first black officer in Britain's Armed Forces, Walter Tull is celebrated on this £5 coin as a hero and famous figure from the war.
However, coins such as this celebrating BAME figures on UK coins are few and far between, and when issued as higher specification precious metal coins, they end up being less accessible to the general public.
Banknotes of Colour Campaign
A 'Banknotes of Colour' campaign is currently being led by former Conservative parliamentary candidate, Zehra Zaidi in efforts to see the better representation of non-white peoples on British currency.
She said, "We must tell the story of inclusive representation as it matters for cohesion and it matters in the narrative of who we are as a nation."
We look forward to hearing more as the story unfolds as Rishi Sunak considers these proposals which would recognise and celebrate BAME figures on UK currency.
---
If you're interested in coin collecting, our Change Checker web app is completely free to use and allows users to:
– Find and identify the coins in their pocket
– Collect and track the coins they have
– Swap their spare coins with other Change Checkers

Sign up today at: www.changechecker.org/app
The 2020 Annual Coin Set was officially released yesterday and we can't wait to hear which coin Change Checkers will vote as their favourite!
Have your say by voting in the poll below:
Keep your eyes peeled as we'll be revealing the winning coin soon!
*** UPDATE ***
The results are now in, and I'm pleased to announce that the Team GB 50p has been voted by Change Checkers are their favourite 2020 Annual Coin!
Did you vote for this coin? Let us know in the comments below!
---
Own the 2020 Commemorative Coin Set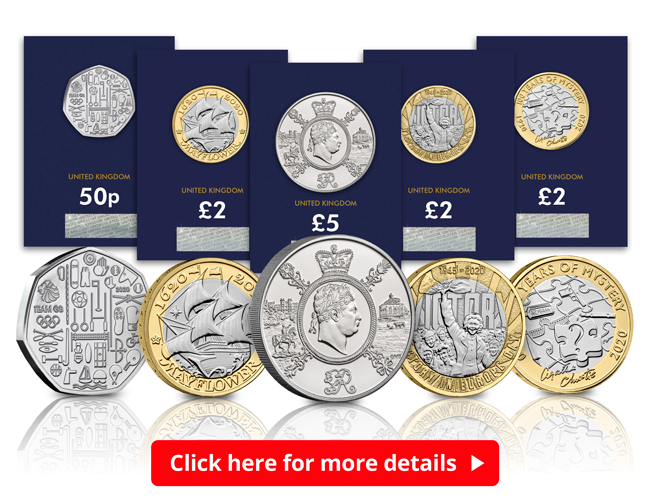 If you can't wait to get hold of these coins, be one of the first to own the complete set!