Last year we reported on the 'Dual-dated £1 coin error' where the dates on the obverse and reverse were different, one reading 2016 and the other 2017.
Now another £1 coin 'error' has been discovered and this one is very interesting indeed! It would appear that a 12-sided £1 coin die has been struck on an old round £1 coin blank.
In the past week alone, we've seen 3 examples of this 'error' coin.
The first was from a Change Checker from Burnham-on-Sea who told us that they'd listed the coin on eBay. After receiving 22 bids, the coin sold for £205!
Another coin is being sold at an auction in London on Wednesday 21st February. The auctioneers, 'Timeline', who are based in Berkeley Square, describe the coin as an "exceptional modern rarity" and go on to say "…the coin is sure to attract much attention when it crosses the block later this year".
The third report we have received was this morning from another Change Checker. Our advice to anybody who believes they have found this coin, or any other 'error' coins, would be to send the coin off to The Royal Mint Museum who offer a free verification service.
They will send the coin back to you with confirmation of their findings, which can take a few weeks depending on demand for the service. Here is the address:
Dr Kevin Clancy, Director of the Museum, The Royal Mint Museum, Llantrisant, Pontyclun, CF72 8YT
As yet, we have not seen proof that these coins have been verified by The Mint, so whilst they look genuine we will keep an open mind for the time being.
As usual, if you think you have found one of these coins or any other interesting 'errors', we'd love to hear from you.
The Royal Mint have just released the mintage figures for the 2016 dated circulation coins.
These are the new figures:
WW1 Army £2 – 9,550,000
Shakespeare Comedies £2 – 4,335,000
Shakespeare Histories £2 – 4,615,000
Shakespeare Tragedies £2 – 5,695,000
Great Fire of London £2 – 5,135,000
Britannia £2 – 2,925,000
Peter Rabbit 50p – 9,600,000
Beatrix Potter 50p – 6,900,000
Jemima Puddle-Duck 50p – 2,100,000
Mrs Tiggy-Winkle 50p – 8,800,000
Squirrel Nutkin 50p – 5,000,000
Team GB 50p – 6,400,000
Battle of Hastings 50p – 6,700,000
We'll have a closer look at these figures and come back with a full analysis on Monday with updated graphs so stay tuned!
The Royal Mint has denied claims that there are already counterfeit 12-Sided £1 coins in circulation after a charity worker pointed out discrepancies between two coins.
Roy Wright, a charity worker from Surrey, was shocked when he noticed a few subtle differences between the two £1 coins, leading him to believe he had found the 'first fake £1 coin'.
Impossible to counterfeit
Despite the new £1 coins being designed to be 'impossible to counterfeit', Mr Wright suggested that coin he had was heavier, had no hologram and the Queen's head was positioned more to the left. Not only that, the edges were more rounded and there was no detail on the head of the thistle.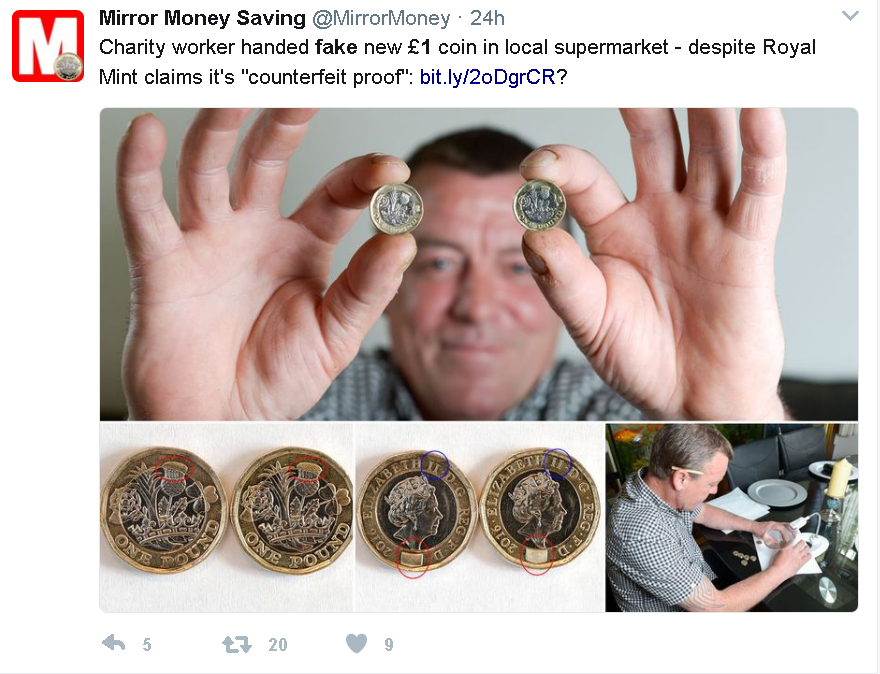 A genuine coin with a production fault…
Whilst the story has caused some excitement in the press and The Royal Mint has not yet been able to examine the offending coin, they are confident it is not a fake, but instead a genuine coin with a production fault.
Despite tight quality controls being in place, The Royal Mint has said that variances are likely to occur during the striking process in a small numbers of coins. Whilst such mis-strikes are relatively unusual and can be numismatically interesting, they are not the same as genuine errors.
Rumours of a genuine error in circulation
Unconfirmed rumours have also been circulating about some new £1 coins featuring two dates. There are reports of some coins having 2016 on the obverse and 2017 engraved in the micro lettering of the reverse.
Although, we are yet to see an example, if this is true, it would have to be the result of mis-matched 2016 and 2017 dies being used during production – a genuine error or "mule".
Of course, it was the use of an incorrect die that resulted in the most famous modern "error" – the "undated 20p coin", now regarded by many as the Holy Grail of change collecting. You can read more about the story of the undated 20p here.
If you've #foundapound in your change, have you spotted anything strange about it?