Yesterday the Treasury announced that the UK's 12 sided £1 coin would be going global, as overseas territories and Crown Dependencies will soon be able to create their own bespoke versions of the coin to replace the older £1 currently in circulation.
In 2017, the new Nations of the Crown 12 sided £1 made its UK debut, described by the Government as "the most secure of its kind in the world" due to the new design, featuring intermittent milled edges and micro-engraved denomination and year date which protects against criminals producing counterfeits copies. Before this, around 1 in every 30 round pound coins were in fact fakes.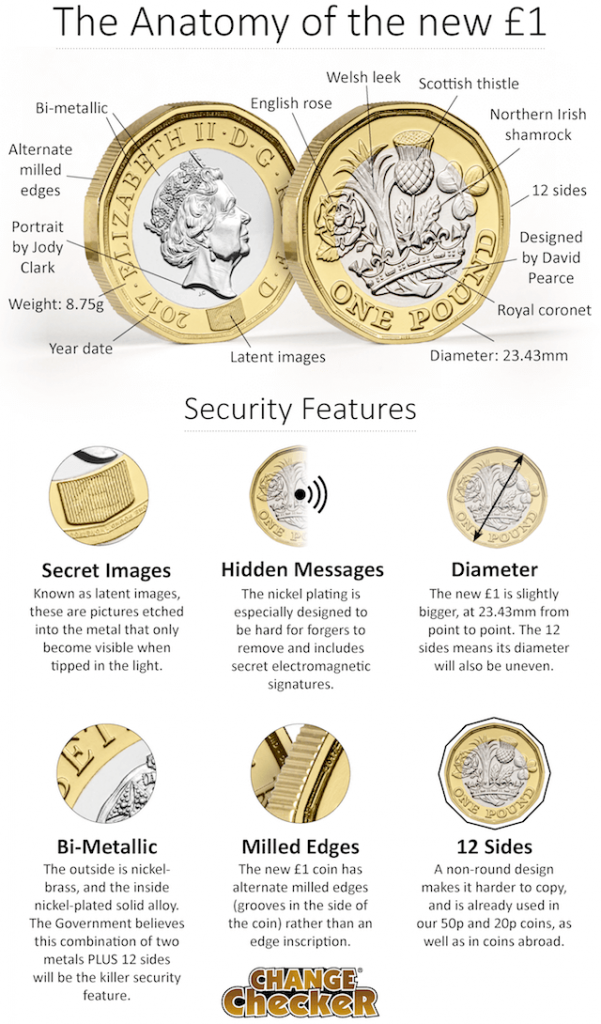 As many territories and dependencies currently circulate their own version of the older pound coin, they will now be able to protect their currency with this secure cutting edge technology. These coins will be produced by The Royal Mint to the same security standards as our UK coinage to thwart counterfeit activity.
The Nations of the Crown £1 was designed by 15-year-old David Pearce following a public competition in 2015. The design is made up of the English rose, the Welsh leek, the Scottish thistle and the Northern Irish shamrock emerging from one stem within a royal coronet to represent the four constituent countries of the United Kingdom.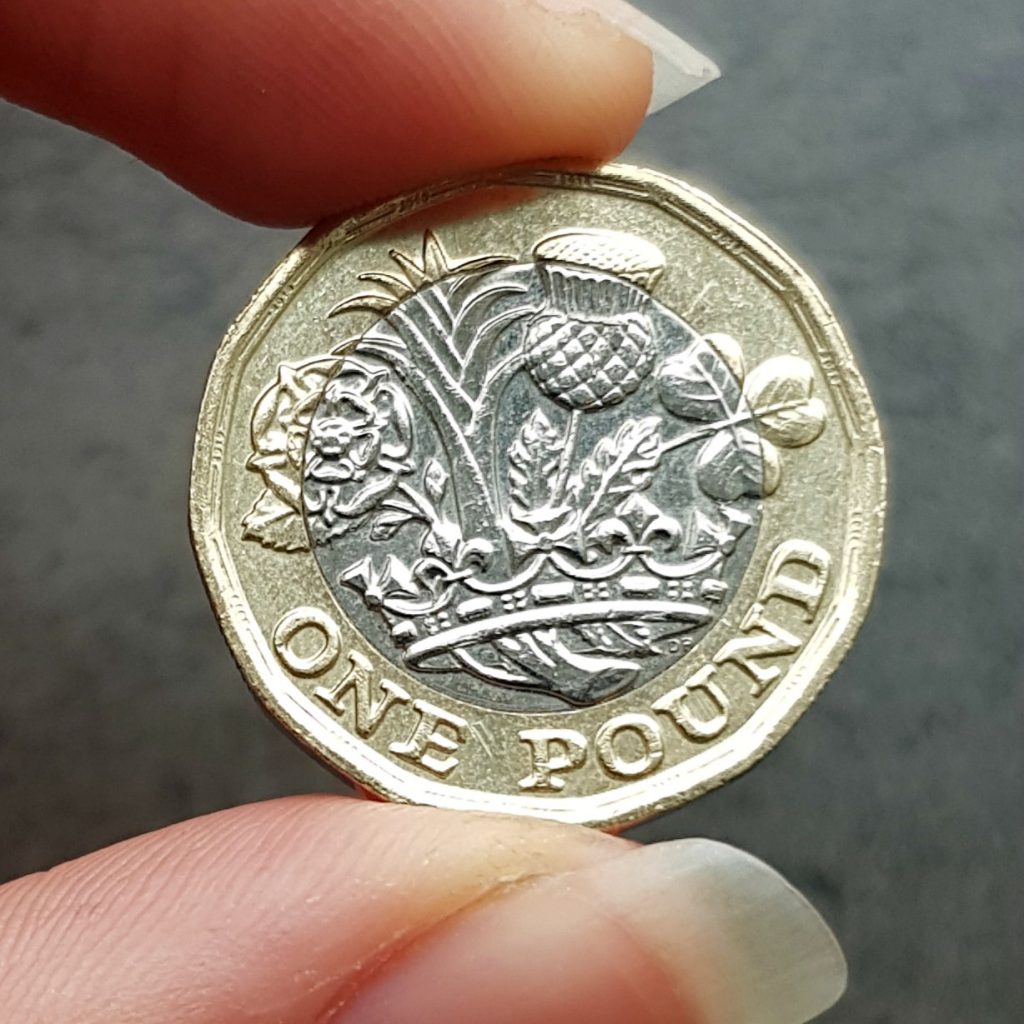 The Treasury expects the new versions struck for overseas territories and Crown Dependencies to feature images celebrating their heritage, history and culture to symbolise the close links with the UK.
Jersey, Guernsey and the Isle of Man all represent Crown Dependencies of the UK, whilst the UK overseas territories include Akrotiri and Dhekelia; Anguilla; British Antarctic Territory; Bermuda; British Indian Ocean Territory; British Virgin Islands; Cayman Islands; Falkland Islands; Gibraltar; Montserrat; St Helena and Dependencies (Ascension Island and Tristan da Cunha); Turk and Caicos Islands; Pitcairn Island; and South Georgia and South Sandwich Islands.
Robert Jenrick, Exchequer Secretary to the Treasury, said:"These new designs will reflect the rich and varying British communities across the world."
Lord Ahmad, the overseas territories minister, said: "As well as helping to boost their identity, these new coins will also bring increased security to each of these economies."
So Change Checkers from overseas territories and Crown Dependencies can look forward to the new coins being released soon, but what design do you think should be featured for each? Let us know in the comments below.
---
Is this the last Isle of Man Round Pound?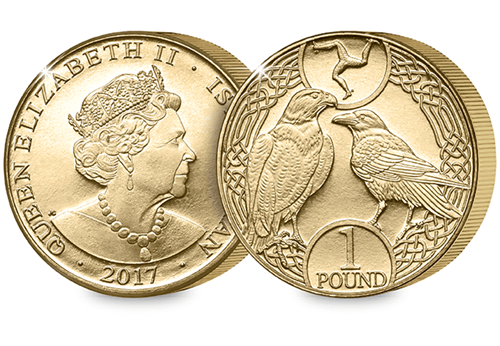 In 2017 the Isle of Man released this Raven and Falcon Uncirculated £1 Coin and following the Treasury's update, this could now be the very last Isle of Man Round Pound!
I can't help but get a bit excited at this time of year, and now that my Change Checker Advent calendar is counting down to Christmas, I really can't wait for the big day!
But what's got me even more excited is to see how Santa's little elves have been busily working away this year to release the most wonderfully festive coins in time for Christmas.
From all across the world we've seen renowned Mints issue beautiful Christmas coins that would take pride of place in any collection and I for one would certainly treasure forever (here's hoping there's one for me under the tree this year!).
I've put together a list of some of my favourite 2018 Christmas coins from around the world that I'd like to share with you, starting of course with the UK Nutcracker £5.
2018 UK Nutcracker £5
We all know that £5 coins are the ultimate collector's piece, so I really enjoyed seeing this year's festive £5, the Nutcracker.
The 2018 Christmas £5 coin features a magical design of an enchanting Nutcracker scene, by acclaimed engraver, Harry Brockway. According to legend, 'Nutcracker' represents strength and power and serves as a guardian – the perfect protector to watch over your family this Christmas time.
This is actually only the second time ever that The Royal Mint has released a Christmas £5 coin, and I'm sure that collectors will want to stay on top of this new tradition and make sure they don't miss any of these coins for their collection, starting with last year's Christmas Tree £5.
2018 UK The Snowman 50p
I love The Snowman Christmas story and so it came as no surprise to me to see that this coin was a favourite this year, with both Silver Proof and Gold versions completely SELLING OUT on the first day of issue!
Issued by The Royal Mint to celebrate the festive season, The Snowman 50p marks the 40th anniversary of the publication of Raymond Briggs' much-loved festive tale and was designed by Natasha Ratcliffe to depict the boy and the snowman flying through the night sky above Brighton Pier.
The Isle of Man has previously issued Christmas 50ps featuring The Snowman and these now sell for £100's on the secondary market, which I'm sure would have added to the collectability of this first ever UK Christmas 50p.
2018 Isle of Man Wren £2
You might be familiar with the Isle of Man Christmas 50p coins, but this Christmas a very special £2 coin has been issued featuring a festive wren design.
Hunt the Wren, as it is known on the island has become one of the most popular yet more unusual Manx traditions in practice today, although it actually dates back to Pagan times! This year, the Boxing Day tradition has been celebrated on a £2 coin and only a limited quantity of these coins will enter circulation on the Isle of Man.
Typically, the mintages for Isle of Man coins are much lower than UK coins, with none of the previous Manx Christmas 50ps exceeding 30,000!
2018 Canada 3D Snowball Fight 50 Cents
We all love a snowball fight! Chances are though that in the UK we won't see quite as much snow (if any) this year as Canada. But don't despair, as this wonderful Canadian 50 Cent coin allows you to bring to life the magic of a snowball fight on an innovative 3D coin!
The Royal Canadian Mint is renowned for their forward thinking technology, and this Christmas they have used lenticular printing to create artist Tony Bianco's fun-filled design with an illusion of depth, which actually appears to move as the coin is viewed from different angles – so watch out for those snowballs!
It really put a smile on my face when I came upon this coin in my research, and with a mintage of just 20,000 I'm sure Canadian Change Checkers will be eager to add this coin to their collection.
2018 Australia Looney Tunes Christmas Star Shaped $1
When it comes to dressing the Christmas tree this year, I'm sure Australian Change Checkers will be thrilled with this exquisite star shaped 99.99% Pure Silver $1 coin, which comes with protective casing that can be hung as a decoration.
The Perth Mint has produced some fantastic star shaped Christmas coins over the past few years and this year's coin is no exception. One of the best known animated characters of all time, Buggs Bunny and his girlfriend Lola are celebrated in colour printing for this vibrant and festive Looney Tunes design.
This coin is actually legal tender in Tuvalu (a small island off Australia), but I certainly wouldn't be spending it if I found one in my stocking!
2018 New Zealand Disney Silver $1
2018 must be the year for animated characters, as the new $1 from New Zealand features the iconic Mickey Mouse and his friends for this Disney Christmas themed 999 Fine Silver coin.
This is the fifth annual release from the New Zealand Mint and has been so incredibly popular this year that it has in fact sold out completely! Although with such an appealing theme and a very low mintage of just 10,000 this comes as no surprise to me.
Like the Australian Christmas coin, this $1 also comes in a special presentation case to be hung as a decoration – just imagine creating your very own tree filled with international Christmas coins!
I'm sure you'll agree that wherever you are in the world, there's something extra special about a Christmas coin which brings everyone together at this time of year. Whether or not you're a dedicated collector, or simply enjoy Christmas collectables, these coins are impossible to resist!
---

Secure the perfect numismatic gift this Christmas!
With Christmas just around the corner, check out our charming selection of festive commemoratives that could make the perfect gift for friends or family, or as a special Christmas treat for yourself… we won't tell if you don't.
Every Boxing Day on the Isle of Man, communities come together across the island to dance and sing in the streets around "the king of all birds", the wren, who is paraded around on a decorative pole.
Hunt the Wren, as it is known on the island, has become one of the most popular yet more unusual Manx traditions in practice today.
The practice dates back to Pagan times and is thought to have descended from Celtic mythology and may have been influenced by Scandinavian Viking settlers during the 8th and 10th centuries.
Historically groups of boys dressed up in straw outfits, known as 'wren boys' would gather on St Stephen's Day (Boxing Day) to hunt a sacred wren bird. They would then tie the bird to the top of a decorative pole and visit different houses, singing to receive money or presents for their display. Those who were generous and gave money to the boys would receive a feather from the bird as a thank you, and the collected money was used to host a village dance later in January.
Today the Hunt the Wren tradition is still a popular part of the islands seasonal festivities, and many communities come together to dance and raise money for charity. A replica of a wren is used nowadays instead of harming any real birds, and ribbons which are used to decorate the pole are handed out as good luck instead of the bird feathers.
This unusual community tradition is so special on the Isle of Man that it has been celebrated on a brand new £2 coin and only a limited number of these coins will enter circulation on the island.
But it's not the first time that the Hunt the Wren tradition has been celebrated on a coin, it was also featured on a 50p coin 24 years ago in 1994.
So to celebrate this new festive coin release from the Isle of Man, what better reason is there to take a look back at some of the festive designs issued on Isle of Man coinage over the years.
Here are a few of our favourites which show off how exciting Isle of Man coinage can be…
Just yesterday, the UK Royal Mint issued the first ever Christmas themed 50p coin to celebrate the 40th anniversary of the publication of Raymond Briggs' much-loved festive tale The Snowman™. And it's safe to say the demand for the much anticipated coin has been overwhelming. It has been so popular in fact that the Silver Proof and Gold versions of the coin have already completely SOLD OUT.
But the Isle of Man have been way ahead of the UK and have already issued a few 50p coins over the years featuring the much-loved children's character the Snowman. Issued in 2003, the first coin to feature the Snowman and James, the hero of the story, holding hands and dancing had a tiny mintage of just 10,000. Although not many of these coins are available on the secondary market, if you did want to add one to your collection, you'd be looking at parting with a minimum of £200!
The same design was issued in 2008 although these coins were not struck for general circulation. Fast forward to 2014 and the coin features the Snowman and James hugging with a Christmas tree in the background. As we already know, this coin regularly sells for 80 times its face value on secondary market selling sites such as eBay.
The Isle of Man have issued a wide range of Christmas themed 50ps over the last 40 years and it's safe to say that any of these festive 50p coins would definitely be an envious addition to anyone's collection. The mintages for Isle of Man festive 50ps have never exceeded 30,000 most likely due to the island having a population of less than 85,000 so it's no wonder the coins are so sought-after.
Let us know your favourite design ever issued on a festive coin and whether you've been able to add it to your collection.
---
Own the first Festive £2 coin from the Isle of Man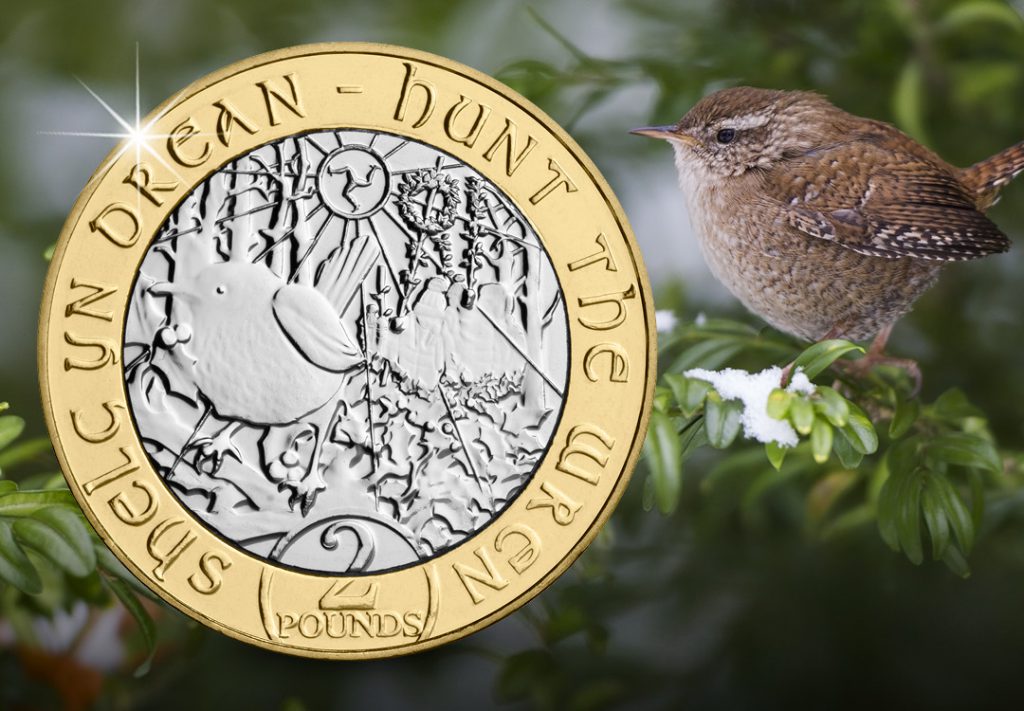 You can add the 2018 Isle of Man Hunt the Wren £2 coin to your collection here >>
---
If you're interested in coin collecting, our Change Checker web app is completely free to use and allows users to:
– Find and identify the coins in their pocket
– Collect and track the coins they have
– Swap their spare coins with other Change Checkers

Sign up today at: www.changechecker.org/app