Have you heard about the coins with THREE different dates?
It was approved by Queen Elizabeth II in 2022
It was re-approved by King Charles III in 2023
It features '1922' as a date on the obverse
And if these circumstances weren't unusual enough, the coins releases also missed the 100th anniversary they were commemorating.
These three dates can be seen on the brand new Tutankhamun 50p coins. If you can't wait to add them to your own collection, click here >>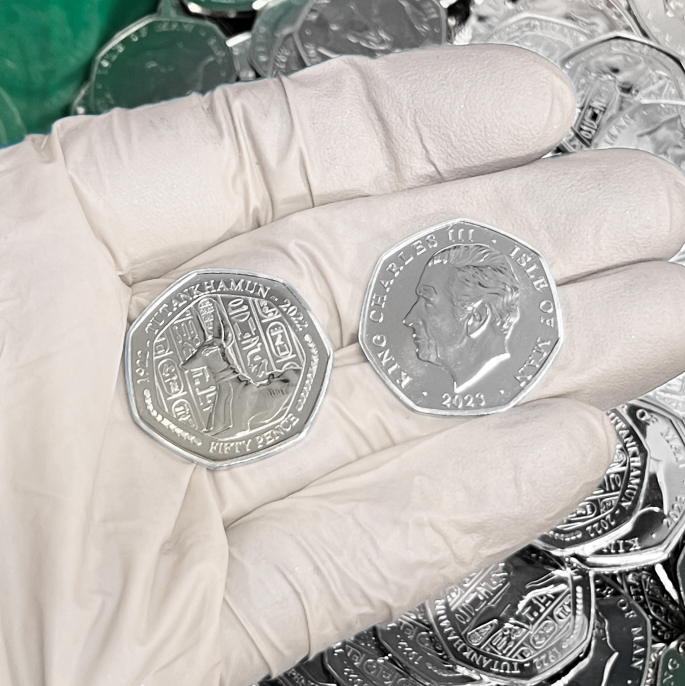 Otherwise, continue reading to discover how this happened and why the coins are set to become the most collectable coins in years…
How do the coins have three dates?
In 1922, Howard Carter uncovered a step in the Valley of the Kings, Egypt.
That step ended up being the start of a staircase that led to a tomb – the tomb of Tutankhamun.
To mark the anniversary of the incredible discovery, a brand new set of 50p coins were authorised in 2022 by the Isle of Man.
These 50ps then went to Buckingham Palace for approval.
The Queen approved the coins, but that ended up being one of her last official acts before her sad passing on 8 September 2022.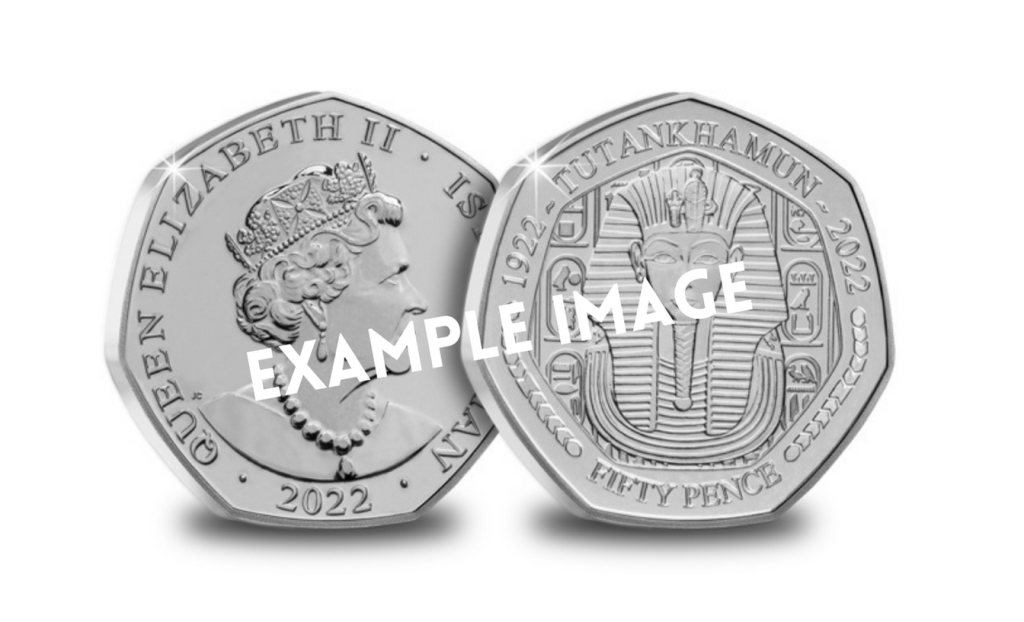 Her death put all new coins on hold.
Mints around the world halted production to observe the mourning period and await palace instructions.
When this came, the Isle of Man was instructed to re-submit an application to the Palace, this time for the approval of His Majesty King Charles III.
The problem? This was late in 2022. Would the Isle of Man get approval from the King before the year of the anniversary passed?
In short, no.
Palace approval came through in January 2023.
The coins features the same reverse, showing 1922 and 2022 commemorating the centenary anniversary.
But the obverse – now featuring the first British Isles King Charles III portrait – carries the year 2023.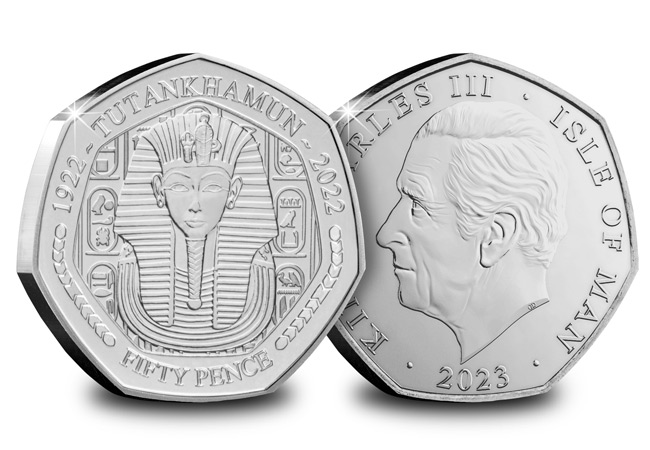 So that's how the coins came to have three dates on it. But what does this mean for it's collectability?
The power of strange…
Quirks like this are very few and far between… In fact, i've never heard of a coin like these.
The closest example came about due to the Coronavirus pandemic in 2020.
When the Olympic Games were postponed from 2020 to 2021 due to the pandemic, it led to a design quirk that created a collecting frenzy for a particular 50p.
Issued in the 2020 Annual Coin Set, the Team GB 50p was issued to mark our athletes participation in the upcoming Tokyo Games.
So, when the games were postponed, so was this coin's individual issue.
Eventually issued in 2021, this 50p become one of just a handful of coins to feature a dual-date – 2020 on the reverse and 2021 on the obverse.
The coin sold out in a flash.
So considering the popularity of the dual-dated Team GB 50p, you can understand why coins with THREE dates, such as the Tutankhamun 50ps, are a must-have.
If you haven't yet got your hands on these coins with three dates on them yet, head to the Westminster Collection website here to view their remaining stock >>
Discuss the latest coin releases in the Change Checker Community Group
Share, learn & swap with the Change Checker Community – the only official Change Checker Facebook group.
Royal Australian Mint and Perth Mint are set to commemorate Queen Elizabeth II with special memorial obverses, whilst their King Charles III portrait awaits approval:
"In the coming months the Australian Government will announce details of… an effigy of King Charles III for all Australian coins" – Royal Australian Mint.
Royal Australian Mint's Queen Elizabeth II Memorial Obverse Design
The first coinage featuring His Majesty's effigy are expected to be issued in late 2023.
Until then, Royal Australian Mint have issued a final commemorative coin design featuring Queen Elizabeth II effigy.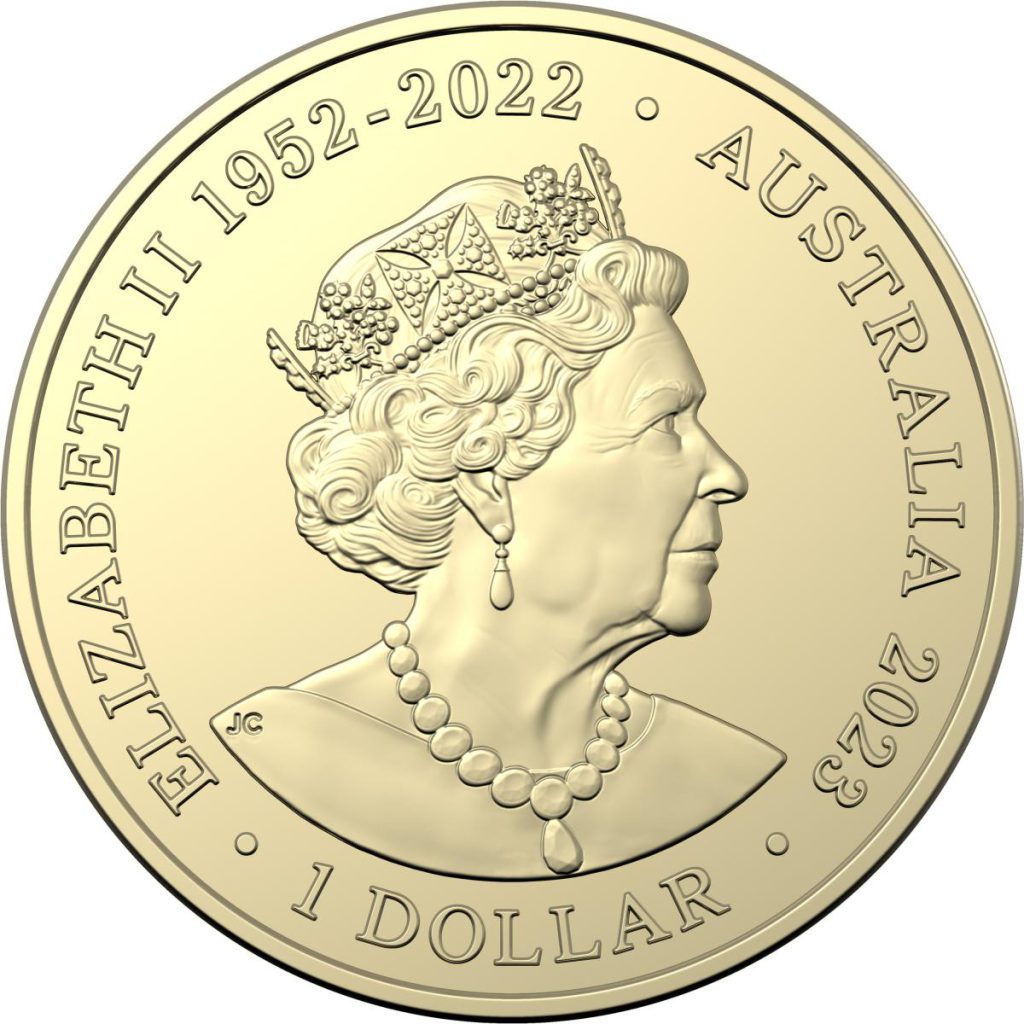 Royal Australian Mint's Queen Elizabeth II Memorial Obverse will be used on collectable and investment coins starting from 01.01.2023
Six effigies of Her Late Majesty have appeared on Australian coins but the new memorial design will feature the Queen's years of reign as an inscription – "Elizabeth II 1952-2022".
The Memorial Obverse will also feature on coins issued by The Perth Mint in Western Australia.
Queen Elizabeth II Memorial Coins by The Perth Mint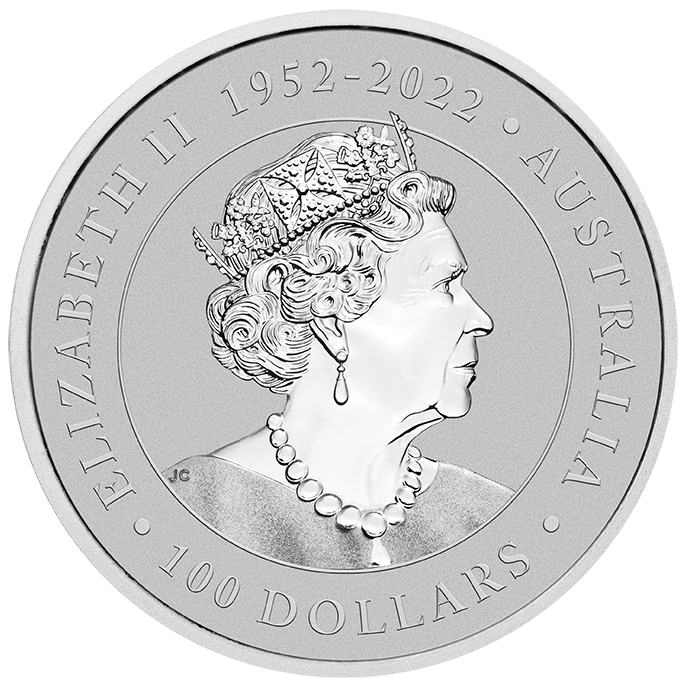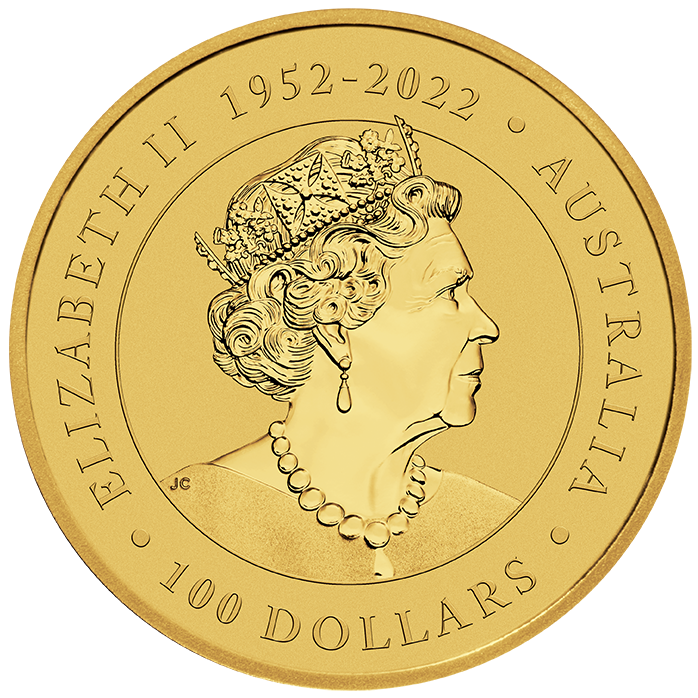 The Australian Kangaroo 2023 Gold, Silver and Platinum Bullion Coins will be The Perth Mint's first releases featuring this memorial obverse.
Following the bullion kangaroos, the memorial obverse will be used on select Australian legal tender coins too.
Whilst we eagerly anticipate the reveal of Australia's King Charles III effigy, we've seen His Majesty's portrait revealed on our UK coins and banknotes.
UK King Charles III Coin Obverse Effigy
The first effigy of King Charles III first appeared on a UK 50p earlier in 2022, commemorating Queen Elizabeth II.
The coin has since entered circulation, with 4.9 million coins currently out there to find.
This obverse also featured on the Queen Elizabeth II Memorial £5 coin but we're yet to see it on our lower denomination and £2 coins.
However, some of the first 2023-dated UK coins have been confirmed, featuring His Majesty's portrait, so we can certainly start getting excited! Find out more here >>
King Charles III Portrait Revealed on UK Banknotes
His Majesty's portrait will appear on the front of UK banknotes from mid-2024.
There will be no changes to the existing designs which means we've all got a fantastic opportunity to find a new re-issued version our favourite banknote!
Taking guidance from the Royal Household, the new banknotes will only be issued to replace worn Queen Elizabeth II notes. So, the two monarchs' portraits will co-circulate for some time!
Find out more and discover which serial numbers you should look out for >>
---
Are you a collector of Australian coinage? Let us know in the comments if you're exciting for the new King Charles III portrait to be revealed!
---
Find and store your King Charles III 50p alongside the first King Charles III £5 coin
Get ready to start your hunt for the new 50p in your change. Secure your Change Checker King Charles III First Effigy Collecting Pack today!
Serving as Canada's Head of State for 7 decades, Queen Elizabeth II has been commemorated on a new $2 coin.
Just shy of 5 million $2 coins entered circulation in December 2022, giving Canadian collectors a special way of remembering Her Majesty.
When you consider Canada's population is over 38 million, you'll appreciate just how sought-after this coin is.
I've successfully secured a limited allocation of these unique coins with my supplier in Canada.
However, you'll need to act fast if you don't want to miss this chance to add this coin to your collection.
Get your 2022 Canadian $2 Honouring Queen Elizabeth II for just £4.99, by clicking here >>
The obverse features the portrait of Queen Elizabeth II, created by Susanna Blunt and the reverse features the traditional $2 Polar Bear design by Brent Townsend.
But, what makes this $2 coin extra special is the outer ring…
The outer ring features a striking black nickel finish and is reminiscent of a mourning band, in a touching tribute to Her Majesty.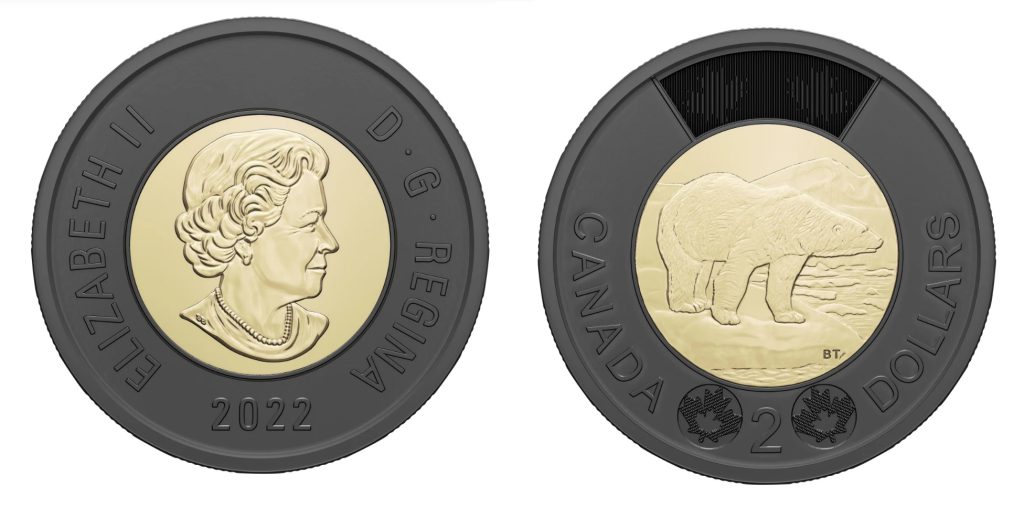 We won't be able to find this coin in our UK change so if you're wanting to secure this sought-after coin for collection, you'll need to click here.
In December, 4.9 million UK Queen Elizabeth II Memorial 50ps also entered circulation in the UK.
9.6 million in total are allocated for circulation, meaning 1 in 70 of us will be able to find one!
To help increase your chances of finding one in your change, we created an interactive map of where the coins were being found. We've tracked it up and down the country thanks to your help!
Queen Elizabeth II memorial coins are now some of the most sought-after collectables out there.
With such limited stock available, demand for these Canadian $2 coins is sure to exceed supply.
Own the 2022 Canadian $2 Honouring Queen Elizabeth II
Secure your Queen Elizabeth II Canadian $2 coin for just £4.99 (+p&p) here >>