Coins from Crown dependencies and overseas British territories can sometimes make an unexpected appearance in our change.
Sure, this can be an annoyance as technically the coins are not legal tender in the UK, but from a collecting point of view, new and interesting designs are always a bonus!
In our latest coin hunt competition, we went head to head with 10 YouTube Coin Hunters for a 50p coin hunt and it was amazing to see how many of the teams stumbled across coins that shouldn't be in our change…
Here are some of the unexpected coins we came across:
2012 Bailiwick of Jersey 50p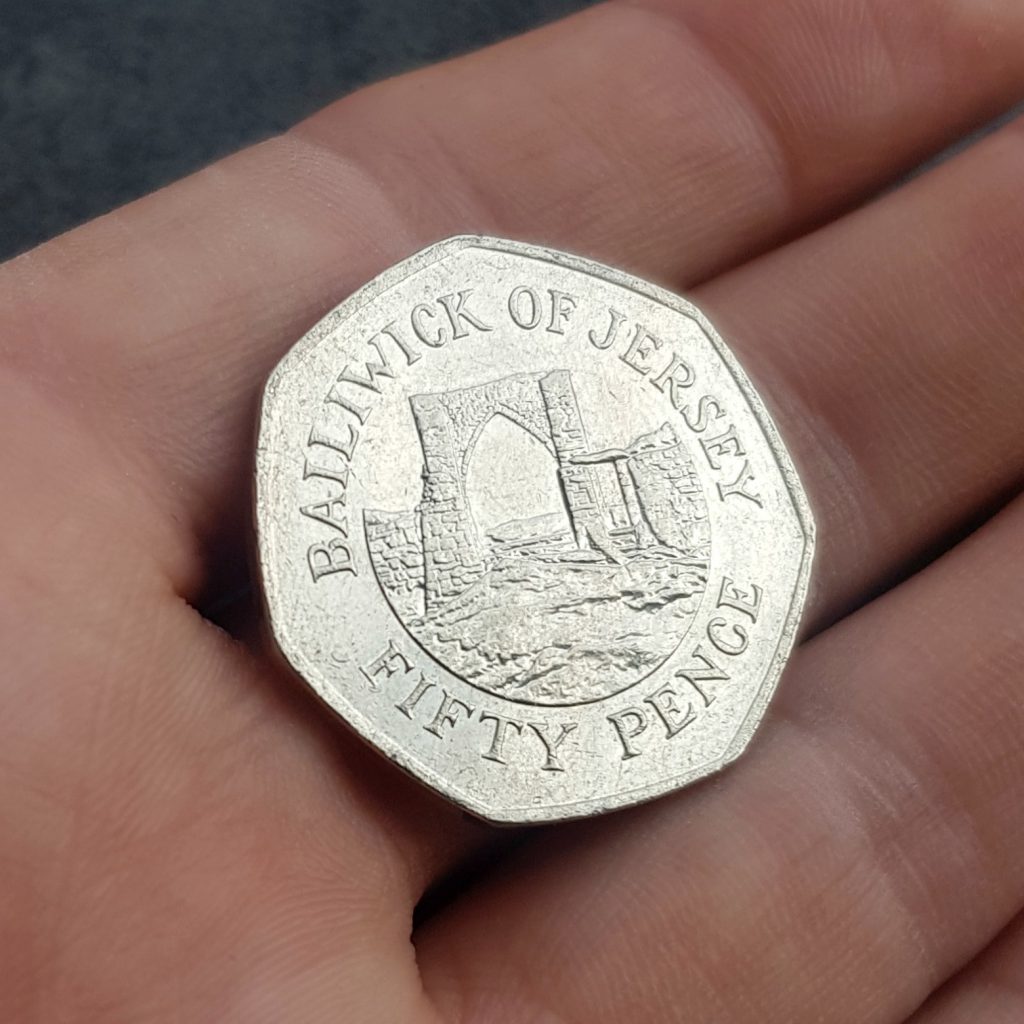 Yasmin and I were lucky enough to come across this 2012 Bailiwick of Jersey 50p in our coin hunt.
The coin features Jersey's Grosnez Castle on the reverse surrounded by the lettering 'Bailiwick of Jersey'. The obverse features the Arnold Machin engraving of Queen Elizabeth II.
Interestingly, 2012 dated Bailiwick of Jersey 50p coins were also struck in 2013 and 2014, giving this particular coin a total mintage of 365,000.
Jersey's coinage is not legal tender in the rest of the UK, but the lower mintage figures of the island's coins compared to the UK makes them particularly scarce and collectible, so it was a great surprise to find a Jersey coin amongst our 50ps!
Jersey's coin mintages are significantly lower because of their smaller population of only 100,000.
2012 Guernsey Freesia Flowers 50p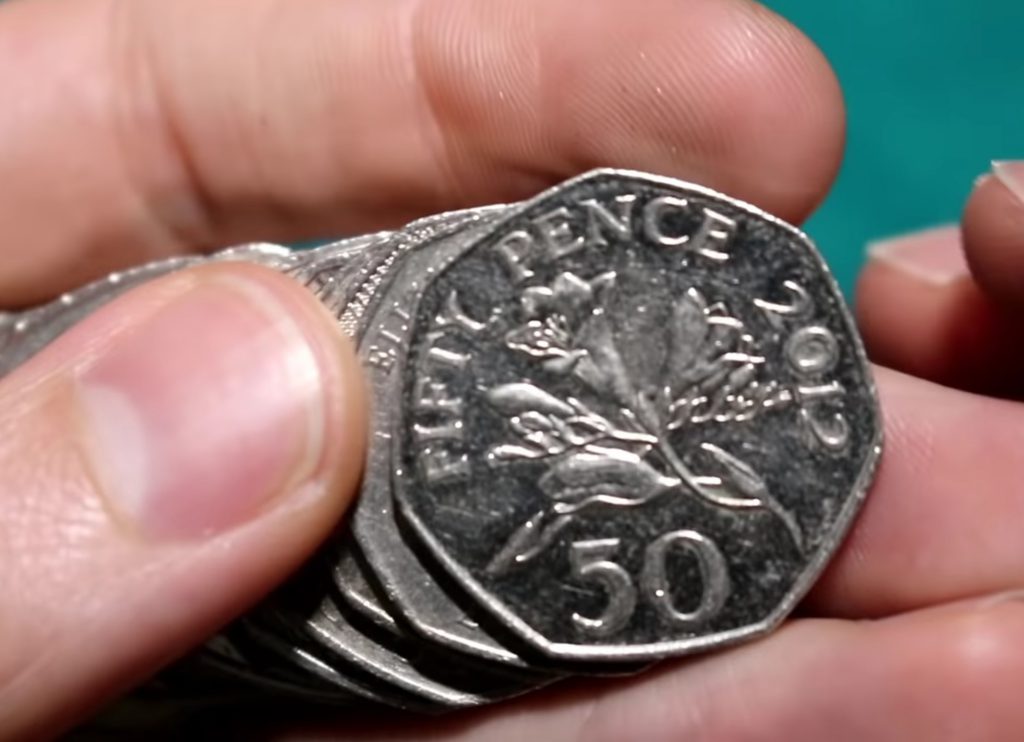 During his coin hunt, Christopher Collects managed to find a 2012 Freesia Flowers coin from Guernsey.
This beautiful 50p features two crossed freesia flowers on the reverse design, however it is the obverse design which is particularly special.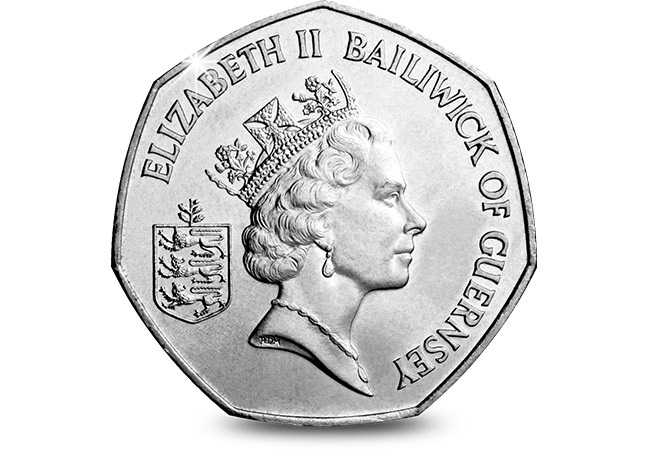 The obverse features Raphael Maklouf's portrait of Queen Elizabeth II with the lettering 'Bailiwick of Guernsey' above, and also a small Guernsey Coat of Arms to the left.
This addition on the obverse makes the Guernsey 50p stand out when compared to UK 50p coins.
We don't know the mintage figures for this coin, however it will likely be fairly low when compared to UK figures, due to Guernsey's smaller population.
2018 Isle of Man Imperial State Crown 50p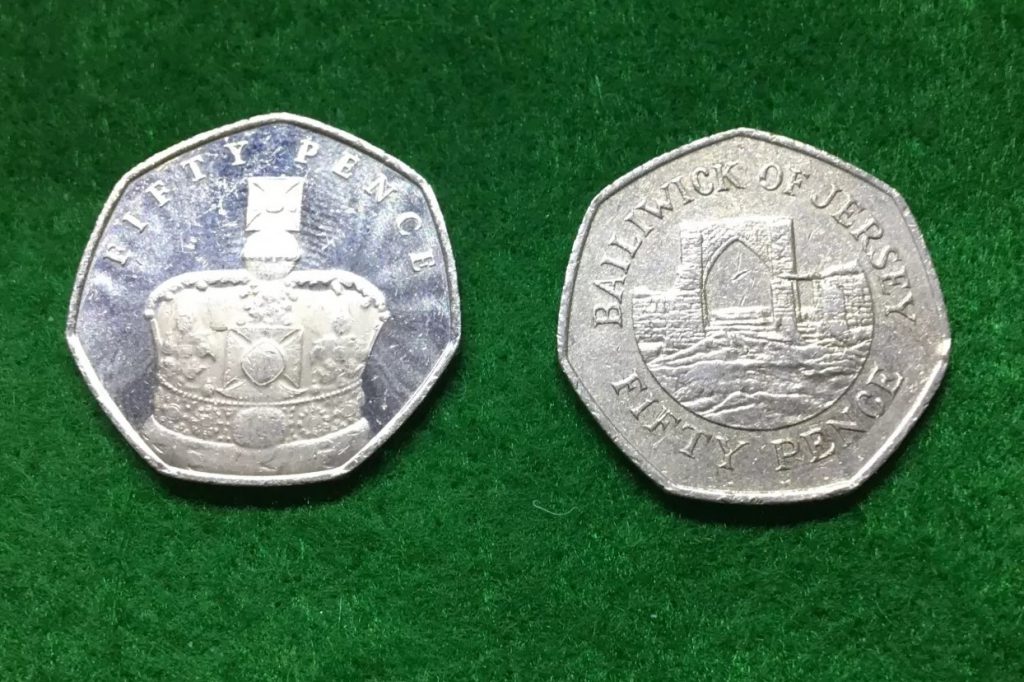 Coin Cupboard was very lucky and also found a Bailiwick of Jersey 50p, as well as an Imperial State Crown 50p from the Isle of Man.
The Imperial State Crown 50p was issued in 2018 as part of a five coin set celebrating the Sapphire Coronation Anniversary of Her Majesty Queen Elizabeth II.
A limited number of each coin entered circulation on the Isle of Man, although we don't know the exact mintage figure for this coin.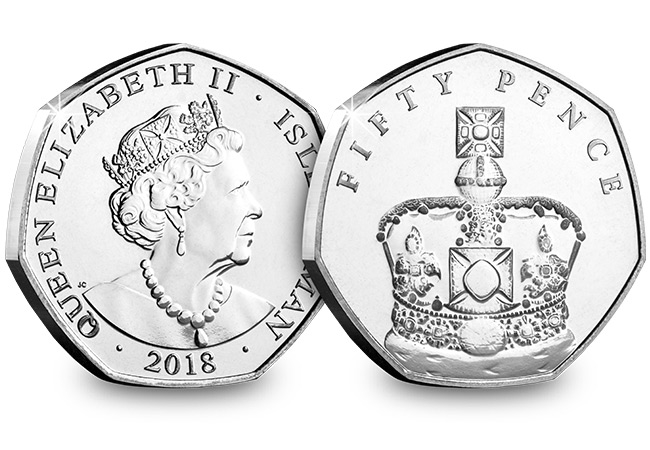 The reverse design shows the Coronation Crown and the obverse features Jody Clark's most recent portrait of the Queen which, unlike UK coins, includes her shoulders.
1999 East Caribbean States 1 Dollar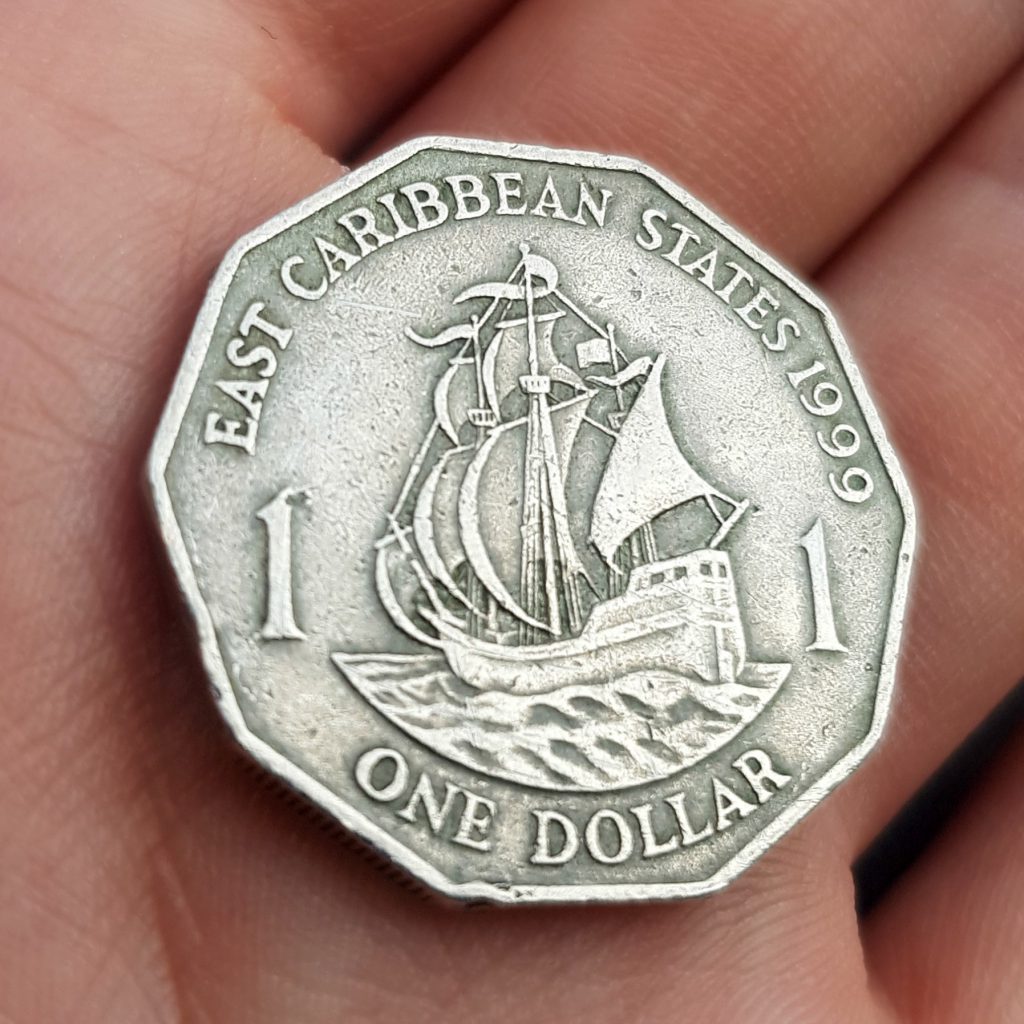 Whilst you might expect a few British Isles coins to turn up every now and again, we certainly weren't expecting to find this coin in our 50p bank bag!
In fact, both team Change Checker and Dom Collects came across one of these unusual coins in our change.
This 1 dollar was issued from 1989 to 2000 in the Eastern Caribbean States, but how did it find its way into our UK change?
As a British Overseas Territory, the East Caribbean States currency features the portrait of Her Majesty Queen Elizabeth II on the obverse.
This, along with the coin's size which is very close to the UK 50p, means it has managed to get mixed up with UK change and passed off as a 50p.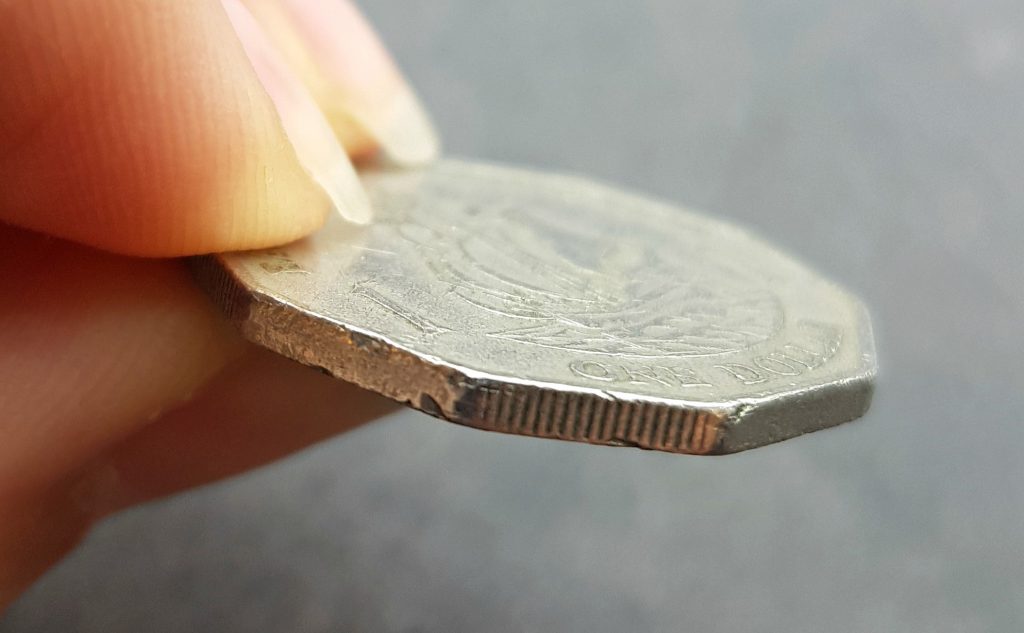 However, there is one very significant difference between this coin and a 50p, and that's the shape. The East Caribbean States dollar is actually decagonal (10 sided) and features milling along every other edge of the coin.
You can imagine just how surprising it was to come across this coin in the middle of our 50p hunt, and how unusual still that we weren't the only team to find one!
It just goes to show how many fascinating coins find their way into our change and why it's always worthing checking to see if you've found a coin which was intended for circulation in the UK.
---
Secure your Guernsey Freesia Flowers 50p coin today!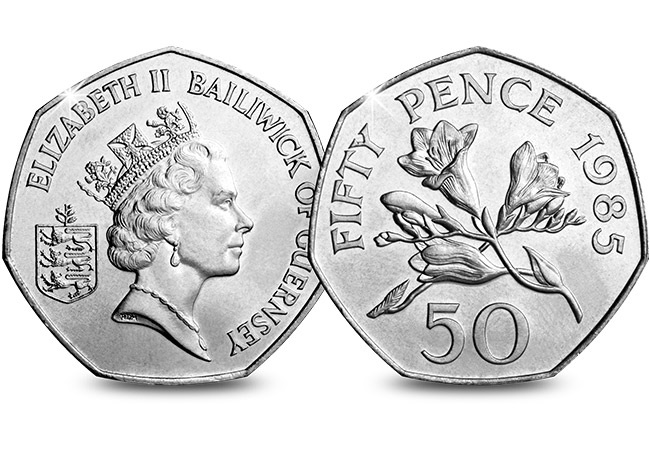 You can now secure the Guernsey Freesia Flowers 50p for your British Isles collection.
Whilst we're busy celebrating the 50th anniversary of the 50p coin here in the UK, celebrations are also taking place half a world away as Australia marks 50 years since the introduction of the 12-sided 50 cent coin this year.
First issued in 1969 as a replacement for the round 50 cent, the new 12-sided design has since become Australia's most distinctive decimal coin.
Australia's first 50 cent
In 1966, as part of the changeover to decimal currency, Australia introduced the round 50 cent, which was made up of 80% silver and 20% copper. This high silver content soon meant that the coin was actually worth more than its face value and so was withdrawn from circulation and replaced with the new 12-sided cupro-nickel design in 1969.
Although the coin was withdrawn from circulation, many millions are thought to have been hoarded by the Australian public and can now be seen listed on eBay for upwards of 10 times the original face value.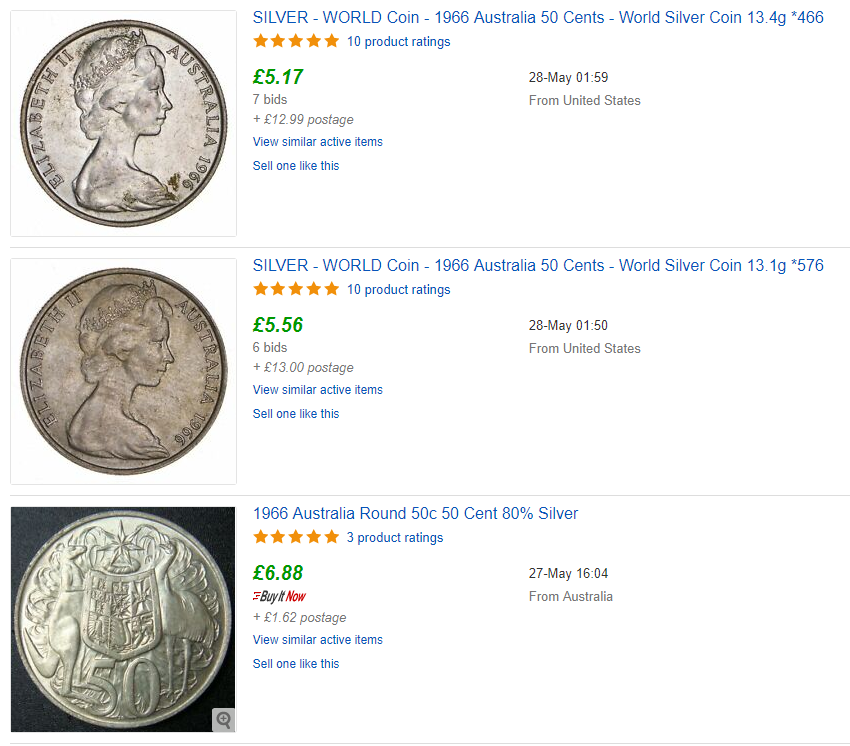 Celebrating 50 years since the 12 sided 50 cent
To celebrate the significant anniversary of the introduction of the 12-sided 50 cent, The Royal Australian Mint have released a special commemorative coin set, featuring a Gold-Plated 50 cent coin in celebration of the golden anniversary year.

But the special Gold-Plated coin within this set isn't the only thing which makes it unique…
This set actually showcases the five effigies of Her Majesty the Queen that have featured on Australia's 50 cent coins since 1969.
Arnold Machin
The Gold-Plated 50 cent coin features the very first effigy of Her Majesty the Queen to be used on a 50 cent coin.
Designed by British artist and sculptor Arnold Machin, and approved in 1964, this effigy was first used on the Australian round 1966 50 cent coin, meaning it preceded the first use of this portrait on UK coins in 1968.
This portrait featured on Australia's coinage from 1966 to 1984.
Raphael Maklouf
Raphael Maklouf's portrait of Queen Elizabeth II was chosen from 17 artists invited by the British Royal Mint to replace Arnold Machin's portrait.
Unlike the previous portraits of Her Majesty, Maklouf's design featured the Queen wearing a necklace and earrings. The designer's initials 'RDM' can be seen at the Queen's neck.
This portrait featured on Australia's coinage from 1985 to 1997.
Ian Rank-Broadley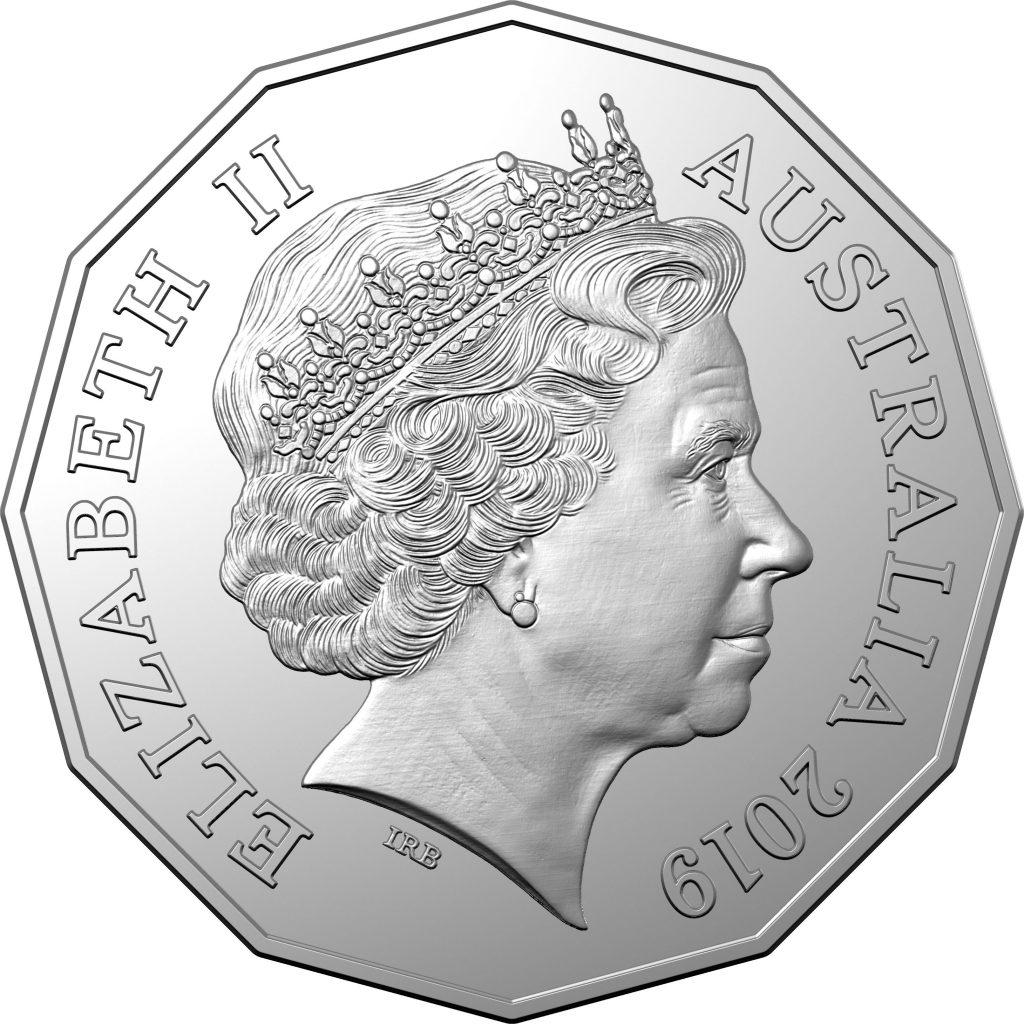 The next portrait of Queen Elizabeth was introduced following a competition to redesign the obverse of the UK's 1997 Golden Wedding Crown. Ian Rank-Broadley's submission was of such a high standard that it led to a redesign of the obverse for all UK circulation coins in 1998.
It was introduced on Australia's coinage, including the 50 cent coin, the following year.
This portrait featured on Australia's coinage from 1999 to 2018.
Vladimir Gottwald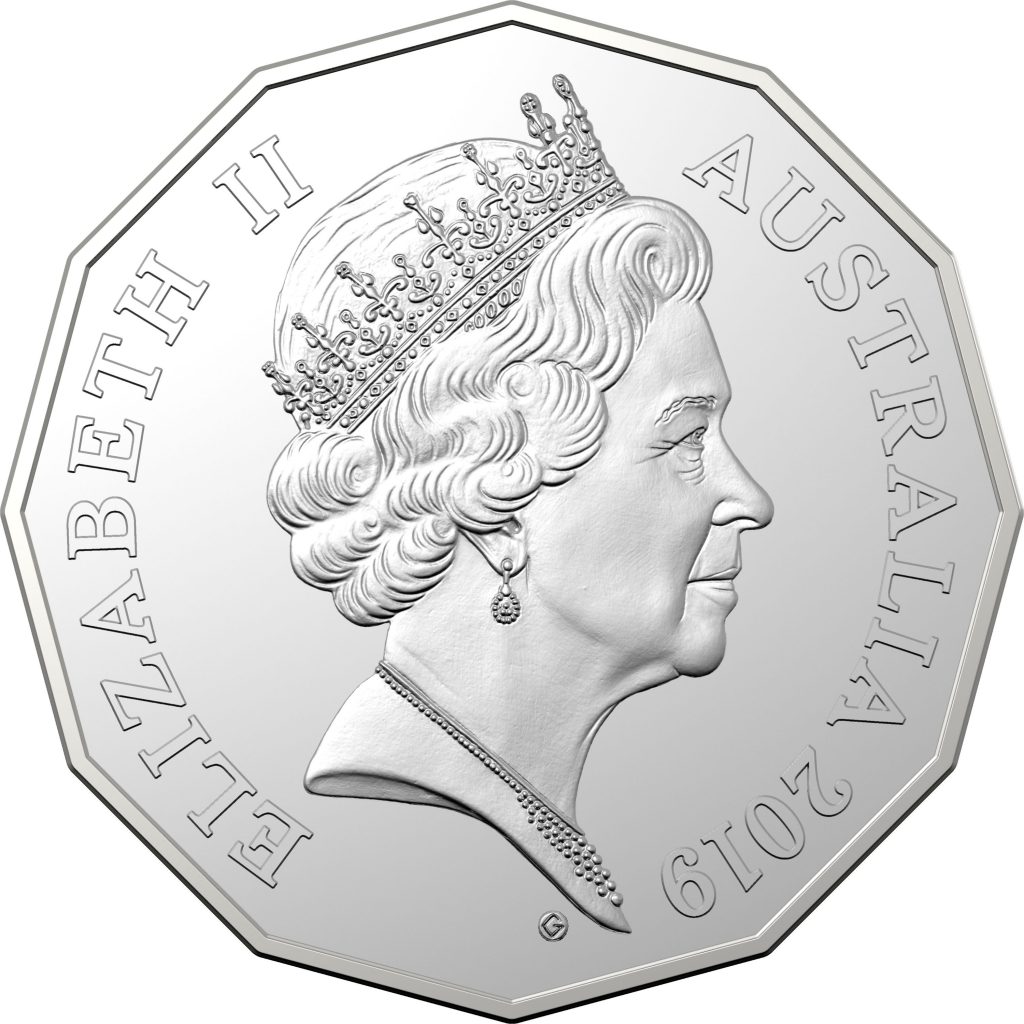 Amongst the designs submitted into the competition to redesign the obverse of the UK's 1997 Golden Wedding Crown was Vladimir Gottwald's portrait of the Queen.
Gottwald's design was approved as a one-off use to commemorate the Royal visit in 2000, making him the first Australian designer to have his portrait on the obverse of an Australian coin since the 1910-1936 effigy of King George V.
This portrait featured on the Australian 50 cent for one year only in 2000.
Jody Clark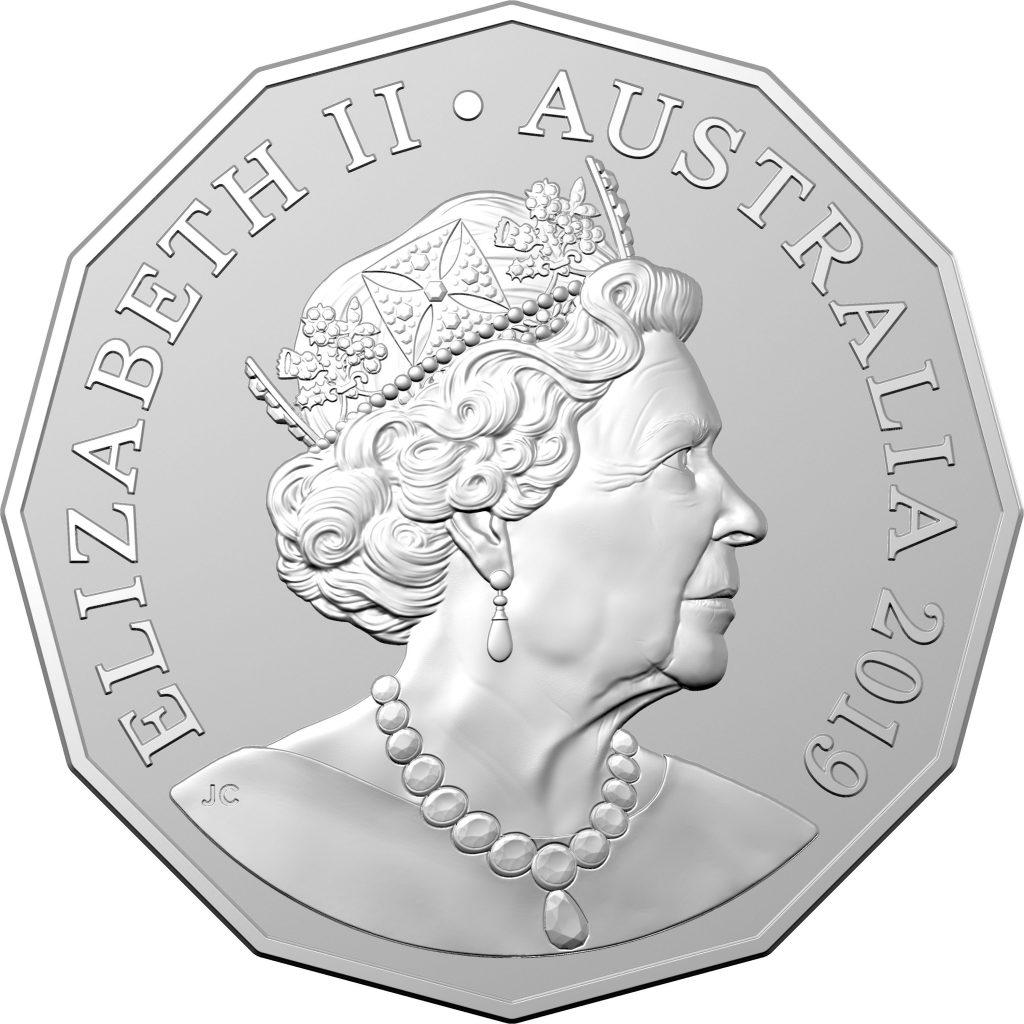 Jody Clark's portrait of Her Majesty the Queen has featured on UK coins since 2015, but it wasn't until 2018 that an adapted version of this coin was introduced on Australia's coinage.
Unlike the UK version, this adaptation features Queen Elizabeth's shoulders, as well as the Victorian coronation necklace.
You might recognise this most recent portrait from British Isles coinage, in particular the highly popular Isle of Man TT £2 coins.
Limited edition set
Just 20,000 of this prestigious set have been minted, making it significantly collectable and ideal for numismatists.
It's truly fascinating to take a look at the different coinage from countries across the world and the milestone moments in their numismatic history.
I'm sure you'll agree that this set is a fantastic way for Australia to celebrate this significant anniversary.
---
Own the LIMITED EDITION Gold Plated 50 cent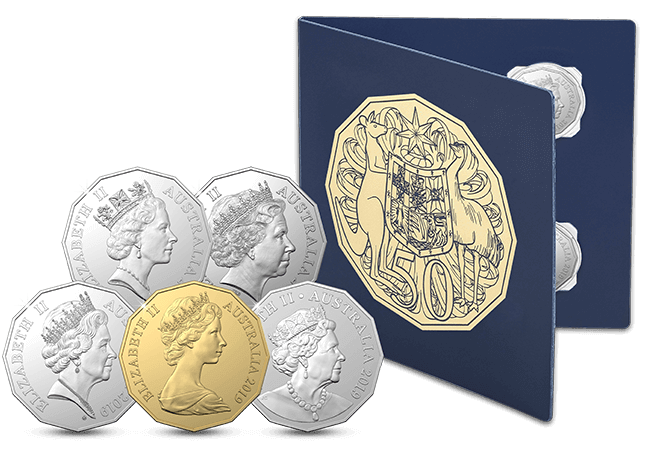 You can now secure these coins within a bespoke presentation pack, perfect to display and protect these unique coins, which are sure to be snapped up by collectors.
One of the most fascinating things about coin collecting is of course the design on the coin – but what about the shape of the coin itself? As minting technology continues to advance, coins are being struck in all kinds of exciting and innovative shapes.
So I've put together selection of 11 unusually shaped collectable coins from around the world…
1. The WWI Brodie Helmet coin …
To commemorate the Armistice Centenary, The Royal Canadian Mint issued a remarkable new coin to honour each and every fallen soldier.
Struck in the shape of a WWI Brodie Helmet, it is more deeply curved surface than any other concave or convex-shaped coin I've seen before. The design is so unique in fact, that the Mint have kept the minting technique a closely guarded secret.
2. The FIRST rugby coin of its kind…
To mark the Rugby World Cup in 2015, France issued the first ever coin shaped like a rugby ball.
The concave coins proved to be extremely popular with collectors worldwide, with many keen to add a coin with such a unique pedigree to their collections.
3. A coin shaped like a country…
The Perth Mint regularly issue map-shaped coins, taking advantage of their country's unique and recognisable outline.
This series makes use of purpose-built tooling and die design to give the coin its distinctive shape.
The first coin in the series featured the Kookaburra and was issued in 2012. Since then there have been a variety of different animals to feature on the coin, with the most recent being the Dingo.
4. The 'Imperial Egg'…
This impressive looking coin boasts beautiful enamelled colour and a shimmering gemstone inlay.
The 'Imperial Egg' Coin is based on the work of Fabergé and proved to be very popular with collectors, especially during the Easter period.
5. You'll be lucky to find one of these…
You certainly won't find this Four-Leaf Clover Coin in a field, no matter how hard you look! Legend has it that Eve took a four-leaf-clover from paradise as a memento for the wonderful time she had spent there – they've been considered lucky ever since.
Struck in gold to a proof finish, this cleverly produced coin could certainly be regarded as lucky by collectors who have one in their collection – as it is now highly sought-after.
6. The Earth-shattering coin…
The extra-terrestrial chondrite that has been set into the centre of this coin was sourced from a meteorite that crash-landed in Morocco in 2005. The space rock shattered into several pieces when it entered the Earth's atmosphere.
The coin itself has been struck in a concave shape to represent the crater in which the piece of meteorite landed.
7. Is it a coin or is it a bar? It's both…
This rectangular silver coin-bar features one of the world's most iconic landmarks – London's Tower Bridge.
It's not often that you see coins minted in this shape as the 'bar' format is usually reserved for bullion.
This stunning coin boasts an intricately detailed engraving and tiny details can be seen on the Tower Bridge to create windows, clock and brickwork.
8. The poppy-shaped remembrance coin…
This coin's unique shape and rich red printing on the reverse takes inspiration from the poppy, which has become synonymous throughout the world as a symbol of remembrance and the charitable work of The Royal British Legion.
Issued to commemorate the end of the First World War and to Remember the Fallen, the Poppy Coin is a significant issue that is poignant to many.
9. The coin that sold out in two days…
This remarkable coin is shaped like the iconic Canadian maple leaf, and proved so popular that it sold out at the Royal Canadian Mint in just 2 days.
Canadian Maple Leaf coins are some of the world's most recognised Silver coins. This issue takes the design to a whole new level and comes complete with a special wooden display case.
10. The coin that combines heaven and earth…
Issued in China since 221 BCE, the Chinese Lucky Cash Coin features a square hole at its centre to represent Earth, while the circle symbolises heaven. This combination of heaven and earth make the coin a symbol of harmony and prosperity.
Chinese fortune-tellers would use cash coins, a tortoise shell, and their skill at numerology to tell the future. Because of their association with mystical prediction, these coins from China are thought to bring good luck.
11. And last but not least…
The playful Russian 'Matryoshka Dolls' first appeared in the late 19th century, now they've been immortalised on a silver coin.
This oval issue is displayed within special bespoke packagingwhich consists of two traditional wooden nesting dolls placed one inside the other – the coin and packaging are both something that I've never come across before!
Are you lucky enough to have any of these coins in your collection, or perhaps you've seen another coin that you think should be on the list? Let me know in the comments below
---
If you're interested in coin collecting, our Change Checker web app is completely free to use and allows users to:
– Find and identify the coins in their pocket
– Collect and track the coins they have
– Swap their spare coins with other Change Checkers
Sign up today at: www.changechecker.org/app