The 'heads', or obverse, side of a coin has depicted the image of a monarch or ruler for thousands of years.
However, the nature of these images have changed over the centuries. From the Ancient Greeks to Queen Elizabeth II, in this blog we guide you through the differing historic heads of uk coinage.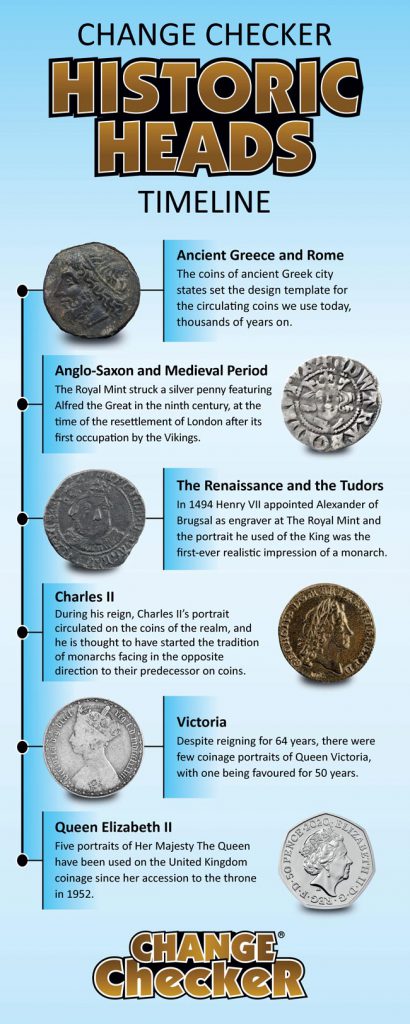 Ancient Greece and Rome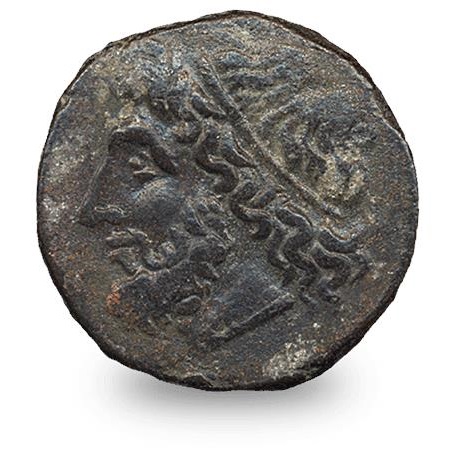 The coins of ancient Greece set the design template for the circulating coins that we use today in the UK!
On one side, their coins show a portrait of the symbol of national sovereignty and on the other side, we see something that resembles the nation.
Coins of ancient Greece and Rome were provided for city states and depict images of iconic leaders and the gods that protected them.
Roman coins depict the faces of the leaders of the empire, including Emperor Honoria.
Anglo-Saxon and Medieval Period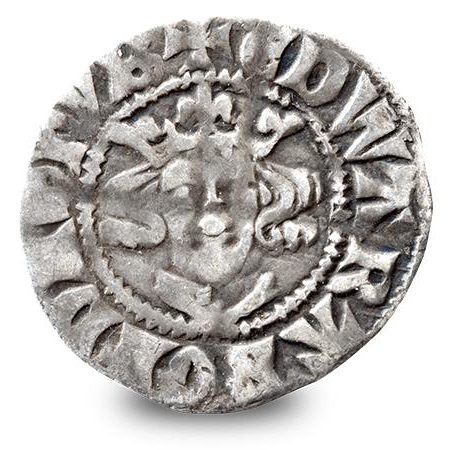 The Anglo–Saxon period in Britain spans approximately the six centuries from 410-1066AD.
In the ninth century The Royal Mint struck a silver penny of Alfred the Great at the time of the resettlement of London after its first occupation by the Vikings.
The coin would have been struck by hand and the design showcases the rigid markings that would have come as a result of hand tools.
The Renaissance and the Tudors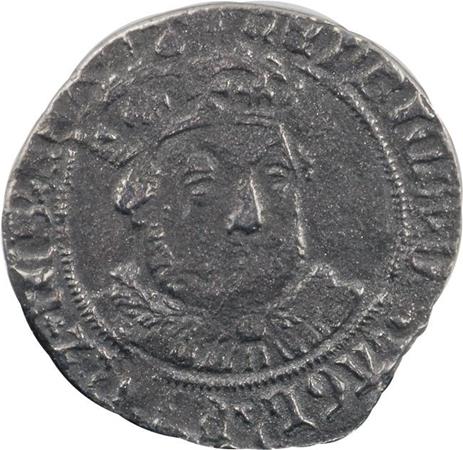 The Sovereign is undoubtedly one of the most impressive coins struck by The Royal Mint.
In 1489, Henry VII ordered a new coin of gold. The coin surface was large, enabling the engraver to include decorative details. It allowed for more detailed portraits of monarchs.
The portrait on this coin is of the crowned King Henry VIII.
Charles II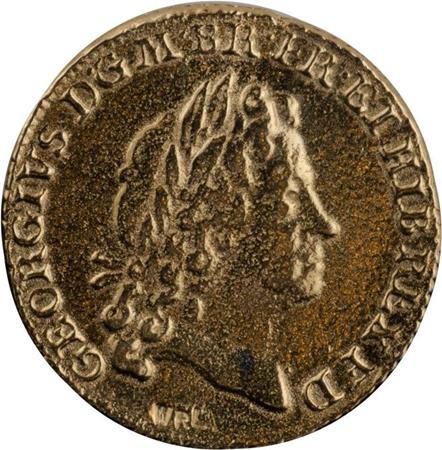 When Charles II was restored to the throne, he needed to assert his royal authority and to show a clear break from the rule of Oliver Cromwell.
It's been suggested that the tradition of monarchs facing in the opposite direction to their predecessor on coins, dates back to Charles II when he wanted coins under his reign to be different from that of Cromwell.
Victoria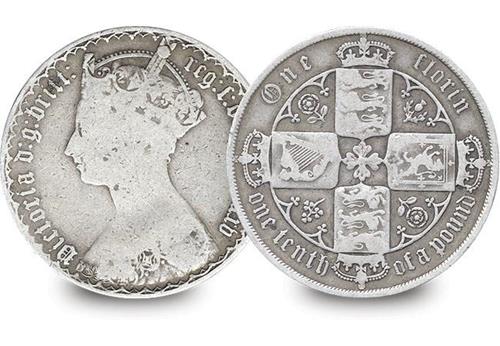 Despite reigning for 64 years, there were few coinage portraits of Queen Victoria, with one being favoured for 50 years.
For 50 years the 'Young Head' effigy of Queen Victoria featured on UK coinage this classically styled portrait was reinterpreted several times, with each effigy designed to portray the queen as she aged.
Queen Elizabeth II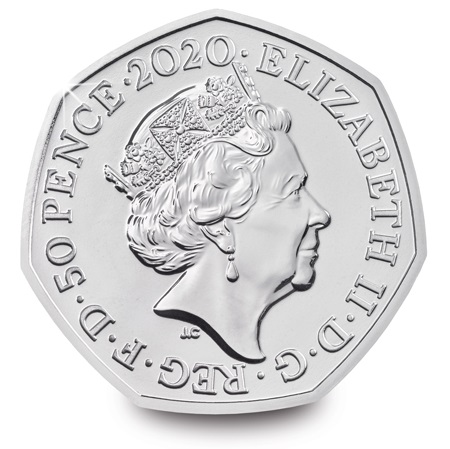 Five portraits of Her Majesty The Queen have been used on UK coins since her accession to the throne in 1952.
The Queen's first portrait, by Mary Gillick, shows her wearing a wreath in the style of many British coins struck between the seventeenth and early nineteenth centuries. This portrait remained on UK coins up until decimalisation, when Arnold Machin's new portrait of The Queen was used (pictured above).
The effigy selected for use from 1985 was prepared by the sculptor Raphael Maklouf, in which she is depicted wearing a necklace and earrings.
By her fourth portrait, designed by Ian Rank-Broadley, a greater degree of realism was used. It shows The Queen in her sixth decade, her crowned head filling the coin's surface.
The fifth and most recent portrait of The Queen is by Royal Mint designer Jody Clark. This is arguably the first UK coin to introduce elements of personality with a hint of a smile. Clark is the first Royal Mint employee in over 100 years to design a UK definitive coin portrait.
---
So now you know how the portraits on our coins have changed over the years, which portrait is your favourite? Comment below!
---
Secure the History of Britain in Coins Collector's Album to your collection!
The 'History of Britain in Coins' Collector's Album is an exciting way to collect ten specially selected UK 50p and £2 coins that Change Checker consider as some of the most historically interesting circulating coins of the decimal era!
Click here to secure your History of Britain in Coins Collector's Album for just £25.00 (+p&p) >>
The United States are facing a nationwide coin shortage in the midst of the coronavirus pandemic – urging members of the public to use cash where possible to help ease the coin crisis.
As more people turn to online shopping and contactless payments and avoid using physical money due to the virus, the normal flow of currency has been severely interrupted.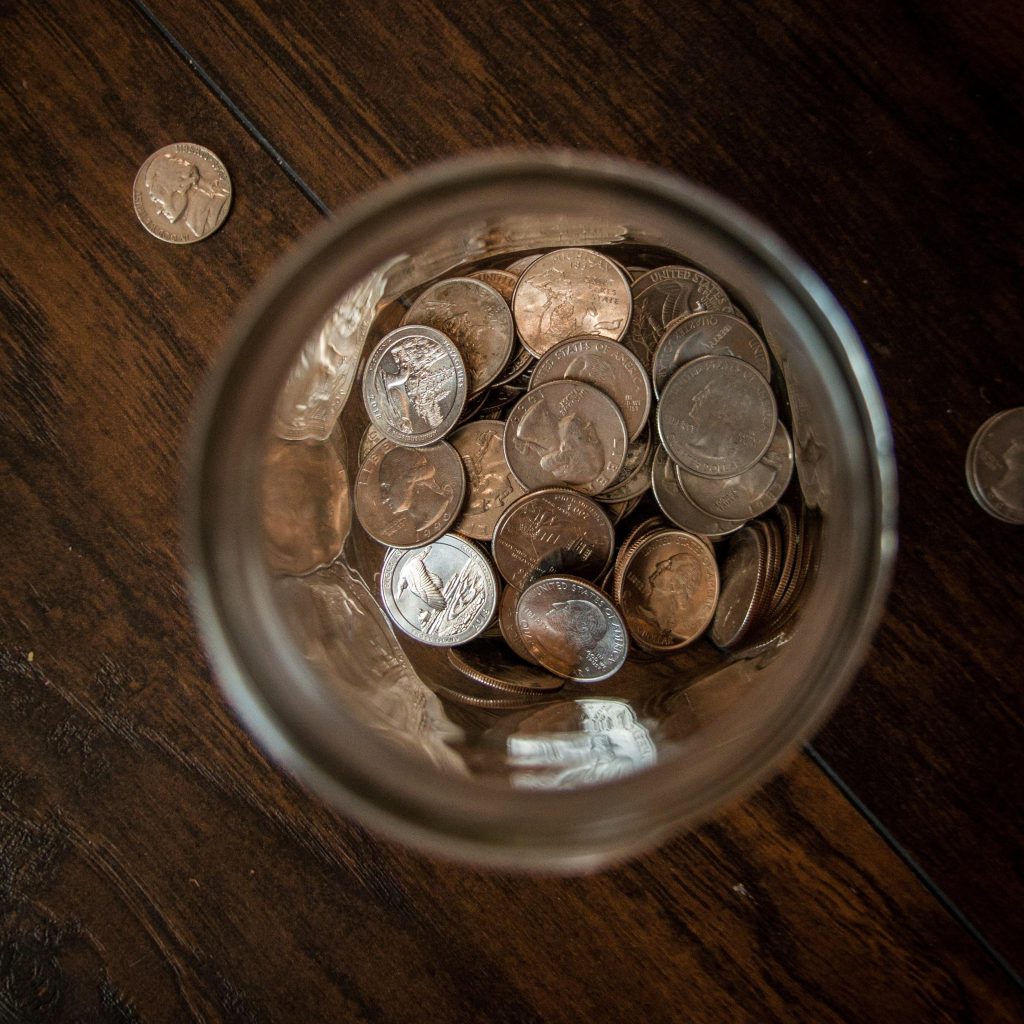 Last year, third-party coin processors and retailers accounted for around 83% of coins in the US coin supply chain.
However, as many stores have been closed and with the US Mint briefly slowing production to implement safety measures, further interruptions to this supply chain have been caused.
The effects mean that as stores are reopening, retailers are quickly exhausting their cash inventories, with some now advising customers they may not be able to provide change in coins.
Solving the US coin supply problem
The US Mint is now asking people to return any coins they might have lying around and to use exact cash for purchases to help replenish the country's supply.
The Fed have even convened a US Coin Task Force, working to restore the vital coin supply chain.
And what's more, one particular bank has even started paying members of the public to return any spare change.
UK Coin Shortage?
With the UK public being urged to use contactless where possible during the pandemic, could we too being facing a similar issue soon?
In recent years demand for cash in the UK has dropped, not simply because card payments have increased, but also due to the introduction of the 12-sided £1 coin in 2017.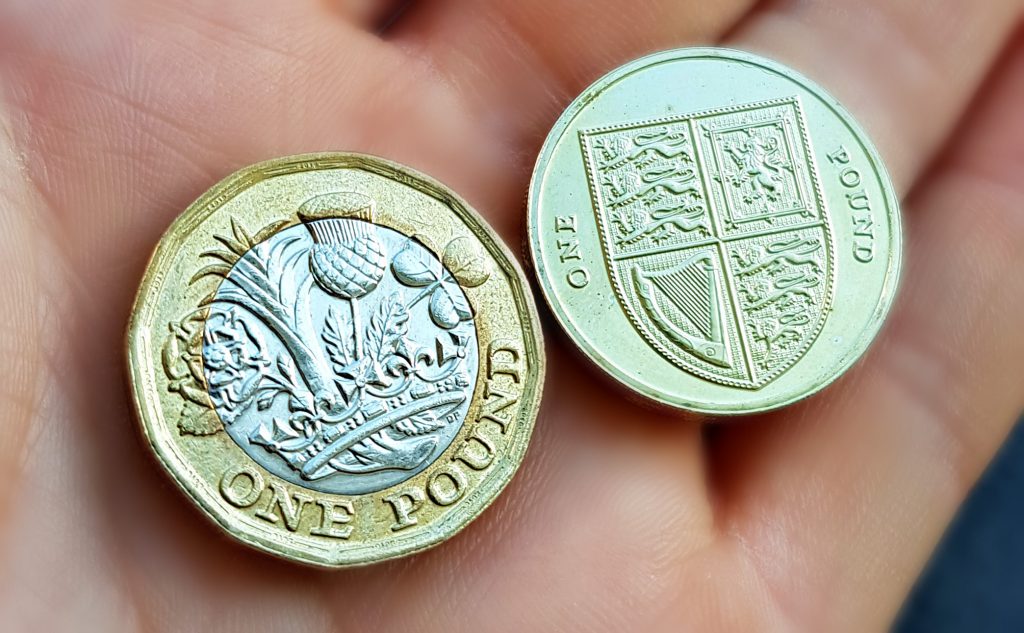 As members of the public were tasked with returning their old round pound coins to the bank, other denominations, loose change and unwanted coins were also returned, meaning a surplus of cash was injected into the system.
We've certainly felt the effects of this with the lack of new coins entering circulation in the last few years.
Secondary Market Coin Prices
We recently updated the Change Checker eBay Tracker, revealing the average selling prices for the top 10 UK coins and banknotes.
Amazingly, there's been an 18% increase in the overall value of these issues – the biggest increase we've seen since the Tracker began!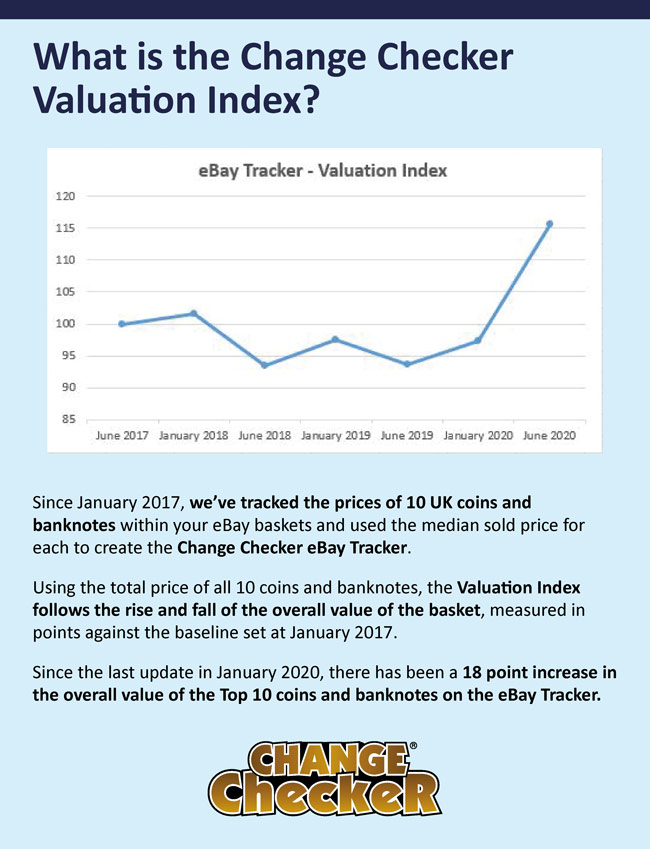 With less cash being used in the past few months, it's likely collectors are heading to the secondary market to get hold of certain coins, rather than waiting to find them in their change.
Additionally, with more time being spent at home and people seeking new hobbies to keep themselves entertained, new collectors are perhaps becoming more aware of rare and collectable coins that might be worth owning and as a result, are heading to the secondary market to get hold of one.
We've seen this increased demand on the secondary market driving up the prices, particularly for the more rare and sought-after coins.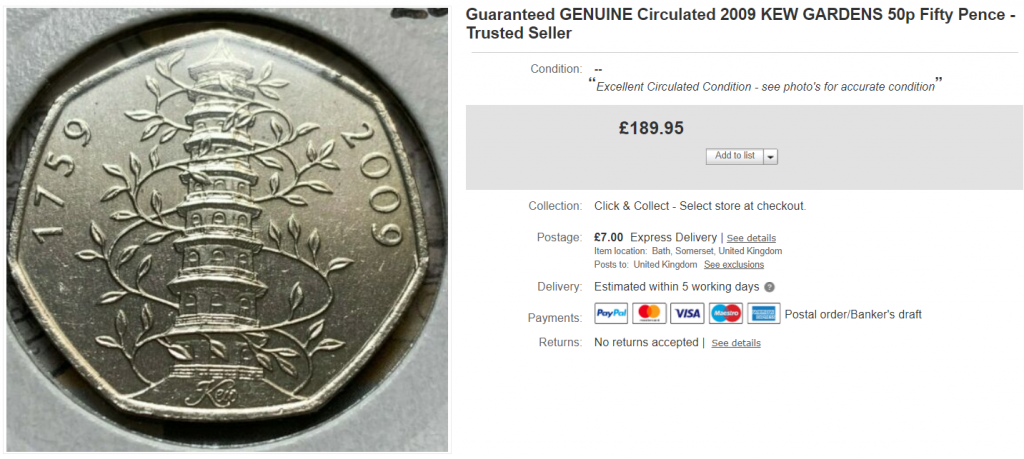 Now, as more retailers open up shop in the UK and the country starts to head towards the 'new normal', will we start to see more cash exchanging hands once again? And will collectors be able to start hunting down coins in their change once more?
Perhaps one of the biggest questions on collector's lips will be whether we'll see an increase in demand, leading to new commemorative coins being released into circulation…
At Change Checker HQ we've certainly got our fingers crossed!
---
If you're interested in coin collecting, our Change Checker web app is completely free to use and allows users to:
– Find and identify the coins in their pocket
– Collect and track the coins they have
– Swap their spare coins with other Change Checkers

Sign up today at: www.changechecker.org/app
I'm sure we could all use a bit of escapism right now, and so I invite you to join us on a trip far away as we return to Neverland for one last time…
Last year, the collecting world experienced the magic of the world's first Peter Pan 50ps, issued by the Isle of Man and developed in partnership with Great Ormond Street Hospital Children's Charity.
The unprecedented demand for these coins saw tens of thousands queuing to get their hands on the stunning new issues. And in just a matter of months, through the sales of these Peter Pan 50ps, collectors raised over £250,000 for Great Ormond Street Hospital.
Today I have some very exciting news to share with you, as the SECOND (and final) collection of British Isles Peter Pan 50ps have just been released!
LAST EVER Peter Pan 50p
The FINAL Peter Pan 50p has been issued by The Isle of Man, continuing the 90th anniversary celebrations of author JM Barrie gifting his rights in the story to Great Ormond Street Hospital.
This brand new coin features an enchanting illustration of Peter Pan and Tinkerbell on the reverse design, created by David Wyatt and Matt Tindall.
Available in Brilliant Uncirculated quality, this coin comes encapsulated in official Peter Pan packaging.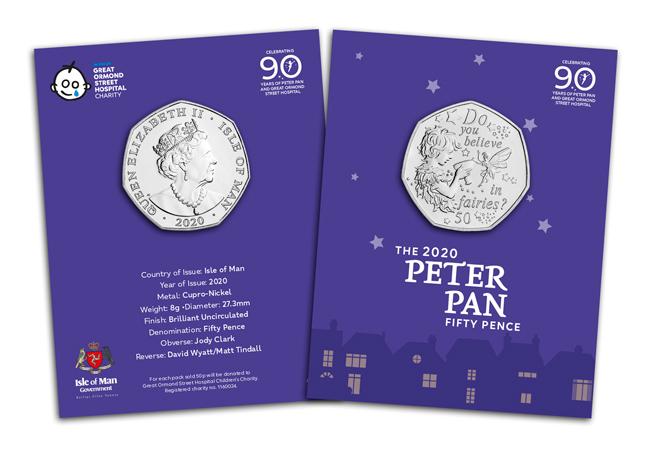 Or, for those collectors looking for a touch more magic, this coin is also available in stunning .925 Sterling Silver Proof quality, featuring coloured illustrations.
Six BRAND NEW Coins
Excitingly, 5 more Peter Pan 50p coins have also been created this year and are available alongside the Peter Pan and Tinkerbell coin in this fantastic six coin set.
This year's characters include:
Peter Pan and Tinker Bell
The Mermaid
Smee
The Jolly Roger
Peter Pan at the window
Tinker Bell
But which is your favourite? Let us know in the comments below!
The set is available in Brilliant Uncirculated quality and .925 Sterling Silver Proof quality, featuring those beautiful coloured illustrations.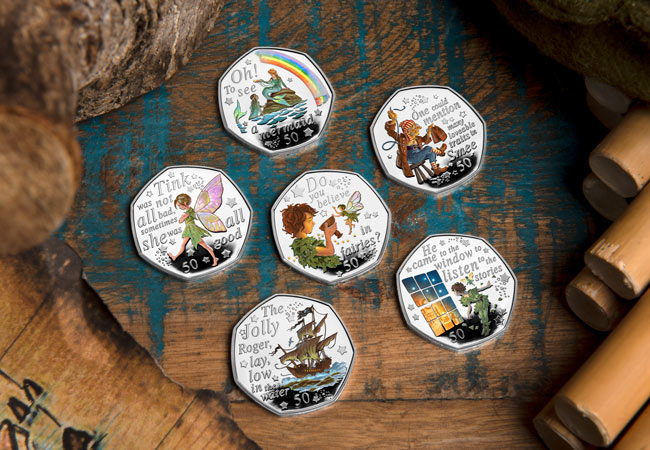 These 50ps are only available as a set and if you don't want to miss the chance to own them, you'll need to act fast, as they have been issued with some incredibly low edition limits…
Strictly Limited Edition
These brand new 50ps are sure to sweep you off your feet, however what's most exciting about the coins is that there are some very low edition limits for the Silver Proof versions…
Silver 50p coins are, without doubt, the collector's favourite and a sell-out is inevitable. Especially when you consider the edition limit for the single coin is just half of last year's edition at 4,995 and the complete set is strictly limited to just 1,995 worldwide! So that's the same quantity as last year's edition limit which completely SOLD OUT.
In fact, even Silver Proof 50ps with much higher mintage figures often still result in sell-out stories.
For example, the UK Gruffalo 50p released in 2019 had a mintage of 25,000 and sold out at The Royal Mint in just a few hours after its release!
And so I wouldn't be surprised to see demand for these brand new Silver Proof Peter Pan 50ps exceed the amount available.
Gold Proof Peter Pan 50p
For the creme-de-la-creme, and by far the most limited way to own this coin, a .916 Gold Proof version of the Peter Pan and Tinker Bell 50p has been issued.
This official new release has been given a strict edition limit of JUST 500 worldwide, MUCH LOWER than previous Gold Proof 50p sell-outs.
Just a handful of lucky collectors will have the chance to own this prestigious new Gold Proof coin.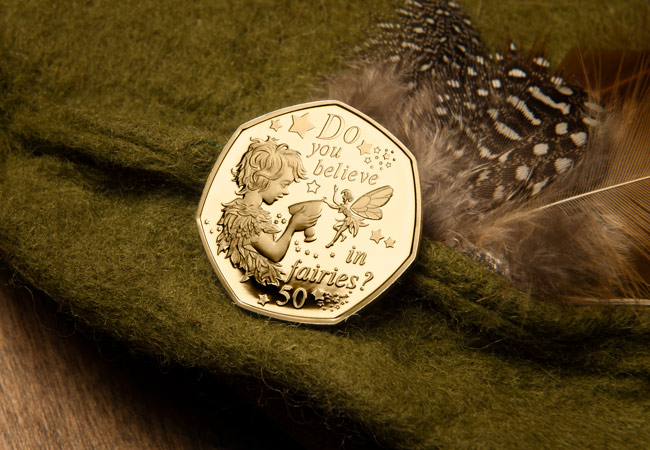 Can I find the Peter Pan 50ps in my change?
If you're living on the Isle of Man, then yes!
25,000 of each coin will be entering circulation on the Isle of Man, but when you compare that to the mintage figures for UK coins (our rarest 50p in circulation has a mintage of 210,000) you'll realise just how few of these coins are actually out there.
Coins issued on the Isle of Man typically have lower mintage figures due to the smaller population of just 84,000 which means that their coins are particularly sought-after amongst collectors.
And, based on the popularity of last year's coins, I'm sure that British Isles collectors will be super quick to snap these ones up!
Peter Pan remains one of the most cherished and loved children's stories of all time and if last year's coins are anything to go by, I'm sure these new 50ps are going to be some of the most sought-after coins of the year.
As with last year's coins, each has been developed in partnership with Great Ormond Street Hospital Children's Charity (GOSH Charity). For every coin or set sold a donation will go directly to GOSH Charity to help support the hospital and the seriously ill children from across the UK who are cared for there.
---
Secure your 2020 Peter Pan 50p coins today!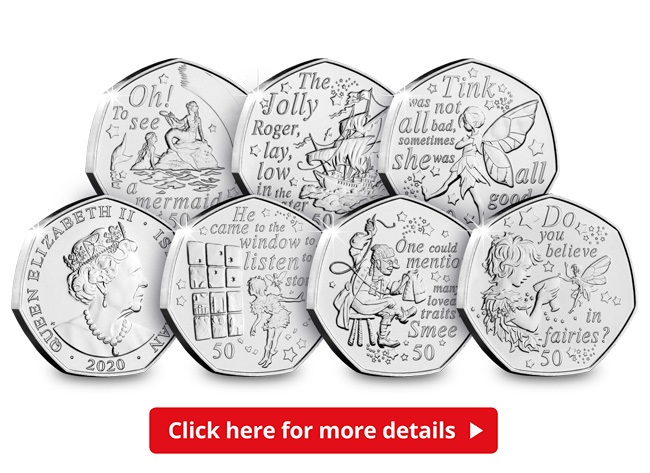 To discover the magic of these brand new 50ps and add the brand new Peter Pan 50ps to your collection, click here to see the full range.