As today is Random Acts of Kindness day, I've decided to take a look and some of the most random, weird and wonderful coins issued from all around the world.
Whilst these coins haven't entered circulation, I'm sure you will agree that they are works of art from truly innovative Mints. It's been really exciting to discover the unique coins different countries have to offer, so take a look at the designs below to see some of the fascinating coins international mints have produced.
Germany's see through 5 Euro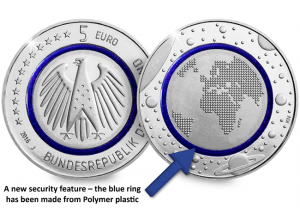 Developed by Dr Peter Huber and Günther Waadt, this unusual coin is a first of its kind. Released in 2016, the see through coin features a blue plastic ring in the middle and has been named 'Blue Planet Earth'.
Not only is the blue ring easy to identify and authenticate by the naked eye, it is made of polymer plastic which behaves like a form of insulation between the pieces of two different metals and will be easy for cash machine to recognize whether it is real or fake.
A German Minting Technology team has spent a decade developing this new security feature. In fact, it's the first coin to be made from a combination of metal and plastic materials which are rumoured to change colour when exposed to UV light.
In 2017, five more coins were created to reflect Earth's climatic zones with the use of a different coloured plastic polymer ring to represent each zone. The series will continue releasing one coin per year until 2021.
Canada's 3D Snowball Fight 50 Cents
We all love a snowball fight and this wonderful Canadian 50 Cent coin allows you to bring to life the magic of a snowball fight on an innovative 3D coin!
The Royal Canadian Mint is renowned for their forward thinking technology, and in 2018 they used lenticular printing to create artist Tony Bianco's fun-filled design with an illusion of depth, which actually appears to move as the coin is viewed from different angles – so watch out for those snowballs!
It really put a smile on my face when I came upon this coin in my research, and with a mintage of just 20,000 I'm sure those few Canadian Change Checkers who were lucky enough to add this coin to their collection will really treasure this coin.
Palau's Bottle Top Coin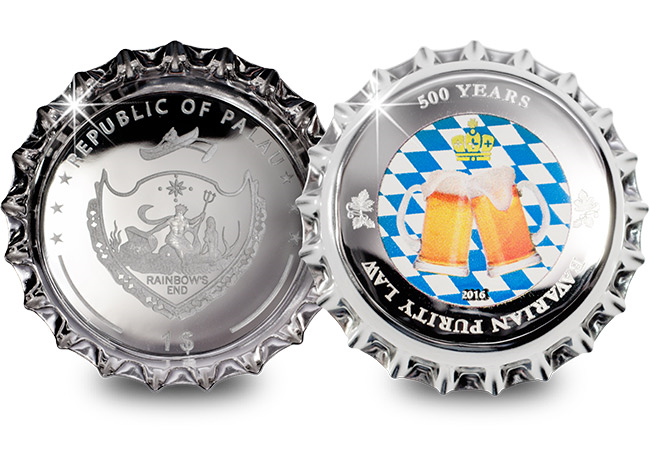 This is the world's first ever 'beer bottle top-shaped' legal tender coin. Issued in 2016 to honour the 500th Anniversary of the Bavarian Purity Law – the enactment by Duke Wilhelm IV of Bavaria in 1516 states that only 4 ingredients can be used to produce the beer and even provides a restriction on pricing.
Whether you're a beer lover or coin enthusiast – or both – I'm sure you'll agree that this unusual coin is a fitting tribute to this landmark occasion in the history of brewing.
The obverse of the crown-cap-shaped coin shows the coat of arms of the issuing state below an outrigger canoe. Whilst the reverse shows two toasting beer mugs and a crown.
Nauru's First Issue of the Euro 10 Dollars
This unique and incredibly intricate ten dollar coin was issued in Nauru (a tiny island in Micronesia, northeast of Australia) in 2002 to commemorate the first Euro coinage.
The unusual coin is shaped as a map of Europe and has been struck in .999 pure silver.
On the obverse you can see the Bank of Nauru's coat of arms and on the reverse is a gold plated Euro coin and the words '2002 – FIRST ISSUE OF THE EURO'.
Chad's Earth Meteorite Gold Proof 3000 Francs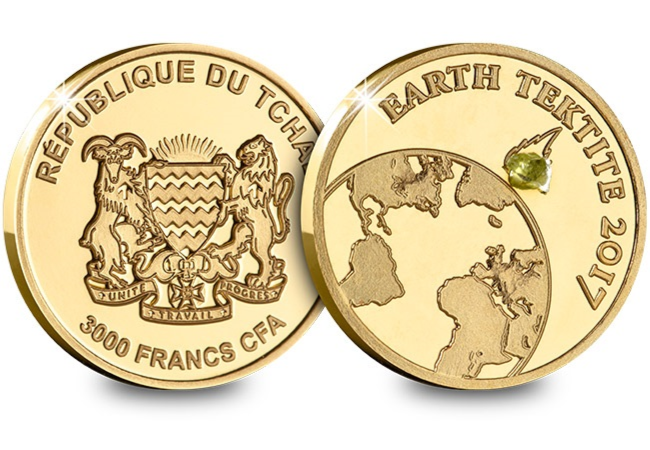 Within this Pure Gold Proof coin, issued in Chad in 2017, is a Moldavite Tektite gemstone – unique evidence of what can happen on the incredibly rare occasion that a meteorite hits the Earth.
These gemstones can only be found at five locations on Earth, and throughout the Middle Ages, they were highly prized and strictly reserved for those born of royal blood and nobility.
Struck from 0.5g of pure Gold, this coin is what is known as 'small' Gold – a collecting craze that is proving to be extremely popular among collectors worldwide, making this already very unique coin even more special.
With so many fascinating coins issued around the world, you don't have to look far to find inspiration for your international collection. What do you think about the coins above and have you found any weird and wonderful coins for yourself?
---
Today is Chinese New Year, the world's most celebrated festival, which marks the new year on the Chinese calendar.
Many traditions and customs have been adopted over the years, with popular themes surrounding good luck and fortune for the year ahead.
Chinese Lucky Cash Coin
This coin has been issued in China since 221 BCE and is thought to bring good luck.
The unusual shaped Lucky Chinese Cash Coin features a square hole at its centre to represent Earth, while the circle symbolises heaven. This combination of heaven and earth make the coin a symbol of harmony and prosperity.
Chinese fortune-tellers would use cash coins, a tortoise shell, and their skill at numerology to tell the future. Because of their association with mystical prediction, these coins from China are thought to bring good luck.
Manufacture
Traditionally, these coins were cast in copper, brass or iron and in the mid-19th century they were made of 3 parts copper to 2 parts lead. Rarer silver coins were also produced and gold coins are also known to exist but are even rarer.
Early manufacture methods of these coins included carving the individual coin directly onto a soapstone or clay mould. This rough and ready approach means that early Chinese coins are very diverse, as each was cast from a different mould bearing the same inscription.
Master bronze moulds were later introduced to gain consistency.
It was in the mid 19th century that the first machine-struck cash coins were produced following the introduction of a machine operated mint in Guangzhou, Guangdong province.
These coins tended to be made from brass rather than pure copper and as the copper content decreased and cheaper metals like lead and tin became more dominant, the coins took on a yellowish tint.
Modern use
Originally the hole in the centre of the coin was used to string them together, creating higher denominations, however in the modern era the coins are strung together and placed round the necks of children, or over the beds of sick people for luck.
Some Chinese businesses also hang Chinese cash coins as store signs for good luck and they can even be seen featuring on the logos of the Bank of China and the China Construction Bank.
The cash coin is also used in Feng shui, where they represent an abundance of resources, personal wealth, money, and prosperity.
It's always fascinating to learn about world coins and the stories behind their origins.
Will you be celebrating Chinese New Year today? Keep your eyes out for any Chinese cash coins and see if your luck could be in this year!
---
Own the Lucky Chinese Cash Coin
Celebrate the Chinese New Year with a coin that many believe will bring good luck and prosperity for the year ahead.
Each coin comes housed in a wallet with informative Certificate of Authenticity detailing the history of the coin.
Click here to secure the Chinese Lucky Cash Coin for your collection today >>
Yesterday the Treasury announced that the UK's 12 sided £1 coin would be going global, as overseas territories and Crown Dependencies will soon be able to create their own bespoke versions of the coin to replace the older £1 currently in circulation.
In 2017, the new Nations of the Crown 12 sided £1 made its UK debut, described by the Government as "the most secure of its kind in the world" due to the new design, featuring intermittent milled edges and micro-engraved denomination and year date which protects against criminals producing counterfeits copies. Before this, around 1 in every 30 round pound coins were in fact fakes.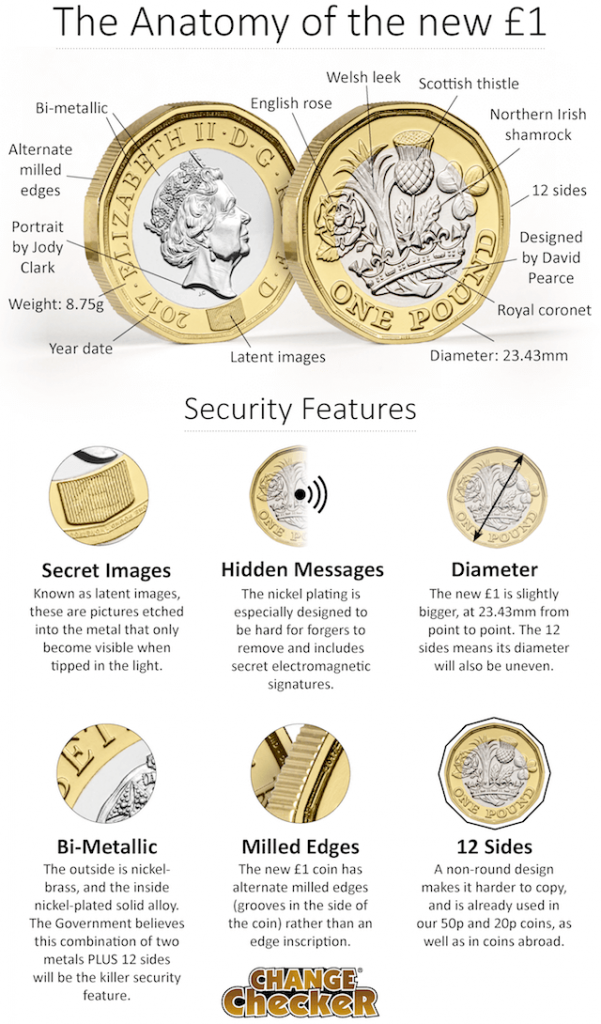 As many territories and dependencies currently circulate their own version of the older pound coin, they will now be able to protect their currency with this secure cutting edge technology. These coins will be produced by The Royal Mint to the same security standards as our UK coinage to thwart counterfeit activity.
The Nations of the Crown £1 was designed by 15-year-old David Pearce following a public competition in 2015. The design is made up of the English rose, the Welsh leek, the Scottish thistle and the Northern Irish shamrock emerging from one stem within a royal coronet to represent the four constituent countries of the United Kingdom.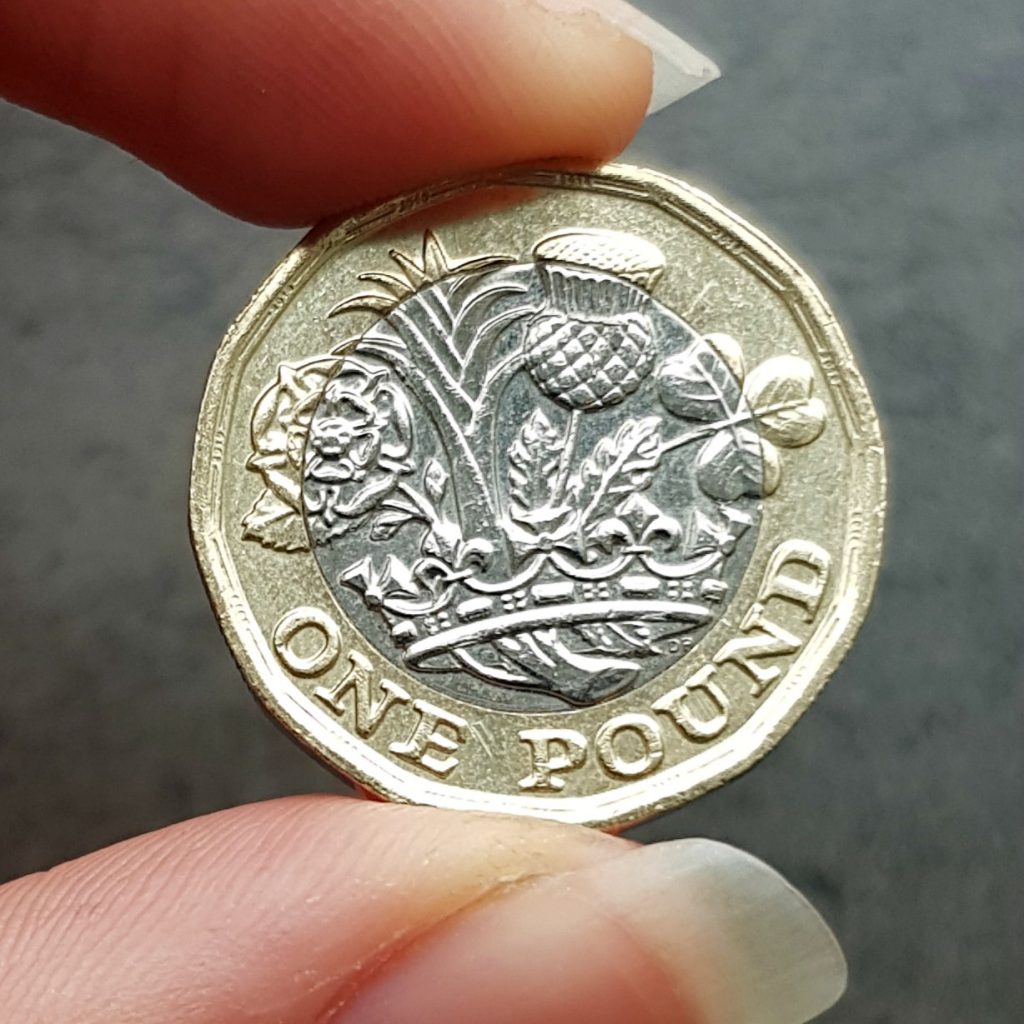 The Treasury expects the new versions struck for overseas territories and Crown Dependencies to feature images celebrating their heritage, history and culture to symbolise the close links with the UK.
Jersey, Guernsey and the Isle of Man all represent Crown Dependencies of the UK, whilst the UK overseas territories include Akrotiri and Dhekelia; Anguilla; British Antarctic Territory; Bermuda; British Indian Ocean Territory; British Virgin Islands; Cayman Islands; Falkland Islands; Gibraltar; Montserrat; St Helena and Dependencies (Ascension Island and Tristan da Cunha); Turk and Caicos Islands; Pitcairn Island; and South Georgia and South Sandwich Islands.
Robert Jenrick, Exchequer Secretary to the Treasury, said:"These new designs will reflect the rich and varying British communities across the world."
Lord Ahmad, the overseas territories minister, said: "As well as helping to boost their identity, these new coins will also bring increased security to each of these economies."
So Change Checkers from overseas territories and Crown Dependencies can look forward to the new coins being released soon, but what design do you think should be featured for each? Let us know in the comments below.
---
Is this the last Isle of Man Round Pound?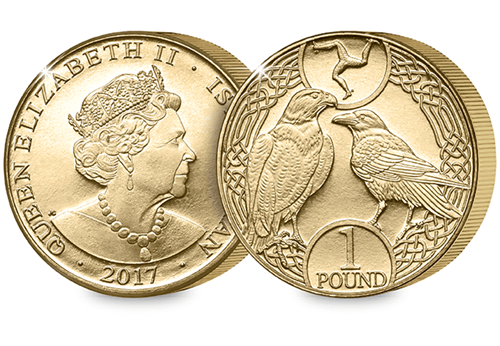 In 2017 the Isle of Man released this Raven and Falcon Uncirculated £1 Coin and following the Treasury's update, this could now be the very last Isle of Man Round Pound!