Posts Tagged 'The Royal Mint'
ENTRIES TO THE 'BRONZE 20P' DRAW ARE NOW CLOSED
We love to hear when Change Checkers make a great coin discovery. We're often contacted about mis-strikes which are interesting oddities but what really excites us are 'error' coins.
Genuine 'error' coins, especially those verified by The Royal Mint, are VERY rare and finding one is a goal for many change collectors.
So imagine our excitement when somebody contacted us after finding one of the rarest 'error' coins yet!
The 'Bronze 20p'
Earlier this year, we were contacted by a collector named David Crosier who informed us he'd found a very rare 'error' coin.
A collector for over 50 years, David told us how he'd often look out for mis-strikes and 'mules' but there was something special about this particular coin. Initially he presumed the coin was plated but decided to send it to The Royal Mint to be certain.
After examination by x-ray fluorescence spectrometry, the coin was confirmed by The Royal Mint as an extremely sought-after minting 'error'.
Somehow a 1p 'blank' found its way into the presses and a 20p was accidentally struck onto it.
Errors like this are extremely rare, in fact so rare we've never heard of another 'Bronze 20p', but The Royal Mint verified the authenticity of the coin with a letter and so here at Change Checker we knew this was an opportunity not to be missed.
Now the great news… we want to give away the amazing 'Bronze 20p' to one lucky Change Checker!
And what's more, you won't just win the 'Bronze 20p', the coin is set in a specially designed presentation box alongside a Brilliant Uncirculated 1p and a Brilliant Uncirculated 20p coin from the same year, beautifully highlighting the minting error.
Your chance to win the coin
We'll be selecting a lucky Change Checker to win this coin. If you're already registered then we'll automatically include you in the draw.
To register your free account, all you need to do is enter your email address and choose a password.
ENTRIES FOR THE 'BRONZE 20P' DRAW ARE NOW CLOSED
Full Terms and Conditions can be found below.
Good luck!
---
Terms & Conditions
All registered members of changechecker.org at midnight on 7th December 2017 will be automatically entered into the prize draw. No purchase is necessary to register.
The draw will take place on 11th December 2017 and the winner will be notified on that day by email to their registered changechecker.org email address.
The winner will receive the "Bronze 20p". There is no cash alternative.
Participants agree to meet reasonable requests to assist publicity.
The prize draw is promoted by The Westminster Collection / Change Checker, trading divisions of 288 Group Ltd.
Employees of 288 Group and their families are not eligible to enter.
Change Checkers are often asking me, "when will the 2017 coin designs be released into general circulation?"
So, I have compiled a list below showing which coins are now available in your change and those that are still to be released.
The list will be updated as soon as we get confirmation from The Royal Mint that any new coins have entered circulation.
2017 circulation coin release dates
WWI Aviation £2: A small amount released in September (Duxford Airshow), full release TBC
Jane Austen £2: A small amount released in July (Winchester Cathedral), full release TBC
Peter Rabbit 50p: September 2017
Jeremy Fisher 50p: TBC
Tom Kitten 50p: December 2017
Benjamin Bunny 50p: December 2017
Sir Isaac Newton 50p: June 2017
It's worth noting that coins are only released into general circulation as and when they are required by the banks.
If you find yourself asking, "When are the 2017 coins released into circulation?", this is the place to check!
If you find any of the 2017 coins in your change, especially those that are still to be released into circulation, we'd love to hear from you.
You can send us an email to info@changechecker.org or visit our Facebook, Twitter or Instagram page.
It has now been revealed that the UK has a new 'rarest' £5 coin!
The £5 coin that commemorates the last Stuart Queen, has just become the rarest UK £5 coin – knocking the 2011 Prince Philip £5 off the top spot.
The £5 coin commemorates the 300th Anniversary of the death of Queen Anne – the first queen of Great Britain who left behind political stability and prosperity. The design bears an elegant portrait of Queen Anne, styled by Mark Richards FRBS as an eighteenth-century miniature.
It was likely to have been popular with historians when it was released in 2014 but just 12,181 of these coins were struck in Brilliant Uncirculated presentation packs making it the rarest UK £5 coin ever.
If you want to know exactly how rare your £5 coins are, you can read our previous blog here >>
And the announcement of this coin as the UK's new rarest £5 coin reiterates the point that a less interesting theme or design on a coin, can be a real hidden gem for coin collections.
Let me explain…
It's obvious that popular coin issues create instant and on-going demand for a coin, but the same can be said for 'less interesting' coin designs. This is because the less coins that are sold, the lower the final number of units that are available to future collectors.
But whilst most collectors would shy away from unpopular themes, it is these very coins that are likely to become the most sought after in years to come. And this 2014 Queen Anne £5 is a prime example along with the 2011 Prince Philip £5 coin.
If you need any more reasons to start collecting £5 coins, you can read my previous blog 'Why you should be collecting £5 coins' here >>
The Prince Philip £5 coin is extremely sought after by collectors and is virtually impossible to get hold of on the secondary market, so it is very likely that the same will happen with the 2014 Queen Anne £5. In fact, sold listings on eBay show that the Prince Philip £5 coin regularly fetches in excess of £50.
So if you're lucky enough to have the 2014 Queen Anne £5 coin in your collection, make sure you keep hold of it. Demand for this coin is likely to increase dramatically.
And remember, when it comes to collecting, there is one fact which is always inevitable –the rarest coins are always in highest demand.
---
Unfortunately we do not have any 2014 Queen Anne £5 coins to offer you today but if you're interested, the 2017 UK Prince Philip CERTIFIED BU £5 Coin is available to order.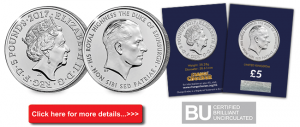 Could this new 2017 UK Prince Phillip coin have an even lower mintage?