Coins from Crown dependencies and overseas British territories can sometimes make an unexpected appearance in our change.
They are identical in size, shape and weight to UK denominations which means they often find their way into tills and vending machines undetected.
Finding one in your change can be an annoyance on one hand as technically the coins are not legal tender in the UK. On the other hand, from a collecting point of view, new and interesting designs are always a bonus!
Here's a look at our top 5 favourite coin designs that have been issued by Crown dependencies and overseas British territories since decimalisation:
This beautiful 50p from Guernsey features two crossed freesia flowers with 'FIFTY PENCE' and the date at the top and '50' below the design.
The obverse features David Maklouf's portrait of Queen Elizabeth II with the lettering 'Bailiwick of Guernsey' above, and also a small Guernsey Coat of Arms to the left.
This addition on the obverse makes the Guernsey 50p stand out when compared to UK 50p coins.
This 50p has the pre-1997 specifications.
Guernsey Lily £1 Coin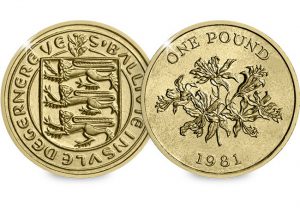 Guernsey Lily £1 issued in 1981.
The Guernsey Lily £1 features the island's Lily on the reverse, and the Guernsey Coat of Arms on the obverse.
This unusual obverse without the Queen's head makes this particular coin stand out amongst other £1 coins, and makes it sought after by collectors.
Along with the UK, Guernsey withdrew their round £1 coins from circulation in October 2017.
Isle of Man Tower of Refuge £2 
The Tower of Refuge is an important landmark on the Isle of Man. It was built in 1832 upon the reef on orders of Sir William Hillary, founder of the Royal National Lifeboat Institution.
The impressive tower with birds flying above it features on the reverse of this Isle of Man £2 coin. The obverse carries a new effigy of Her Majesty Queen Elizabeth II by Jody Clark, this effigy being reserved for the Crown dependencies and Commonwealth countries.
Gibraltar Candytuft Flowers 50p
This 50p features the denomination surrounded by a crown of Gibraltar Candytuft flowers, known as 'Iberis Gibraltarica'.
Iberis Gibraltarica is the national flower of Gibraltar and is the symbol of the Upper Rock Nature Reserve which covers 40% of the country's land area. Gibraltar is the only place in Europe where it is found growing in the wild.
With a mintage of just 30,000 in 1988, this 50p is 7 times rarer than the UK's rarest 50p  so is particularly scarce and sought after amongst collectors. This 50p has the pre-1997 specifications.
Jersey Resolute £1
The Resolute vessel was built in 1877 in Jersey by Thomas Le Huguet and was owned by Captain George Noel. The ship was used for trade before it was wrecked during a hurricane on 29th August 1905 at Friars Cove off Newfoundland.
The design depicts a two-mastered topsail schooner Resolute ship and was first issued into circulation in Jersey in 1994.
To ensure their currency would not be left vulnerable to counterfeiters, Jersey withdrew their round £1 coins from circulation in October 2017.  
So have you come across any of these coin designs in your change or do you already collect coins from other countries? Let us know via Facebook, Twitter or Instagram or leave us a comment below.
With a much lower population than the UK, some of these coins that can be found in your change can be extremely rare, so it's worth keeping hold of them.
You can see the selection of coins from Crown dependencies and overseas British territories we have available here >>
It has now been revealed that the UK has a new 'rarest' £5 coin!
The £5 coin that commemorates the last Stuart Queen,  has just become the rarest UK £5 coin – knocking the 2011 Prince Philip £5 off the top spot.
The £5 coin commemorates the 300th Anniversary of the death of Queen Anne – the first queen of Great Britain who left behind political stability and prosperity. The design bears an elegant portrait of Queen Anne, styled by Mark Richards FRBS as an eighteenth-century miniature.
It was likely to have been popular with historians when it was released in 2014 but just 12,181 of these coins were struck in Brilliant Uncirculated presentation packs making it the rarest UK £5 coin ever.
If you want to know exactly how rare your £5 coins are, you can read our previous blog here >>
And the announcement of this coin as the UK's new rarest £5 coin reiterates the point that a less interesting theme or design on a coin, can be a real hidden gem for coin collections.
Let me explain…
It's obvious that popular coin issues create instant and on-going demand for a coin, but the same can be said for 'less interesting' coin designs. This is because the less coins that are sold, the lower the final number of units that are available to  future collectors.
But whilst most collectors would shy away from unpopular themes, it is these very coins that are likely to become the most sought after in years to come. And this 2014 Queen Anne £5 is a prime example along with the 2011 Prince Philip £5 coin.
If you need any more reasons to start collecting £5 coins, you can read my previous blog 'Why you should be collecting £5 coins' here >>
The Prince Philip £5 coin is extremely sought after by collectors and is virtually impossible to get hold of on the secondary market, so it is very likely that the same will happen with the 2014 Queen Anne £5. In fact, sold listings on eBay show that the Prince Philip £5 coin regularly fetches in excess of £50.
So if you're lucky enough to have the 2014 Queen Anne £5 coin in your collection, make sure you keep hold of it. Demand for this coin is likely to increase dramatically.  
And remember, when it comes to collecting, there is one fact which is always inevitable –the rarest coins are always in highest demand.
---
Unfortunately we do not have any 2014 Queen Anne £5 coins to offer you today but if you're interested, the 2017 UK Prince Philip CERTIFIED BU £5 Coin is available to order.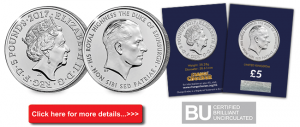 Could this new 2017 UK Prince Phillip coin have an even lower mintage?
In 2016, we took a look at the mintage figures of all 50p, £1 and £2 coins that have been released. As always, 'The Change Checker guide to UK coin mintages' is THE place to check how rare your coins are! Here are the charts listing each coin in order of its rarity.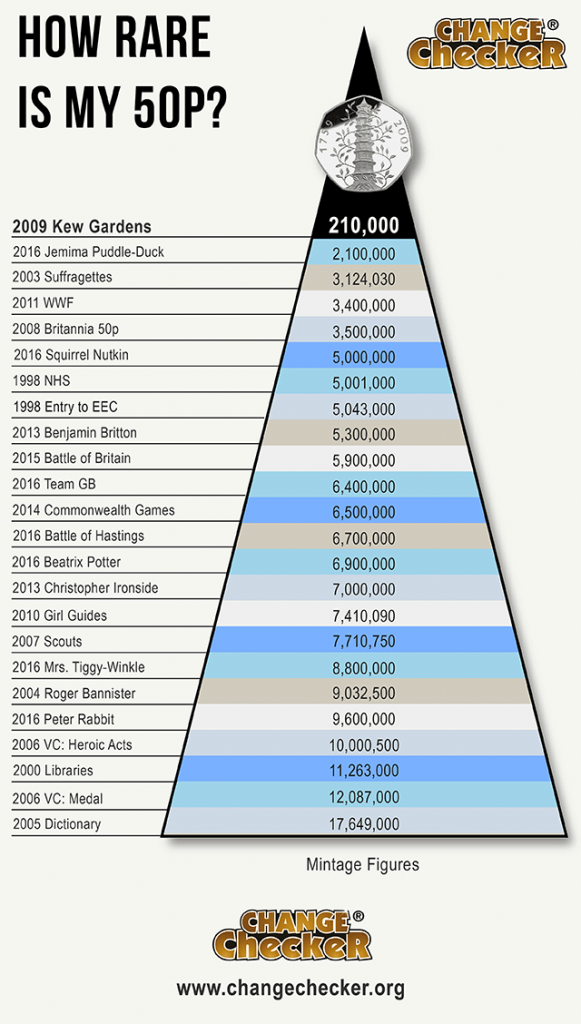 The Kew Gardens 50p coin remains top of the chart and doesn't look as though it'll be shifted any time soon!
Due to the high number of commemorative designs, no definitive design 50p coins were struck for circulation in 2016. Of those commemorative designs, the Beatrix Potter Peter Rabbit 50p  has the highest mintage with 9.6 million pieces. However, some collectors may struggle to complete their Beatrix Potter set as it's been revealed that only 2.1 million Jemima Puddle-Duck 50p coins were struck, making it the second most scarce commemorative 50p design (excluding the Olympic 50p series)! Squirrel Nutkin has also made it into the top 10 rare 50ps with a mintage of 5 million.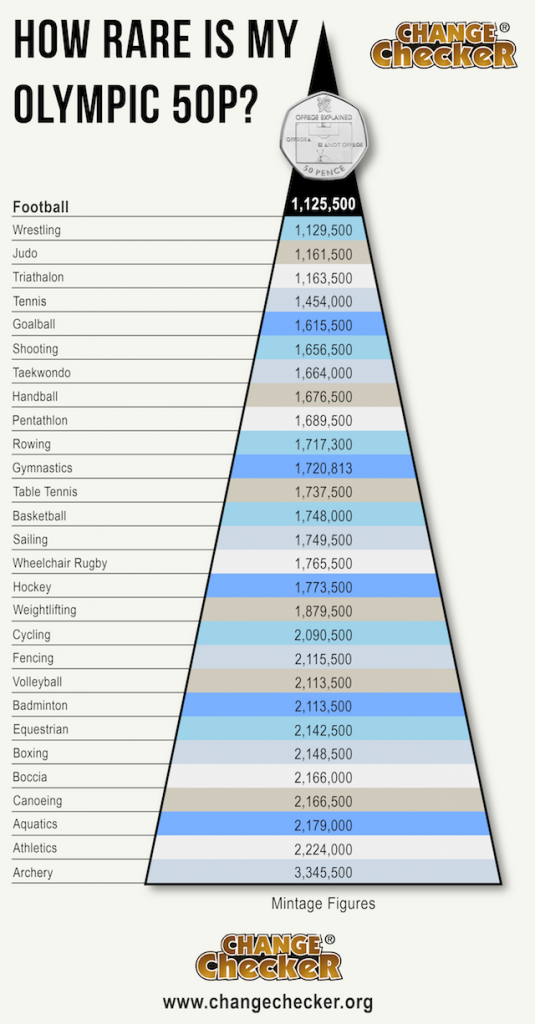 2016 was the first year since 1983 that no round £1 coins were struck for circulation due to the release of the new 12-sided £1 coin, as a result, this chart is now set in stone and the 2011 Edinburgh coin will remain the target for all round £1 coin collectors. But they'll have to act quickly – along with the other round £1 coins it will disappear from circulation forever on 15th October.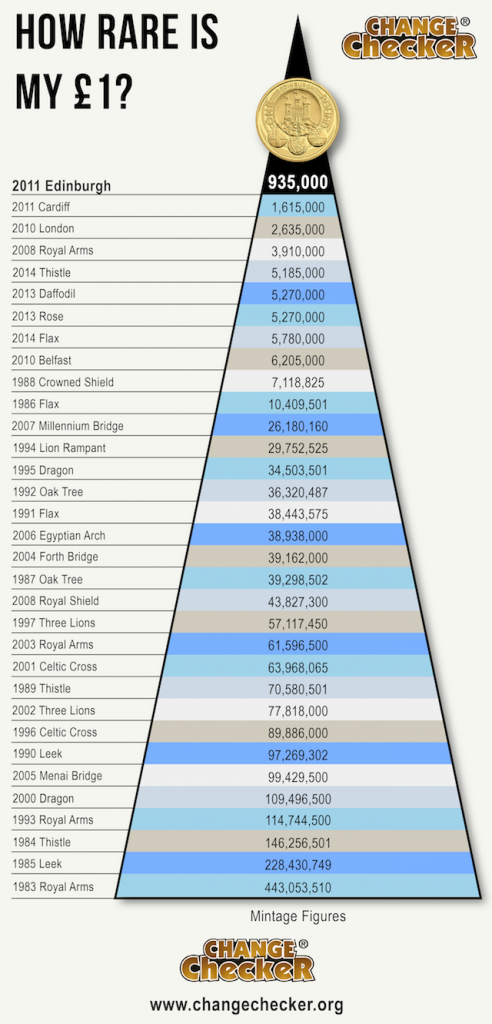 The 2002 Commonwealth Games Northern Ireland £2 still remains the only £2 coin to have a mintage of less that 500,000, placing it firmly at the top of the chart.
From the 2016 designs, the First World War Army £2 coin has a very high mintage figure with over 9.5million pieces being struck, making it the second most common commemorative £2 coin ever.
Interestingly, the three Shakespeare £2 coins, 'Comedies', 'Histories' and 'Tragedies' each have a different mintage figure.  Over 1.3 million fewer 'Comedies' coins were struck than 'tragedies', likely having an impact on collectability in the future.
You'll notice that the Britannia £2 coin isn't listed, this is because it is a definitive design, however the mintage increased to just over 3.5 million.
It will be very interesting to see how these coins fare in our updated Scarcity Indexes which will be released in July, so keep your eyes peeled for any changes.
And keep hold of your coins – you never know what they might be worth in the future! Remember you can Find, Collect and Swap all your coins for FREE with the Change Checker App: http://www.changechecker.org