Posts Tagged 'Error Coin'
Every keen collector knows that it is worthwhile paying close attention to the small details of your coins – it's the only way you can ever hope to spot an error. However, it's also important to know when you have a genuine rarity. There are a few stories which crop up more often than others, and hopefully this post will help dispel some of the myths about the £2 coins you can find in your change.
2005 'Pemember, Pemember' Gunpowder Plot £2
The 2005 Gunpowder Plot £2 commemorates the 400th anniversary of Guy Fawkes' failed assassination attempt on King James I, but the coin is more familiar to collectors for having a spelling mistake in the edge inscription. The timeless quote "Remember, remember the fifth of November" has been found with various combinations of Pemember, Pemembep, Novemebep and so on. The common factor here is the 'R' which appears as a 'P'.
Sadly for collectors this is apparently not a striking error. The explanation from the Royal Mint is that the down-stroke of the R coincides with the milling around the edge, and as the coin has worn over time, the letter has become less defined. This categorical statement from the Mint means that any mark-up in price for a supposed 'error' is completely unjustified, and although it makes the coin more interesting, it is not the mistake which it is often perceived to be.
1997 Maklouf 'Queen with a Necklace' £2
The 'Queen with a Necklace' £2 has an enduring legacy in the collecting world. The very first bi-metallic £2 coins were issued in 1997, just prior to the Queen's portrait change in 1998. This meant that the older portrait by Raphael Maklouf was only used for one year: 1997. His version featured Queen Elizabeth II wearing a necklace, which is how the nickname was derived.
When the portrait change was announced, the new £2 coins were snapped up by collectors believing them to be a future rarity. As it turned out, a mintage of nearly 14 million means the 'Queen with a Necklace' £2 is not one of the rarest coins in circulation. Nevertheless, with only one year of issue, it still holds an undeniable interest for collectors.
2007 Abolition of Slavery £2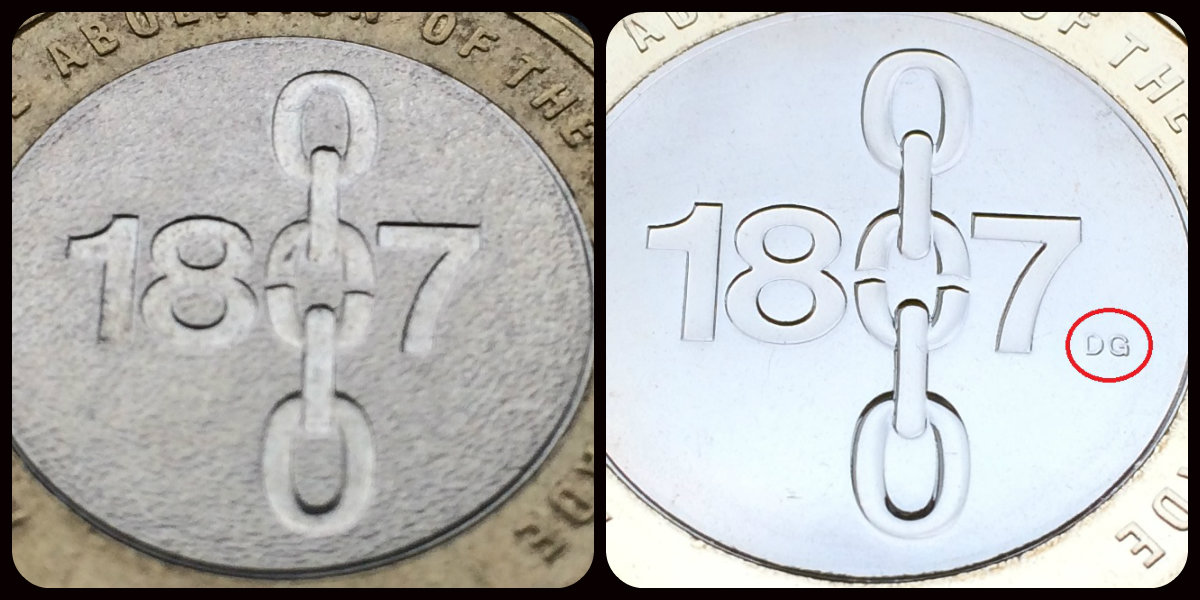 There is a misconception that there were two types of the Abolition of Slavery £2 coin struck for circulation. It is true that two versions of the coins exist – one has a textured finish whereas the other has a smooth finish and features the artist, David Gentleman's initials (circled). The key difference is that only the textured version was struck for circulation, and if you find one of the smoother types in your change, you have actually found a coin which has been taken out of a presentation pack. This makes it considerably rarer than the circulating version, so it is worth keeping rather than spending!
It's the little details like these that make collecting so interesting – and hopefully we've shed a bit more light on some of the most popular myths. Do you have any of these coins in your collection?
---
Own the UK 2007 Royal Mint Brilliant Uncirculated Pack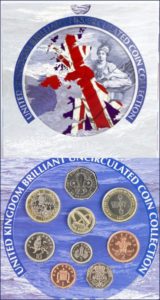 This Brilliant Uncirculated collection features nine coins which were released in 2007, including the Abolition of Slavery £2 coin.
Each coin in the pack is struck to the Royal Mint's Brilliant Uncirculated quality, ensuring they are in superior condition compared to the coins you find in your change
Click here to buy yours today.
As every collector knows, an error can add significant value to a coin. You only need to look at the undated 20p saga to realise just how much impact a simple human mistake can have. Those 20p coins with a mismatching obverse and reverse still frequently sell for as much as £50.
But sometimes it also pays to look further than the coin itself for such slip-ups.
Brilliant Uncirculated presentation packs, or BU Packs, are issued annually by the Royal Mint and are a collector's item in their own right. They contain a full set of uncirculated coins for the year, along with illustrated packaging and more information about each coin.
These packs are equally prone to human errors, and this year has already been an eventful one in that respect.
2015 Annual Coin Set
If you were among the first collectors to secure a 2015 UK Coin Pack from the Royal Mint, the likelihood is you've been sent one with a printed error.
The specification in these original packs states an edge inscription for both the Battle of Waterloo and the Churchill commemorative £5 coins, but in fact both of these base metal coins have milled edges with no inscription. Once the Royal Mint were made aware of the error, the packaging was promptly changed to remove the text, but of course a significant number of packs had already slipped the net.
The New Portrait BU Pack
The latest presentation pack was issued recently to mark Jody Clark's new effigy of the Queen, with all coins featuring his new portrait.
Again, if you were quick to snap up one of these packs you may have noticed a couple of mistakes which were overlooked in production.
The first is an errant photographic library watermark which somehow found its way onto the final packaging, and appears in an image of the Queen and Prince Philip.
The second and more surprising mistake to look out for is the specification on the reverse stating Ian Rank-Broadley FRBS rather than Jody Clark as the obverse designer of the new coins.
At the time of writing, we understand the Royal Mint has withdrawn the pack from sale and are awaiting a re-print.
For now, it is impossible to say precisely how rare these packs are, and it is unlikely that the Royal Mint will ever disclose the exact number.
It's normal to feel short-changed if you've bought any item which has a defect. However, if you have recently added one of these error packs to your collection, you have actually secured something which is quite special to collectors, and may turn out to be highly prized in years to come.
Finding a coin which is worth a small fortune is the stuff of dreams for every Change Checker. You may remember the excitement over the rarity of the Kew Gardens 50p earlier this year and the bidding frenzy that occurred on eBay shortly afterwards.
Well now there is a coin which has eclipsed the Kew Gardens, both in terms of scarcity, and the sheer scale of money changing hands.
This week, a UK 50 pence piece sold on eBay for £820. Or to put it another way, 1,640 times its face value!
It appears to be an ordinary Aquatics Olympic 50p at first glance, but this coin has a special quality which collectors desire more than anything else: an error.
And the good news is, there are more out there to be found!
In 2011 the Aquatics Olympic 50p depicting a swimmer underwater was redesigned by the Royal Mint to make the swimmer's face more visible. However, before the change was made, a small number of coins were struck with the original design.
The added sense of excitement and anticipation over this particular error is that nobody knows exactly how many of the original coins were ever struck.
Their rare appearance at auction (and only so far in their original packaging) along with the astronomical amounts which buyers are happy to pay, supports the theory that there are very few around.
The 29 Olympic designs are now commonplace in our day-to-day life, so this coin ultimately is just a normal 50p which you would happily pass over the counter to pay for something. Blink and you would miss that small detail which is worth so much to coin collectors.
But the Aquatics Olympic 50p error is the latest example of why you should always carefully check what's in your change – there really could be treasure hidden in your pocket!
---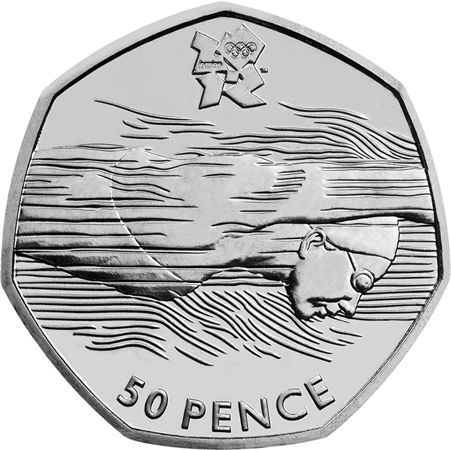 Do you have an Aquatics Olympic 50p?
You can add it to your collection on the Change Checker App here